---
Advertisements

---
Shortly after Robinsons announced that their last two stores were ceasing operations on 30 October, long queues were seen forming outside these outlets.
Throngs of people were waiting to head inside to get items at discounted prices.
While most walked away with happy purchases, a group of past customers were facing issues for their mattress buys.
The reason?
Customers are worried that the mattresses which they have either placed deposits or pre-payment for are not going to be delivered to them.
3 Mattress Suppliers Honouring Orders to Customers Even if Robinsons Doesn't Pay Them
Their fears are now allayed as three mattress suppliers have announced that they will still be honouring customers' purchases, despite Robinsons not making payment to them yet.
The three mattress suppliers are King Koil, Sealy and Simmons.
All three suppliers shared the recovery measures on their respective Facebook pages yesterday.
Orders To be Delivered to Customers
Customers who have made full payment at Robinsons for any of these three suppliers' mattresses will have their orders delivered.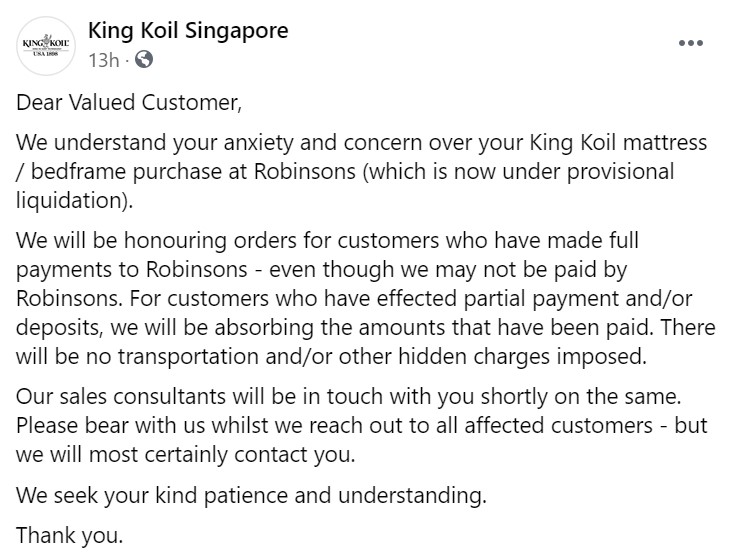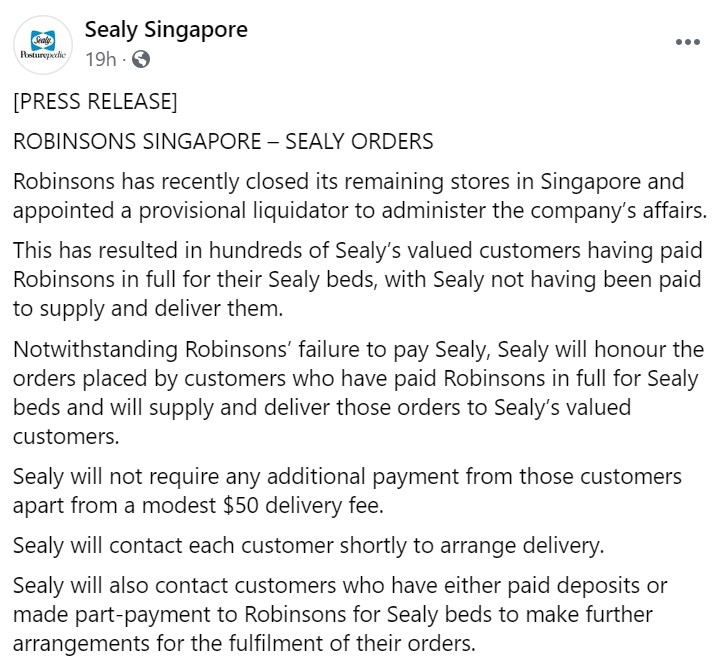 Whereas for customers who have either placed deposits or made partial payment to Robinsons, King Koil, Sealy and Simmons will fully absorb these payments.
There will be no transportation and/or hidden charges imposed on customers who bought King Koil and Simmons' mattress at Robinsons.
As for customers who had purchased Sealy's mattress, no other additional payment is required, apart from a delivery fee of $50.
Representatives from the respective supplier will reach out to customers as soon as possible to advise on the remaining balance and steps to fulfil the orders.
What Happened
As a result of the change in consumers' buying patterns and weak demand due to Covid-19, Robinsons announced that they will be closing their last two outlets located at The Heeren and Raffles City Shopping Centre last Friday.
 Following the announcement of the departmental stores' closure, 18 customers filed complaints to the Consumers Association of Singapore (CASE) to seek refunds for mattresses they had pre-paid in full to Robinsons for future delivery.
The reason for these complaints is due to the fact that customers have received notifications that their mattress deliveries will either be delayed or cancelled.
In the statement released on 1 November 2020, Robinsons identified this as a priority issue. The company mentioned that they have scheduled meetings with suppliers to resolve the matter.

Fresh grads, you don't need any experience to earn up to $4,200 with this "secret":
Read Also: