While it may not be possible for us deprived K-culture fans to see global K-Pop sensation BTS in the flesh these days, the next best thing is coming to our shores on 27 May—being able to eat their very own choice of meal at your nearest McDonald's outlet. 
BTS & McDonald's Launch New BTS Meal With Korea-Inspired Sauces; Will Come to S'pore on 27 May
That's right: you'll be able to get a taste of the top boy band's signature McDonald's order to feel closer to your beloved oppas.
Coming this May: The BTS Meal pic.twitter.com/iarw2gYMsx

— McDonald's⁷ (@McDonalds) April 19, 2021
BTS' signature go-to order consists of a 9-piece Chicken McNuggets®, Large World Famous Fries®, Large Drink, and Sweet Chili and Cajun dipping sauces which are inspired by well-loved recipes from McDonald's outlets in South Korea. 
According to BTS' entertainment label, BIGHIT MUSIC, "The band has great memories with McDonald's. We're excited about this collaboration and can't wait to share the BTS Meal with the world." 
I'm sure BTS fans are even more excited about this unforgettable collaboration—I can just imagine the crowds swarming to McDonald's outlets next month. 
"No matter who you are, everyone has a go-to order at McDonald's – even international superstars like BTS," said Drina Chee, Senior Director, Marketing & Digital Customer Experience.
"This band is truly a global phenomenon with a fanbase that knows no borders, and we couldn't be more excited to bring the BTS Meal to our customers in Singapore starting next month."
This exclusive meal will be available for dine-in, at Drive-Thrus, or via McDelivery®. 
This special BTS-themed order is made available in a total of 50 locations worldwide, including Singapore. It will make its "world tour" in May and June, so if you want to travel with the BTS Meal (in your imagination), here are the debut dates and countries of the meal: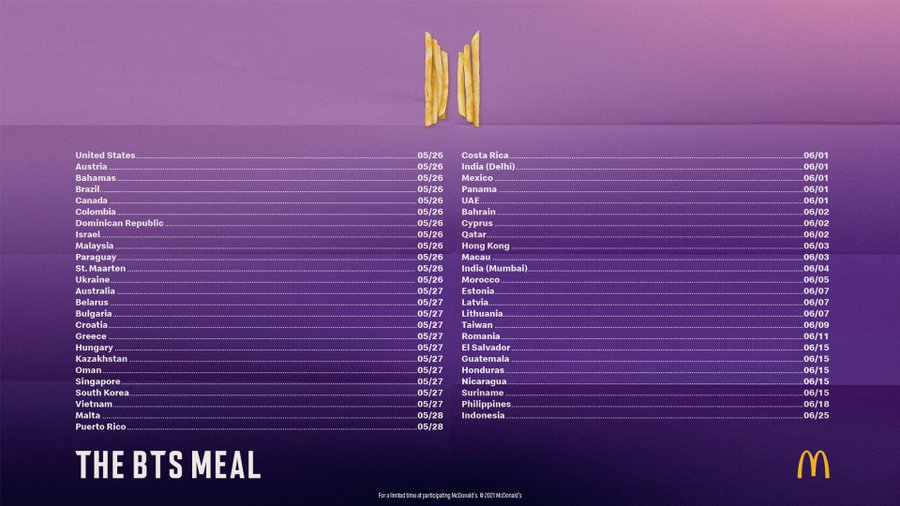 So be sure to mark your calendars for 27 May, and be sure to get a taste of this exclusive menu item! 
BTS also made their own rendition of the iconic McDonald's jingle:
But apparently Singapore gets their own special version of the "Ba Da Ba Ba Ba"; see if you can hear the difference?
Apparently McDonald's Singapore posted a different version of the jingle and Hobi's voice was loud and clear here pic.twitter.com/pN4oCcxfzf

— Jas | Hope¹¹² ⭐️🕺 (@Jas_97671) April 19, 2021
---
Advertisements
---
BTS, Global K-Pop Powerhouse 
Even if you haven't the foggiest idea what K-Pop is, you would surely have heard of BTS, or at least heard "Dynamite" playing in stores and restaurants. 
BTS became the third group in 50 years to have three number one albums on the Billboard 200 charts in less than 12 months in April 2019, alongside The Beatles and The Monkees. 
In 2020, their international hit song "Dynamite" racked up a whopping 815 million streams on Spotify, and it was the first all-South Korean act to top the US singles chart. 
2020 may have been a rough year for everyone, but certainly not for BTS; the band took home seven Guinness World Records last year with "Dynamite". 
According to representatives at the Hyundai Research Institute, BTS contributes around $3.6 billion to South Korea's economy, and they greatly help to boost tourism too—around 800,000 visitors take a trip to South Korea every year because of BTS.
The group is known for their philanthropy too—BTS and their label BIGHIT MUSIC donated a million dollars to the Black Lives Matter movement in the US. BTS fans then crowdfunded and matched that sum in a mere 24 hours using the hashtag #MatchAMillion, which speaks volumes about the group's influence. 
For more interesting BTS facts, click here!
Feature Image: Facebook (방탄소년단)
Like writing? Goody Feed is looking for writers! Click here for more info!