It appears that the scamming profession is at it again.
In the evening of 21 January 2021, a certain "Melissa" tried to con $1,000 out of a desperate cat owner – who had offered a $3,000 cash reward for the presence of a missing cat named Homer.
Keen to keep the clue within grasp, the cat owner relented to transfer $300 first. But "Melissa" never intended to keep her end of the deal.
Once the money was in, she swiftly went "poof".
And so, it was little wonder why a police report has been lodged.
Whether the $300 was worth potential jailtime, however, is a notion that has yet to be discerned.
So, what happened?
Cat Owner Transferred $300 to Scammer Who Claimed to Have Found Her Lost Cat
It all started in December 2020.
Having lost their cat Homer, the frantic family took to Instagram with a plea:
Call them if you spot the missing critter.
And it wasn't an empty-handed request either. The family was desperate to locate the cat, and it showed.
In the form of a lucrative $3,000 cash reward.
View this post on Instagram
And there I thought that people were calling for Homer because it's a new pokemon in Pokemon GO.
Alas, however, the reward reached the ears of a particular "Melissa" – who clearly wished to, for lack of a better phrase, have a good meal without having to pay for it.
And so she launched her plan, one that would eventually be exposed on Facebook group Singapore Missing Cats on 23 January.
---
Advertisements
---
"Melissa"
On 23 January 2021, Marissa Wong, one of the family members, took to Facebook with screenshots of a WhatsApp conversation between her brother and the alleged scammer.
From the looks of it, someone going by the name of "Melissa" had reached out to Wong's brother on the evening of 21 January, professing to have located their cat.
Apparently, Homer had been picked up by her friend, and is currently "residing" in the latter's home.
Worried, Wong's brother pleaded for further details.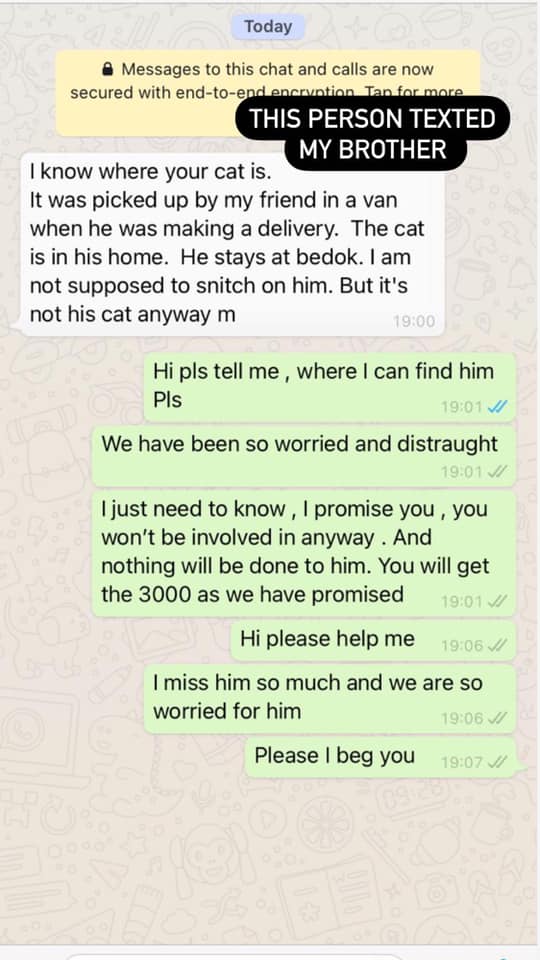 It was at this point that "Melissa" made a rather demanding request:
She asked Wong's brother to transfer her $1,000 first.
With all things considered, alarm bells must surely be going off in the dozens. And Wong's brother was evidently suspicious.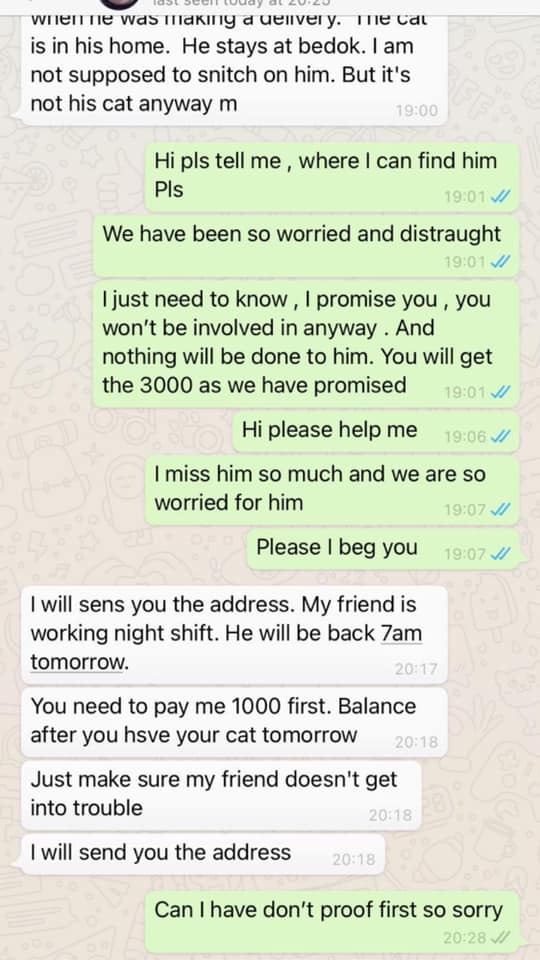 ---
Advertisements
---
To his credit, however, he managed to mask it with a legitimate alibi.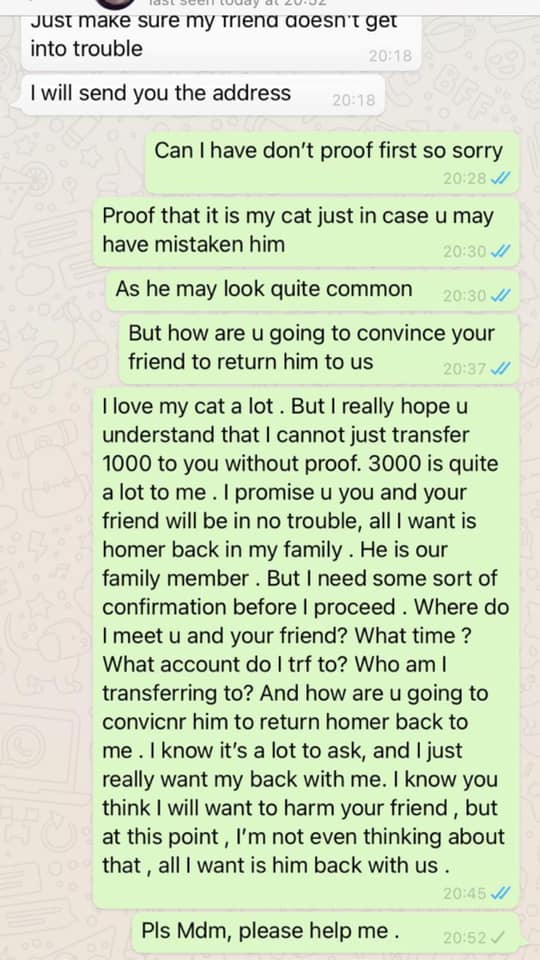 In response, the person insisted that "it is the same cat" as it was retrieved from "Frankel avenue" – the place where Homer first went missing.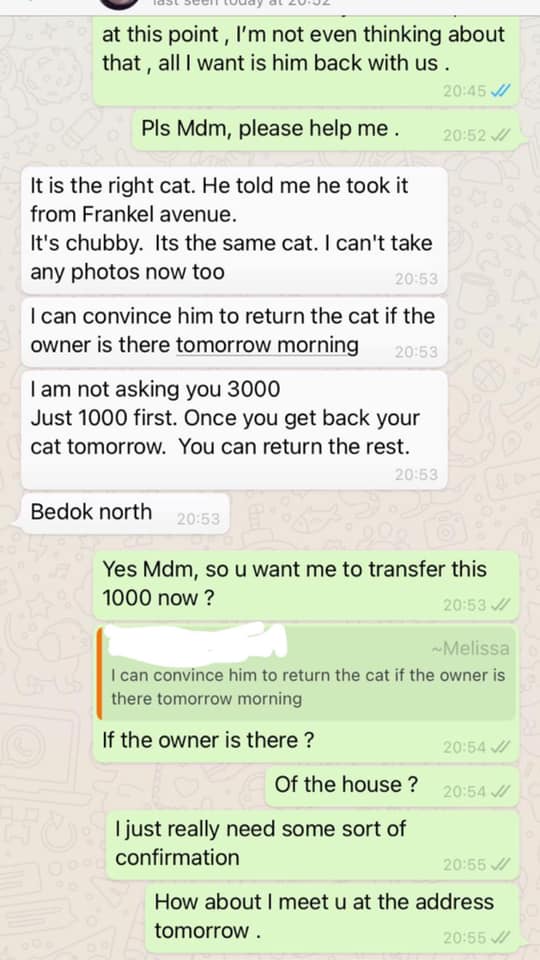 "Melissa" then told Wong's brother that her husband will be meeting him the next morning, but the deal would only occur if a $1,000 down payment was made.
---
Advertisements
---
Should the cat turn out to be a different one, she claimed, she would give Wong's brother another $1,000 instead.
"If it's not your cat, I will pay you another S$1,000."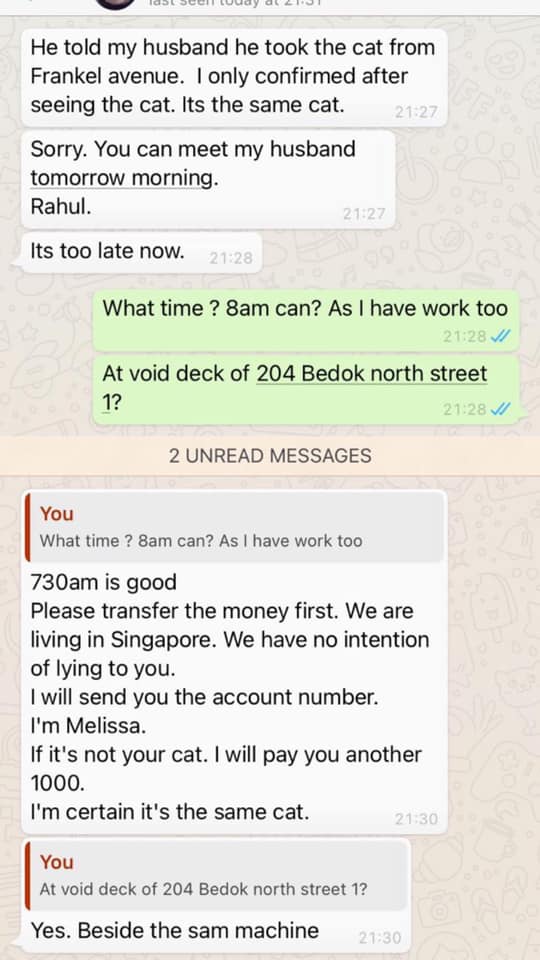 Despite everything, Wong's brother retained enough rationality to refuse the person's demand.
Instead, he proposed a payment of $1,000 upon meeting her husband, and the rest when they've got their cat.
---
Advertisements
---
When she began to give cold replies, however, he relented slightly.
"Mdm please don't do this to me," he texted. "I promise you your money. $300 I will transfer you first."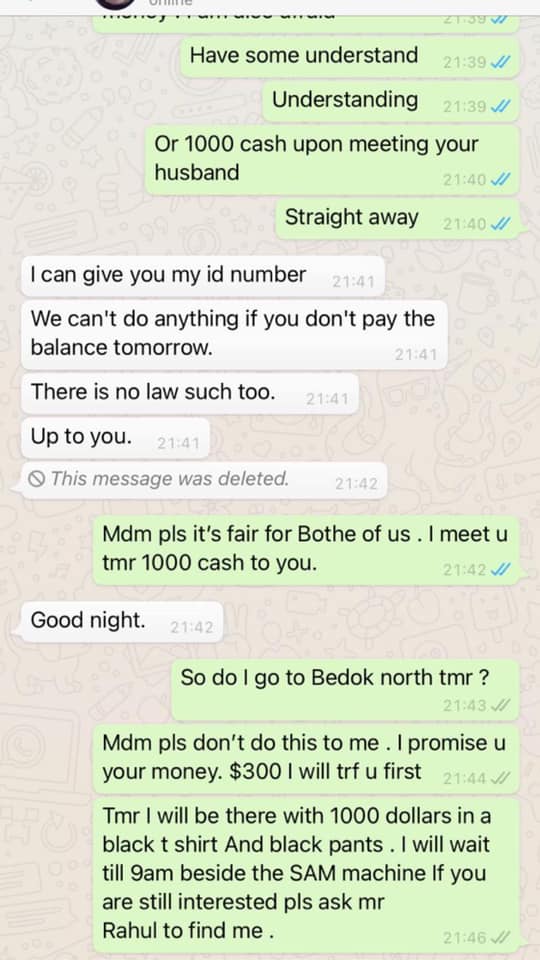 The person appeared to refuse, however, stating that "it doesn't work for (them)".
She also denied their request for a picture of her ID.
---
Advertisements
---
"Sorry… You can find your cat yourself," she said.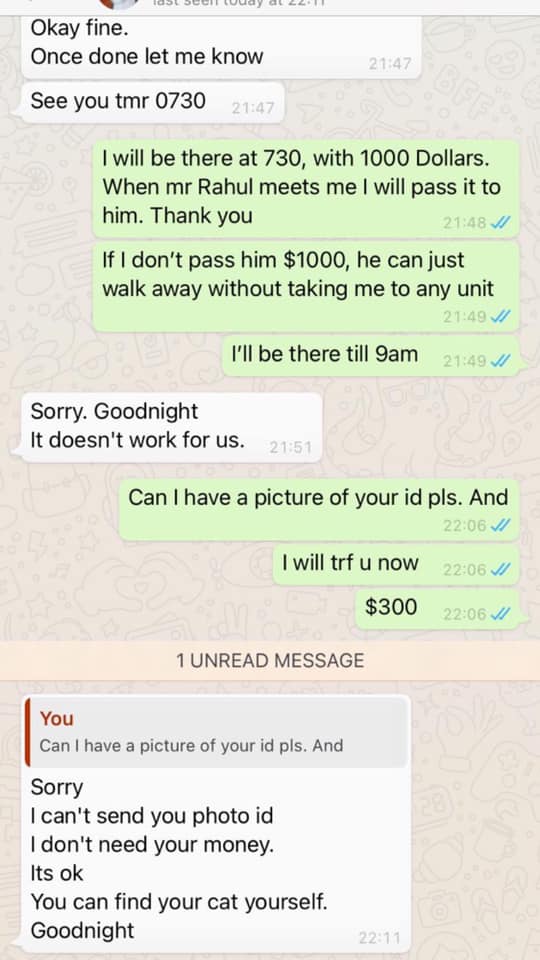 It was then that Wong's brother caved in to her request – transferring $300 despite having no solid evidence that Homer was indeed within her "jurisdiction".
The transfer, Marissa explained, was made due to their fear that the person "would run away with Homer".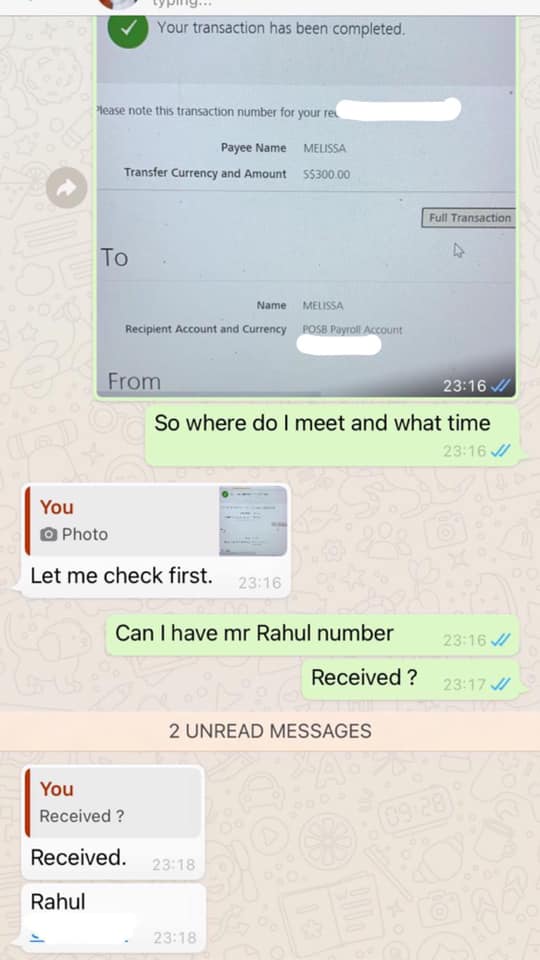 ---
Advertisements
---
Police Report
To the family's utter disappointment, the worst case scenario occurred.
The next day, there was no one at the stipulated meeting place.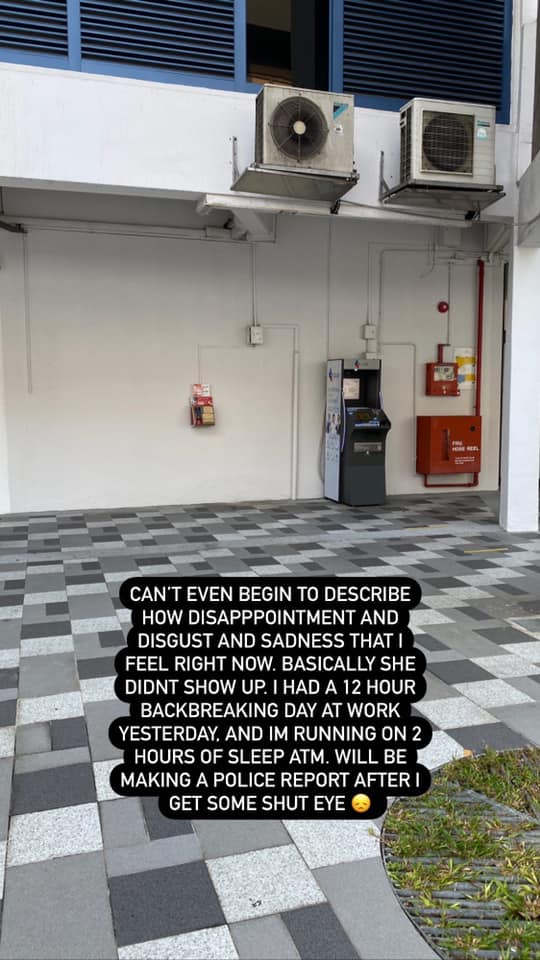 A police report was eventually lodged on 23 January.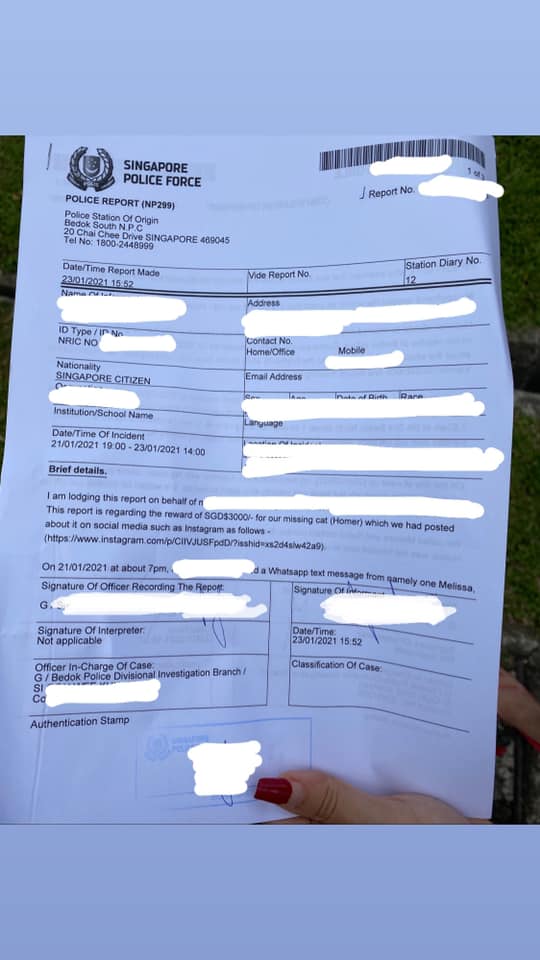 ---
Advertisements
---
In the post, Wong warned the public against such instances, and professed her hope that the police will track down the victim soon.
"I'm sharing these screenshots and images as a lesson learnt and to warn people with missing pets offering a reward NOT TO FALL PREY TO THESE SCAMMERS," she wrote.
"No matter how desperate you are to be reunited with your pet."
"I hope that the police will be able to trace down this scum of the earth so that he or she won't be able to hurt those who are already hurting."
Incidentally, Netizens have largely sided with Wong, lambasting the scammer's actions and calling for the police's intervention.
---
Advertisements
---
As for those who may doubt the intelligence of the family for conceding to such a dubious request, Wong had a few choice words.
"If you were in our shoes, you would not be able to say no to a shred of hope."
You can view the full post here.
Scams
In July 2020, it was revealed that the Anti-Scam Centre of the Singapore Police Force had received more than 8,600 reports of scams in a year – where victims lost a total of $52 million.
The authorities managed to recover around 40% of the $52 million lost by victims, amounting to more than S$21.2 million.
---
Advertisements
---
In one case, where a French pharmaceutical company was duped out of S$10.2 million, the Anti-Scam centre managed to retrieve over S$6.4 million.
Incidentally, one of the Anti-Scam Centre's biggest weapons against scammers is freezing bank accounts.
In the past, banks could take up to two weeks to two months to get back to the police on requests such as freezing of bank accounts, reported CNA.
But now, after partnering with 11 banks, the centre can freeze scam-related bank accounts within days of notification.
In fact, it can even intercept and recover transferred money within the day of its transfer.
---
Advertisements
---
According to TODAYonline, the centre froze more than 6,100 bank accounts since 18 June 2019.
And considering how the bank account number of "Melissa" is well within sight…
It appears that the centre will soon be freezing another one.
Here's hoping that Homer will return to its loving family soon.
To know more about scams, you might want to watch these videos we've done in collaboration with the Singapore Police Force (and subscribe to our YouTube channel for more informative videos!):
---
Advertisements
---
Featured Image: Instagram (@findhomer.sg) & Facebook (Marissa Wong)
Like writing? Goody Feed is looking for writers! Click here for more info!