---
Advertisements

---
Singaporeans eagerly planning their holidays for the upcoming year of 2024 will be pleased to discover that there will be five long weekends to take advantage of.
The year will commence with a fantastic long weekend, as New Year's Day falls on a Monday, 1 January 2024, granting an extended break for Singaporeans to enjoy.
According to the Ministry of Manpower (MOM), there will be four more public holiday long weekends throughout the year. 
11 Gazetted Public Holidays For the Public to Rest in 2024
Chinese New Year, which will be celebrated on 10 and 11 February 2024, will coincide with the weekend, with the following Monday, 12 February 2024, being designated as a public holiday.
Similarly, Good Friday observed on 29 March 2024, will provide an extended weekend for individuals of the Christian faith.
Unfortunately, the Chinese New Year festivities in 2024 will fall on a weekend, depriving Chinese individuals of the opportunity to use the festive occasion as an excuse to break free from their weekday nine-to-five routines.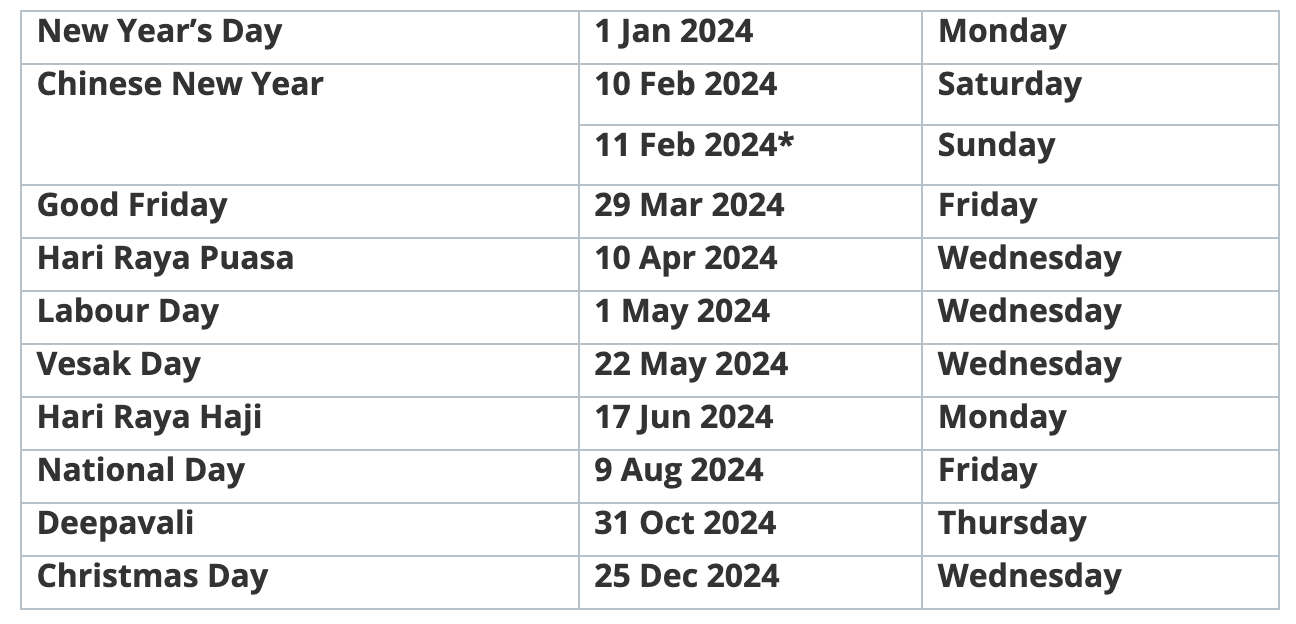 However, there is a silver lining: a public holiday will follow the weekend celebrations. 
---
Why Bird Paradise Suddenly Became Singapore's Yishun:
---
On Monday, 12 February 2024, the Chinese can enjoy a well-deserved break before returning to their usual slaving, no, working hours.
On the other hand, our Malay friends can stand to utilise the public holidays to escape from the regular nine-to-five jobs as Hari Raya Haji, which is celebrated on 17 June 2024, will fall on a weekday, a Monday.
Meanwhile, all Singaporeans can stand to take an extended break with the long weekend following the public holiday for National Day, celebrated on 9 August 2024, a Friday.
The remaining gazetted public holidays set for the year all occur on weekdays, a bonus to all working adults.
---
Advertisements

---
These holidays include Hari Raya Puasa on 10 April 2024 (Wednesday), Labour Day on 1 May 2024 (Wednesday), Vesak Day on 22 May 2024(Wednesday), Deepavali on 31 October 2024 (Thursday), and Christmas Day on 25 December 2024 (Wednesday).
How to Claim Payment For Work Done On A Public Holiday
According to the MOM, all employees covered by the Employment Act are entitled to 11 paid public holidays if they work on any of the 11 gazetted public holidays mentioned above.
Employees required to work on a public holiday are entitled to an additional day's salary at the introductory rate of their pay, in addition to their regular pay for that day. 
Alternatively, employers and employees can mutually agree to substitute a public holiday for another working day. 
Employers also have the option to grant time off in lieu, based on an agreed number of hours, for those who work on a public holiday. 
This applies to managers, executives, and workmen earning more than $4,500 a month and non-workmen earning more than $2,600 a month
Meanwhile, in 2023, Singapore also began with a long weekend on 1 January 2023, a Sunday, and had six other public holiday long weekends throughout the year.
Unlike 2024, 2023's Chinese New Year festivities had one less day of rest as it occurred from 22 to 23 January 2023, Sunday to Monday.