---
Advertisements

---
There's a running joke whereby should anyone ask you where you'd be celebrating National Day, you'd say, "In Malaysia."
You can't say that in the last two years, but this year, you might really be in Malaysia, so what have you missed?
Fret not; here are the six highlights you ought to know so that you can pretend that you were waving the Singapore flag in your HDB flat while dressed in your Number 4 yesterday, when you were actually caught in the jam back to Singapore.
The Comeback of the Crowd That Would've Sparked a Conversation
If you're indeed at home watching this with your loved ones, you'd most probably feel a tad…strange, and have a conversation about this.
Because after more than two years, this could be the first time you see such a big crowd in Singapore, and yet don't feel uncomfortable.
In fact, this is definitely the first time you see so many Singaporeans together without their masks on.
It might be the nation's birthday, but it's also the beginning of normalcy.
The Crying Man, Mr Azuan Tan
In every NDP, there would always be a legend.
In 2015, we've this woman whom we're still simping over.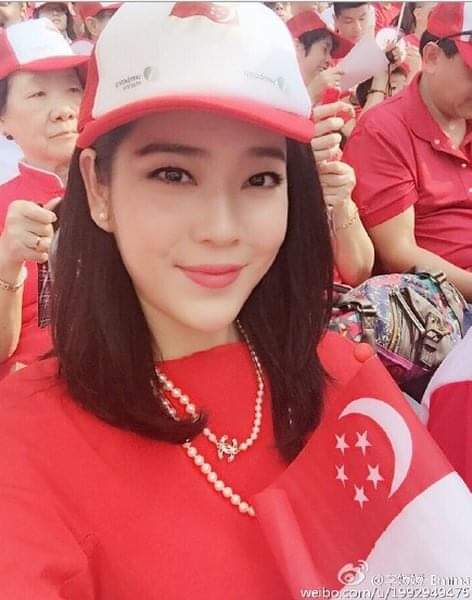 In 2017, we've this boy who most probably still has NDPhobia.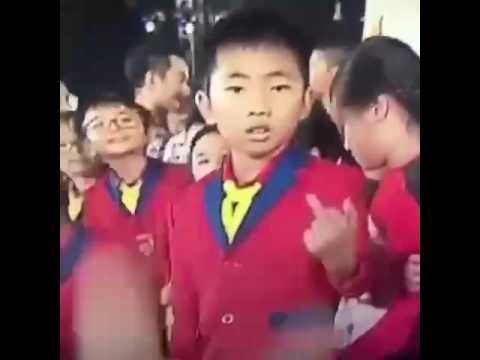 This year, we've Mr Azuan Tan, who was caught on camera crying while singing the National Anthem.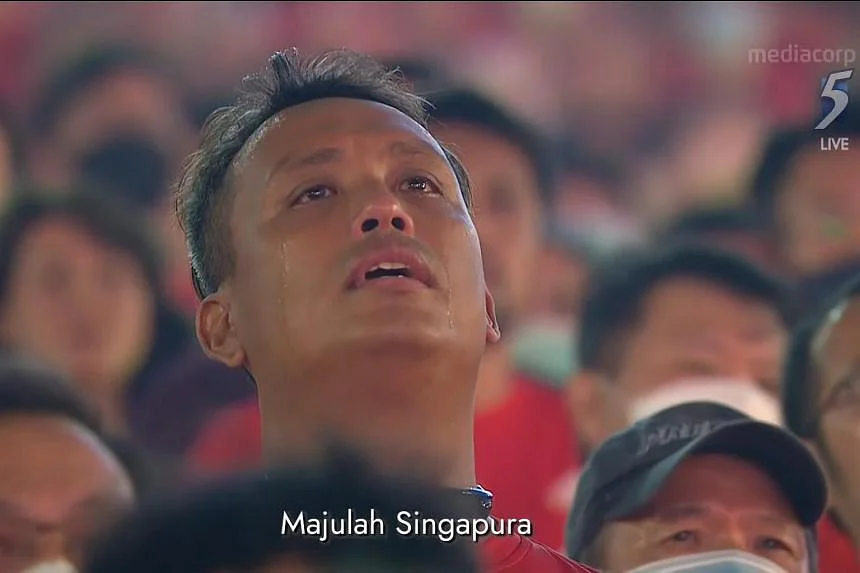 If you miss his emotional singing, fret not: our PM-in-waiting Mr Lawrence Wong also posted an image of his tears, adding that this would be one of the iconic images of NDP 2022.
It turns out that he's a teacher, which explains why he cries while singing the National Anthem as it reminded him that school is starting—
No, I'm kidding.
He told The Straits Times that he cried because he has "a lot of respect for everyone who contributed during the COVID-19 pandemic—nurses, doctors, front-line workers and educators. All that put together was a moment of being overwhelmed."
The 41-year-old is apparently shocked and surprised at the online attention he garnered, and said that those people who put the parade together deserve the attention instead.
And oh, he didn't know he was crying until he saw himself on social media.
He's also a volunteer in the Pasir Ris-Punggol GRC. According to the GRC MP Mr Sharael Taha, he has been volunteering for five years. The MP added, "Since the pandemic, he has been very actively distributing meals to needy families. In addition, he has been distributing masks and care packs to families who contracted COVID-19."
The Hard Landing That Shocked Everyone
Every year, we would see Red Lions parachutists landing spectacularly, and clap for them.
This year, it's slightly different.
The last parachutist, Third Warrant Officer Jeffrey Heng, appeared to struggle as he navigate to the floating platform, and he took a hard landing as he skidded on the pavement and fell to the ground.
---
Advertisements

---
The camera immediately cut to the spectators, with some looking shocked.
Medics then rushed to give the parachutist medical attention before he was stretchered off.
Shortly after that, Defence Minister Ng Eng Hen posted a Facebook post, writing, "3WO Jeffrey Heng's condition is currently stable, alert and conscious, and he is receiving medical attention. Let's all wish Jeffrey a quick recovery."
MINDEF and SAF posted on their respective social media platforms about the incident as well:
During the televised NDP, parade host Joakim Gome also updated the audience about 3WO Jeffrey Heng's condition, adding, "Sir, if you're watching this right now, the entire nation wishes you a speedy recovery."
---
Advertisements

---
3WO Jeffrey Heng is an experienced parachutist who has done over 1,000 jumps.
The clip went so viral that even a UK media reported about it.
Former NOC Talent Went Viral for BTO & Ya Kun Kaya Toast
When the NOC saga surfaced last year and Samantha Tan was in the spotlight, her BFF Nicole Liel could be seen in her videos often.
Also a former NOC talent, it's unknown where she's working in now, but we now know what she's grateful for.
When the NDP host asked her what she was grateful for in Singapore, she replied enthusiastically, "I'm very grateful to HDB for giving me a BTO queue number."
---
Advertisements

---
Before the host had time to process what she's said, she added, "And Ya Kun Kaya Toast."
Now, that's a true-blue Singaporean.
"Hi, Mom" Placard
You know we've always wanted to say, "Hi, mum, I'm on TV!" when a camera is pointing at us?
Well, this participant appeared to know what he wants, and managed to do so with a placard that I guess his mother would be proud of.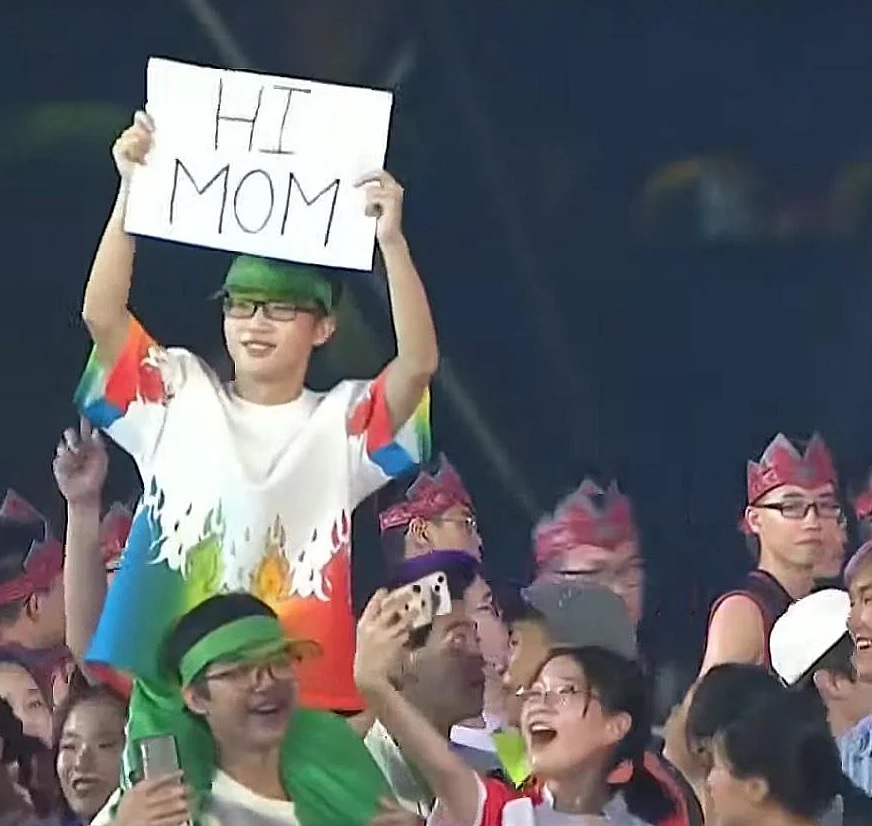 At least he didn't show his middle finger.
Aunties Becoming Blackpink
Blackpink might be coming to Singapore next year, but another version of Blackpink was in the floating platform yesterday.
Footage of aunties dancing to Blackpink's "BOOMBAYAH" during the NPD rehearsals drew mixed reactions from the internet, but remember: the reactions were merely from netizens, who obviously have a history of hating on anything and everything.
---
Advertisements

---
In the real world, it drew mainly cheers.
In other words, people appear to approve of the older Blackpink.
Now, if you've three hours to spare, you can experience the entire NDP 2022 here again:
Read Also:

Fresh grads, you don't need any experience to earn up to $4,200 with this "secret":
Read Also: