---
Advertisements

---
Last Updated on 2022-08-09 , 3:39 pm
A few months ago, actor Glenn Yong, best known for his role in Ah Girls Go Army, spoke out about the harassment he had faced for many months prior.
While he didn't explicitly name any names on his Instagram stories, there were records of Glenn Yong and Eleanor Lee—Quan Yifong's daughter and fellow actress—attending Case Management Sessions, with the case classified under the Protection from Harassment Act (POHA).
Naturally, the netizens connected the dots between the two and wondered if it was related.
If you only have two minutes, you can watch this summary instead:
What Happened?
In late March 2022, Glenn Yong revealed the fact that he was being harassed by an anonymous user online.
Allegedly, he tried to ignore the harasser at first, but when it gradually expanded to affect his friends and family over the course of months, he decided he couldn't remain silent anymore.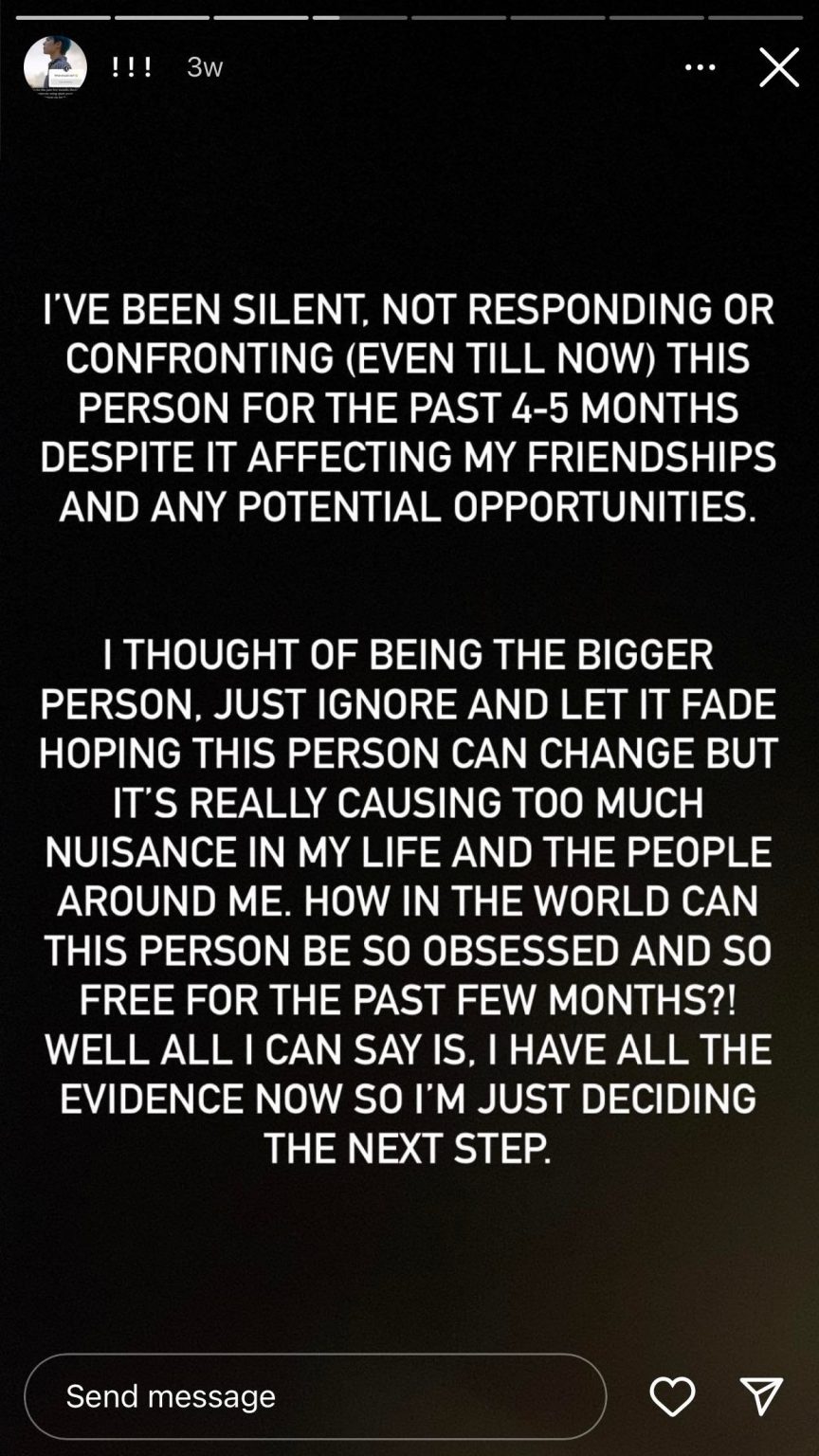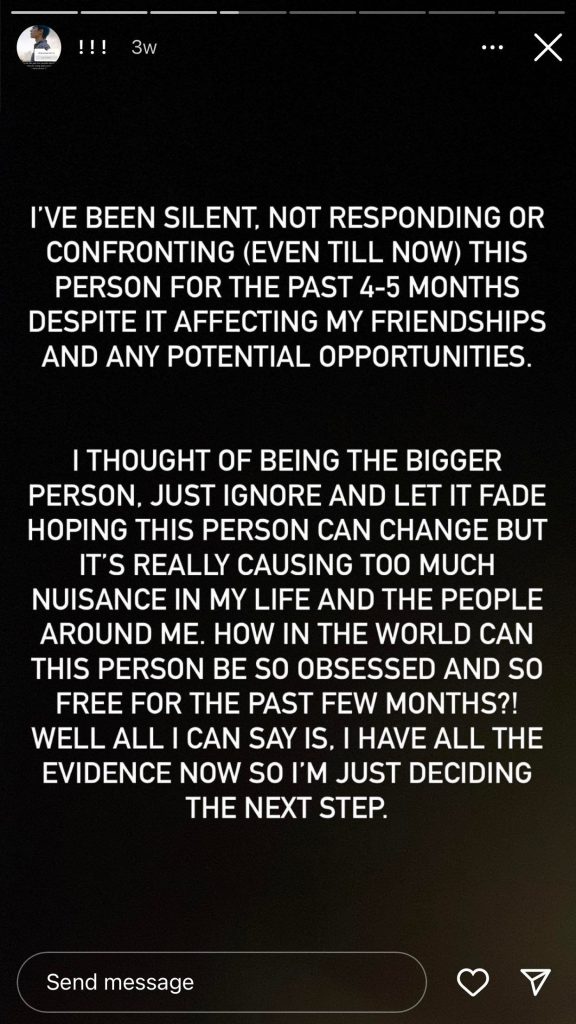 Hence, he filed a police report.
In late July, Yong also told Mothership that a former close friend of his was sabotaging him, but he didn't elaborate on the timeline of things but there were a few hints that he was referring to the harassment case.
For instance, this former friend had purportedly gone around "attacking" anyone who was associated with him, including mutual friends, colleagues, and fans, for numerous months.
---
Advertisements

---
Apparently, this former friend would deliberately disrupt the relationships he had in the industry in an attempt to make them fail. Yong expressed his feeling of betrayal when he learned that this friend was backstabbing him.
Join our Telegram channel for more entertaining and informative articles at https://t.me/goodyfeedsg or download the Goody Feed app here: https://goodyfeed.com/app/
Unless Yong has two persistent harassers in the span of a year, then it's more likely that all the anecdotes are talking about the same person.
Afterwards, case details between one Glenn Yong Qi Hang and Elenanor Lee Kai Xin were dug out, revealing some interesting details.
There were Case Management Conference hearings for both of them, and the nature of the case was put under Protection from Harassment (POHA).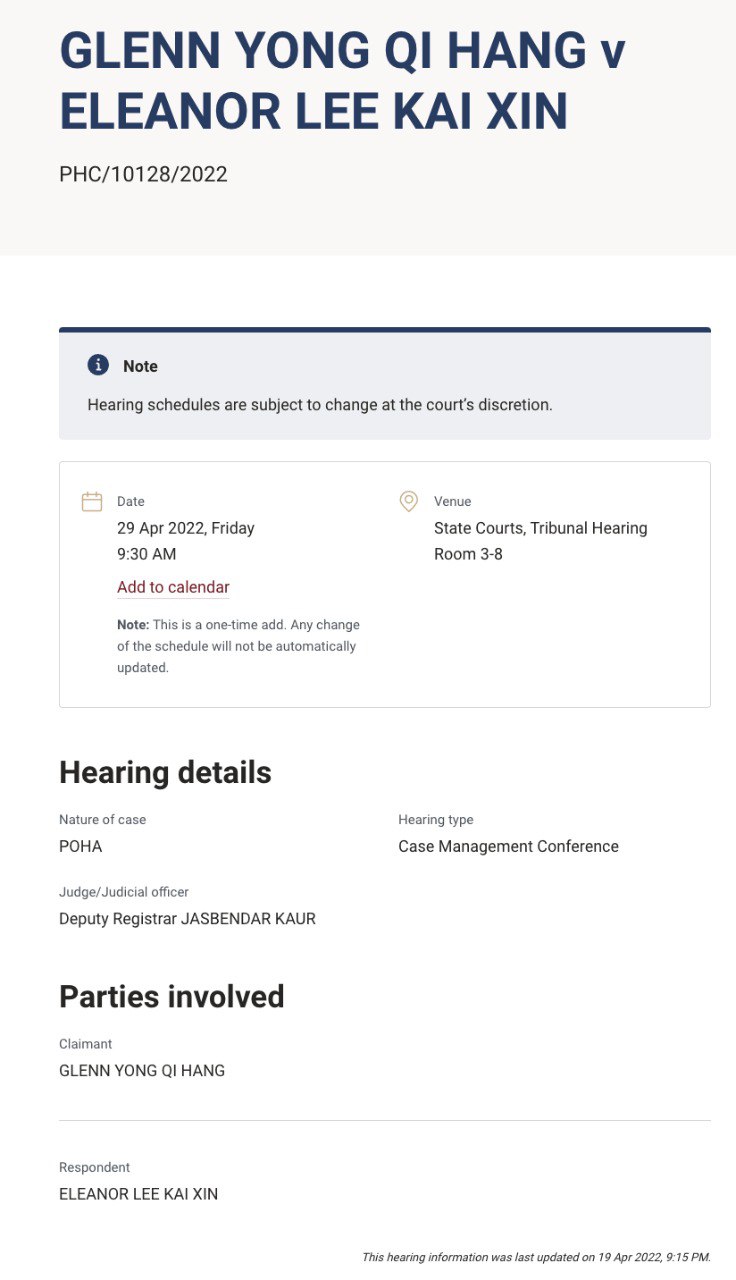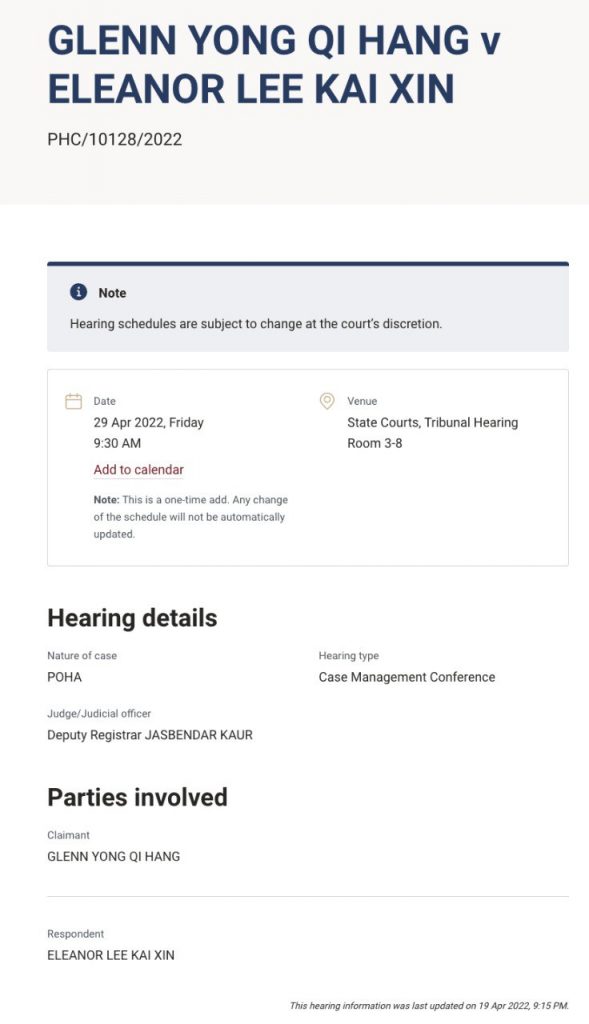 The hearings stretch all the way back to 29 April 2022, with the most recent one taking place on 1 August. The participants remained the same.
Lee: A Misunderstanding
However, it has to be said that after Yong's initial outburst on Instagram in March, both sides have remained quiet about the case proceedings.
Even the statement released by Eleanor Lee today (8 Aug) was rather vague on the details.
Nonetheless, it does confirm the fact that Lee was the antagonist in Yong's story.
In her statement, she wrote that it has been "a stressful past few months", adding that she's glad that she can finally shed some light on the recent happenings.
Immediately, she admits that there have been disagreements between her and Yong, which started around August 2021.
---
Advertisements

---
The timeline checks out.
Unlike some explosive drama that one might from Wang Leehom and Lee Jinglei, Lee simply states that they have resolved their differences through the help of their lawyers and everything was just a "misunderstanding".
She goes on to say that she's pleased that they have concluded this matter.
The statement ended with her thanking the people who encouraged her and sent her supportive messages. She pledges to practice her craft and continue bringing more works to the screen.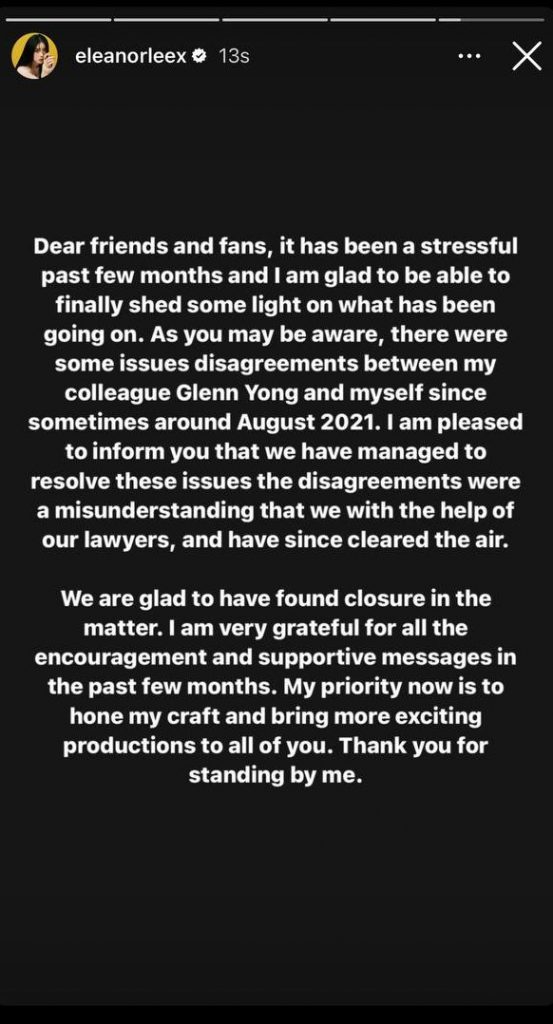 Read Also:
Featured Image: Instagram (@glennyhq & @eleanorleex)

How much cash are you getting in December 2023 from the Government? Here are the facts simplified for you:
Read Also: