---
Advertisements

---
With the Omicron wave crashing upon Singapore's shores, the caseload of COVID-19 infections reached 19,420 on Tuesday (15 Feb) and dropped to 16, 883 cases yesterday (16 February).
The statistics are staggering, some people are starting to panic, but to the citizens of Singapore who are already vaccinated for the most part, please, do not panic.
In view of the high cases, the Ministry of Health (MOH) has changed the COVID-19 Protocols slightly, and here's everything simplified for you!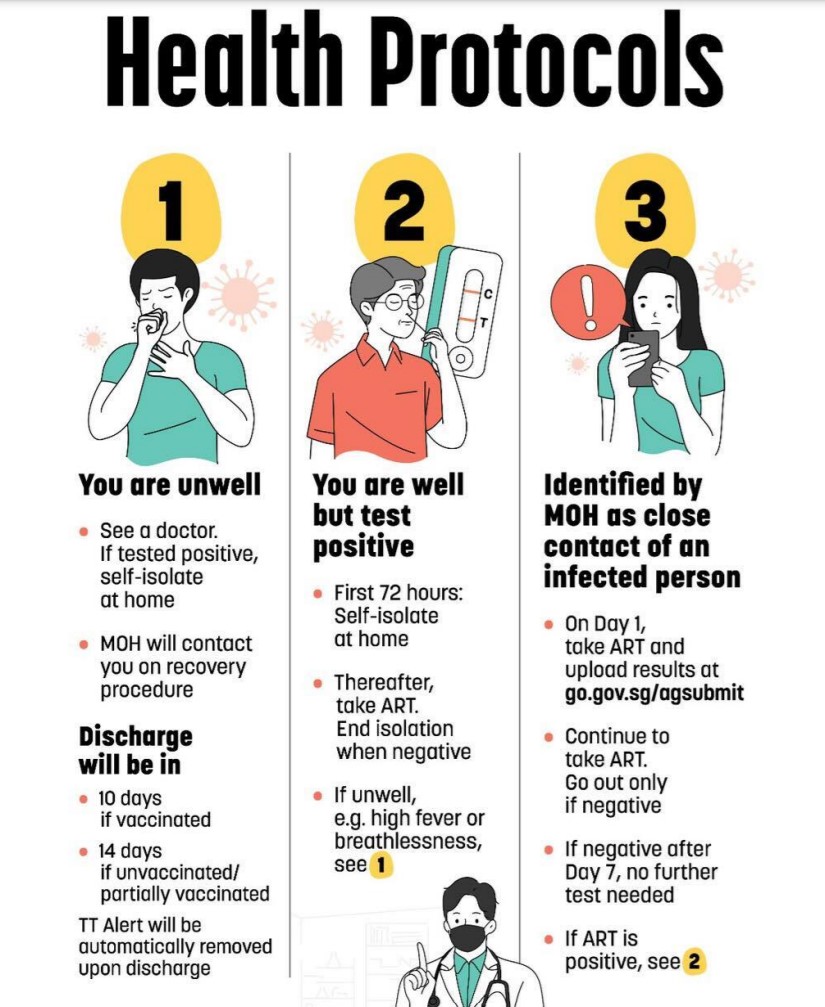 Protocol 1: If You're Feeling Unwell
If you're feeling unwell with the known symptoms of COVID-19 like flu, coughing, sore throat, or a fever, keep calm first.
There's no need to rush to the hospital department.
Your first step is to visit a doctor via private transport or request for a Telemedicine (TM) consult—which essentially links you to a doctor by video—via a TM provider.
You can find the location of the nearest clinic or TM provider closest to you here.
Afterwards, your doctor will order a health-administered Antigen Rapid Test (ART).
For Low-Risk Individual with Mild Symptoms
If you test negative, your doctor will advise you accordingly.
If you test positive, your doctor will proceed with Protocol 2.
Upon testing positive, you will receive an SMS within 24 hours containing a link to fill up a form.
It will require you to provide your personal details and register your household members as close contacts in the linked form.
After filling the form, your household members will receive a Health Risk Notice within 48 hours.
---
Advertisements

---
For Higher-Risk Individuals (Elderly, Immunocompromised, etc.) with Severe Symptoms
Your doctor will order both an ART and a PCR swab test.
Signs of severe symptoms include chest pains, shortness of breath, prolonged fever, and your doctor will send you to a hospital for further assessment.
Otherwise, your doctor will advise you to return home immediate and self-isolate, while waiting for your PCR test results.
If you test negative, please follow the advice of your doctor.
If you test positive, MOH will contact you about your recovery journey. You will be under the Home Recovery Programme if deemed suitable, or be conveyed to a care facility.
Protocol 2
Protocol 2 are for individuals who:
Feel well and have self-tested positive.
Have been assessed by a doctor to be a low-risk individual with mild symptoms.
Have not already been placed on the Home Recovery Programme, which you can refer to on this page.
However, there are certain groups that are recommended to see a doctor even if they feel well after testing positive for COVID-19:
Children below three years old
Persons over the age of 70
People are/have:

 Pregnant
On dialysis (kidney cleansing procedures)
Diagnosed with HIV or AIDs
Been diagnosed with cancer before
Any disease or taking medications that weaken the immunity system
Any disease affecting the heart, lungs, kidney, liver, brain that required hospital admission in the last 6 months

Children younger than 12 years old who have:

Any congenital condition or growth disorder
Diabetes Mellitus or Hypertension.
Immediate Actions for Those Under Protocol 2
Stop going to work immediately and cancel all social activities.
Self-isolate at home for next 72 hours.
After 72 hours, take another ART self-test.
If the ART is negative, you can exit self-isolation and resume normal activities
If the ART is positive, continue the self-isolation.
If you find yourself at a shortage of ART health kits, you can collect more from a nearby vending machine here, and then return home immediately.
For fully vaccinated individuals and children below 12, you can exit self-isolation by Day 7, 12pm onwards.
For partially vaccinated/unvaccinated individuals above the age of 12, you can automatically exit self-isolation on 14 days, 12pm onwards.
---
Advertisements

---
However, if your symptoms worsen or do not improve, please see a doctor or call 995 in an emergency.
Join our Telegram channel for more entertaining and informative articles at https://t.me/goodyfeedsg or download the Goody Feed app here: https://goodyfeed.com/app/
Protocol 3 for Close Contacts of a COVID-19 Case
With effect from 18 Feb 2022, Health Risk Warnings (HRW) have been changed to Health Risk Notices (HRN).
If you are a close contact of a COVID-19 case, you will be served a Health Risk Notice that you have to acknowledge by clicking here.
Upon receiving the HRN, self-isolate immediately for 24 hours and take an ART self-test within those 24 hours.
If you test negative, you may resume with your normal activities afterwards.
If you test positive, follow Protocol 2.
Even if you test negative, you should still continue administering the ART self-test for the next five days before leaving your house.
It's just that simple!
Read Also:
Featured Image: Ministry of Health
---
Advertisements

---

Worker's Party just agree with PAP on something, but there's another reason why they did that. Watch this to the end and you'll understand:
Read Also: