---
Advertisements

---
Sometimes I forget that Singaporean Influencers are a different breed.
They spawned from all kinds; some are pretty chill and some are lowkey obnoxious. And some are straight-up criminals.
Being Mistaken for the Wrong Job
To be fair, if I was a fairly old person with no awareness that Tiktok and Instagram exist, I wouldn't have known who Nicole Choo is.
To the clueless public, she'll just look at any other ordinary citizen, and not someone "famous". And apparently, one patron at a Kopitiam had thought the same, as they came up to her and ordered: "One Tiger beer please."
View this post on Instagram
In the Tiktok and Instagram video, Choo shared the outfit she wore that day, which consisted of a brown halter-neck cropped top with a pair of mid-thing black athletic shorts, an outfit that is considered "lepak".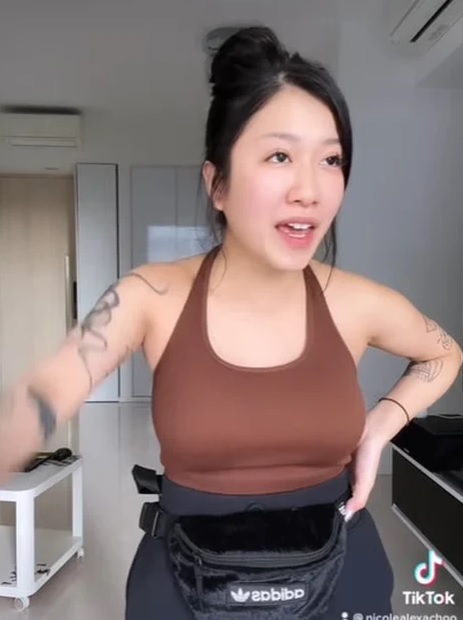 ---
Why the Ridout Road Colonial Houses Saga is Actually NOT a Saga:
---
Honestly, she's dressing relatively nicer as compared to a dry-fit shirt and FBT shorts. And why would one bother to dress nice at a Kopitiam when we know Kopitiam is no place to find love?
And so are clubs. But anyway.
She then went on to explain that when she was at the Kopitiam with her dad, someone mistakenly thought of her as a beer lady and ordered from her.
The interaction left the influencer speechless, adding that she was "shooked".
---
Advertisements

---
She then wore a fanny pack in an attempt to disprove how in no way she look like a beer lady.
Maybe she shouldn't have done that, because the fanny pack actually justified the customer's mistake. And she could even act the part when she jokingly repeated the order in the typical high-pitched beer lady tone.
And I think she might have also come to the realization that she does in fact look the part when replying to one of the comments under the Tiktok.

A Sign to Take On a New Job?
This might be a side hustle that Choo might want to venture in since she practically fit the role so well.
But besides being an Influencer, the 23-year-old started an online croissant business last year. Called Krazy Kroissant, the brand boast selling loaded croissants of various flavors, including What the Guac, where butter croissants are filled with 'special mashed avocado'.
But even further than that, when she was 19, she published a book of poems called nineteen. The book is described to be a "musing that range from Anger, Sadness and Desperation to Love and Hope". The book was poorly received by the public at the time, with Choo being on the receiving end of a significant amount of cyberbullying—including from, of course, Dee Kosh.
In any case, her outfit would be a great costume for Halloween, especially if you are broke and have no budget to splurge.
Read Also:
Featured Image: Instagram (@nicole.choo)