---
Advertisements

---
Much like farting in the office, an allegation of misconduct involving a celebrity will always draw a response.
The alleged offender will either admit to their faults and apologise, or put on their most outraged face, forget to address the claims, and threaten legal action.
Interestingly, both these things happened in the saga involving Night Owl Cinematics (NOC) and its co-founder Sylvia Chan.
If you already know everything about the saga and are just here to read the apology, you can skip ahead to the last fact.
But if you've just woken up from a one-week nap and have just caught wind of this, buckle up, because this is going to be one heck of a ride.
Here are 10 facts about the NOC saga, the long saga that might finally have come to an end:
It All Started With Chicken Rice
Unfortunately for food lovers, I'm not talking about Singapore's beloved dish, or about an episode of Food King Singapore.
The NOC saga began when a social media user by the name of @sgcickenrice shared certain posts on TikTok and Instagram on 8 Oct.
In the posts, @sgcickenrice shared leaked audio and texts of conversations that allegedly took place between people who worked at NOC.
NOC Co-founder Sylvia Chan Was Accused of Abusive Behaviour
As for why they were so inflammatory, well, the posts showed NOC co-founder Sylvia Chan allegedly being verbally abusive to her employees, both in conversations with them and behind their back.
Here are some of the allegations:
---
Advertisements

---
In one of the screenshots shared, a contact saved as "Chan Sylvia" seemed upset with an employee for using the wrong font size for a project, and said "U f**king shit eh" to them in anger.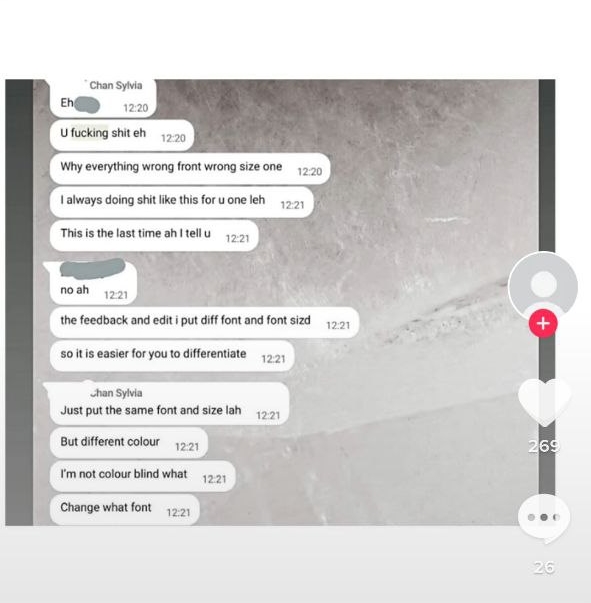 In another conversation, Chan allegedly called someone "f**king retarded" for apparently using the wrong terminology.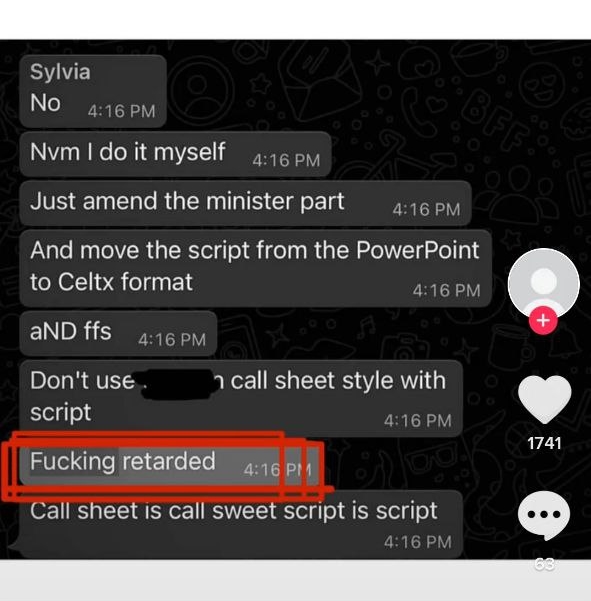 Chan appears to have reserved her most vile comments for a NOC talent named Samantha, as she allegedly wanted to oust her from the NOC team.
A contact saved as "Sylvia" was open about her dislike of Samantha, saying "I f**king hate her" and calling her a "f**k face*.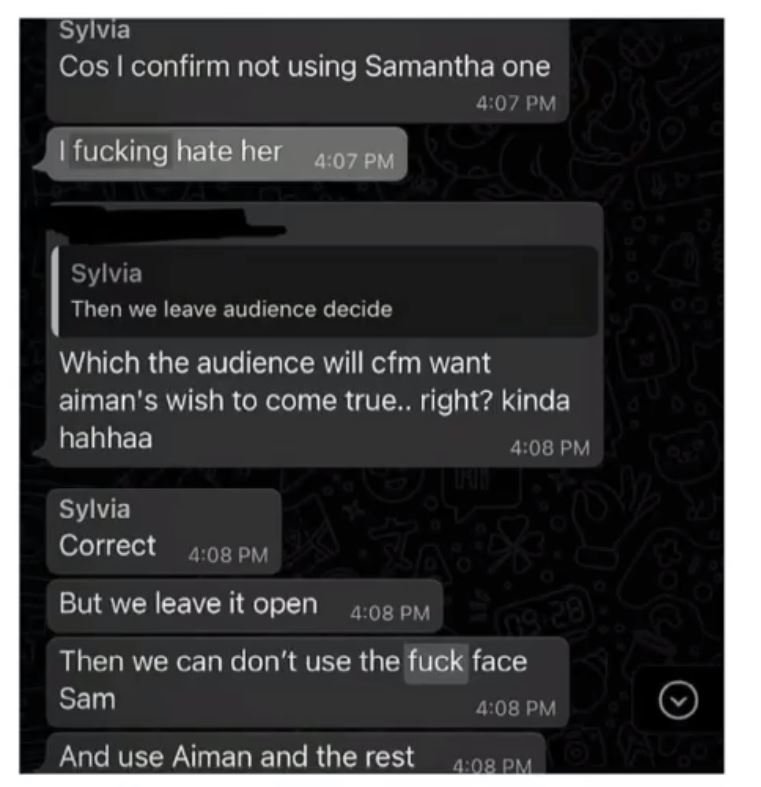 It was also made clear in a leaked audio recording that has since been taken down that the person recorded, purportedly Chan, wanted to kick Samantha out of NOC.
In the clip, Chan allegedly called Samantha a "b*tch" who is "f**king dumb* and said she wanted an "exit strategy" for her.
For those who don't know, Samantha was the winner of kNOCk Out Season 1, a talent scouting show created by NOC.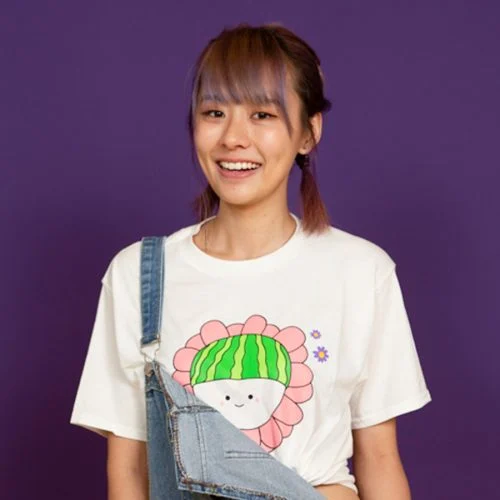 It's believed that the incriminating messages were sent in Feb last year, not too long before NOC aired the final episode of the talent show.
Netizens Were Furious
Netizens were outraged by the claims, taking to Chan's Instagram page to chide her for the alleged verbal abuse.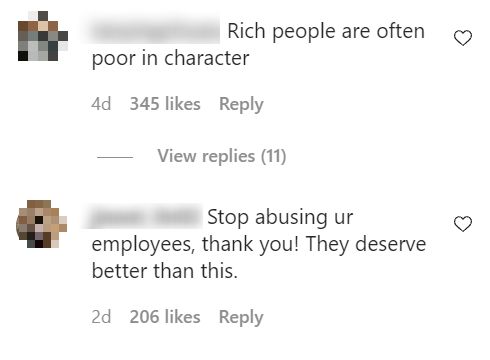 Some netizens also took their anger out on the dislike bar on a NOC video that was published that day.
---
Advertisements

---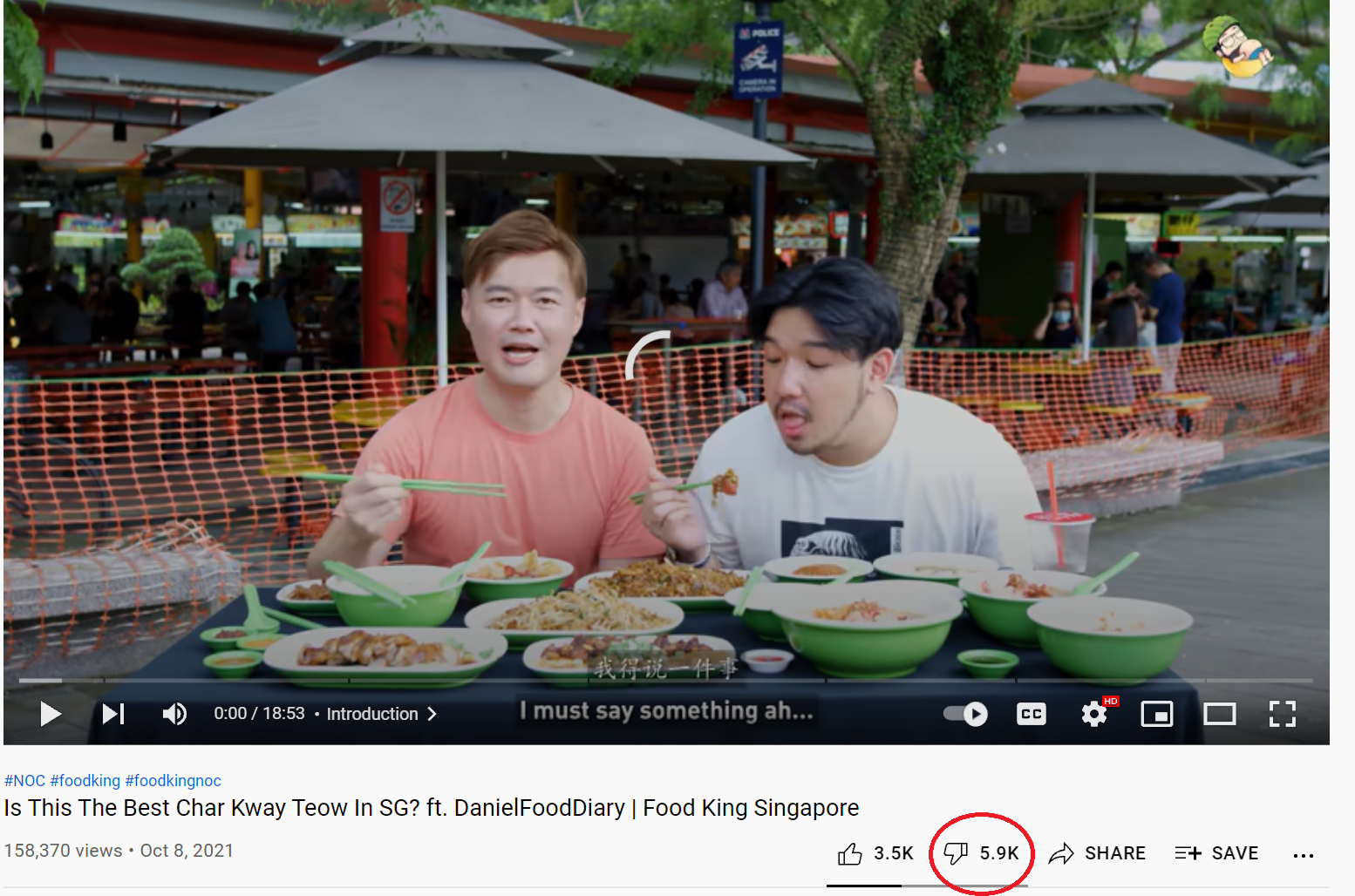 NOC Issued a Response Which Made Netizens Even More Furious
Typically, when a company responds to accusations, it helps to assuage public anger. In this case, however, it did the opposite.
On Monday (11 Oct), NOC released a lengthy statement on its Instagram account, saying that the attacks on NOC can be seen as a "massive crusade against the public image and reputation of NOC and its employees".
View this post on Instagram
It explained that it didn't issue a "hasty response" to the allegations as it needed to investigate the claims first.
The statement added that "there have been serious breaches of the privacy laws and those responsible will be investigated by the authorities."
NOC said its "lawyers are reviewing the matter," and will pursue "legal avenues to achieve justice for our NOC team."
---
Advertisements

---
At the time, some commenters were disappointed with the response, as they felt the company was "not taking accountability".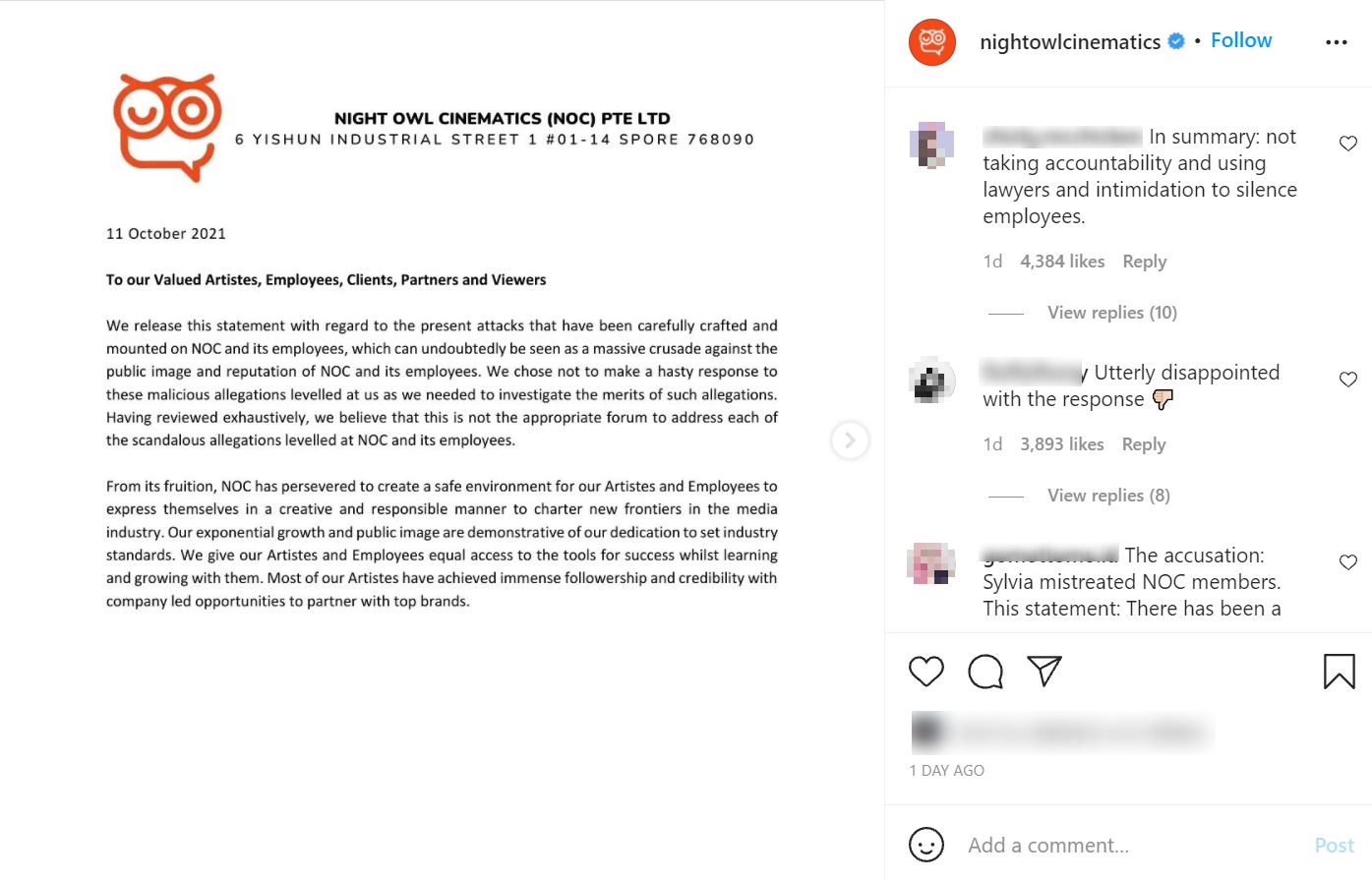 NOC has since disabled comments for the post.
NOC Sent a Cease & Desist Letter to @sgcickenrice
NOC followed up on their promise to seek legal action and sent a cease and desist letter to @sgcickenrice.
View this post on Instagram
The letter demanded that @sgcickenrice stop publishing all allegations or face legal action.
---
Advertisements

---
The lawyer's letter claimed that the allegations shared by @sgcickenrice have "caused harassment, alarm, and distress to many, a disruption to our Clients' business and the loss of our Clients' sponsors."
If the allegations were still online at 10am the next day, legal proceedings may be initiated, it said.
@sgcickenrice Removed All of Its Posts
Soon after, @sgcickenrice removed all but one of its posts, which was the lawyer's letter sent by NOC.
It didn't have much time to act, as the letter was sent at 6pm on Monday and @sgcickenrice had to remove all posts by 10am the next day.
This is why…
Netizens Offered to Set Up a Crowdfunding Campaign, But Couldn't as @sgcickenrice Remained Anonymous
In a bid to help @sgcickenrice in what could turn into a legal battle, some netizens offered to set up a crowdfunding campaign.
However, as the user pointed out, it can't do so as the identity of the user/users behind the account is anonymous. So, the user appealed for other means of assistance.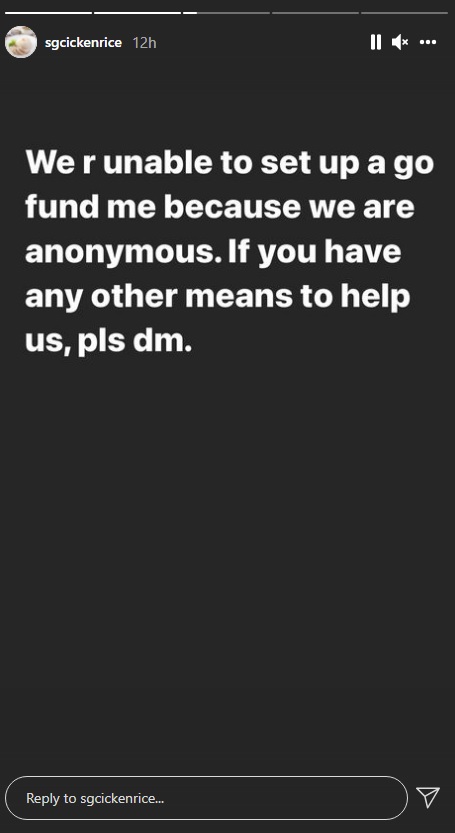 The next day, something interesting happened: a leaked recording supposedly of Chan calling Samantha names was reposted on the account. 
---
Advertisements

---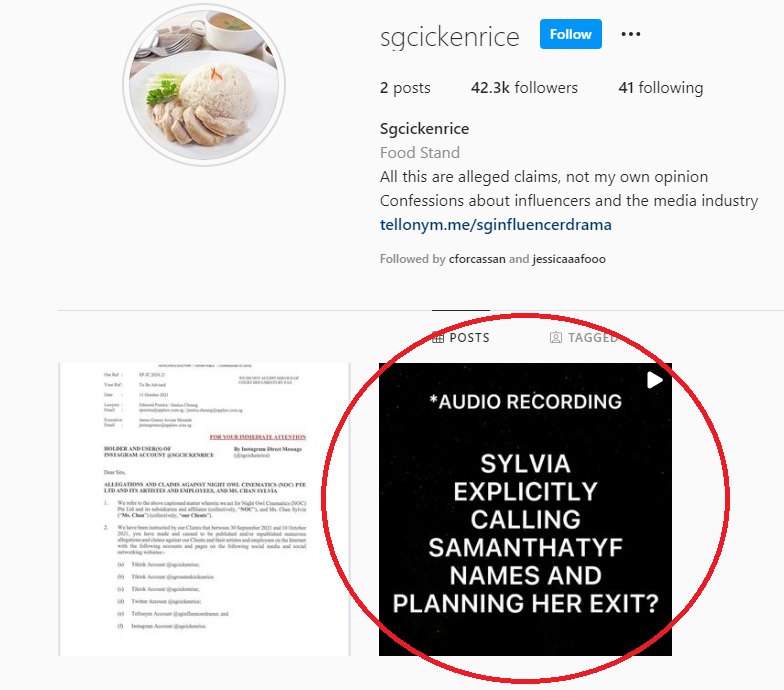 Wait, does that mean that…
@sgcickenrice Lawyered Up & All the Posts Reappeared
That's right, in a twist that would have shocked M. Night Shyamalan, the Instagram account engaged law firm Eugene Thuraisingam LLP to act on its behalf.
View this post on Instagram
The lawyer's letter pointed out a few interesting things that we laypeople may have missed:
that NOC's cease and desist letter had not alleged that the claims made by @sgcickenrice are untrue
that it wasn't clear if NOC's letter was a formal threat to institute criminal proceedings against @sgcickenrice (fun fact: this is a civil litigation so they can't initiate criminal proceedings against anyone)
Eugene Thruraisingam LLP later confirmed that it is representing @sgcickenrice on a pro bono basis – i.e. for free.
The firm said it's in the midst of taking @sgcickenrice's instructions and will respond substantively in due course.
This is a common response to any demand letter, as the first official response would usually be much, much longer.
MILO & Colgate Have Distanced Themselves From Chan
Following the public outcry, MILO and Colgate, two things that seemingly don't go together, have distanced themselves from Chan.
In response to the barrage of questions from commenters, Colgate clarified on its Instagram account that it is no longer working Chan.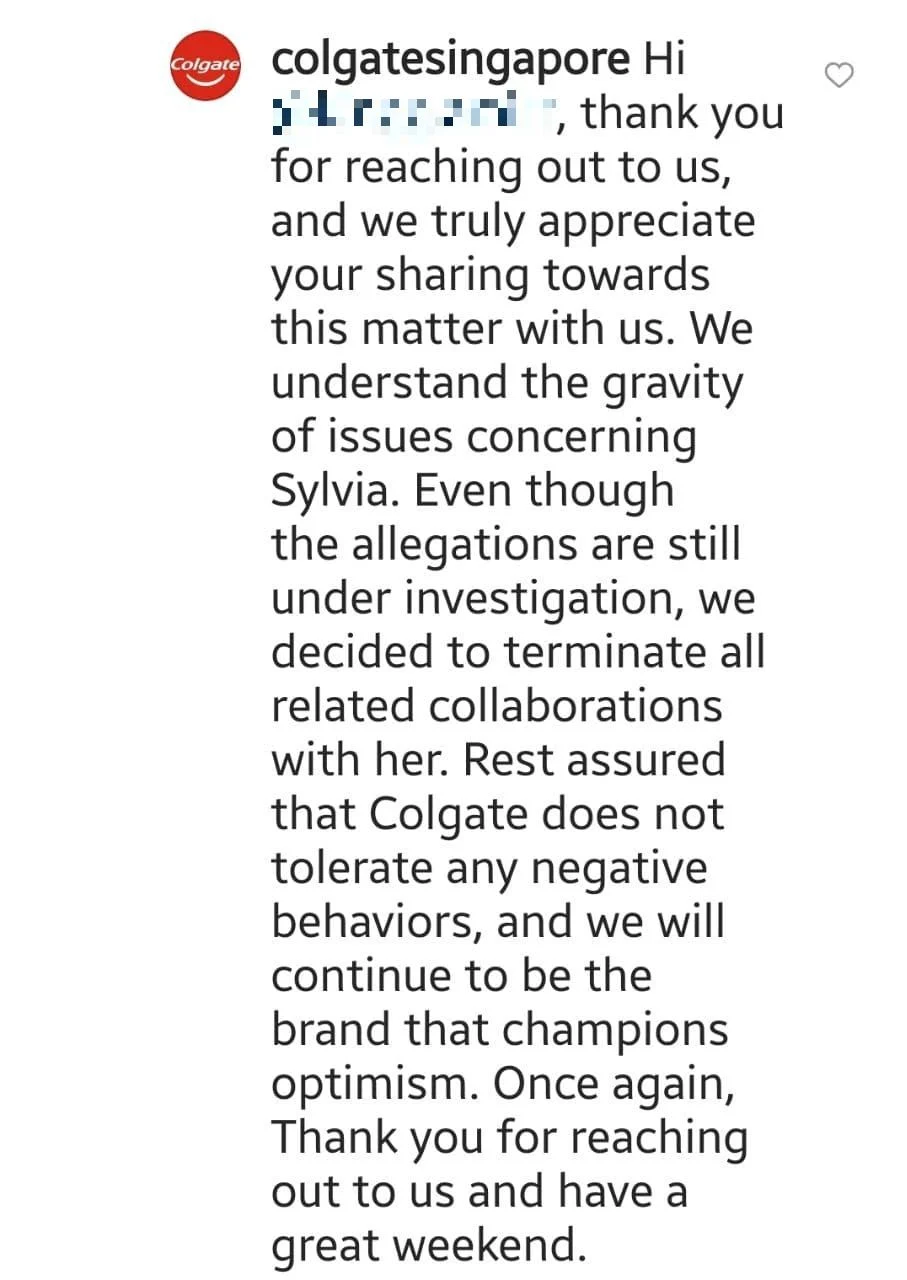 It said it has decided to terminate all collaborations with Chan even though the allegations are still under investigation.
MILO Singapore then followed suit, saying it is no longer working with Chan on any projects.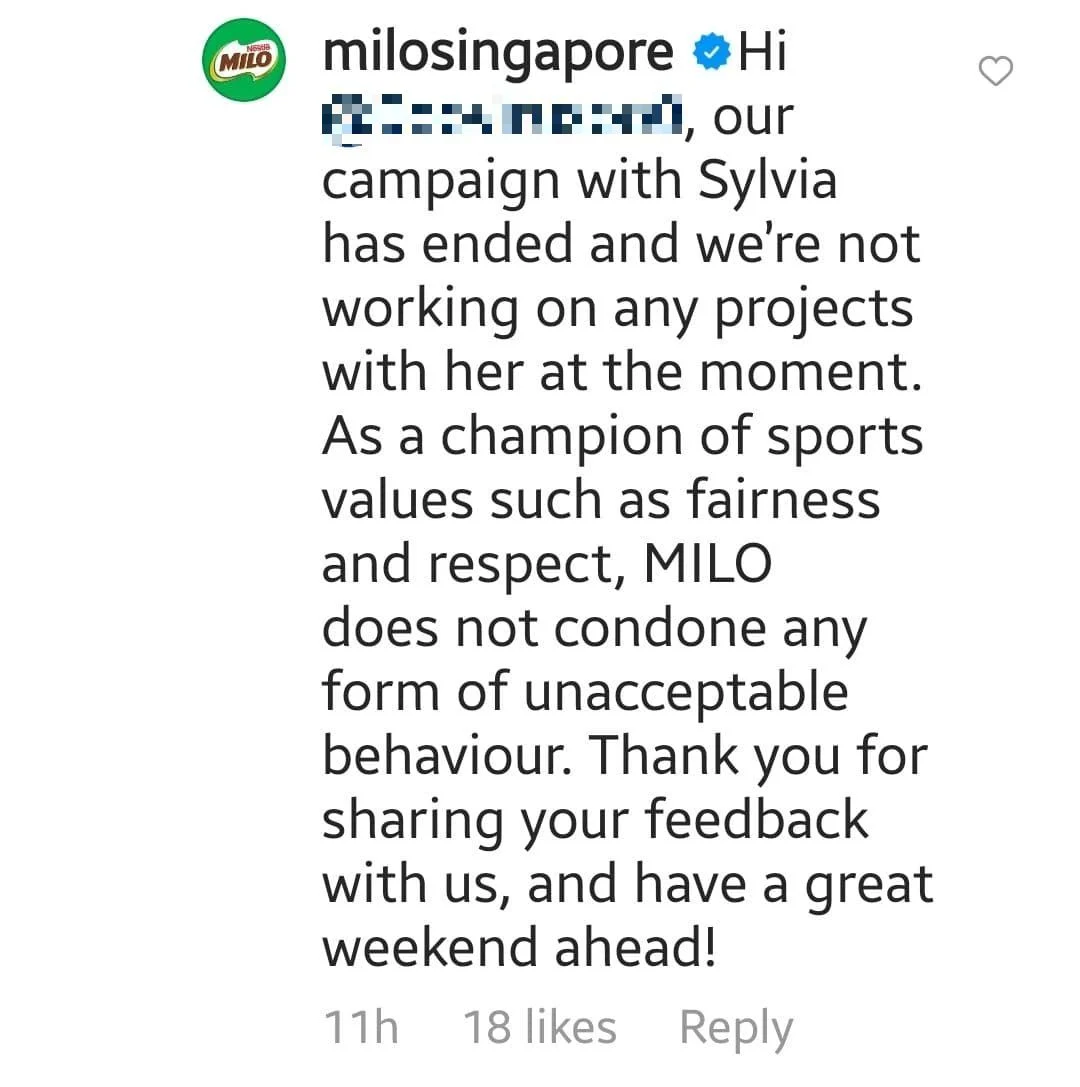 "As a champion of sports values such as fairness and respect, MILO does not condone any form of unacceptable behaviour," it said.
With neither side appearing eager to back down, netizens wondered how the spat would end.
Then, at around 8pm last night (13 October), this happened:
Sylvia Chan Apologised on Instagram
Chan issued a lengthy apology on her Instagram account, where she acknowledged that her "expressions may have been harsh".
She started by apologising for taking time to respond to the allegations and said she initially wished for her side of the story to be heard before people passed judgement.
"But then, it dawned on me. It does not matter. What matters most is the fact that I did not live up to the standards expected of me," she wrote.
"Upon reflection, my expressions may have been harsh. However, it was never my intention to upset anyone. I will learn to be more conscious about my choice of words. Moving forward, I can and I will do better."'
She said she's saddened if the "good character and excellent work" of her teams are being "undermined" by her past actions.
"For my teams, I am sorry and promise to do better. I thank all of you for supporting the company despite the shortcomings of your leader."
As for her interactions with Samantha, Chan explained that the winner of NOC's talent show kNOCKout would be granted a full-time contract with the company.
But she said she found out "late into production" that Samantha – the eventual winner – had an existing three-year bond with a government agency and could not sign the NOC contract.
"As an executive producer, that really upset me as I felt that everything we did in the show was for nothing…" Chan wrote.
"I vented to my colleagues behind the scenes in private conversations with them," she admitted. Chan added that the pair have since made peace.
"I do not lament everything that has happened. These mistakes are mine to learn", Chan wrote.
Chan said that moving forward, she will be removed from NOC's line-up of artistes.
"…to all who have placed your faith in me and felt disappointed with me by the allegations made against me, I am truly sorry. I promise to become kinder, more patient, and more thoughtful," she said at the end of her post.
You can read Chan's statement below:
View this post on Instagram
Interestingly, the posts containing the allegations against Chan have since been removed from @sgcickenrice's account. 
Will there be another twist in this tale? Stay tuned to find out.
For now, there doesn't appear to be any illegal wrongdoing on Chan's part. To know what a boss can't do to an employee, watch this to the end:
Read Also:
Featured Image: Instagram (@sylsylnoc)

Here's a rather unexpected timeline of the $2.8 billion money laundering case in Singapore as revealed by Minister Josephine Teo during a parliament sitting on 3 October 2023:
Read Also: