---
Advertisements

---
These days, with netizens holding celebrities to account for what they say and do in public and their personal lives, it's important to watch what you say. 
You need to watch what you say in public, at home, in the office, in the toilet, and occasionally at bubble tea outlets in Toa Payoh (I won't say why).
Because if netizens catch wind of some mistreatment or misconduct on your part, it's safe to say they won't keep it a secret.
Instead, they'll ensure that everyone on the interweb knows who you really are.
Leaked Chats Allegedly Show NOC's Sylvia Using Abusive Language Towards Staff
Rumour has it that Night Owl Cinematics (NOC) co-founder Sylvia Chan is not nice to her staff.
Allegations over Chan's allegedly abusive language towards her staff surfaced on the TikTok account @user12937484636 and Instagram account @sgcickenrice yesterday (8 Oct).
Both accounts had shared screenshots of leaked text messages allegedly sent by Chan to some of her employees, where she allegedly uses vulgarities and a patronising tone.
In one of the screenshots shared, a contact saved as "Chan Sylvia" seemed upset with an employee for using the wrong font size for a project, and said "U f**king shit eh" to them in anger.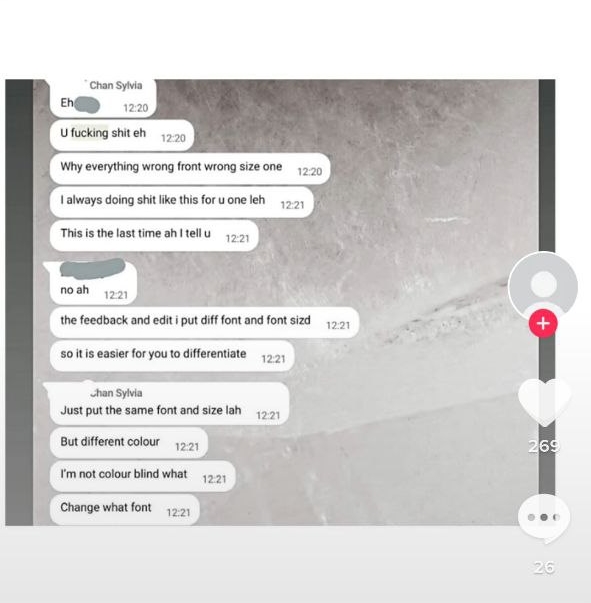 In another conversation, the contact with the same name – Chan Sylvia – was clearly unimpressed with the thumbnail chosen by a worker, calling it "ugly shit".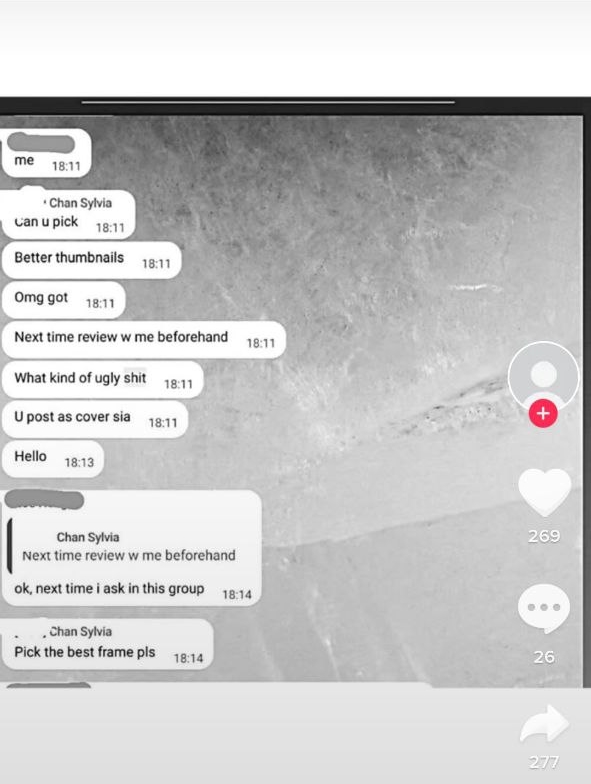 Perhaps the most appalling instance of abuse came when Chan allegedly called someone "f**king retarded" for apparently using the wrong terminology.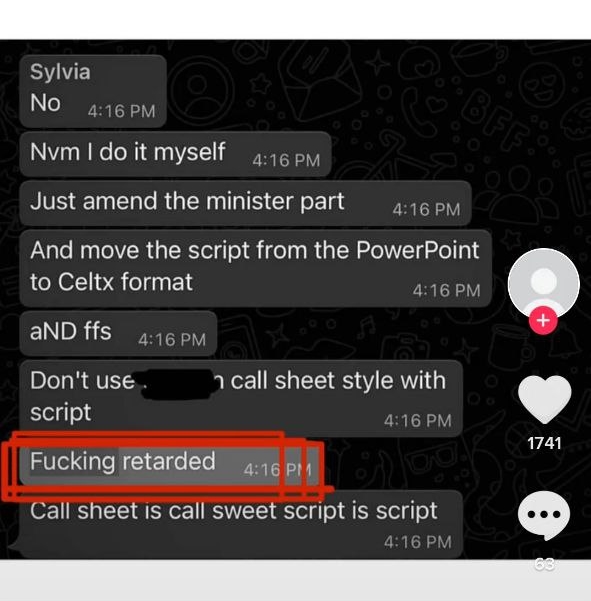 Another post shared by @sgchickenrice called Chan out for using a "condescending tone" when texting her workers.
---
Advertisements

---
Here are some examples they provided: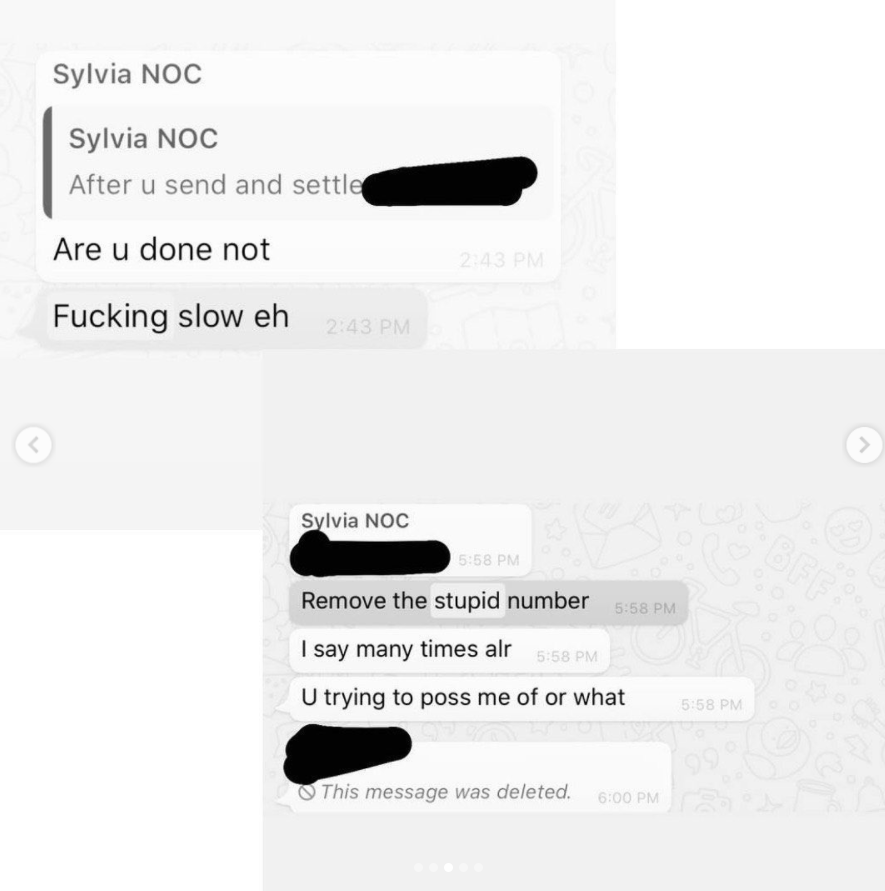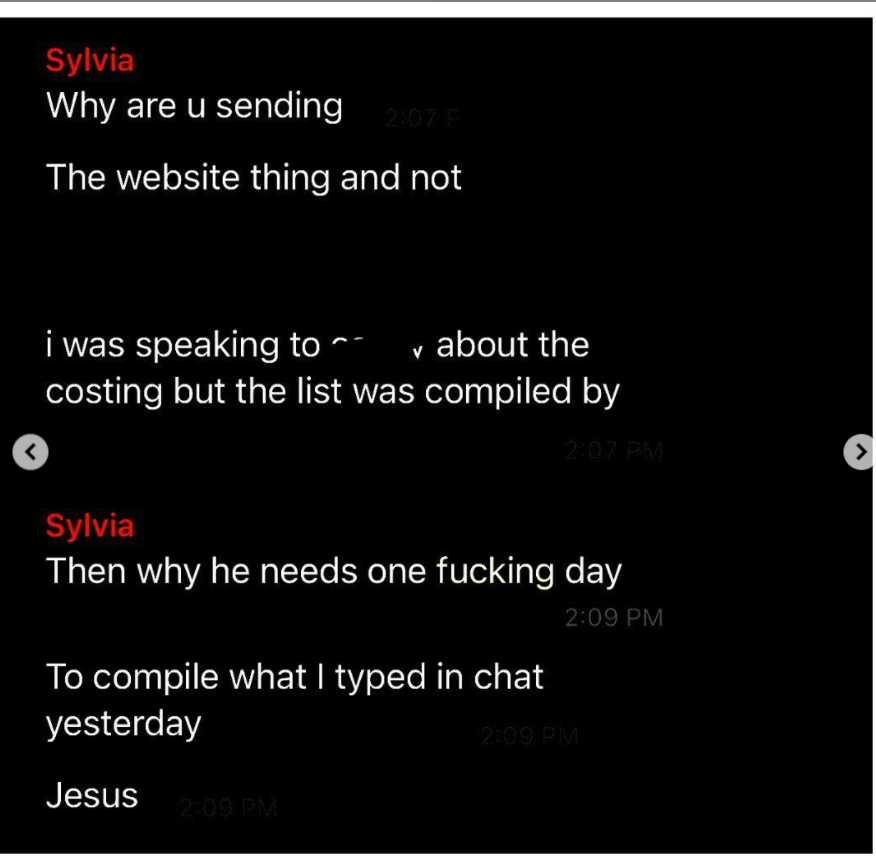 Employees weren't the only ones who Chan seemed to have a problem with.
In another leaked chat, Chan allegedly said she finds it hard to talk to influencers because they are "stupid", before walking it back and saying they're "not so smart".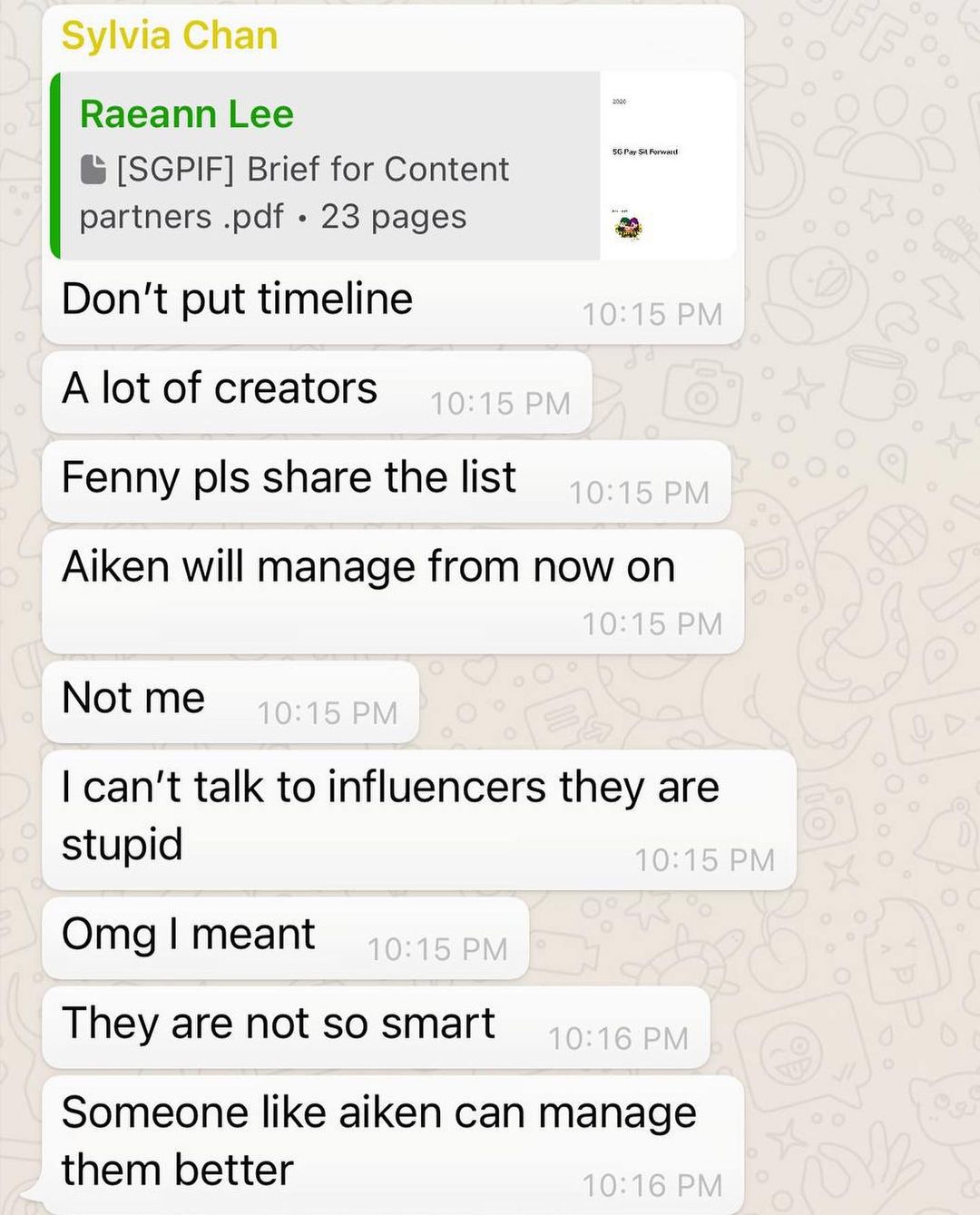 Zeroed In On NOC Talent Samantha; Allegedly Called Her "F**k Face"
Chan appears to have reserved her most vile comments for a NOC talent named Samantha, as she allegedly wanted to oust her from the NOC team.
A contact saved as "Sylvia" was open about her dislike of Samantha, saying "I f**king hate her" and calling her a "f**k face*.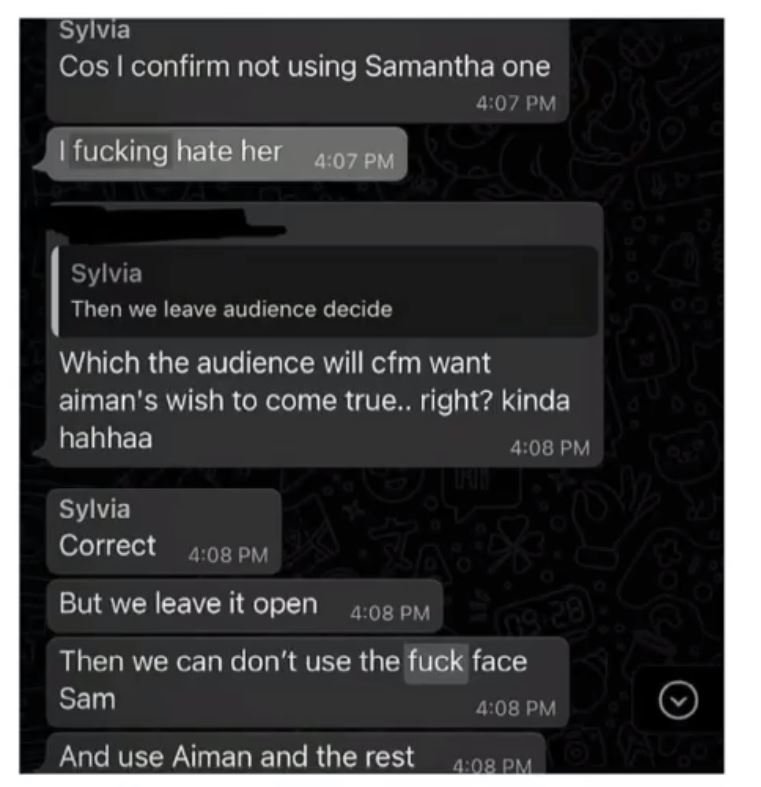 In another chat which appears to be about choosing people for a specific role, Chan allegedly called Samantha "f**king annoying*.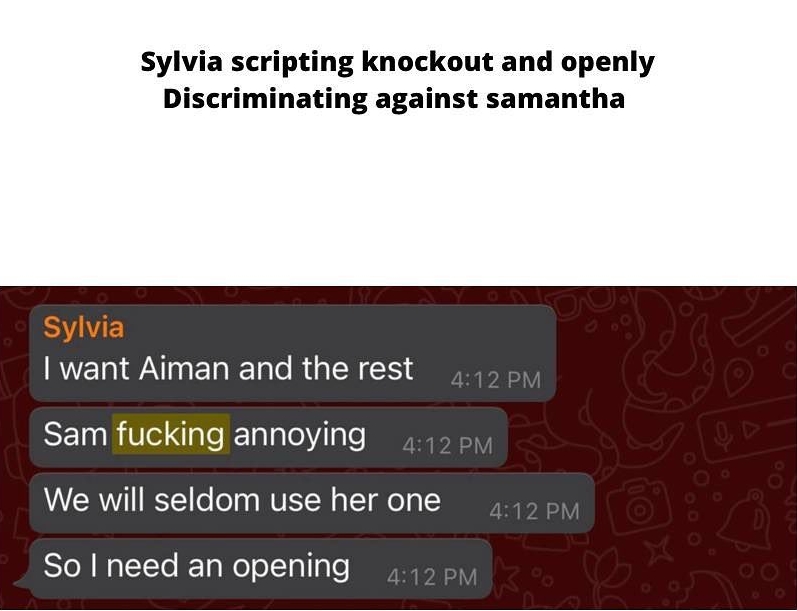 It was made abundantly clear in a leaked audio recording, that the person recorded, purportedly Chan, wanted to kick Samantha out of NOC.
In the clip, Chan allegedly called Samantha a "b*tch" who is "f**king dumb* and said she wanted an "exit strategy" for her.
For those who don't know, Samantha was the winner of kNOCk Out Season 1, a talent scouting show created by NOC.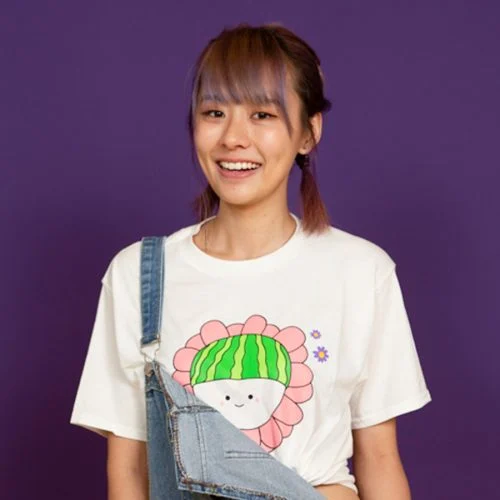 It's believed that the incriminating messages were sent in Feb last year, not too long before NOC aired the final episode of the talent show.
---
Advertisements

---
It's unclear if Samantha is still working with NOC.
After allegations of abusive language towards Samantha emerged, several kNOCk Out contestants rallied around Samantha on social media, sharing positive anecdotes about their experiences with her.
One of them called Samantha "one of the kindest people" she's ever met.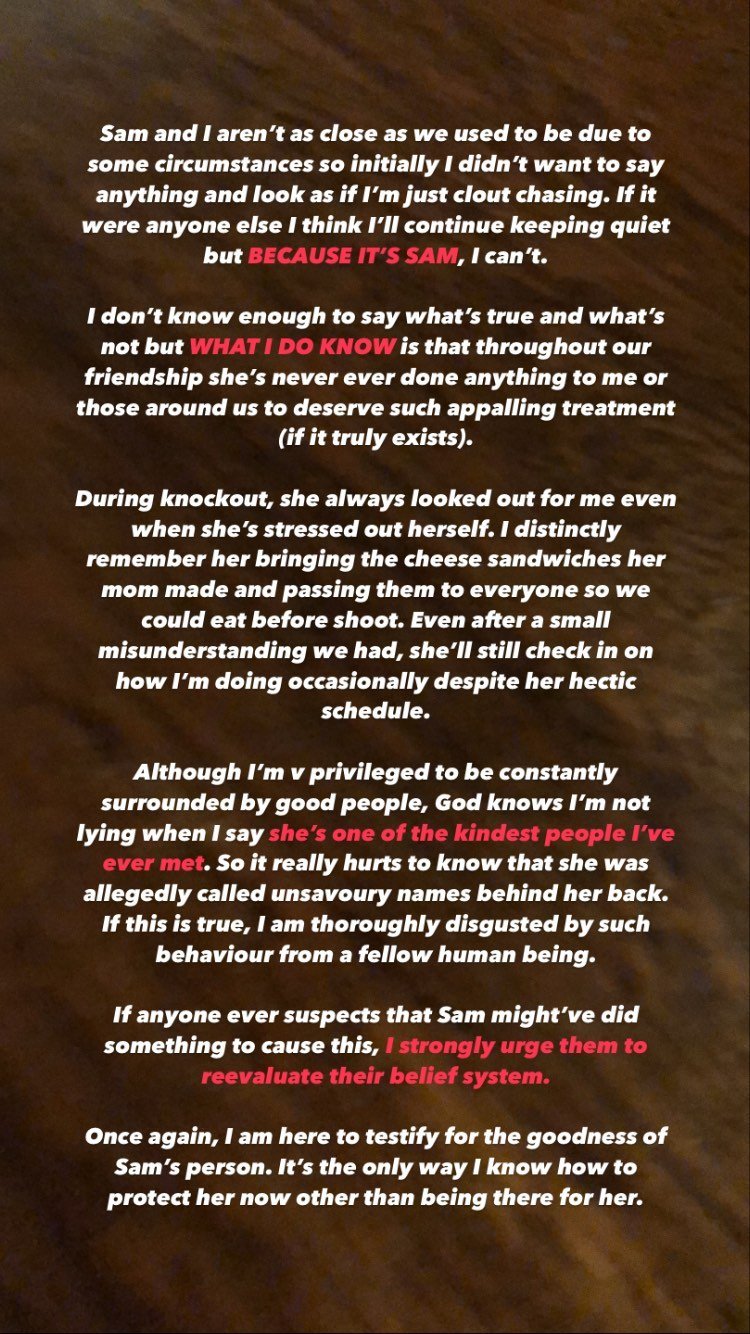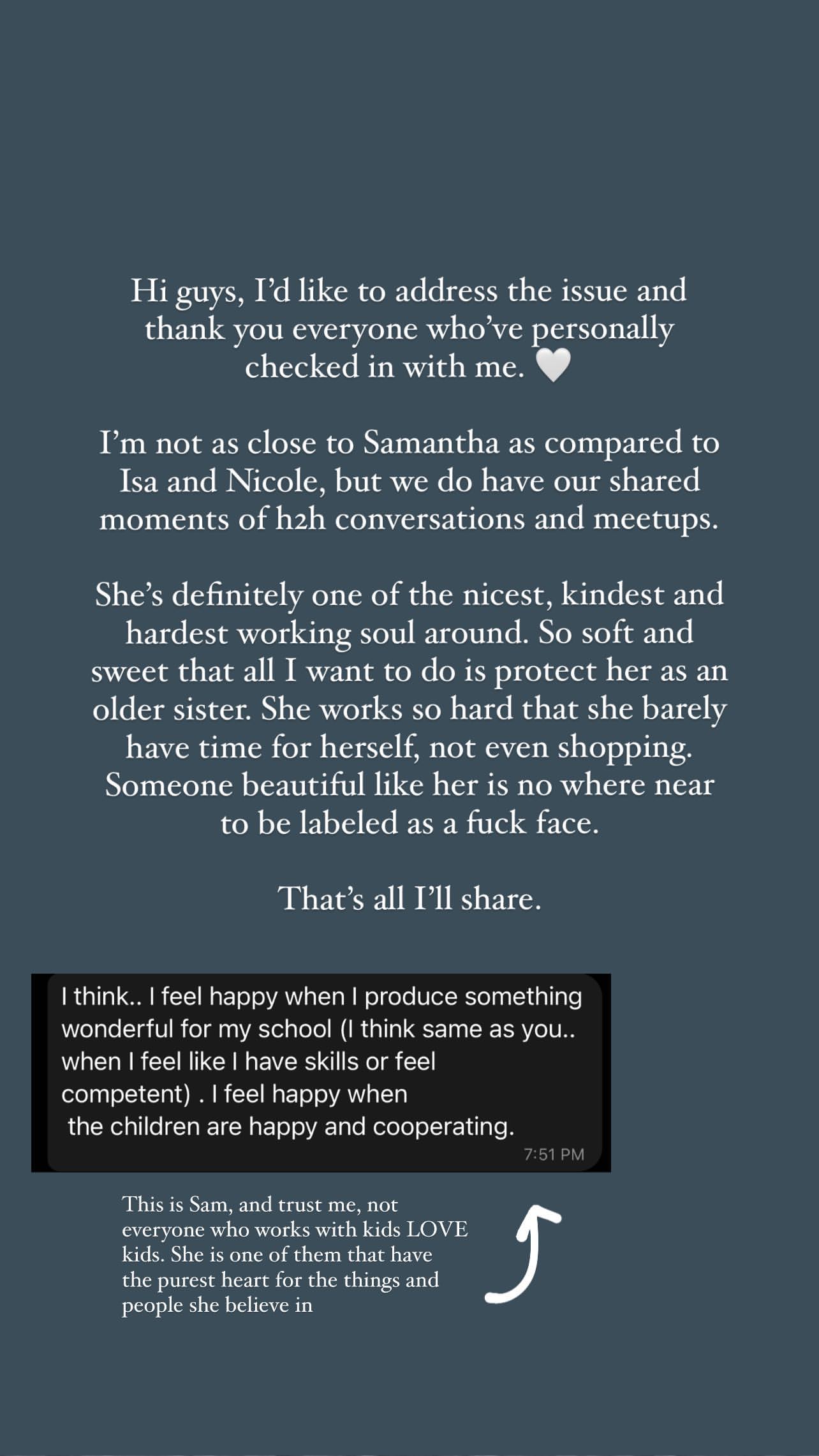 No Response From Chan
Chan has yet to respond to the allegations, meaning we can't be sure that they're true. Though, if we're being honest, it doesn't look good. 
In the last post Chan shared on Instagram, the 32-year-old said she's an "advocate for mental wellbeing".
"Just because someone chooses to smile instead of cry, it does not mean that she is not struggling with mental health problems," she said.
---
Advertisements

---
"We can never know what anyone else is dealing with mentally just by looking at the surface. Stigma happens when we are too quick to judge, dismiss or criticize."
Hmm…
In any case, what she has done, if true, isn't an offence. To know what a boss can't do to an employee in Singapore, watch this video to the end:
Read Also:
Featured Image: NOC & Instagram (@sgchickenrice)

Worker's Party just agree with PAP on something, but there's another reason why they did that. Watch this to the end and you'll understand:
Read Also: