---
Advertisements

---
When you think about Sylvia from Night Owl Cinematics (NOC), a bunch of YouTube videos and her colourful hair are probably what come to mind.
But it seems like the 35-year-old has since embarked on a new career path:
Being a life coach.
Last Saturday (20 May), Chan started posting a series of Instagram stories on her account to inform her followers of her newest career venture.
She also updated her Instagram bio to reflect the phrase "Life coach in training".
For the unaware, having a life coach is basically like having a mentor who will guide you through different difficulties in life and offer professional advice.
So if you have friends out there that love being the Agony Aunts of the group, maybe this is a career that you can ask them to consider lah.
---
Why Bird Paradise Suddenly Became Singapore's Yishun:
---
Said that She'll Talk About All Her Experiences, Including Her Divorce
In her Instagram stories, Chan hinted that she has "moved on to MANY wonderful projects" after "lots of things" happened in her life.
In particular, she emphasised that her "most exciting" project right now is her life coach journey; she added that she is still studying to become one.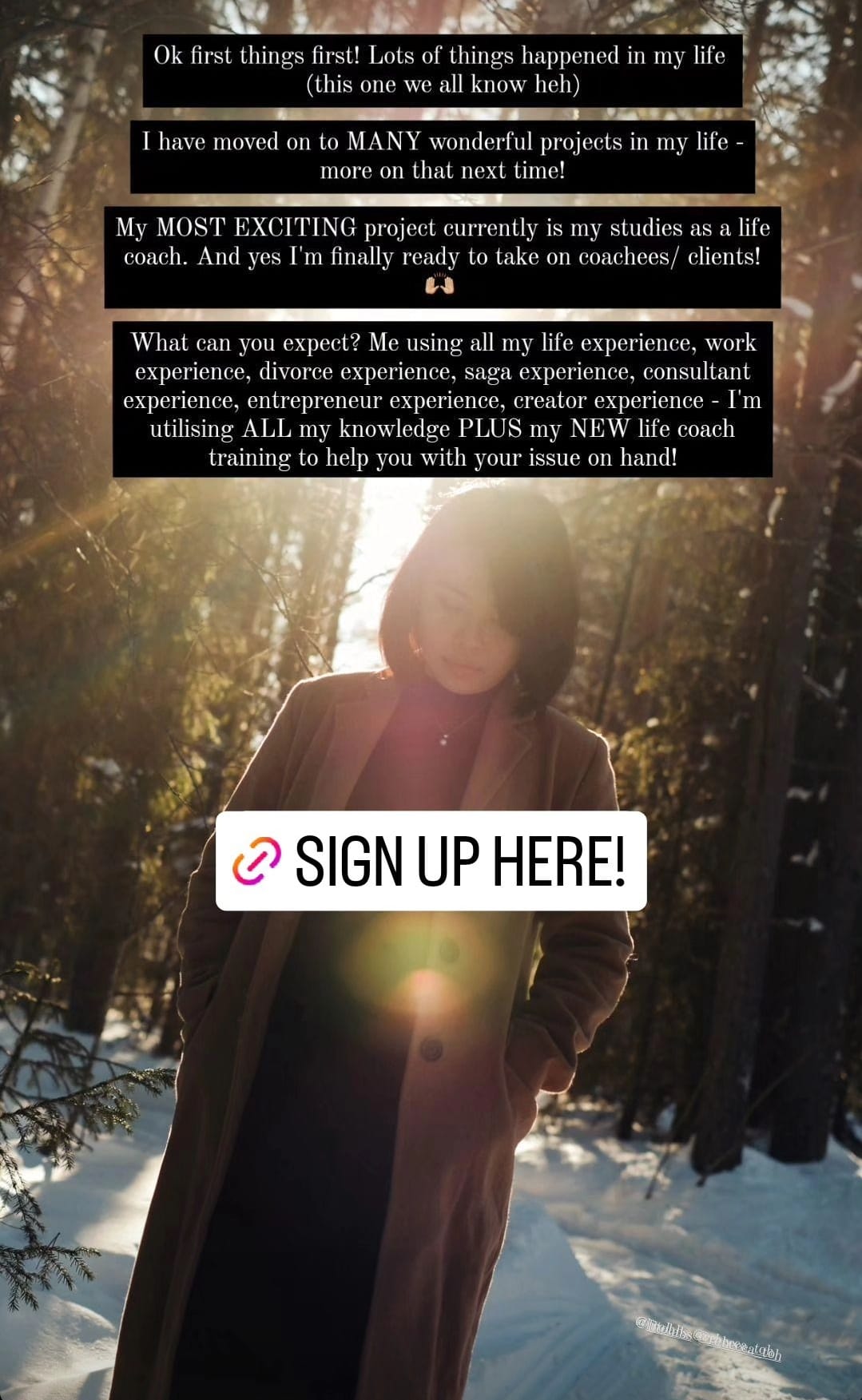 However, she added that as a student life coach, she is now ready to take on clients.
As for what clients can expect from their sessions with her, Chan pledged to use "all [her] life experience", including her experiences as a consultant, entrepreneur and creator.
---
Advertisements

---
She also highlighted that she would be using her "divorce experience" and "saga experience" as well, which I'm sure most of us are familiar with.
And for those who've been living under a rock since the pandemic started, Chan and her ex-husband Ryan Tan made headlines after divorcing each other in 2020 after a decade of marriage.
The former couple had founded the now-defunct NOC YouTube channel together.
As for the saga, NOC employees revealed Chan's "toxic" management style, amongst other things, causing more drama to emerge.
Said that Many People Have Asked Her to Share Her Experiences and Advice
But despite all that Chan has gone through over the past few years, she wrote that she has received "soooo many requests" to share more about the lessons she has learned over the past couple of years.
However, she emphasised that she wanted to first learn a new skill to "live and breathe professional, [result-driven] frameworks".
She also explained that she began her life coach studies to better understand how to advise her clients and maximise the benefits they obtain when they employ her as a life coach.
In particular, she cited one of her goals as being able to "dish advice that [is] tangible and actionable to [clients'] own lives in addition to sharing [her] epic stories and lessons".
In another Instagram story, she expressed joy and excitement at embarking on this new journey.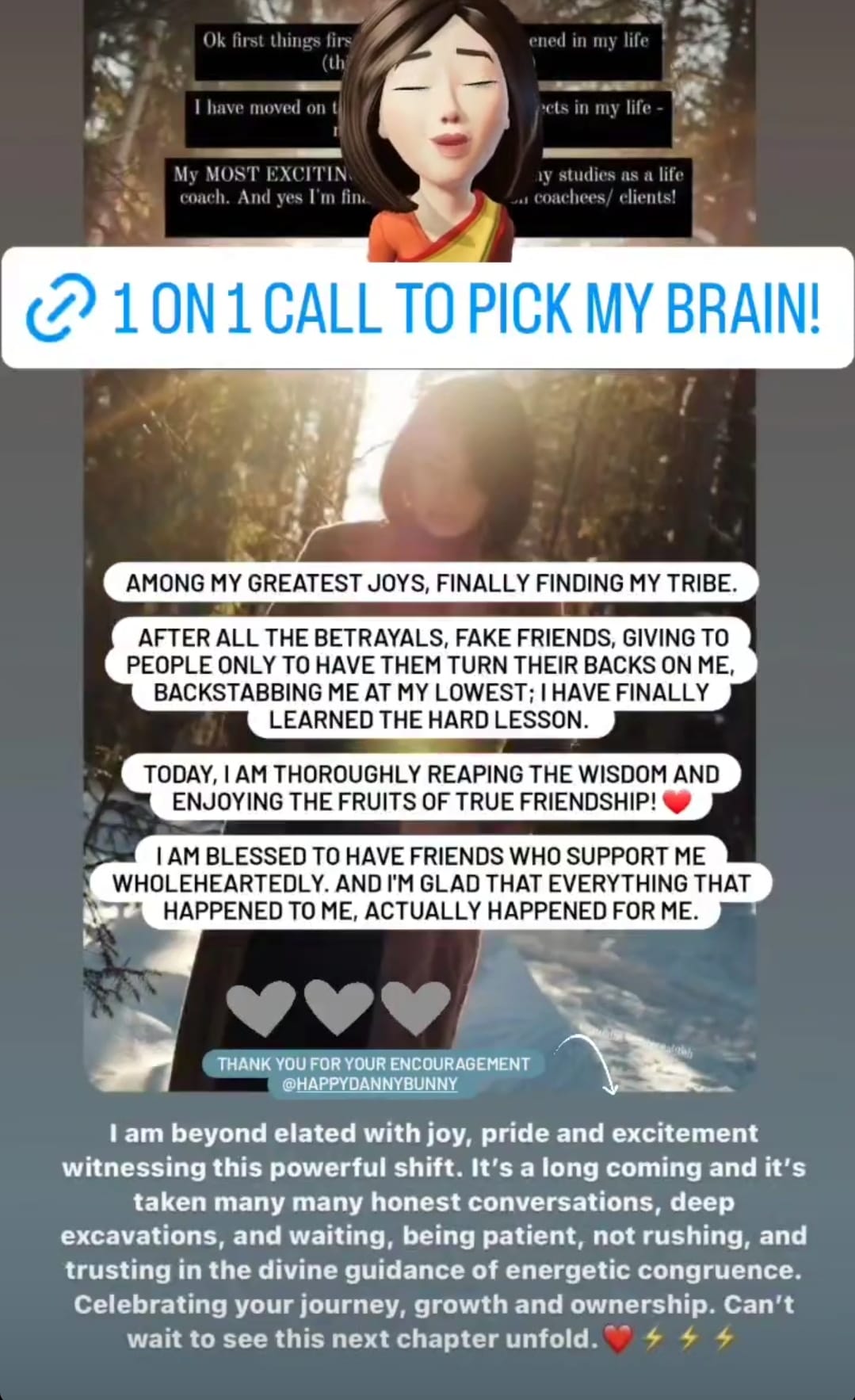 Thanked Her Current Job for Allowing Her the Flexibility to Be a Life Coach
And for those who've been following Chan's post-NOC life closely, you'd know that she took up the role of regional head of media strategy at Gushcloud after the NOC saga.
---
Advertisements

---
She also plays a part in rolling out content on Savour365, a platform that provides "real-life stories to nourish your body, mind and soul".
With regards to how Chan will juggle three jobs in one, she addressed this through her Instagram stories as well.
In particular, she expressed gratitude towards Gushcloud for encouraging her to "pursue her curiosity in life coaching".
She also said that Savour365's journey of sharing "meaningful real life stories" aligns with her own views and that they are her "dream team".
Will Only Take On Clients Who "Align" With Her
Speaking about aligning, Chan also brought that up as a requirement for potential clients interested in working with her.
In the Google Forms that allow clients to register their interest in having Chan as their life coach, Chan wrote that "alignment" is of great priority to her now.
---
Advertisements

---
In fact, one of the questions in the form is, " 'Alignment' is my North Star these days. I would love to get you onboard if our stars align! Tell me about yourself and why you are seeking coaching with me!"
In her Instagram stories, Chan also talked about why she is only looking to work with those who align with her.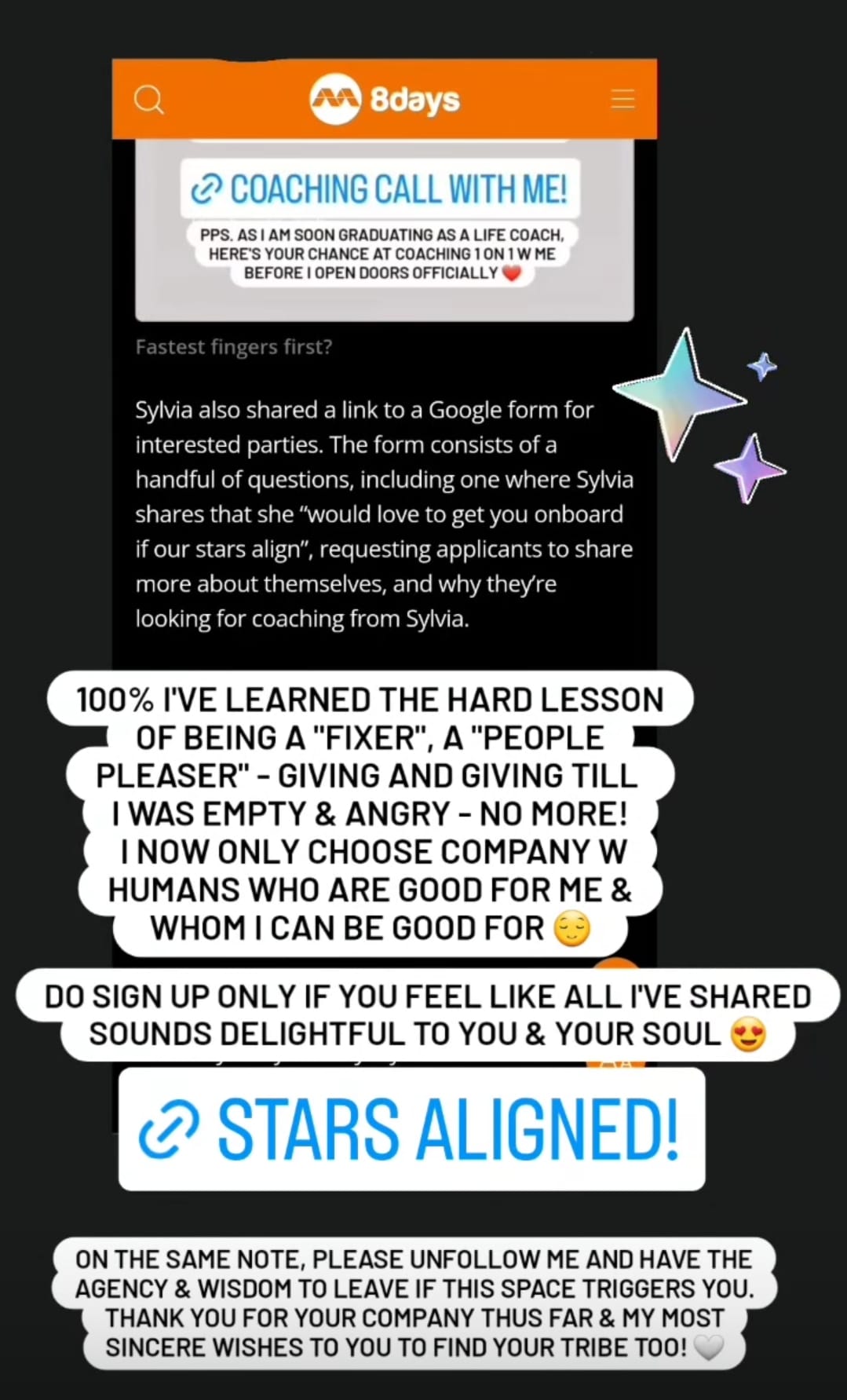 She said that she "learned the hard lesson" from trying to be "a fixer" and "people-pleaser" and that she used to give all that she had until she was "empty and angry".
"I now only choose company with humans who are good for me and whom I can be good for," she explained.
Apart from that, Chan also told her followers that they can feel free to unfollow her if her content no longer resonates with them.
---
Advertisements

---
Despite this, she still offered her gratitude for their company and sent her well wishes to them.
Join our Telegram channel for more entertaining and informative articles at https://t.me/goodyfeedsg or download the Goody Feed app here: https://goodyfeed.com/app/
Bookings Cost $35 to $88 Because She's Still a Student Life Coach
As for how much it'll cost to book Chan as your life coach (and not a video screening of ten types of life coaches), she indicated in her sign-up form that she will be charging $35 to $88 per session.
"Because I am still a student life coach for now (graduating in July!) I am offering a flexible special coaching rate this time. What would you be financially able to commit to for our 60 minutes call?" the form reads.
In the options given, clients can choose to pay $35, $60 or $88 for a one-hour call with Chan.
She also added in her form that those who choose to sign up for sessions with her before she graduates would have their sessions recorded so that her Master Coach will be able to give her feedback.
For those uncomfortable with the recordings but still want to have a life coaching session with Chan, she recommended that they schedule an appointment with her after she graduates.