---
Advertisements

---
Everyone is entitled to their own beliefs.
So, if I have a firm belief that chocolate cake will increase my life expectancy, I don't have to change my mind, even though science disagrees with me (currently).
But if your beliefs are prejudiced, you probably shouldn't mouth off about them in public.
One racist lecturer didn't get the memo, however, and now he's paying the price for it.
NP Sacking Racist Lecturer After Completing Its Internal Investigation
Ngee Ann Polytechnic (NP) will soon sack senior lecturer Tan Boon Lee for serious misconduct after videos and anecdotes emerged of Mr Tan passing racist and Islamophobic remarks.
NP charged Mr Tan – an engineering lecturer – with a serious breach of its staff code of conduct after completing their internal investigations.
Now, the polytechnic "is proceeding to terminate his service".
NP reminded its staff members in a statement to respect cultural, ethnic, and religious differences, and uphold secularity and impartiality at all times.
"The disciplinary action meted out against the staff in question reflects our commitment to provide a safe, inclusive and respectful environment for our campus community," it added.
Made in Racist Remarks to Interracial Couple On the Street
Trouble began for Mr Tan when he approached an interracial couple on the street and called them a disgrace.
Why? For simply being of different ethnicities. 
The argument that ensued was caught on camera, in which Mr Tan admits to being a racist while unironically wearing a Polo shirt with the word "Singapore" across it.
Curiously, he believed that the half-Indian and half-Filipino man in the video – Mr Dave Parkash – was also being racist for dating his girlfriend, who's half-Chinese and half-Thai.
"I have nothing against Indians, but I think it is racist for an Indian to marry a Chinese girl," Mr Tan said.
"I've got nothing against you personally but I think it is racist that an Indian prey on Chinese girls. Prey, as in predatory."
The video, which was posted on 6 June, quickly made the rounds on social media, getting over half a million views.
Since then, more negative anecdotes about Mr Tan have emerged.
Former NP Student Claimed That Racist Lecturer Had Made Islamophobic Comments During Lecture
Three days later, a former NP student who was taught by Mr Tan took to social media to recount an uncomfortable experience she had with him in 2017.
She claims that on 28 July 2017, Mr Tan used their class to have a "full-on discourse" about Islam.
During the lecture, Mr Tan allegedly displayed certain websites using the projector and brought up tenets of Islam that he disagreed with.
---
Advertisements

---
Here are some of the things the lecturer allegedly said: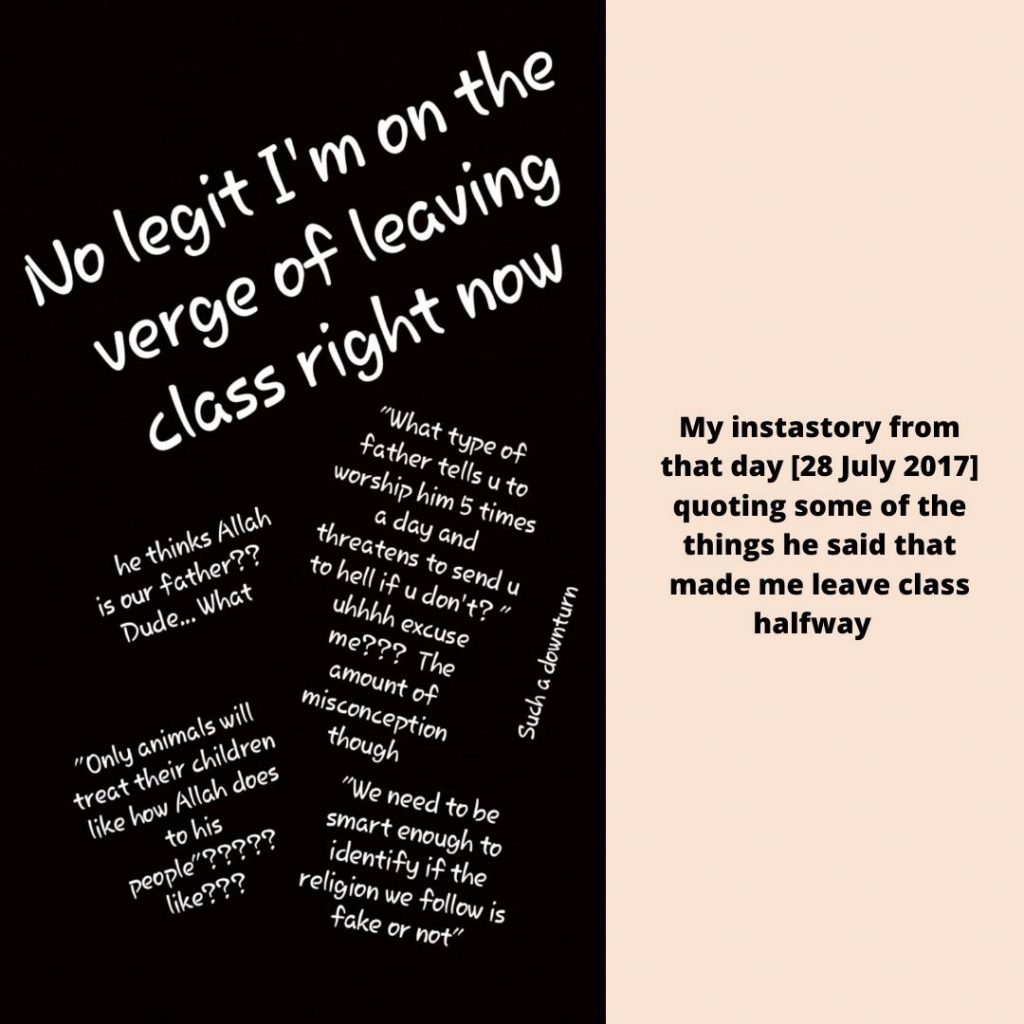 "Everything I quoted him say[ing]… were barely the tip of the iceberg. I remember being livid. I remember trying to build up the courage to finally make a complaint. I remember nothing happening," the woman said.
The woman said she was the only Muslim in class, and that the lecturer tried asking her for her views on his opinions.
"He even pointed to me (who made the unfortunate decision to sit in the front row) and asked if I agreed with what he was saying. I could barely open my mouth amidst his continuous sweeping statements," she said.
She ended up leaving the classroom halfway through the lecture as she was offended by what he said.
NP Apologises to Student For Distress
In its statement, NP also apologised to the student for the distress she suffered during Mr Tan's class.
---
Advertisements

---
NP was unable to find records of the student's feedback, and the student herself said she cannot recall if she had e-mailed her feedback on the incident or raised it during a post-course focus group discussion (FGD) in 2017.
"Nonetheless, we are committed to preventing a similar incident from occurring again, and will ensure that students are made aware of the appropriate channels for them to provide feedback in a safe manner," NP said.
"We will also advise our staff on how to manage and report feedback that they may receive outside of these channels, as appropriate."
Np invited students to share feedback with their staff advisers at any time, and assured them that all feedback will be taken seriously and handled in confidence.
"We also remind all staff to strictly adhere to the staff code of conduct and create a safe learning environment for all in NP," the polytechnic said.
---
Advertisements

---
Featured Image: Facebook

Fresh grads, you don't need any experience to earn up to $4,200 with this "secret":
Read Also: