---
Advertisements

---
Most bad reviews on Google are met with sincere apologies from the business or are simply ignored. But that was not the case for a particular café at Orchard.
Reddit Post Highlighted Café's Responses
Grain Alley, a café at Orchard Central, has recently entered the spotlight after a Reddit post featured some of its highly scathing responses to one-star reviews of it.
A quick search on Google will lead you to this page, showing an overall rating of 4.1 stars for the café with over 1,130 reviews.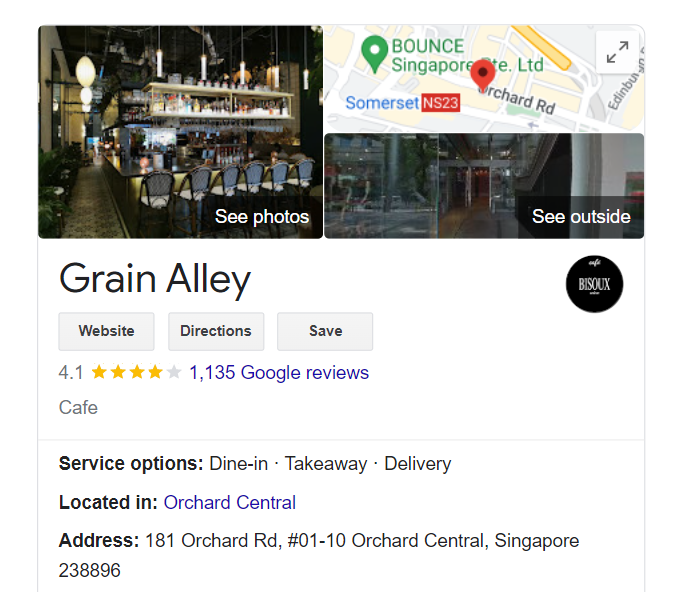 But don't be misled too soon.
A simple sorting of the cafe's reviews from the lowest to the highest will present you with numerous one-star reviews, all complete with sarcastic responses from the café.
The Reddit post wrote, "Whenever a negative review is received, the reviewer is pelted with insults, name-calling, name-and-shame tactics and even doxing."
And if you didn't believe it at first, you will now.
Insulted Couple's Marriage
Over a year ago, Ernest Chin gave an honest review of the café's food, claiming that the brunch he had ordered was "average".
He added that better cafés could be found in the area and later pointed out that the café's good reviews were because they offered free gifts in return for five-star reviews.
After Chin's review was posted, Grain Alley responded, telling him to "have an original opinion" and not make "asinine assumptions".
If petty could be summarised in one example, what the café did next would be the perfect epitome.
Because it proceeded to even conduct an online search of Chin, linking him to his wife, Kylie Goh, who had also made a one-star review of the place.
The café then added, "Some people do deserve each other. Also, perhaps grow a spine instead of always bending to her evil will — must've heard this so often from others?"
Review Sent to Reviewer's Employer
But that's not all the café has shown itself capable of doing.
In a separate incident, Rebecca Yinan Chen called out the café's act of insulting and stalking a reviewer's personal life, adding that it was "crossing the line".
She had previously posted a one-star review of the café due to her experience of not being able to use her laptop there and being seated behind the public area despite sufficient vacancies.
The café had then allegedly sent her review to her employers at Parson's Design and Technology.
"I do not think using my laptop during off-peak hour affects other customers chilling, if I choose a seat not next to them. Many people don't see the signs for 'not using your laptop', which means you can make them more obvious," Chen wrote in response to the incident.
She then warned the café to stay away from her personal life as she was just being honest about her experience.
Join our Telegram channel for more entertaining and informative articles at https://t.me/goodyfeedsg or download the Goody Feed app here: https://goodyfeed.com/app/ 
Following this, Grain Alley had a scathing comment to make.
"If by stalked you mean sending your original post to your employers Parson's Design and Technology, we believe they need to know what kind of person they've hired," it wrote in a reply to Chen.
---
Advertisements

---
If all this sounds familiar to you, it is probably because of the Chicken Hotpot incident in January where an NUS student had her bad review of the restaurant's service sent to her school.
In fact, some Redditors have coined Grain Alley as "Chicken Hotpot 2.0". Fittingly.
No-Work Policy
Additionally, Chen is not the first reviewer to voice unhappiness about the café's "no-work" policy.
Many other one-star reviews noted that the café did not allow patrons to use their laptops despite the place being relatively empty.
Some also added that there were no signs stating the restrictions on working in the location and customers were only informed of it after ordering their food.
In response to another reviewer, the café justified its actions toward one-star reviews.
---
Advertisements

---
"We're just not the type of place where we'll give a cookie cutter 'Thank you for your feedback….' when we don't mean it. If there's a comment, we'll reply and for times we're reviewed unjustly, we'll respond robustly," it wrote.
Sounds like a serious case of trying to be different, but not being too successful at it.  
Incentivising Five-Star Reviews
The Reddit post also claimed that the business owner was incentivising five-star reviews by offering free gifts on the next visit for showing proof of having written a five-star review.
This was evident in some of the Google reviews where the café responded to five-star reviews, rewarding the reviewers with "a [complimentary] cup of our brand new specialty arabica coffee".
Responding to the original post, some Redditors said that this was an infringement of Google's terms of service.
---
Advertisements

---
"Should report them to Google," one comment said. "It's against the terms of service to reward or incentivise reviews on their platform."
According to Google's policies on prohibited and restricted content, it is written that review posts "should reflect your genuine experience at the location and should not be posted just to manipulate a place's ratings".
Grain Alley continues to receive high footfall according to Google Maps, however, their ratings have been steadily dropping since the name-and-shame game turned on them.
Read Also:
Featured Image: Google (Dani Vitriolo)

Fresh grads, you don't need any experience to earn up to $4,200 with this "secret":
Read Also: