---
Advertisements

---
It's always nice to be appreciated for your contributions at work.
Sometimes, this comes in the form of a small gift, like a thank-you card.
Would you expect a Rolex watch as a gift from your company?
Rolex Watches Given to Paradise Group Employees
You heard me right.
Restaurant Group Paradise Group gave 100 Rolex watches to employees who have worked there for over ten years.
Paradise Group is home to your favourite F&B establishments like Canton Paradise or Beauty in a Pot.
In addition, the group didn't publicise the news.
Netizens only learned this information via social media posts by event attendees.
Social Media Posts
On 6 March, Paradise Group had its annual dinner celebration.
The atas event saw a whopping 1,600 attendees.
That wasn't what attracted netizens' attention, though.
---
Advertisements

---
A food blogger who attended the dinner posted on the Chinese social media platform Xiaohongshu to detail his experience.
In Mandarin, the user noted that the most significant part of the event was when Paradise Group gave out 100 Rolex watches to award employees for long-term service. 
He praised the group, writing that companies willing to invest in employees can grow and develop even further. 
If you don't believe it, there's video proof.
A Paradise Group employee uploaded a video of the award presentation ceremony on Facebook.

In the video, employees can be seen walking to a table full of Rolex watches and collecting their own.
After the collection process, awardees went on stage to take a photo together.
The employee explained that anyone who worked for ten years was given a Rolex watch.

The award was given regardless of job position. 
She also mentioned that the boss only managed to give out 98 of the 100 watches, keeping the remaining two.

---
Advertisements

---
In the comments section of the Facebook post, the employee said that this isn't the first time Paradise Group has given out Rolex watches.

In fact, Rolex watches have been given out three times.
This year marked the third year that Rolex watches were awarded to employees as there was a hiatus during the pandemic.
Join our Telegram channel for more entertaining and informative articles at https://t.me/goodyfeedsg or follow us on Twitter : https://twitter.com/goodyfeed
Netizens Envious of Employees
Even if you're not into luxury goods, it's common knowledge that Rolex watches are atas.
At the time of writing, the Facebook post currently has over 460 likes and has prompted active discussion from netizens.
Some were envious that the employees not only had a good meal but an expensive gift for their work contributions.
---
Advertisements

---

Others were shocked that Paradise Group managed to acquire so many Rolex watches for its employees.

Some were salty that their workplaces didn't give them anything after ten years, let alone a Rolex watch. 


Netizens also congratulated the awardees for their achievements.


In general, netizens praised Paradise Group for being so generous.

With the reputation of F&B and retail work being gruelling with few returns, the Rolex watches were well deserved. 
---
Advertisements

---
Other Employee Gifts
You're probably curious about how other companies award employees.
In honour of Employee Recognition Day, which falls on the first Friday of March in the United States, Canada and the United Kingdom, fast-casual restaurant chain Noodles & Company celebrated not just its own employees, but its competitors as well.
The restaurant has 14 locations in California.
It invited employees from any brand to enjoy a free bowl of noodles one day before Employee Recognition Day.
Spoil market. 
On the other hand, other employees have received zany but questionable gifts from their companies.
In 2022, a former Meta employee received a strange gift a month after getting laid off.
The package was labelled "leaver", accompanied by no description.
---
Advertisements

---
It was accompanied by a "wow" face emoji and a "sad" face emoji.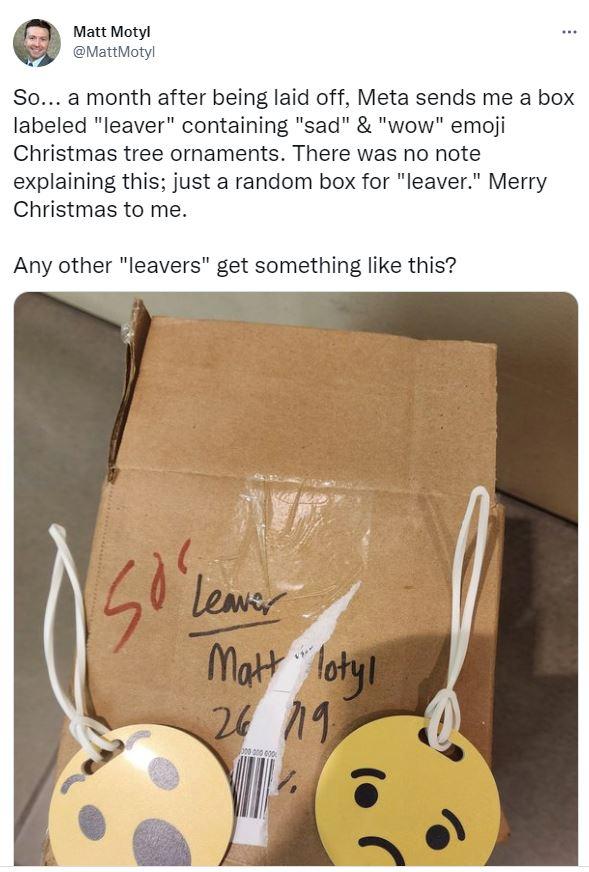 Though some Twitter users suggested it was a prank from someone unrelated to Meta, the former employee clarified that the package came with the official Meta mailing address label.
This gift is on the opposite extreme of Paradise Group's Rolex watches.

Here's why a 4-day workweek might finally really be possible in Singapore soon:
Read Also: