---
Advertisements

---
While most of us who've worked in F&B before can all attest to how tiring it can get, most (if not, all) of us will also be able to say that taking your frustration out on a customer never ends up well.
And it seemed like this particular F&B worker had to learn the hard way.
Just this Monday (18 April), a woman posted in the COMPLAINT SINGAPORE Facebook group, detailing her unpleasant experience at King of Prawn Noodles.
She had visited the outlet at E!Hub in Pasis Ris with a friend on 17 April.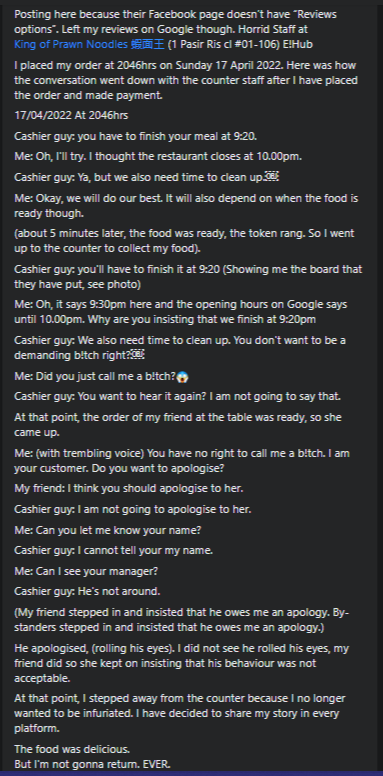 In her post, she mentioned that she placed her order at 8.46pm, and assumed that there would be ample time for her to finish her meal as Google stated the restaurant's closing hours as 10pm.
However, she was told by a cashier that she would have to finish her meal by 9.20pm. Upon asking the employee, she was told that the workers would need to clean up the restaurant before closing.
To that, she replied, "Okay, we will do our best. It will also depend on when the food is ready though."
When she went to collect her food, she was once again reminded of the 9.20 cut off for diners to finish their food.
The same staff member also pointed to the sign on display, which stated that the restaurant would close at 9.30pm.
The Facebook user then said that she asked the staff member, "Oh, it says 9:30pm here and the opening hours on Google says until 10.00pm. Why are you insisting that we finish at 9:20pm?"
And that's when things got a little… heated.
---
Advertisements

---
And no, the heat didn't come from the prawn noodles.
Cashier Called Customer a "Demanding B***h"
After the Facebook user pointed out that the closing time was 9.30pm on the sign, the cashier repeated his previous answer: That the staff members would need time to clean up the premises.
Which was an alright explanation by all means, but he then added, "You don't want to be a demanding b***h right?"
Of course, that made the explanation completely unacceptable.
The Facebook user then wrote that she asked, "Did you just call me a b***h?"
The cashier then replied curtly, "You want to hear it again?"
Lack of Apology From Staff Member
Like any other customer would be, the lady was in shock and disbelief.
By that time, her friend's order was also ready for collection, and her friend overheard the pair's exchange while making her way up to the counter.
She told the cashier that he had no right to use such a word to describe her, and asked if he would like to apologise to her.
Her friend also urged the cashier to apologise for his choice of words, but their words apparently fell on deaf ears as he did not do so.
---
Advertisements

---
The Facebook user then asked for his name and told him that she wanted to see his manager.
In response to her queries, he told her, "I cannot tell you my name" and that his manager was not around at that point in time.
Other patrons had also noticed the cashier's rude and unacceptable behaviour by that point, and "insisted" that he apologise to the customer as well.
The cashier finally did in a reluctant manner, but rolled his eyes as he apologised.
The Aftermath
Claiming that she "no longer wanted to be infuriated", the lady went back to her seat with her friend to have their meal.
She also attached a photo that showed how she still finished her food before 9.20pm.
---
Advertisements

---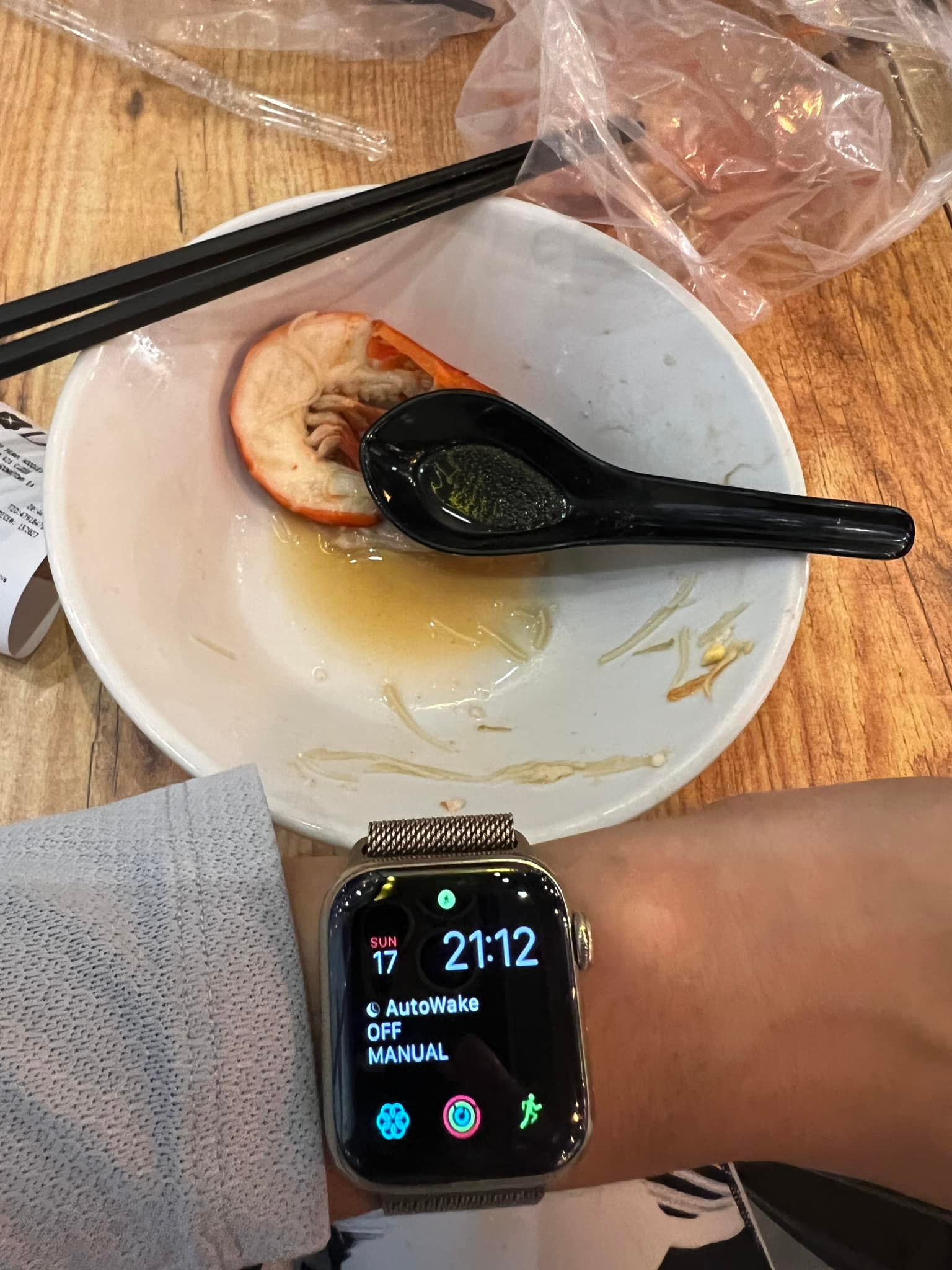 She also said that the food was delicious, but the poor service she experienced was a deal-breaker for her.
"But I'm not gonna return. EVER," she wrote.
Like any of us would have been, she was angered by the cashier's service, which prompted her to write about her experience on social media.
Join our Telegram channel for more entertaining and informative articles at https://t.me/goodyfeedsg or download the Goody Feed app here: https://goodyfeed.com/app/ 
Restaurant's Investigations and Response
The user also contacted the restaurant, King of Prawn Noodles, after the incident.
Once the restaurant was informed about its employee's behaviour, it apologised to the lady and mentioned that they had begun investigating the issue.
---
Advertisements

---
The conversation between the restaurant and the woman was also shown in her Facebook post, where the woman attached a screenshot of the exchange.
She also provided the establishment with a photo of the cashier.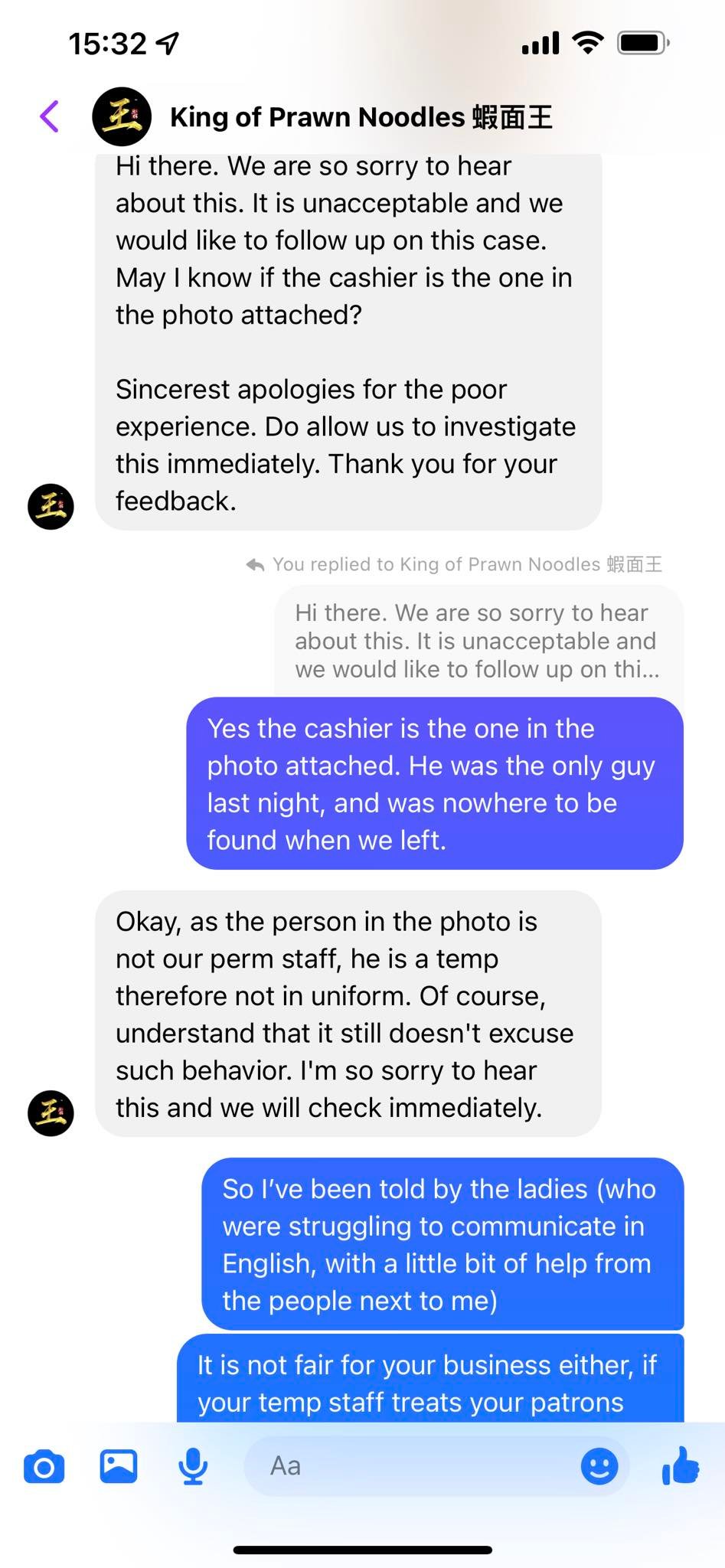 Apart from letting the customer know that the investigations regarding its cashier's "unacceptable" behaviour had started, the restaurant also updated her later on that the staff in question was a temporary staff member.
"Of course, understand that it still doesn't exclude such behavior. I'm so sorry to hear this and we will check immediately," the restaurant wrote in its reply.
Well, I guess we can only wait to see what happens to this particular cashier. But hey, if you're looking for good prawn noodles, you can probably head down knowing that you won't be called a "demanding b***h" by anyone.
Read Also:
Featured Image: Facebook (Soe M M Shwe)

Here's why a 4-day workweek might finally really be possible in Singapore soon:
Read Also: