---
Advertisements

---
Waffles. A national favourite.
They can be eaten for breakfast, lunch, dinner or as a snack between proper meals.
PrimaDeli is arguably one of the most-loved waffle brands in Singapore. We must all have tried their waffles at some point in time.
If not, you must have caught a whiff of the fragrant pandan aroma of the waffles when you walk past of their branches.
While this fluffy waffle used to be affordable and cheap, the prices are slowly rising in line with everything else.
Sigh, inflation. We can't escape it.
This time, the price increase is $0.20.
Here's more about the more expensive waffles you can treat yourself to.
PrimaDeli Announces $0.20 Price Hike for Waffles
It is a gloomy time to be online nowadays.
There was a price increase for public transport. And then for water in Singapore.
If you want to eat your feelings away by tucking into a warm waffle, know that PrimaDeli is also increasing its waffle prices.
On Reddit (a social media site which allows users to post pictures and text, reply to each other and upvote or downvote posts), a user by the moniker @rfnv posted a picture of PrimaDeli's price hike announcement.
The price of a plain waffle will rise to $1.90. Kaya and peanut butter flavours will cost $2.10 each.
If you want to go luxurious and order cheese, blueberry or chocolate flavours, you can expect to fork out $2.40 for the waffle.
The price increase starts today (1 October 2023).
These prices are a $0.20 hike from their previous prices, according to news outlet MS News.
You can refer to the image below for a picture of the actual announcement.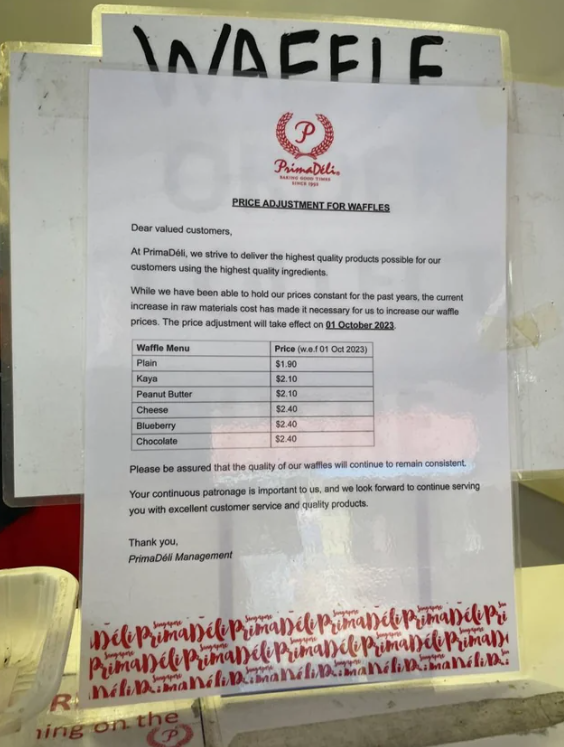 Reason for Price Increase Is Increase in Raw Materials Cost
Why is PrimaDeli increasing its prices?
It appears that PrimaDeli is passing on the higher cost of making their waffles to consumers.
In the announcement about the price hike, PrimaDeli mentions that they have faced an "increase in raw materials cost".
This caused the rise in waffle prices to be "necessary".
---
Advertisements

---
Oh well, we guess inflation hits everyone hard.
It's just a bit sad that we can no longer enjoy our kaya waffles with a single $2 dollar note.
Now, it's a purple Yusof Ishak note and a small silver coin to make up that $2.10.
While the waffle prices have increased, PrimaDeli says that it continues to be committed to producing high-quality waffles.
They will keep their standards "consistent" and have "excellent customer service and quality products".