We probably do not need an introduction to Lion Corporation, given how you'll regularly see their products everywhere when it comes to hygiene and cleaning products.
Qiren, on the other hand, might be new to some of you.
Qiren Organisation is an authorised representative agency of AIA Pte Ltd and specialises in coverage for families and children. The organisation also makes it a habit to collaborate with other brands for health, education, fitness and family initiatives.
This time, Qiren Organisation and Lion Corporation saw a need for households in Singapore to better protect themselves after the easing of restrictions.
And so, they're committed to giving a free Family Care Package to households who are interested in getting one.
What's Inside The Family Care Package?
For households who apply, and successfully redeem, the family care package, you can get products ensuring all-round protection for you and your family.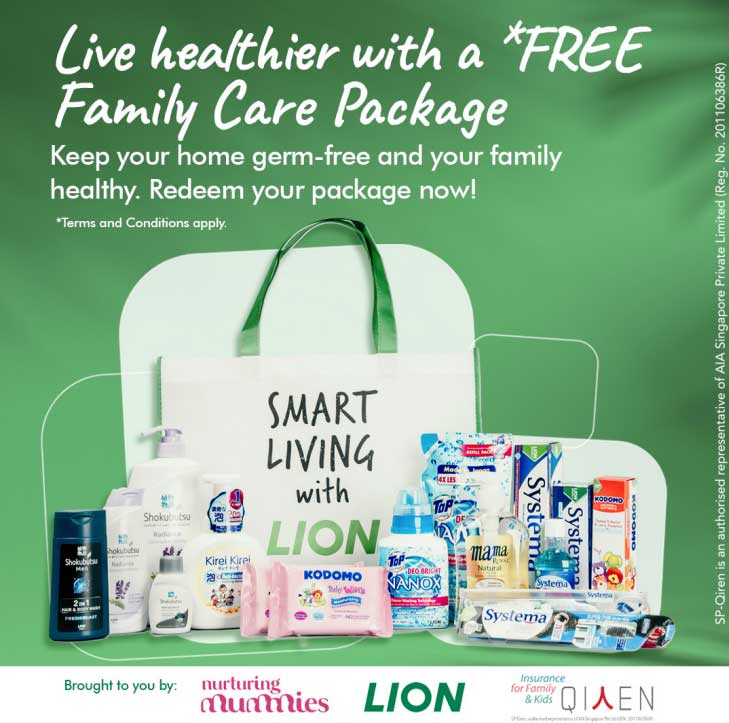 They include:
Lion Family Care Tote Bag
Kirei Kirei Anti-Bacterial Hand Soap
Kodomo Children's Toothpaste Orange Flavour
Kodomo Moisturising Baby Wipes (2 Packs)
Mama Royal Natural Dishwashing Liquid
Shokubutsu Body Products
Systema Gum Care Mouthwash
Systema Toothbrush Set & Toothpaste
Top Nanox Ultra Concentrated Liquid Detergent and a Refill Pack
But that's not all.
For the Free Family Care Package, there's a referral program where you can get a free S$5 NTUC FairPrice Voucher when you refer three friends using your unique link.
The best part? There's no limit so you can help protect your friends and their families.
How To Apply
To register, simply click on this link and enter your details.
You can read the terms and conditions on the website, but here's one important clause you have to take note of:
In registering for this giveaway, your contact details will be disclosed to AIA Singapore Private Limited (Reg No: 201106386R) and its insurance representatives including those under the SP-Qiren, for an AIA Financial Services Consultant to conduct a financial planning session of 20 minutes with you, after which you may redeem the applicable gift.
And so, what are you waiting for?
Redeem your free family care package now.
Each Singapore household is limited to one free family care package redemption.
This article was first published on Goody Feed and written in collaboration with Qiren Organisation and Lion Corporation.
Featured Image: Qiren Organisation and Lion Corporation