The impact that COVID-19 border restrictions have had on businesses and workers has been well documented, with so many of them struggling to stay afloat.
But there's one group of equally hardworking individuals that news outlets seem to have neglected, a group that has suffered just as many losses as some big corporations.
Thieves.
Poor thieves are now stuck in their own countries without any tourists to steal from, forced to snatch valuables from their own pockets. Some have even had to take up actual jobs, the poor things.
We're joking about this, of course, but one netizen seems convinced that robbers in Johor are waiting to pounce on Singaporeans once we start crossing the border again.
Netizen Warns Public Not to Visit Johor, Claims Robbers "Have Not Eaten" For a Long Time
Our story starts with an alarming post online, penned by a netizen who seems to be inordinately concerned about our safety.
As you know, the authorities confirmed recently that a land Vaccinated Travel Lane (VTL) arrangement will launch with Malaysia on the same day as our air VTL – 29 Nov.
While it will initially be opened up only to residents stuck in either Singapore or Malaysia due to the closure of the borders last year, a large number of people is expected to cross the border daily.
Anticipating this, the netizen said that there have been stories of "hundreds of motorcycle robbers" waiting outside shopping malls for Singaporean tourists.
"If you don't pay, they will take out their knives and slash you," the netizen warned, adding that these robbers have had "nothing to eat for a long time".
"Singaporeans desperate for cheaper things in Johor will be facing their worst nightmare."
The netizen also claimed that the police in Johor tend to turn a blind eye to these robbers, simply because there are too many of them to apprehend.
If your bullshit detector is going off now, well there's a good reason for that.
Join our Telegram channel for more entertaining and informative articles at https://t.me/goodyfeedsg or download the Goody Feed app here: https://goodyfeed.com/app/
Johor Police Refute Claims That Robbers Are Waiting to Rob S'poreans Once Land VTL Opens
The Johor police quickly took to social media to respond to the wild claims, where they shared a screenshot of the netizen's warning with the word "Palsu" (fake) plastered over it.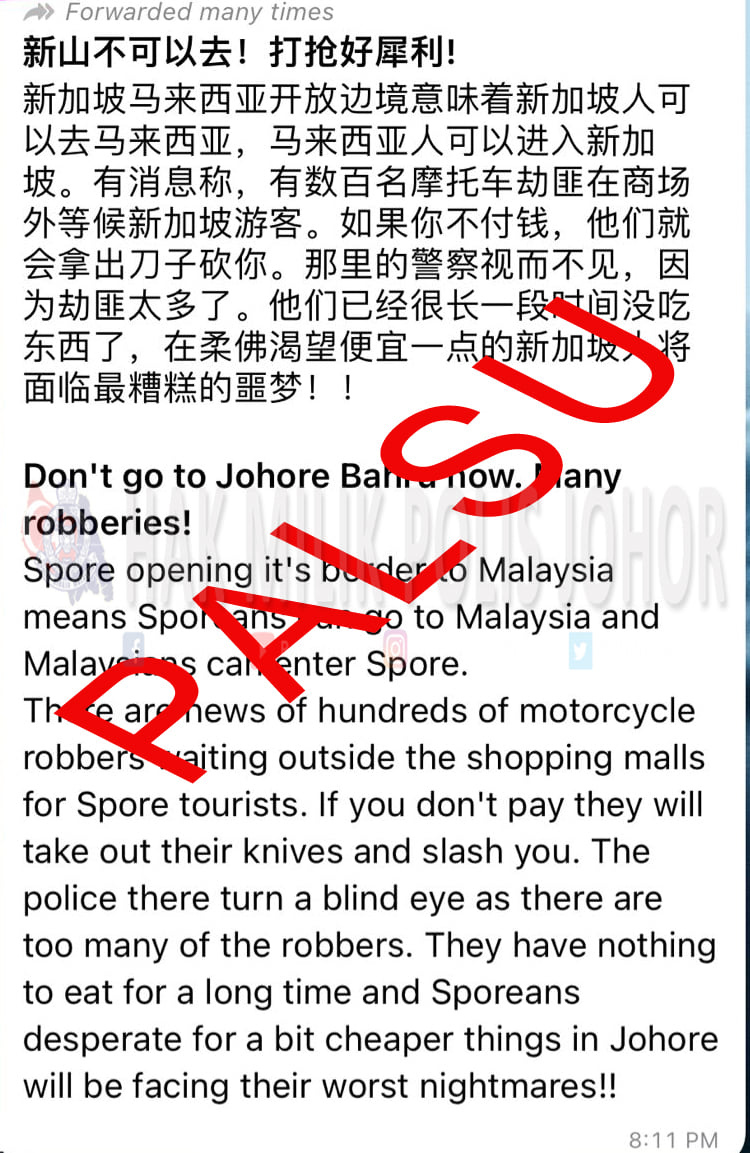 Johor police chief Datuk Ayob Khan Mydin Pitchay said that the state's overall crime index since January has fallen by nearly 40%, and that the situation is under control.
---
Advertisements
---
"Snatch thefts in Johor in the same period also recorded a fall of 125 cases which is equivalent to 77.64% compared to last year. Similarly, motorcycle thefts also dropped by 1,099 cases or 51.05%," he said in a statement.
He said the police will continue to keep a close watch on the situation, and respond promptly and aggressively to suppress such crimes and keep residents and tourists safe.
He advised members of the public not to believe everything that goes viral online, and warned that the police would take stern action against those who continue to spread fake information or rumours on the matter.
Do note that we can't travel to Malaysia for leisure just yet, as you'll need to be a citizen, permanent resident, or long-term pass holder of the country you're visiting. This scheme may be expanded to leisure travellers, but that will depend on the COVID-19 situation in both countries.
When we do finally cross that border, rest assured that the only thing you'll likely have to worry about is your waistline.
Read Also:
Featured Image: Facebook (Polis Johor)
---
Advertisements
---
---
Singapore will be hosting Dota 2's The International this year. Here's why it's such a big issue: