---
Advertisements

---
Singaporeans flocking over to Johor Bahru for cheap petrol isn't a new thing.
However, make sure you don't refuel with Malaysia's subsidised petrol RON 95 or this may just happen to you too.
S'pore Men Got Into Argument with M'sia GrabFood Rider After Being Caught Pumping RON95 in Johor
According to China Press, this incident happened near a shopping mall in Sunway City Iskandar Puteri on 16 June 2023.
Footage that has since gone viral on TikTok shows a rider with a GrabFood delivery bag in a heated argument with two Singaporean men.
Malaysian police officers were also spotted in the video trying to de-escalate the incident, getting both parties to stay apart.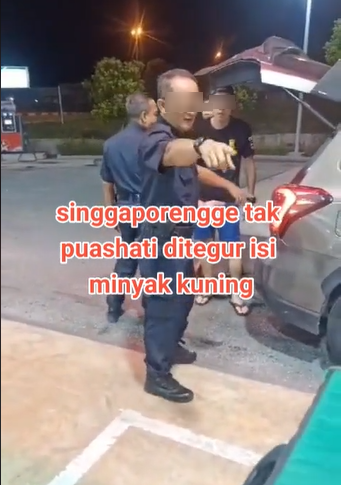 The video started with the rider accusing the pair of being rude and aggressive.
At several points within the video, the conflict almost turned physical, with one of the Singaporean men having to be held back by officers after trying (and failing) to snatch the phone away.
The video ends with the rider providing his particulars to the police officers.
You can view the video in full here.
S'porean Men: We've Obtained Permission To Buy RON95 Fuel
According to the pair, they have obtained permission from the petrol station before proceeding to load up on RON95 fuel.
They claimed that the RON95 wasn't mean to refuel their car but go-karts instead.
They had apparently gotten the "okay" to go ahead but was stopped by the Malaysian GrabFood rider.
He had intervened and started shouting at the pair.
M'sian Authorities: It was all a Misunderstanding
A spokesperson from the police station at Iskandar Puteri has responded to the situation.
According to the spokesperson, the entire incident was caused by a misunderstanding between the two parties.
The individual who filed the report did not pursue the matter so the police did not conduct any follow up actions.
It was also confirmed that the Singaporean men had purchased RON95 to fill up go-karts.
Multiple Cases of Pumping RON95 Petrol
Ron95 petrol, which is heavily subsidised by the Malaysian government, is only reserved for Malaysia-registered vehicles.
When the land borders between Singapore and Malaysia first reopened in April 2022, it was reported that petrol station operators in Johor were taking extra measures to ensure that foreign-registered vehicle drivers did not pump their vehicles with RON95 petrol.
Nonetheless, that has not stopped Singaporean drivers from trying to game the system, including a man who claimed to be a Malaysian when refuelling his Singapore-registered vehicle.
In another case, a Mercedes driver was caught on camera steathily pumping RON95 petrol into containers and hidden in the boot of his vehicle.
---
Advertisements

---
I guess next time, it could be a trend for people to say they're bringing RON95 petrol back to fuel go-karts.

Fresh grads, you don't need any experience to earn up to $4,200 with this "secret":
Read Also: