---
Advertisements

---
Singaporeans love Johor Baru.
After all, it's just a short drive away. 
A trip there technically gives you a free pass to say that you went overseas for a holiday.
Singaporeans especially love saving money.
With the rise in petrol prices, it is no wonder that Singaporean drivers like to take advantage of the lower petrol prices in Johor.
This driver was so excited that he filled up multiple makeshift containers with petrol and kept them in the boot of his car. 
Driver Pumps Petrol into Containers
On 17 February, a minute-long clip of a driver in Johor Baru filling up containers with petrol and keeping them in his car boot made waves on the internet.

In the video, the driver filled what appeared to be two jerry cans with petrol.
He proceeded to put the containers on the floor and proceeded to prepare plastic bags.
He then used the plastic bags to wrap the containers.
The driver tried to push the containers as far into the boot as possible.
---
Advertisements

---
Though the car plate is not visible in the video, the original poster attached a photo of it to the upper right corner of the video.
As it turns out, the car had a Singapore licence plate.
Netizen Response
Though the original video has seemingly been taken down, it was reuploaded onto the Facebook group SG Road Vigilante.
It has since gone viral, with 91k views and 1.2k reactions at the time of writing.
The incident has sparked discourse in the post's comment section.
There are many opinions on the matter, mainly calling the driver out. 
Some pointed out that the driver's car was a Mercedes, which is a pretty atas car.
Many joked about how the driver could afford a Mercedes but had to resort to storing petrol.


A few netizens urged others to refrain from judging the driver. One even suggested the possibility that the driver was getting petrol for a friend with a broken-down car.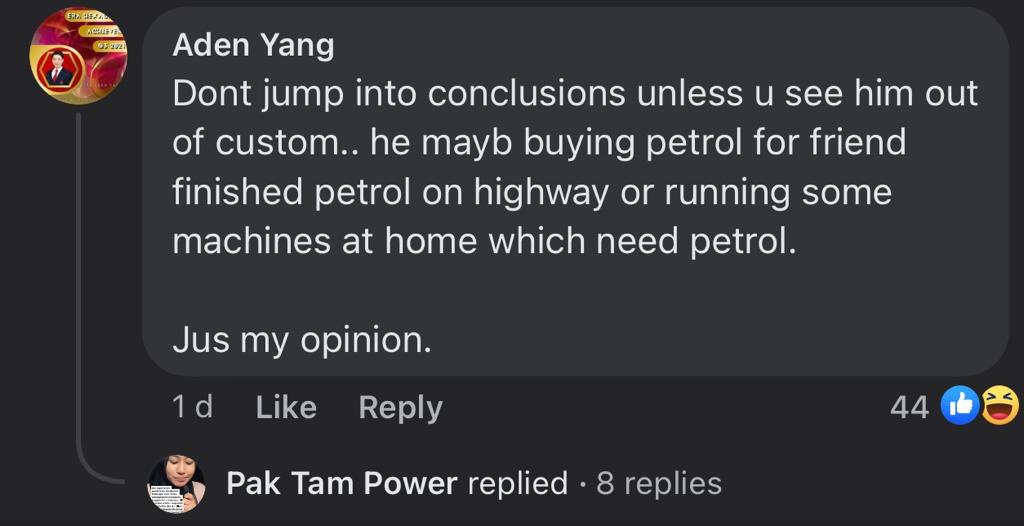 Some were concerned about the safety of the car's passengers.
---
Advertisements

---

After all, petrol is highly flammable.
Its fumes alone can cause a potential fire if not handled properly.
What Does the Law say?
In the original post, the Facebook user wrote in Mandarin, "This act… is it stealing, is it smuggling?"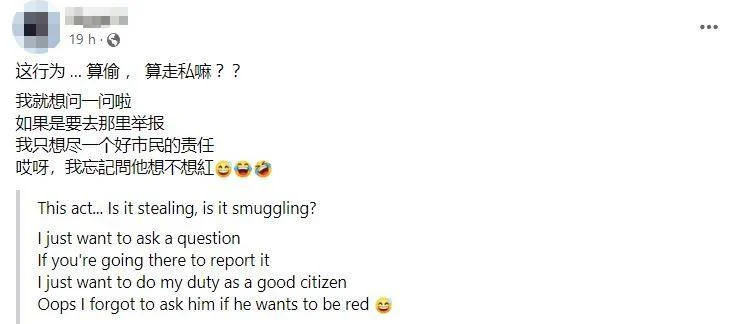 According to the Singapore Customs website, there is no duty-free concession and GST relief for petrol.
Thus, travellers bringing petrol into Singapore need to declare their goods.
It's a bit suspicious how the driver took extra effort to wrap the containers and shove them to the back of the car boot. 
---
Advertisements

---
According to Singapore Civil Defence Force and Singapore Statutes Online, it's legal to transport fuel less than 20 litres into Singapore without a licence.
However, details remain vague on whether storing fuel in containers outside a vehicle's fuel tank is allowed.
Notably, it is illegal for Singapore-registered vehicles to fill up their tanks with RON95 fuel.
Foreign-registered vehicles in Malaysia are only privy to RON97 fuel.
Join our Telegram channel for more entertaining and informative articles at https://t.me/goodyfeedsg or follow us on Twitter : https://twitter.com/goodyfeed
RON95 vs RON97 Fuel
When the land borders between Singapore and Malaysia first reopened in April 2022, The Straits Times reported that petrol station operators in Johor were taking extra measures to ensure that foreign-registered vehicle drivers did not pump their vehicles with RON95 petrol.
---
Advertisements

---
These measures came after photos began circulating online of Singaporean drivers pumping their vehicles with RON95 petrol illegally.
The ban on foreign-registered vehicles using RON95 petrol has existed since 1 August 2010.
If you weren't aware, yellow nozzles on petrol pumps dispense RON95 petrol, so it's pretty obvious if you were using the wrong petrol.
The Malaysian government heavily subsidises RON95 petrol.
RON97 petrol, which foreign-registered vehicles should use, is slightly more expensive.
In addition, Malaysia warned that petrol station operators caught selling RON95 petrol to foreign-registered vehicles could be fined up to RM2 million.
That's about $643,000 in Singapore dollars, which is a pretty hefty sum.
Hopefully, Singaporeans will stop getting into trouble for abusing the lower petrol prices in Malaysia. 
---
Advertisements

---
Read Also:
Featured Image: Facebook (@SG Road Vigilante)

Here's why a 4-day workweek might finally really be possible in Singapore soon:
Read Also: