Singapore drivers going into Malaysia for cheaper fuel have stopped for two years due to the border closure, but now, it's making a massive comeback.
That's despite the regulation that Singapore vehicles cannot pass the checkpoint with less than 3/4 of their fuel tank filled.
It got so bad that more pump attendants had to be deployed at JB petrol stations.
Well, if you're someone heading up north to top up with cheap fuel, here's a message for you:
Be satisfied with the discounts you get for RON-97 Fuel
18 Complaints About Foreign Vehicles Pumping Ron95 Fuel
Ron95 petrol, which is heavily subsidised by the Malaysian government, is only reserved for Malaysia-registered vehicles.
It was reported that Malaysia's Ministry of Domestic Trade and Consumer Affairs received 18 complaints regarding the sale of Ron95 fuel to foreign vehicles.
These incidents took place between 1 January 2022 to 27 Apr 2022.
According to Nanyang Siang Pau, these 18 complaints originated from the state of Johor, with a majority coming from Johor Bahru.
Investigations Ongoing
Investigations are currently ongoing into these complaints.
According to Malaysia's Minister for Domestic Trade and Consumer Affairs Alexander Nanta Linggi, nine investigation papers have been opened up;
"So far, nine investigation papers have been opened up under the Control of Supplies Act."
For petrol station operators, those found guilty can face a fine of up to RM2 million (~S$635,000).
Individual rulebreakers could face a fine of up to RM1 million (~S$317,000), jailed up to three years, or both.
M'sia Reportedly Has No Plans to Fine Owners of Foreign-Registered Vehicles That Pump Ron95
Now, if you're someone who had knowingly (or unknowingly) breached the Control of Supplies Act 1961, you'll be glad to know that there are no plans to fine owners of foreign-registered vehicles that pump Ron95.
However, that doesn't mean the situation will remain the same as Malaysian authorities are preparing to ramp up enforcement against such incidents.
Members of the public and Malaysian petrol station operators are urged to cooperate.
Signs and warning notices have been put up to warn foreign-registered car owners against pumping Ron95 fuel.
---
Advertisements
---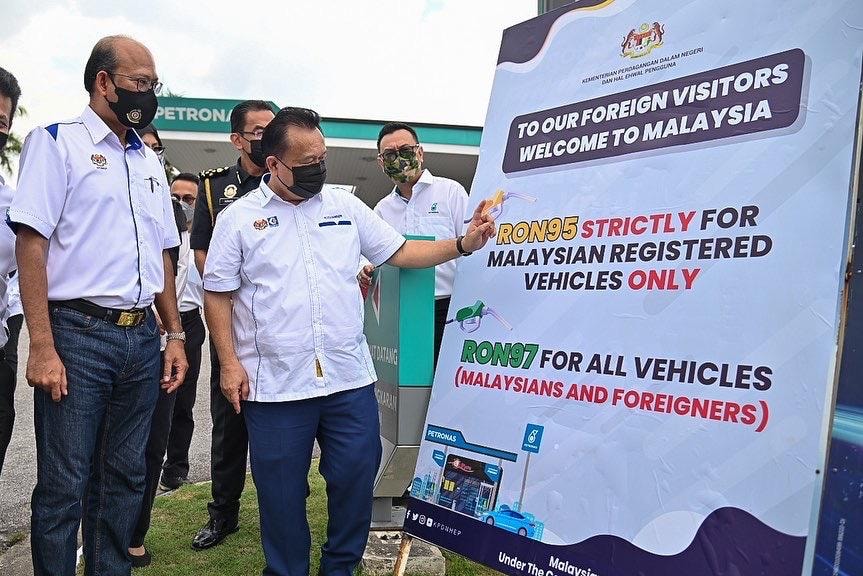 In addition, there are also signs pointing foreign-registered vehicles to specially designated fuelling lanes for foreigners.
Nanta also advised foreign-registered vehicle drivers to abide by Malaysia's laws and not pump petrol that isn't meant for them.
For a discount of around RM1.80 per litre (~S$0.60), the possible consequences don't seem all that worth it, don't you think?
Read Also:
Feature Image: Facebook (Alexander Nanta Linggi)
---
After two years, Japan is finally reopening for Singapore tourists, but it's not the usual reopening you'd have expected. Here's what you need to know: