---
Advertisements

---
If you caught the soccer match between Manchester United and Everton on Saturday (9 April), you were probably left either exhilarated or dejected after the former lost 0-1 to the latter.
But whether you're a Manchester United fan or not, you've probably seen, or at least heard, about the controversial video below:
Yup, it's the video of famous footballer Cristiano Ronaldo knocking an Everton fan's phone out of his hand.
As the 37-year-old striker limped off the soccer court after sustaining an injury, he was filmed as he hit an Everton fan's phone out of his hands, smashing the phone right onto the ground and damaging it.
To make matters worse, the fan was just a 14-year-old boy, and it was his first time watching a soccer match live.
The Teenager's Perspective
After the shocking incident, the teenager's mother, Sarah Kelly, took to Facebook to detail her son's experience with the Portuguese soccer star during the now-viral incident.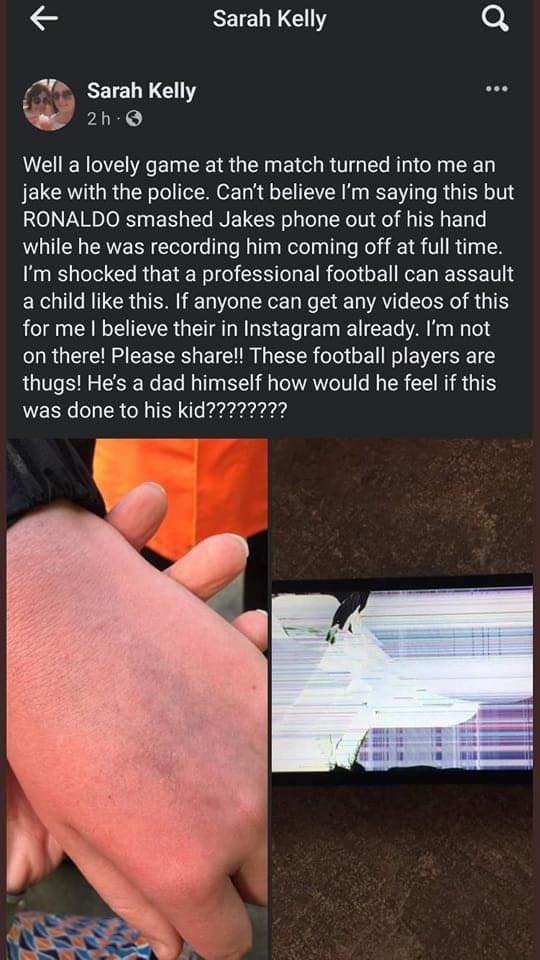 According to her post, her son Jake sustained bruises on his hand as a result of Ronaldo's "assault".
On top of that, his phone was also clearly damaged, with the photo of Jake's phone screen suggesting that his phone was completely unusable after Ronaldo smashed it to the floor.
She also added that she was "shocked" at how Ronaldo treated her son and called him a "thug".
Reports by other news agencies such as Mirror also revealed that Jake is autistic and has dyspraxia, and his mother has also claimed that he "is in complete shock" after such an unpleasant experience following his first time watching a soccer match.
Speaking to Liverpool ECHO, Kelly explained that her son had been filming all the players that were walking past them.
"And then he lowered his phone because Ronaldo had pulled down his sock and his leg was bleeding. He lowered his phone to see what it was – he didn't even speak," she clarified.
And that was when Ronaldo decided to strike.
"Ronaldo then just walked past, with a terrible, terrible temper and smashed the phone out of my son's hand and carried on walking.
"I'd understand if Jake was waving it in his face but he wasn't near his face, it was down by the floor checking his injury. He's an autistic boy and he's been assaulted by a football player, that's how I see it as a mum," she explained.
She also highlighted how they had "an absolutely brilliant day up until those final few seconds when they came off the pitch", and that the rest of the match was enjoyable for her son.
Kelly then accused Ronaldo of causing distress to her son, saying, "It's completely ruined the day and put a bad taste in our mouth.
"He's really upset about it and it's completely put him off going to the game again. This is the first football game he's been to and this has happened," she added.
Ronaldo's Apology
After the incident blew up and angered fans across the world, Ronaldo himself spoke up on Instagram to apologise for his actions.
View this post on Instagram
In his post, he said, "It's never easy to deal with emotions in difficult moments such as the one we are facing. Nevertheless, we always have to be respectful, patient and set the example for all the youngsters who love the beautiful game."
---
Advertisements

---
He then offered his apologies to Jake, and even invited Jake to "watch a game at Old Trafford as a sign of fair-play and sportsmanship".
Ronaldo's post, which has since garnered over six million likes and more than 79,600 comments on Instagram, left some fans applauding his actions, but others also criticised the way he handled the incident.
Some brought up the fact that the fan was probably too traumatised by the incident to want to watch a soccer match live again, while many others chipped in to say that the soccer star should have offered to buy Jake a new phone instead.
As of now, Manchester United has confirmed that they are investigating the incident and cooperating with the police to resolve the issue.
A police spokesperson also told ESPN that the police are currently liaising with both Manchester United and Everton as part of the investigation process.
"Inquiries are under way and officers are working with Everton Football Club to review CCTV footage and are carrying out extensive witness enquiries to establish if an offence has taken place," the spokesperson explained.
---
Advertisements

---
Join our Telegram channel for more entertaining and informative articles at https://t.me/goodyfeedsg or download the Goody Feed app here: https://goodyfeed.com/app/ 
After Manchester United's defeat in their most recent match against Everton, the famous soccer club currently stands in seventh place in the Premier League.
As of now, United is six points away from the current fourth-placed club, Tottenham Hotspur.
Its current placing may lead to the club failing to qualify for the next Champions League.
Well, only time will tell if this would become another Will Smith saga.
Read Also:
Featured Image: Twitter (@dominothement)
---
Advertisements

---