---
Advertisements

---
You might be planning on heading to the cinema to catch Jack Neo's latest movie – Ah Girls Go Army, but did you know? The real stuff could be happening right in your neighbourhood.
Just yesterday, the Singapore Armed Forces (SAF) released a notice on their website, alerting the public of upcoming SAF military and live-firing exercises.
Restricted Area Established in the West
One affected area is The Star Vista, the bustling mall located in the west. According to the update, SAF will be conducting military exercise that involves ground and aerial elements, including low-flying aircraft.
The activities will be conducted from 7 February 9pm to 8 February 5am.
Thinking of checking it out? Unfortunately, you probably won't be able to see it upfront as the public has been advised to stay clear of the area.
In fact, for the safety of both low-flying aircraft and the public, a temporary restricted area (TRA) for aerial activities will be established from 7 February 9pm to 8 February 1am.
Here is an aerial view of the TRA: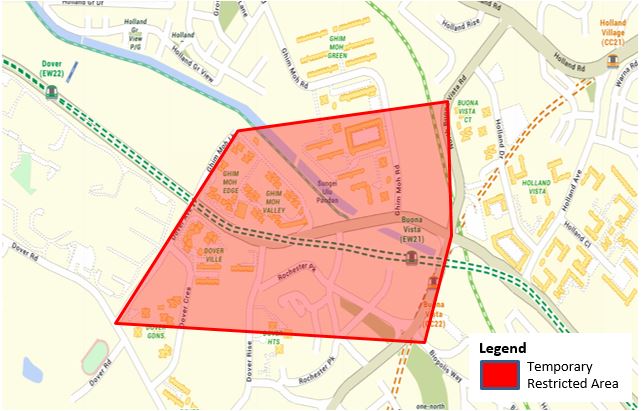 So what activities are restricted in the TRA during that period? Here is a list:
kite-flying
hoisting of captive balloons
flying unmanned aircraft such as drones
It is unlikely that you will be doing these on a Monday night, but if you had plans to do so, please follow the SAF guidelines and don't be a Karen.
Join our Telegram channel for more entertaining and informative articles at https://t.me/goodyfeedsg or download the Goody Feed app here: https://goodyfeed.com/app/ 
Military Exercises in Various Neighbourhoods
If you are not a westie and wanted to catch a glimpse of some ah boys in action, don't be too upset.
The SAF has also announced that military exercises will be conducted all around the island in various locations such as Upper Jurong, Pasir Ris, Bedok and Sembawang.
This will be occurring from 7 February to 14 February.
Unfortunately, you will definitely not be able to see this in person as blanks and thunderflashes will be used, but you might get to hear it. So, if you hear random bangs, don't be alarmed. It's just your local ah boys being trained.
Lots of shots will be fired next week in the same period. Live-firing exercises will also be conducted in Pasir Laba (SAFTI) Live-Firing Area and Southern Islands Live-Firing Range.
Live ammunition and flares will be used. Yes, that means real bullets. So don't be gungho and just stay clear of the area.
Advisory to Public
The islands of Pulau Sudong, Pulau Senang, and Pulau Pawai are proclaimed manoeuvring and firing grounds. As such, the public is advised to keep clear of these islands.
You are also advised to stay clear of the prohibited waters off Changi Naval Base and Tuas Naval Base.
Finally, this goes without saying. Trespassing into SAF restricted areas is an offence. It's very simple. If you see barbed wires, don't anyhow climb or enter hor. It is punishable by law with a fine of $1,000 or imprisonment for a term of two years or both.
So while the next week will be filled with military exercises in neighbourhoods across the island, don't be alarmed and just carry on with your daily activities.
Read Also:
Featured Image: thestarvista.sg + mindef.gov.sg

Fresh grads, you don't need any experience to earn up to $4,200 with this "secret":
Read Also: