As Defense Minister Ng Eng Hen has said before, Covid-19 doesn't mean Singapore can neglect to maintain its active forces, especially the SAF.
While IPPT and ICT had to be stopped for a while due to the Covid-19 pandemic, these activities, which helps keep Singapore ready to react against any threats, has gradually been brought back.
And now, with a viable Covid-19 vaccination in hand, you can bet that the SAF is going to go all-in on vaccination efforts.
And they are.
SAF Starts COVID-19 Vaccinations; Most NSFs & Regulars Will Be Vaccinated by Mid-2021
On 21 Jan 2021, the Ministry of Defence (Mindef) announced that vaccinations for the SAF have begun.
The Minister for Defence Ng Eng Hen and Senior Minister of State for Defence Zaqy Mohamad took part in the first batch of SAF personnel to receive the Pfizer-BioNTech Covid-19 vaccine on 14 Jan 2021.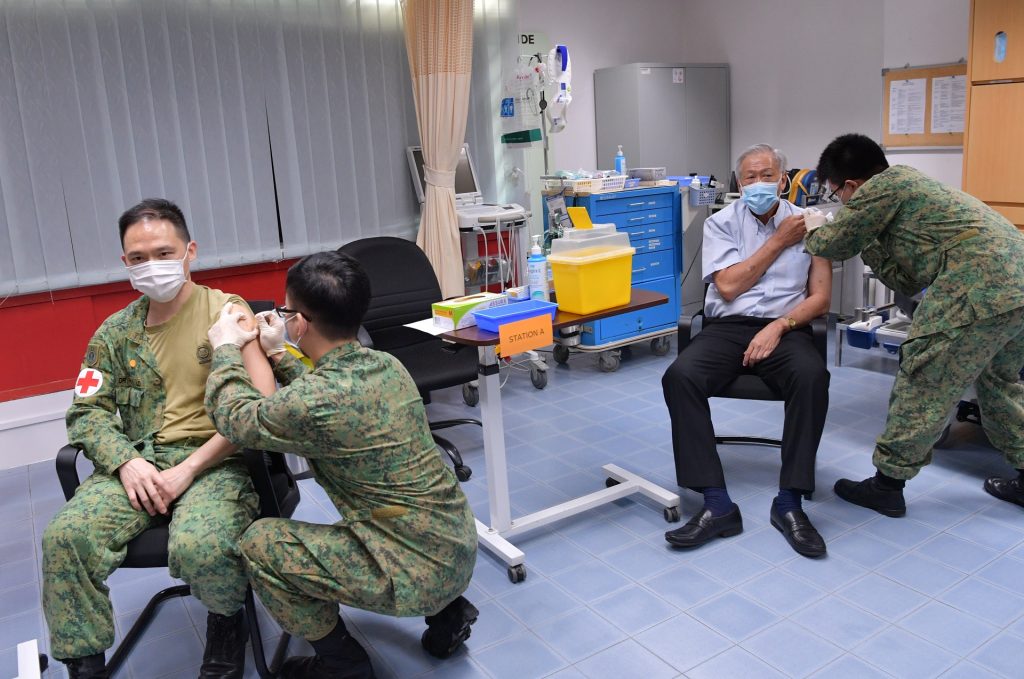 The first batch consists of medical and Covid-19 front-line personnel and it's expected to complete in six weeks, including administering the second dosage of the vaccine.
According to Dr Ng, the bulk of SAF's active forces (regular and NSFs) will be vaccinated by the middle of 2021.
Operationally-ready national servicemen are not considered part of the active forces.
After the initial phase, the next batch of soldiers to be vaccinated are those from critical units, he said.
A wide vaccine coverage would ensure that the SAF will protect its personnel while maintaining operational readiness, Mindef says in its post.
Dr Heng has described the jab as "smooth and painless", and urges everyone who is medically eligible to take the vaccination jab when available.
Many other notable figures in Singapore has taken the Covid-19 vaccination jab.
This includes PM Lee, who was attended to by a "nervous" nurse, the two faces of Singapore's battle against Covid-19, Lawrence Wong and Gan Kim Yong, as well as DPM Heng Swee Keat.
---
Advertisements
---
All of them said that the process was painless, and DPM Heng Swee Keat also assures that the vaccine is safe for "former stroke patients" like him.
Meanwhile, the Ministry of Health (MOH) has advised that women who are planning their pregnancy should wait one month after the vaccination jab before conceiving a child.
For women who discovered they were pregnant after the first dosage, they are advised not to go for the second jab.
You can read more about it here.
Feature Image: Facebook (Ministry of Defence, Singapore (MINDEF))
Like writing? Goody Feed is looking for writers! Click here for more info!