Last Updated on 2023-05-05 , 2:40 pm
In 2022, YouGov's survey reported that Singaporeans are among the most sleep-deprived individuals globally. 
Despite the National Sleep Foundation's recommendation of at least seven hours of sleep every night, the survey results show that just one in four Singaporeans achieve the ideal sleep duration.
While various factors, such as stress, noise, and caffeine, may contribute to inadequate sleeping conditions, it is noteworthy that an uncomfortable mattress could also hinder one's sleep quality. 
Studies have revealed that the type of mattress an individual sleeps on is crucial in promoting a good night's sleep.
Though the "perfect mattress" varies depending on several factors, experts advise opting for mattresses with adjustable firmness for comfort for proper spinal alignment and improved sleep quality.
Fortunately, finding the ideal mattress can be relatively inexpensive as Four Star's Ubi warehouse currently offers a 55% discount storewide.
Four Star 55th Anniversary Storewide Sale
To celebrate its 55th anniversary, Four Star is offering a limited-time warehouse sale at their Wintech Centre outlet.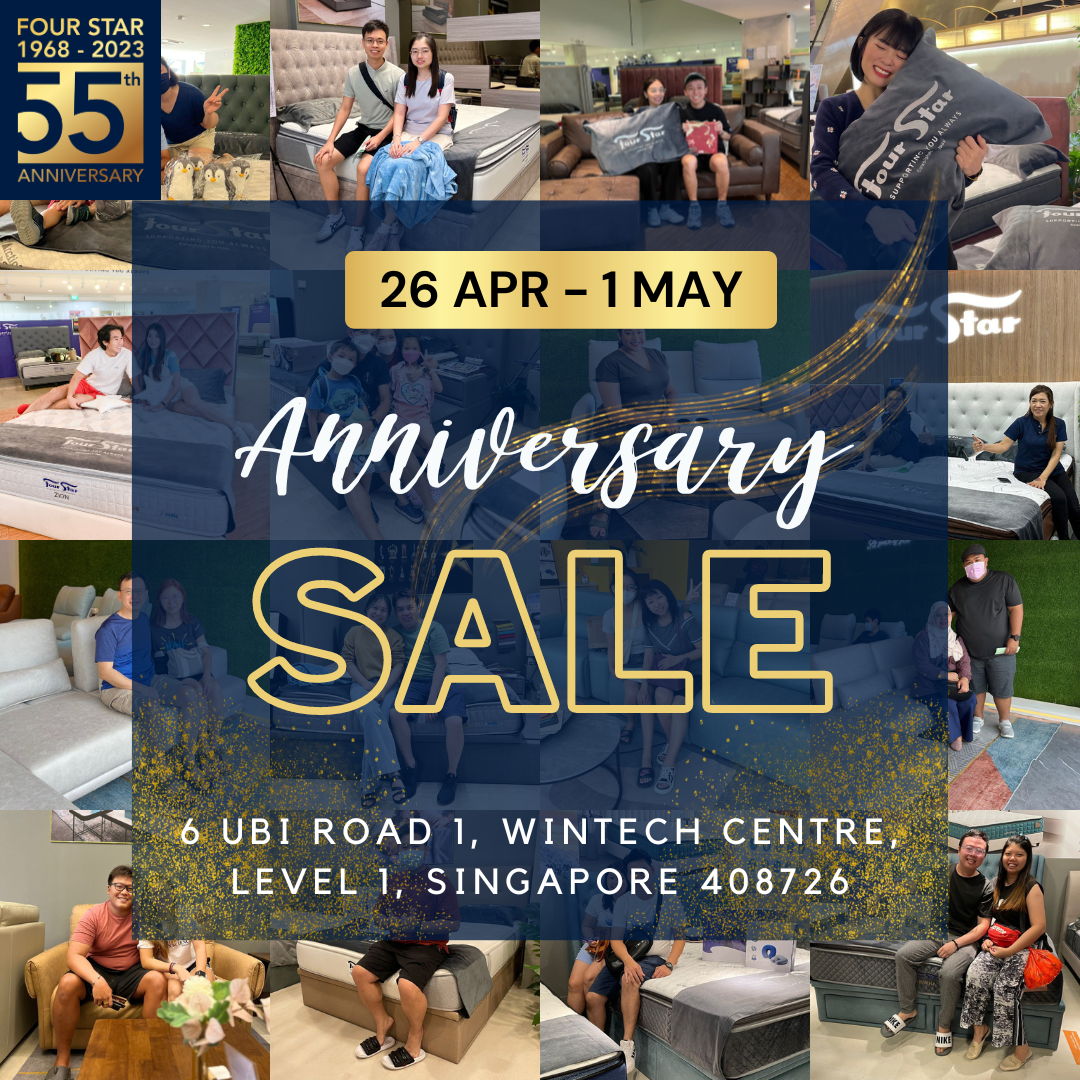 Customers can enjoy a massive 55% discount on all items, including their renowned designer bed frames, premium mattresses, hydraulic storage beds, pull-out beds, and more.
Four Star also offers various Premium Label Mattresses:
Single / Super Single from $199

Queen size from $399

King size from $499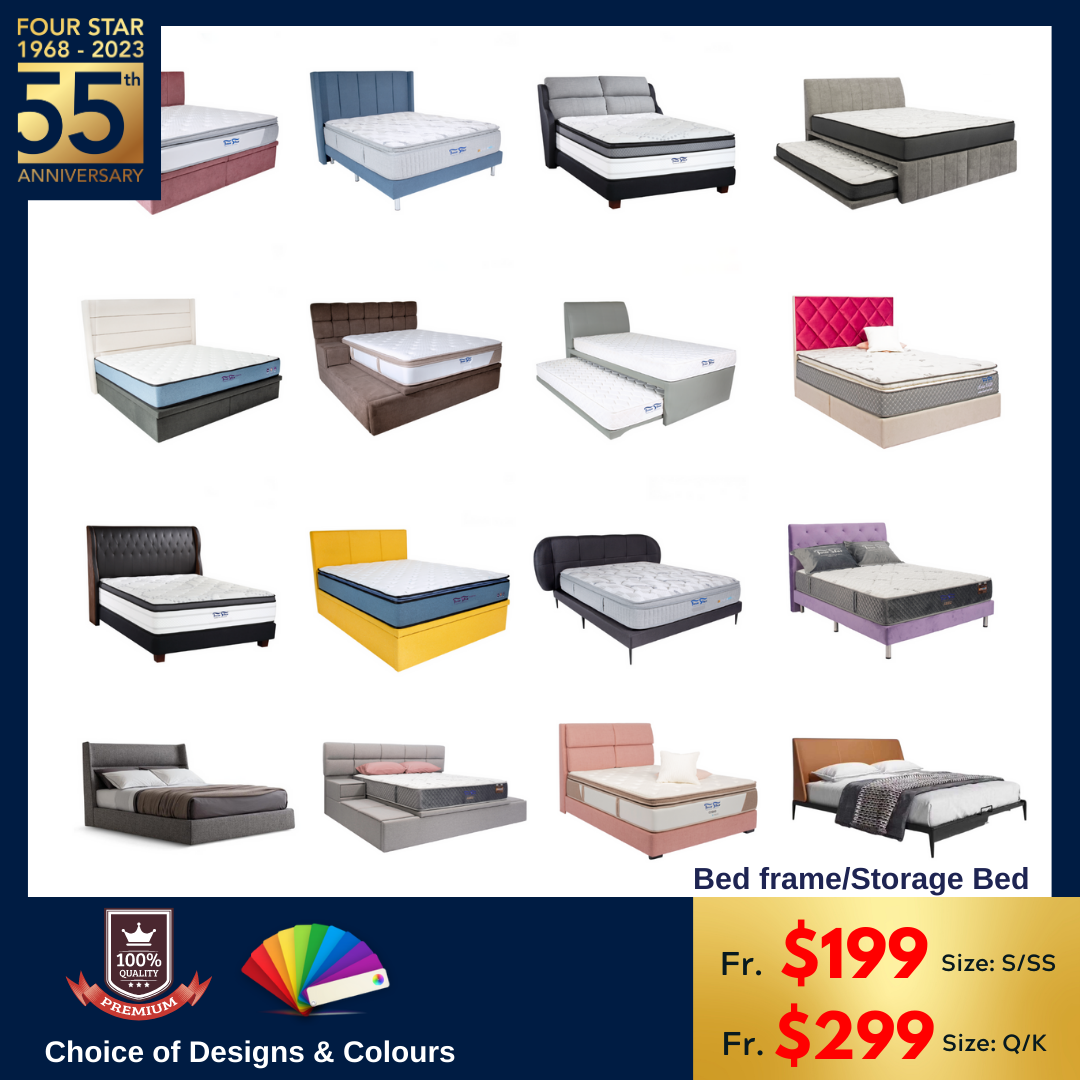 Each mattress is designed to address specific sleep issues, ensuring customers find the right fit for their needs.
In addition, Four Star's designer bed frames, hydraulic storage beds, drawer storage beds, and kids' pull-out beds are available at prices starting from $199.
Furthermore, customers can enjoy significant discounts on Four Star's Epitex line of premium pillows and high-quality fitted sheets, priced at $19.90 each.
Four Star Mattresses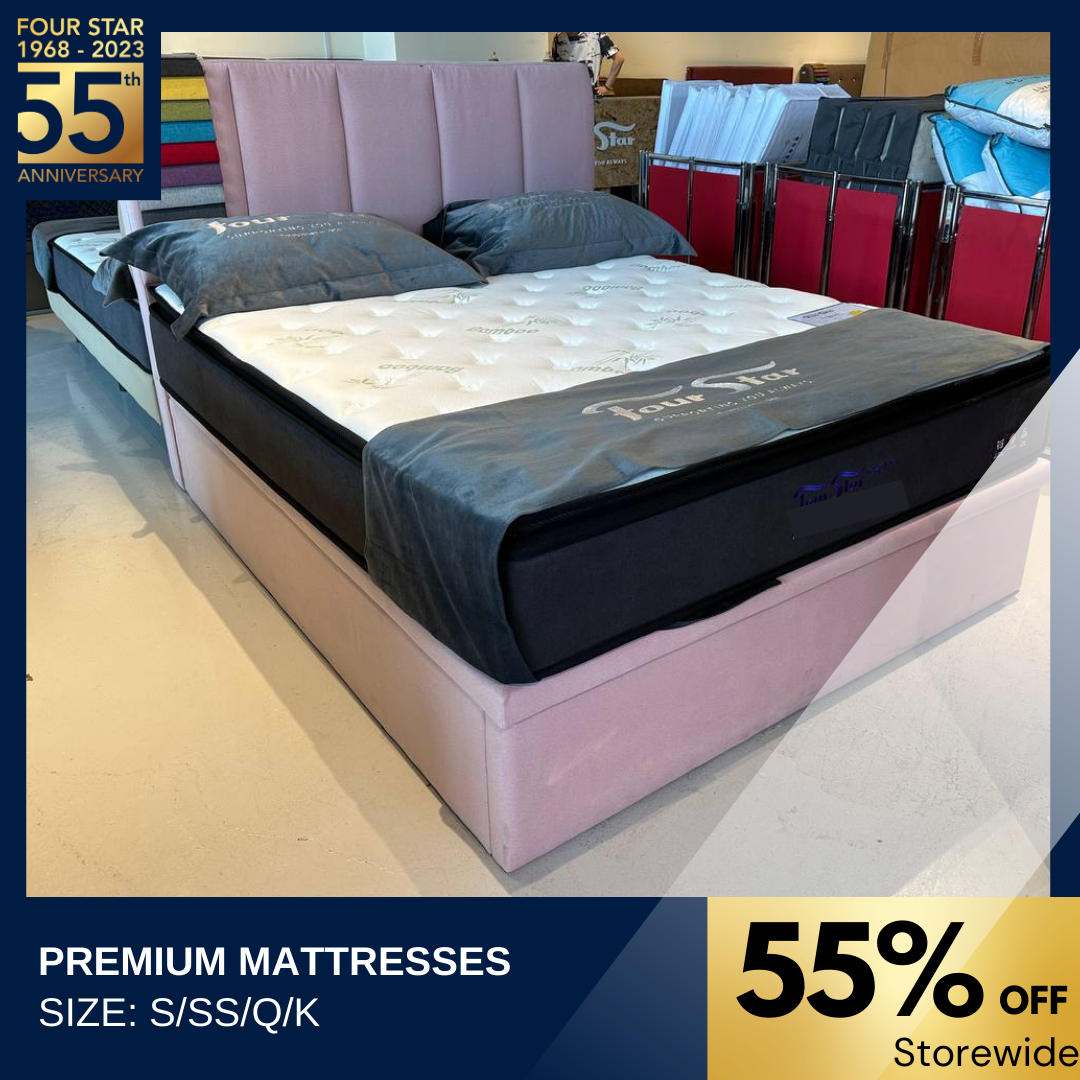 Studies have shown that mattresses are vital in ensuring a comfortable sleep cycle. Like the princess in the story The Princess and the Pea, even minor details can significantly impact sleep quality. 
A small study conducted in 2015 showed that people who slept on medium-firm memory foam mattresses experienced decreased pain and fell asleep faster.
At Four Star, every detail is considered, and their mattresses are held to strict quality standards. Their range of mattresses features different technologies to provide essential comfort and support for various needs.
Four Star's mattresses are eco-friendly and natural, covered in a hybrid latex sheet that creates an odourless, air-filled structure that conforms to the body's natural contours and provides proper spinal support. 
Moreover, their mattresses are filled with firm-tex natural fibre, which enhances comfort and provides natural firmness to support adequate blood circulation and even body weight distribution.
The fibres also allow individuals to stay cooler by regulating body temperature and promoting better airflow.
Who needs air-conditioner when you have Four Star?
Bed Frames & Storage Beds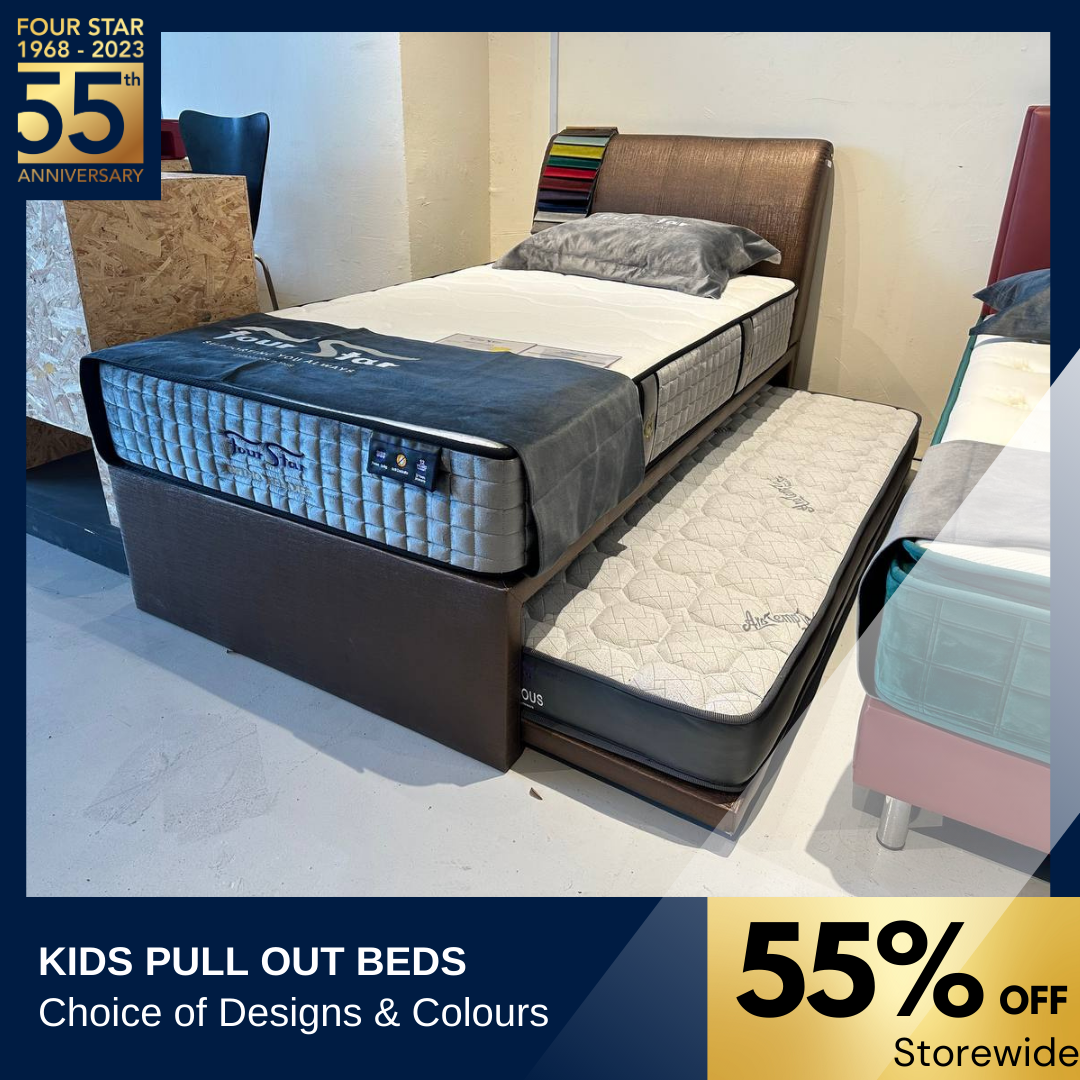 With modern HDB flats in Singapore becoming smaller, fitting all your belongings into your newly renovated apartment can be challenging, especially when you have limited space for furniture. 
Four Star offers a variety of storage bed frames that can be tailored to their premium mattresses, regardless of the size, for those experiencing space constraints in their apartments.
These storage bed frames come in different headboard designs fitted on storage bases. They are equipped with a German Hydraulic lift system, allowing users to easily lift the bed and store essential belongings. 
Additionally, these bed frames come with a ten-year warranty and allow customers to choose between a sideway opening or a front-way opening. Customers can also choose synthetic leather or fabric to upholster the bed frame.
Furthermore, their standard bed frames offer a wide selection for consumers, with the option to customise the bed frames according to their requirements to ensure that the bed frame design complements their bedroom's aesthetics. 
The headboard designs of these frames are also constructed with a sturdy wooden frame to ensure durability. They are typically upholstered with fabric, but customers can choose between synthetic leather or fabric, depending on their preference.
Lastly, customers can choose between wooden or metal legs for their bed frames, depending on which design better fits their bedroom.
Specialised Storage Beds and Pull-Out Beds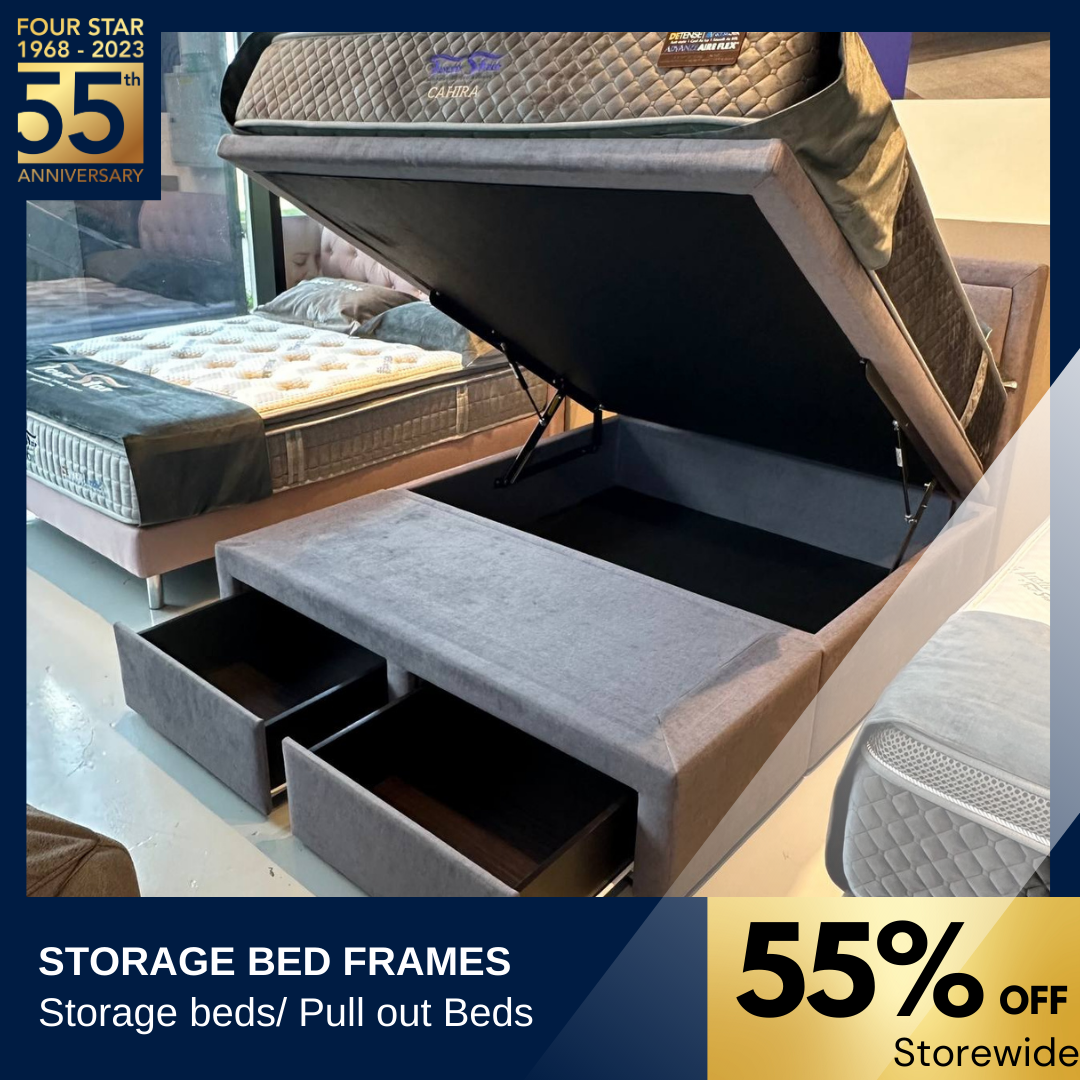 Four Stars offers storage beds equipped with drawers for customers requiring extra storage space.
These beds feature drawers located at the front or side of the storage bed frames, in addition to the German Hydraulic lift system, allowing individuals to store their daily necessities conveniently.
The drawer bases are fitted with their headboard designs, and the frames feature beautifully laminated drawers with a soft closing mechanism. 
Customers can also configure the drawers on the sides or front of the bed frame based on their preference.
In situations with insufficient space for children to share a bedroom, Four Stars offers pull-out beds as a solution. Instead of two beds occupying a small room, customers can also opt for a lift-up bed equipped with side cabinets or drawer options on its bed frames.
Moreover, Four Stars allows customers to install a lift-up mechanism on the bottom bed to lift it quickly when necessary. Like their other offerings, customers can also choose between synthetic leather or fabric for the frames.
More Perks
On top of the 55% discount offered during their sale, Four Stars is also absorbing the dreaded Goods & Services Tax (GST) for all products on sale and providing an interest-free instalment plan for up to 12 months.
But that's not all—there are even more great deals available. Customers can enjoy free delivery for their purchased products, and for those who need their items urgently, there is a free taxi claim (such as Grab or Gojek) and parking available upon checkout.
Also, you'll receive free gifts should you make a purchase above certain amounts!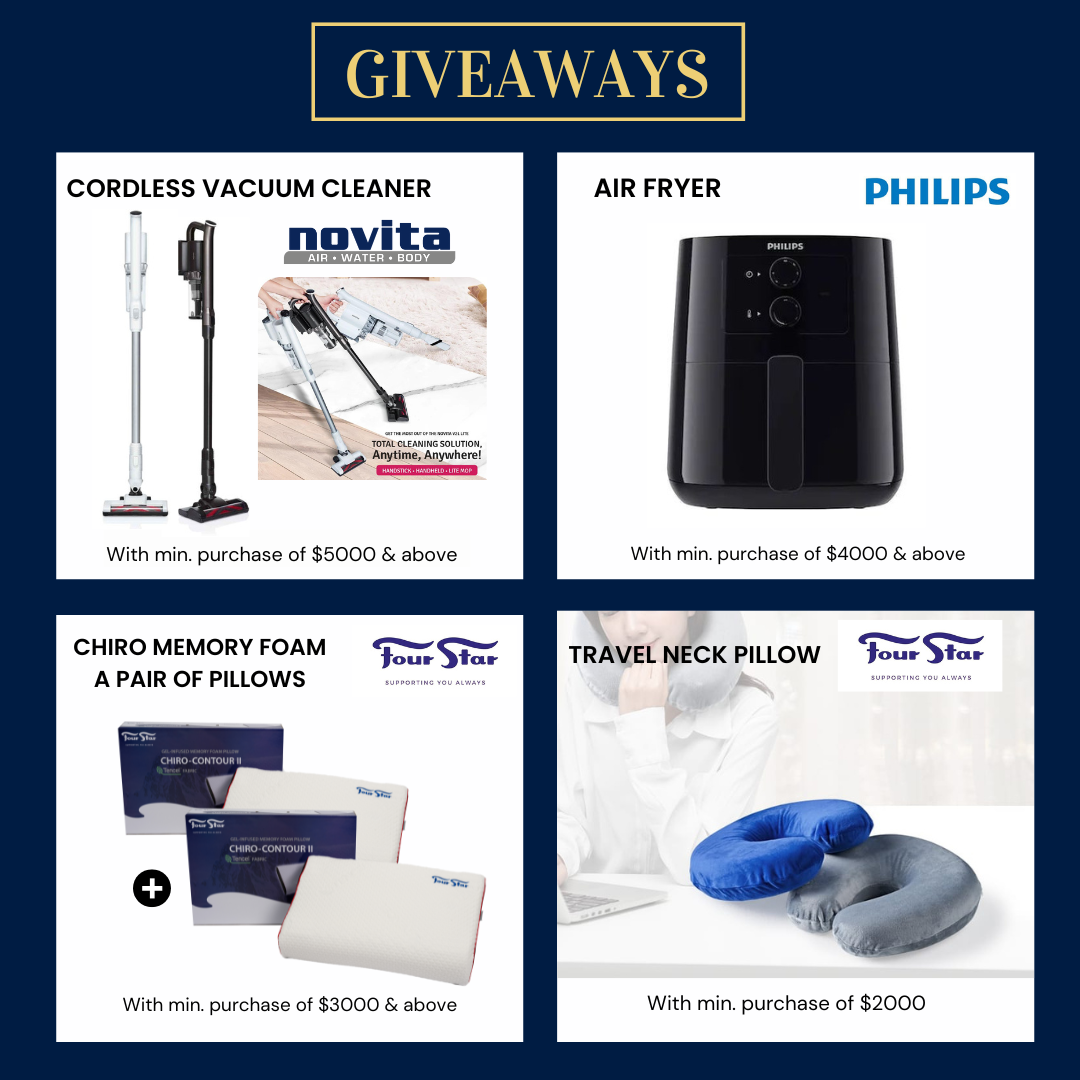 Already readying your wallet for purchase?
Here are the details for the warehouse sale:
Address: 6 Ubi Road 1, Wintech Centre, Level 1, Singapore 408726 (6 minutes' walk from Macpherson MRT Station)
Hotline:
WhatApp / Call 8683 9906 or 8613 9800 (Mattress & Bedframes)
Opening hours: 10 AM – 9 PM
This article was first published on Goody Feed and written in collaboration with Four Star.