While there may have been a few boring history lessons and maths classes which left us scratching our heads, many of us look back fondly on our visits to Science Centre Singapore as young students during school excursions.
Kids are naturally curious, and science, being a pursuit that requires curiosity, often grabbed the attention of our young, burgeoning minds.
For some of us, though, that school excursion eons ago was the last time we'd visited Science Centre Singapore.
Well, if you've been thinking of heading to the centre lately, you're in luck, because they have quite a few exhibitions and activities in store for us during the festive season.
Whether it's for a trip down nostalgia road or to inspire the little scientist in your child, here are five reasons you should spend the festive holidays at Science Centre Singapore this year!
Santa's Surprise Party Science Show
What better way to celebrate Christmas than to see Santa's elves plan a little surprise party for Santa?
While most of the elves are making toys, two elves will awe you with the magic of simple science experiments while waiting for Father Christmas to arrive.
The elves are tasked with preparing food and drinks for Santa, but will they succeed?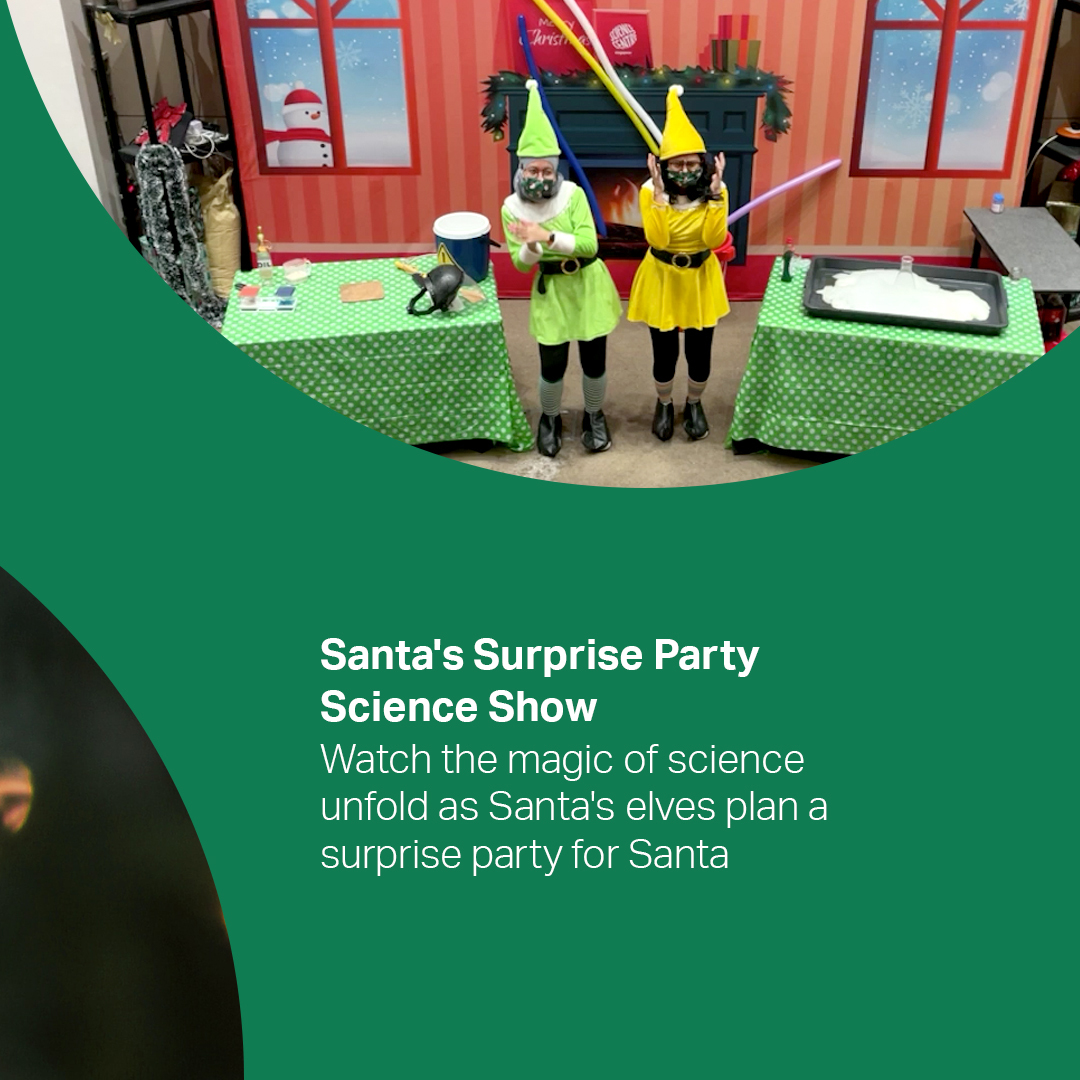 Date: 1 Dec 2021 to 3 Jan 2022
Time: 11am & 3pm
Age Group: For all
Tap here to buy tickets.
Butterflies Up-Close: Colourful Christmas
Though people have different viewpoints on basically every issue, there's one thing we can all agree on: the butterfly is a wondrous beauty.
The only thing that takes away from the pleasure of looking at these brightly-coloured winged insects is their elusiveness; they don't often stay in one spot for too long, and tend to fly away when we try to get closer.
Unbeknownst to many, Science Centre Singapore has its very own Butterfly Enclosure, the first and only indoor enclosure of its kind in the country.
The humidity and temperature are carefully regulated to ensure that plants and butterflies thrive, so visitors can not only encounter these brilliant butterflies up close, but also be able to experience its fascinating transformation from an egg to a winged adult.
Date: 20 to 25 Dec 2021
Time: 10am to 1pm & 2pm to 5pm
Age Group: Ages 5 and up
Tap here to buy tickets.
Sight & Sound at Da Vinci Exhibition
Go back in time to the 16th century and experience the rebirth of arts, science, and culture that occurred during the Renaissance with this innovative musical performance.
Viewers will get to see an award-winning choir led by artistic director Toh Ban Sheng perform ancient pieces from that period while interspersing it with elements of Leonardo Da Vinci's works.
This special performance will be screened for one day only, so if you're an avid music lover you should get your tickets soon!
Date: 18 Dec 2021
Time: 12.15pm and 2.15pm
Age Group: For all
Tap here to buy tickets.
Omni Theatre: What's Up There?
One of the highlights of our school excursions to Science Centre Singapore was the trip to the planetarium, where we were treated to quite a visual spectacle.
After all, nothing inspires a sense of wonder like the stars and planets in the skies.
During this live show, the Science Educator will bring visitors on a tour of the current night sky, pointing out the all magnificent sights while narrating fascinating stories about the stars.
Date: 20 to 24 Dec 2021
Time: 5pm to 5.45pm
Age Group: Ages 7 and up
Tap here to buy tickets.
Sci-sational Christmas: Gallery Activities
For a more hands-on experience, go for the Gallery Activities, which might just be the highlight of Science Centre Singapore's Sci-stational Christmas this year!
Here, participants can get techy by designing their very own Christmas cards, as well as trying their hand at Santa's Mind Challenge, where participants have to try their best to stay calm while wearing a very special Christmas hat. They will be monitored by Santa the entire time, of course.
The game will be played at the Mind's Eye exhibition which houses exhibits of various optical illusions, so you know it's going to be good.
Date: 1 Dec 2021 to 3 Jan 2022
Time: Various timings
Age Group: Ages 5 and up
Tap here to buy tickets.
Other Reasons to Visit Science Centre Singapore During the Holidays
Another reason to visit Science Centre Singapore this month would be to catch the stunning 45-minute documentary about the dinosaurs that used to walk the Earth hundreds of millions of years ago.
Here, viewers will be able to explore the now-lost prehistoric world of Gondwana.
Visitors can also attend an exhibition that celebrates the brilliance of Leonardo da Vinci, and or learn about the forces and processes that underlie Earth's changes in "Earth Alive". 
Do note that just like any other establishment, Science Centre Singapore has to adhere to the prevailing COVID-19 rules.
This means that only groups of up to five fully vaccinated visitors will be allowed entry, and if there is more than one child aged 12 years and below in the group of 5 persons, both children must be from the same household.
But if you're all vaccinated and raring to get out of the house, go on ahead with your trip to Science Centre Singapore with your young ones for a treat they won't forget!
Click here to buy your tickets!
This article was first published on Goody Feed and written in collaboration with Science Centre Singapore.
Featured Image: AhBoon.Net / Shutterstock.com