In the most recent update of COVID-19 case reports by the Ministry of Health (MOH), there were a total of 3,155 new COVID-19 cases detected in Singapore on Friday (21 Jan).
Of the total cases, 1,616 cases were detected through polymerase chain reaction tests – comprising 1,278 local cases and 338 imported cases.
The other 1,539 cases were identified through antigen rapid tests (ART) and subsequently assessed by a doctor to have mild symptoms and of low risk.
In the figures detected through ART, 1,516 were local and 23 were imported.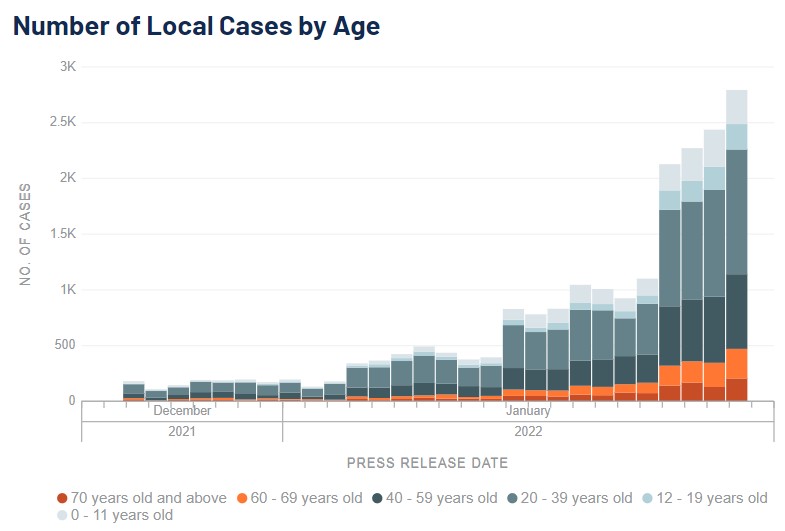 These statistics, however, do not include those who have taken ART and chosen not to go to seek medical assistance because they might have deemed their symptoms to be negligible. 
MOH has reported one death as well.
COVID-19 Infection Rates
Just as Health Minister Ong Ye Kung has mentioned in the Multi-Ministry Task Force Press Conference, the increase of Omicron variant cases is to be expected, especially given the infectious nature of the variant.
Thus, the weekly COVID-19 infection growth rates have risen to 2.70 from 2.17 the day before.
This rate refers to the ratio of community cases for the past week, in comparison to the week before. Having a figure of more than one indicates that the number of weekly COVID-19 cases is increasing.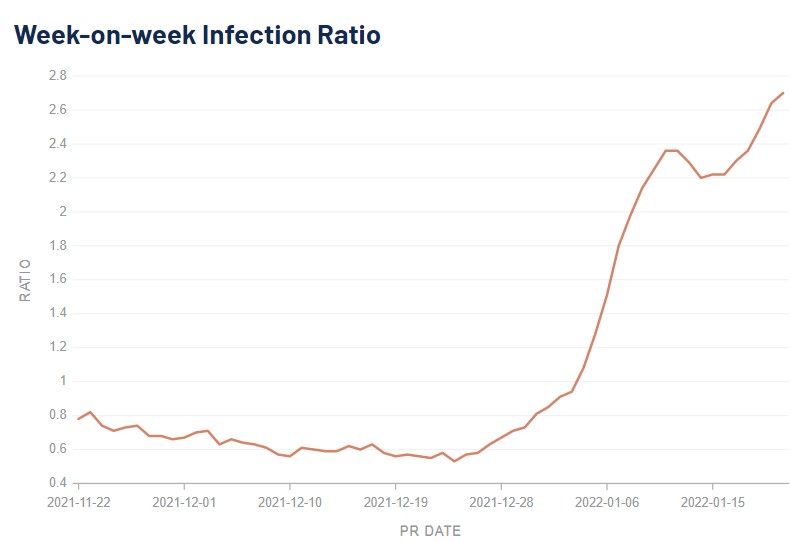 Health Minister Ong Ye Kung also declared during the Press Conference that the MOH will no longer be differentiating between Omicron and non-Omicron cases.
He states that Singapore has been living with the COVID-19 and Omicron variants cases in a careful and calm manner for the past few weeks, with lesser restrictions applied, such that people are allowed to meet in groups of five.
Even then, the situation has been manageable. 
Current Statistics
As it stands, 88% out of the 91% of the eligible Singaporean population have been fully vaccinated, and 54% of the population have received their booster shots.
In light of the high vaccination rates plus the reduced severity of the symptoms faced by Omicron cases, the top-line infection numbers have become less significant.
Although Singapore had a total of 20,675 cases of infection in the past 28 days, 99.6% have suffered from little to no symptoms.
Presently, there are 360 patients in the hospital, with only 19 requiring oxygen supplementation and 13 in the Intensive Care Unit (ICU).
---
Advertisements
---
By all accounts, only 0.03% of the ICU has been utilised.
As of 21 January 2022, Singapore has a total of 307, 813 cases, and had 846 deaths.
Read Also:
Featured Image: Shutterstock / Miguel Vidal
---
Singapore will be hosting Dota 2's The International this year. Here's why it's such a big issue: