---
Advertisements

---
Last Updated on 2023-03-24 , 5:15 pm
Let's be honest for a moment: airplane food isn't the most appetising.
There are certain reasons for that, like how the food is processed, pre-made, and frozen to make it shelf-stable, how it's heated up in less than optimal conditions, and how our olfactory senses are impacted due to the higher altitude.
But that's not the main point of this article.
A former Singapore Airline (SIA) stewardess called Shean Qian, or @geiwosushi on Tiktok, has recently revealed "secrets" about the foods and beverages on board of the aircraft.
In her two-part series, Sheau introduces the lesser-known facts about the services provided, which might just make your economy flight more comfortable, sustenance-wise at least.
The "Hidden" Drinks Menu
The first part of the Tiktok video, uploaded on 26 Mar, was solely dedicated to the topic of drinks.
Sheau took it upon herself to address the questions that her friends previously asked her, like whether they had to pay for certain liquors on economy flights.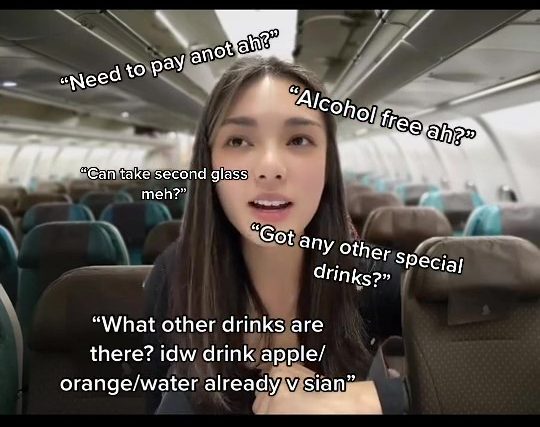 The answer to that question is no. 
Alcohol is actually free of charge, and you may request them, now that you know what's available.
Sheau lists the following, "There's brandy, bourbon, whisky, vodka, gin, rum, beer (usually Tiger), Bailey's, Singapore Sling."
You know, for aircrafts that forbid huge volumes of liquids, especially flammable ones, it's surprising that they have an entire bar stocked in their refrigerators.
If you want something fancier to knock yourself out for the rest of the flight, they offer cocktails like Screwdriver and Gin, or fancier options like red or white wine.
As for hot beverages, you can request for green tea, jasmine tea, Milo, and hot milk, besides the typically offered coffee and tea.
Sheau adds that your requests will definitely be entertained "because it's Singapore Airlines what", and they have a pristine reputation to upkeep.
SIA provides all sorts of carbonated drinks too, as well as juices like apple, orange, pineapple and tomato.
But if you're looking for more exotic types like grape, guava, watermelon, manga, avocado or green apple, you're fresh out of luck, because the airline doesn't have them in stock.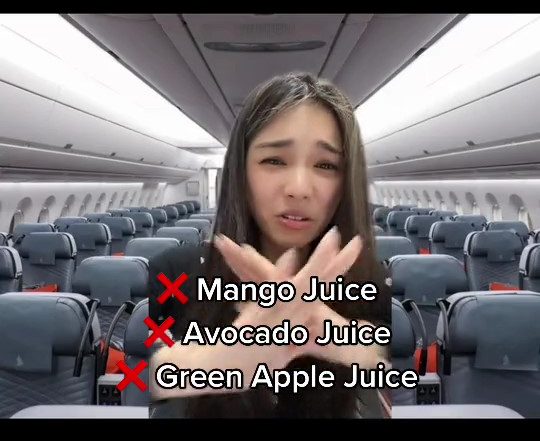 Join our Telegram channel for more entertaining and informative articles at https://t.me/goodyfeedsg or download the Goody Feed app here: https://goodyfeed.com/app/
The Food Menu and Free Cakes
For the second part of her video, Sheau discussed the food available on economy flights.
One of the burning questions was whether they could ask for a second serving—though why any one would do that is beyond me—but Sheau confirmed that you could do so.
---
Advertisements

---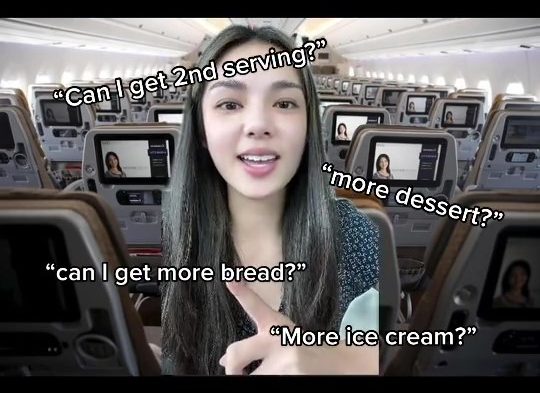 However, second servings will only be given if two conditions are satisfied first:
There are extra available.

All the passengers have already been served.
If you want to get your food first in economy, Sheau offers a simple tip: "Request for a special meal."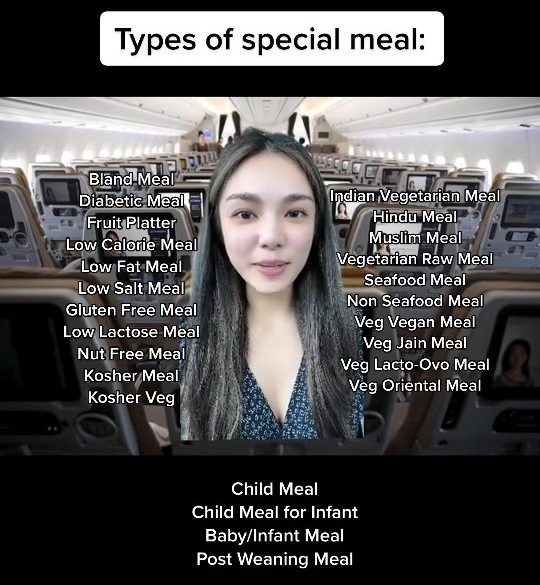 To understand what snacks or meals SIA will be offering in advance, Sheau recommended that travellers can check the digital menu online.
Longer flights will offer a whole list of snacks to munch on, including but notwithstanding crunchy granola oat or honey bars and assorted sweets and muffins, besides the usual cup noodles and biscuit packets.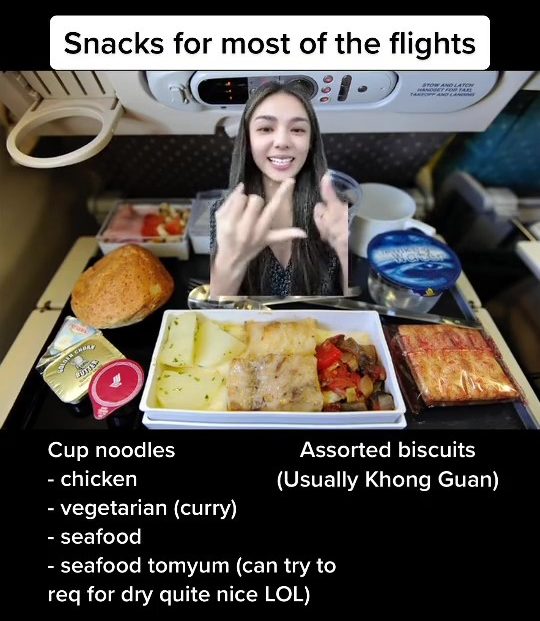 Another surprising tidbit that Sheau shares is that SIA has free cake on the menu too.
Of course, such services are only reserved for special occasions, such as birthdays, honeymoons, or anniversaries.
---
Advertisements

---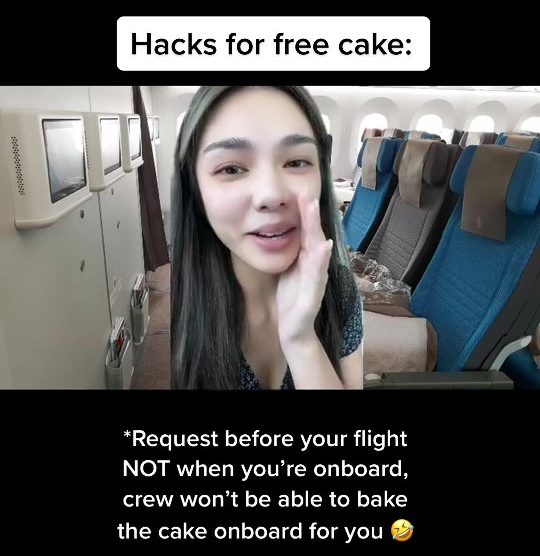 Just ensure that you ask for the cake before boarding your flight.
The aircraft only has microwaves and fridges; baking a cake is beyond their capacity, to say nothing of how time consuming the process is.
Hope these tips will prove useful on your vacations, but please don't abuse them too much.

Fresh grads, you don't need any experience to earn up to $4,200 with this "secret":
Read Also: