People have used many items as box fillers, from crumpled newspaper and shredded colour paper to foam peanuts and bubble wrap, but this is the first time someone packed a box using her dog's fur…
… by mistake, of course!
When a customer who found dog fur in his parcel confronted the Shopee vendor he bought from, the vendor uses a very creative – and cute – way to apologize to him.
A Shopee Vendor with Humour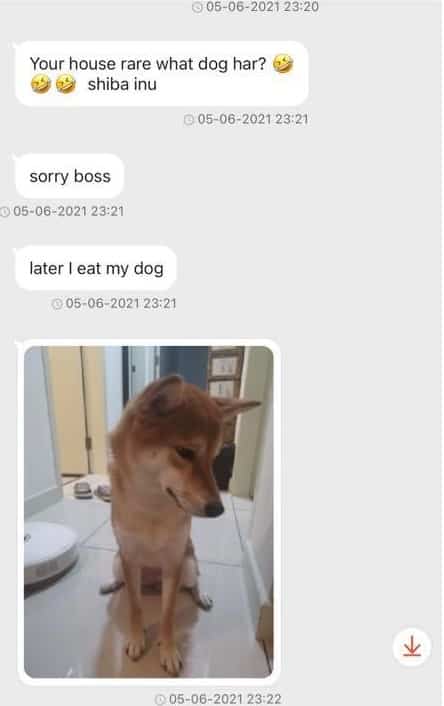 In good humour, the customer, Eric Chen, who received the package complained about the amount of dog fur in his parcel to the vendor via the Shopee's chat system.
"Your house rare (rear) what dog har?"
"So many fur came out from the parcel"
Around 19 days later, the vendor replied, "Shiba Inu", and immediately apologized.
Riffing on the age-old joke of "my dog ate my homework" and possibly the infamous dog-eating practice in China, the Shopee vendor replied, "later I eat my dog" while attaching an adorable photo of her Shiba Inu, nicknamed Dou Dou (豆豆), looking all guilty and embarrassed.
Netizens Pestering the Vendor on Shopee to See Her Shiba Inu
Since posting about his interaction with the vendor in a Shopee Facebook group, the post has garnered over 2,000 shares and about a similar number of likes.
Many of the netizens rushed over to the vendor's store page on Shopee and sent her messages asking to see her cheeky doggo.
To her amusement, some even asked her to send them Dou Dou's dog fur.
However, as more messages flowed in, she was rapidly overwhelmed.
Plus, Shopee tracks a vendor's response time to queries so her score plummeted pretty drastically as well.
She told a reporter from SAYS that if anyone wanted to see more photos of Dou Dou, they can visit the dog's Instagram account @doudou.shiba.
Along with another cute photo of Dou Dou, she also posted a message on Shopee on behalf of her dog thanking netizens of their interest, stating that in its one year of life, it never thought it would become a viral dog (among the likes of Grumpy Cat).
Considering its achievement, it has no regrets in life.
---
Advertisements
---
This Story Could Have Gone the Other Way
As one netizen pointed out, this humorous story could have oh so easily have gone the opposite direction had the customer have a strong dislike of dogs or if he has a dog allergy.
The customer could also have left a particularly nasty review on Shopee instead of reaching out privately to the vendor via the chat system.
The Shopee vendor is incredibly lucky indeed!
If you've enjoyed this article, you'll enjoy our videos too:
Read Also:
Featured Image: Facebook (Eric Chen)
---
Advertisements
---
---
This Singapore love story set in the 90s shows you why you should never wait for tomorrow. Watch it without crying: