T.G.I.F!
It's finally Friday, and I bet you're looking forward to the weekend and all that glorious hours not seeing your boss.
Unless you're working Saturdays, then I'm sorry for rubbing salt into your wound.
For today, discover torched Mentaiko Salmon rice bowl for just $8.90 and hear about the super famous Hong Kong eatery, Tsui Wah, coming to Singapore.
Sim Lim Square might also become a thing of the past; here are the many more interesting topics you need to know 😉
1. Love Sim Lim Square? It Might Be Gone Soon
Ladies and gents, this iconic place in Singapore, whether for good or for bad…
…might be gone real soon.
It was reported on 15 Mar that Sim Lim Square is looking to make a collective sale of (guesstimated) S$1.1 billion for the 99-year leasehold property.
A general meeting was held on Monday and was attended by 60% in terms of share value of the owners. And out of that 60 %? 97% voted for the sale.
Why am I not surprised.
The management requires an 80% consent from various owners within the mall before it can proceed with the sale.
If successful, analysts predicted that the site is likely to be redeveloped into a hotel, office building or a brand new shopping mall.
Shop owners get to earn between $1 million to $60 million if the sale goes through.
The tech mall has been suffering from a drop in customers in recent years, despite having a new MRT station, Rocher MRT station, built just beside it.
Earnings from renting out the units at the mall have also fallen.
One of the owners, Mr Kenny Lai, have also started building an online presence in preparation for the sale since last year.
Good move, Mr Lai.
2. Another Alleged Underwear Thief Caught, This Time in Taman Jurong
Underwear thieves seem to be popping out of the woodwork.
I mean, just recently, the Bukit Batok underwear thief who stole from the same house five times, was finally caught by the police.
And now, we have another one nabbed. This time at Taman Jurong.
---
Advertisements
---
On 15 Mar, a 31-year-old man was arrested after allegedly attempting to steal underwear.
A resident of Lake Vista in Taman Jurong, Wong Keng Yang, saw a suspicious character loitering at the ground level balcony of Block 138C.
Then, he saw him climbing up to the second-floor balcony.
The man attempted to flee on a bicycle when Wong approached him. He was stopped and brought to the victim's unit (brave AF seh).
The police were also called.
---
Advertisements
---
The estate had a similar incident the previous month where underwear was stolen from a unit successfully.
3. Famous Hong Kong Crispy Bun, Tsui Wah, Opening in Clark Quay
Foodies in Singapore, we have great news for you.
Joining the ranks of Tim Ho Wan and Tai Cheong Bakery is famous Hong Kong eatery, Tsui Wah, known for their crispy buns with condensed milk.
Jumbo Group, working in partnership with Tsui Wah, confirmed that they'll be opening a Tsui Wah outlet right here in our sunny island.
The eatery is famous for its crispy bun with condensed milk (mmmmm), bake pork chop rice and milk tea.
---
Advertisements
---
While they're still working out the details of opening, like when it'll open, at least they've confirmed the location of the new outlet.
It will be located at the former ground floor unit of Attica Club in Clark Quay.
Who cares now that McDonald's choco pie is gone? That's so yesterday, please.
Location: 3A River Valley Road, #01-03, Clark Quay.
4. Season Parking Goes Online, HDB Says No Need Display RFID Tag
If you're a driver and has season parking at your HDB estate, you no longer need to display your RFID tag from 1 Apr 2018.
Introduced in 2007, an HDB spokesperson said that with the implementation of the Electronic Parking System (EPS) at most HDB carparks, information about season parking is transmitted electronically.
In addition, the app Parking.sg was introduced to allow motorists to pay for parking sessions via credit or debit card.
LTA officers can input the vehicle's plate number to check for validity of parking sessions.
---
Advertisements
---
HDB advised all motorists to cut their RFID tag before throwing it away.
Well, we used to know if someone lives in an HDB or a private property through decal, but with this new arranagement, meh: we can only guess.
5. Singapore is still World No.1 Most Expensive City in the World, And It's Due To COE
Do you sometimes feel like you're living in a country's expensive AF? It's not your imagination.
It's true.
According to the Economist Intelligence Unit's (EIU) latest Worldwide Cost of Living report, Singapore is the most expensive city to live in, followed by Paris and Zurich.
Our usual partners in crime, Hong Kong and Japan, has dropped to fourth and eleventh position respectively.
But wait, don't lose all hopes yet.
According to the EIU, it's the cost of owning a car here in Singapore that's driving up our rankings.
The cost of household essentials and hiring of domestic helpers are still considerably lower than our peers.
So as long as you don't dream of owning a car in Singapore, you should be okay.
Just BMW (bus, MRT, walk) or Uber.
6. Police Arrest Hit-And-Run Suspect Who Knocked Down Woman At Bedok With E-Scooter
E-scooter riders have a very bad rep in Singapore.
While most e-scooter riders are responsible and considerate, there are a few black sheeps that aren't.
And I bet you've met them before at some point in time.
This hilarious video done by Mothership.sg is a good-est example.
They ride like they own the entire road, speed on pavements with pedestrians and generally being a nuisance.
Allegedly like this guy.
The Singapore Police Force arrested a 23-year-old male on 7 Mar. He was suspected to be involved in a nasty e-scooter collision with a 45-year-old lady, Ms Goh Lay Yong.
Preliminary investigations found that he was not able to stop his e-scooter in time.
After calling for an ambulance, he fled the scene. The police managed to find him after examining CCTV footage and extensive ground enquiries around the area (nicely done again, SPF!).
Ms Goh suffered from serious head injuries and was sent to Changi General Hospital. Her aunt told reporters that she had to remove part of her skull on Sunday to relieve the swelling in her brain.
She was in a coma and opened her eyes for the first time on 15 Mar.
If found guilty, he can get up to four years jail time, a fine of up to $10,000 or both.
E-scooter riders, better ride carefully because you won't know what's going to happen next.
7. You Can Now Use WeChat Pay to Pay For Taxi Fares
Or to be more exact, ComfortDelgro taxis.
Gone are those days where you had to tell the taxi uncle to drive you to the nearest ATM, pass him your NRIC in collateral and go draw money for your taxi fare while he waited for you (with a super angry face).
Now, you have so many options for payment.
And another one is going to join the club: WeChat Pay.
The WeChat Pay option will be available in ComfortDelgro taxis starting next month (April 2018) according to Ms Grace Yin, operation director of WeChat Pay International Business.
Citing themselves as a social media platform, first and foremost, with an electronic payment system as one of the many parts of their app.
This move is aimed at targetting Chinese tourists that come to Singapore.
Of course, if you're ever planning to travel to China, it might be good to get yourself set up and familiar with WeChat's electronic payment.
Because according to PM Lee and many other people, cashless payment in China isn't just a thing.
It's the norm.
8. Toys R Us Closing Down All Stores in The US
If you're in the US right now, you'll see all 735 Toys 'R' Us stores in the country with a Store Closing Sale sign hanging outside the store.
And it's not like the Moving Away Clearance sale in Clementi which has been taking place for years.
It's real, according to the iconic retail chain.
Unable to withstand the competition from online retail giants like Amazon, they're throwing in the towel and filing a motion for bankruptcy court approval.
But if you're worried that this will hit Singapore's Toys 'R' Us, don't be.
They're only liquidating their US operations.
Toys 'R' Us mentioned this back in Dec 2017, "Like any retailer, decisions about any future store closings – and openings – will continue to be made based on what makes the best sense for the business."
In other words, if we continue shopping at Toys 'R' Us instead of online here in Singapore, it'll still continue existing.
But then again…who does that? Grandparents buying toys for their grandchildren, of course.
9. Chef Who Defended Himself & Fractured Attacker's Skull Jailed
If you thought that as long as the other person attacks you first, you're free to retaliate without consequences, you're wrong.
This was what happened to a 45-year-old man 3 years ago in Jan 2015.
He was drinking with his friends at a bar on Orchard Road when one of his friends, Mr Muhammad Ridhuan Razali, started chatting to Naseeruddin's girlfriend.
Naseeruddin's group was seated just nearby.
At 4 am, both groups left the bar. Hamdan and Ridhuan left together in a car.
Still unhappy with the situation, Naseeruddin and Ajmain followed them in a car.
Naseeruddin has two knives in his car (not sure why, but anyways~), which both took to confront the other pair at Spottiswoode Park
Naseeruddin slashed at Hamdan, who managed to grab hold of the knife. It was then that Ajmain joined in, trying to slash at the chef.
He managed to snatch the knife from Naseeruddin and started swinging wildly.
He hit Naseeruddin in multiple parts of his body, causing serious injuries including a skull fracture.
For causing grievous hurt while under grave and sudden provocation, he was given a six-week jail term.
Naseeruddin's trial is still ongoing while Ajmain was not arrested yet.
10. Muslim-Owned Mentaiko Salmon Rice Bowls at Amoy Food Centre Under $10
Love poke bowls? Especially affordable ones?
Then you can't miss out on Big Bowl Project, that sells amazing rice bowls at an affordable price.
Opened just recently in Amoy Food Centre, this 100% Muslim-owned salmon rice bowl stall has four different offerings: Homemade Recipe (S$7.90), Sze Chuan Black Bean (S$7.90), Mentaiko (S$8.90), and Truffle Oil (S$8.90).
They use salmon air-flown in from Norway according to the owners.
But seriously, we're just drooling for the Mentaiko version.
Delicious crispy mentaiko fragrance with all that salty, creamy goodness within? And all that for just $8.90? Take my money now!
If you happen to be working near Amoy Food Centre, it might be a good idea to visit the place for lunch today, eh?
Location: #02-90 Amoy Street Food Centre, Singapore 069111
Opening hours: 11.30am to 2.30pm on Weekdays
________________________________________________________________________
Always bored during your commute to and fro work or school? Here's the best solution: download our app for new articles, Facebook videos and YouTube videos that are updated daily…and most importantly, exclusive contents that are only available in our app!
You'll also receive a $7 Shopee voucher & a $10 Shopback Cashback (in App Exclusive section)!
This article was first published on goodyfeed.com
Read Also
Featured Image: singapore-guide.com & Apollofoto / Shutterstock.com
This Singapore love story set in the 90s shows you why you should never wait for tomorrow. Watch it without crying: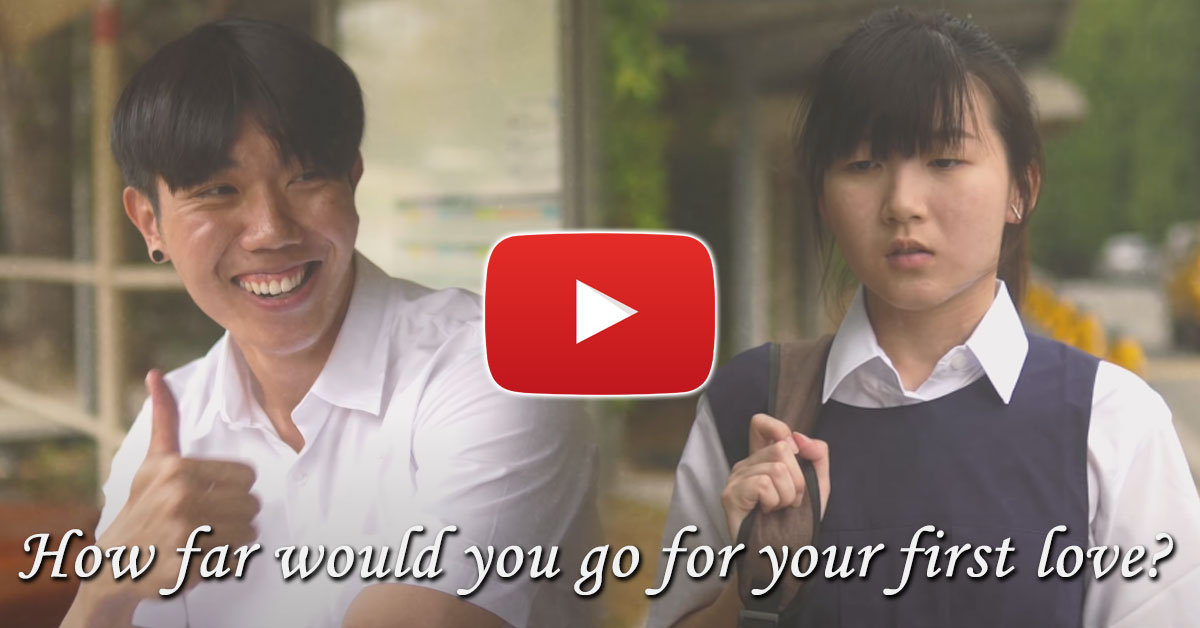 ---
Advertisements
---
Enjoyed this article because it's both informative and entertaining? If so, you should download the Goody Feed app so that you won't miss out on any articles, as there are app-exclusive contents as well! Also, join our Telegram channel if you use Telegram often!
Latest & Popular Articles You Must Not Miss:
---
Advertisements
---
---
Advertisements
---
Our Most Popular Videos You Must Not Miss:
---
Advertisements
---
This Singapore love story set in the 90s shows you why you should never wait for tomorrow. Watch it without crying: