---
Advertisements

---
Many influencers have undergone interesting transformations in recent years. One of these influencers is Simon Khung, better known as Simonboy.
His transformation? Getting his face tattoos removed.
TikTok Sensation Simonboy Removed Face Tattoos to Start His Life Afresh
Most of us remember Simonboy as the TikTok influencer covered with tattoos from head to toe. However, you may not know that he also used to have face tattoos.
The 36-year-old had not one, not two, but more than 20 star tattoos on his face.
It's giving Soundcloud rapper.
The influencer only got his facial tattoos removed three years ago, in October 2020, to start his life afresh.
View this post on Instagram
You see, before he garnered his current following of more than 130,000 fans on TikTok, Simonboy was living the life of a Crimewatch episode.
Simonboy Joined Gang as a Teen; Fell Victim to Drug Abuse for 16 Years
Here's Simonboy's life story, pre-TikTok, to help you understand why he had 20 star tattoos on his face in the first place.
When Simonboy was a mere teen, he joined a gang. He dropped out of school at 16 and didn't take his GCE O-Level examinations. The same year he dropped out of school, he also started abusing drugs.
That's a vastly different life from what many of us lived when we were 16. When you were 16, your biggest roadblock was probably just that girl who didn't "like" you back.
---
Advertisements

---
In subsequent years, Simonboy found himself in and out of prison for various charges, including drug abuse and voluntarily causing hurt.
After Simonboy's release from prison, the 36-year-old tried to turn his life around and find stable employment. However, others constantly pushed him away, given his laundry list of what many see as "red flags"—a low level of education, a criminal record, and tattoos.
As a result, he fell back into the vicious cycle of drug abuse, one he couldn't break out of—Simomboy eventually spent 16 years of his life struggling with drug abuse.
Pushed to the Edge: Simonboy Attempted Taking His Life in 2019
These pressures eventually boiled over, and the TikTok influencer decided not to play the game anymore.
In 2019, Simonboy attempted to take his own life by drinking bleach.
Join our Telegram channel for more entertaining and informative articles at https://t.me/goodyfeedsg or follow us on Twitter : https://twitter.com/goodyfeed
Fortunately, his attempt failed—he vomited the bleach out.
At this point, Simonboy decided that he wanted to turn his life around. He tried to break the drug abuse cycle and "restart" his life.
And what better to hit the reset button than to first remove his facial tattoos under the Singapore Anti-Narcotics Association (SANA)'s subsidised tattoo removal programme?
Simonboy Hits the Reset Button: Removing More Than 20 Tattoos From His Face and Palm
In October 2020, Simonboy registered for tattoo removal under SANA's highly-subsidised tattoo removal programme.
Over ten treatment sessions, Simonboy removed more than 20 facial tattoos and a letter "K" tattoo from his left palm.
---
Advertisements

---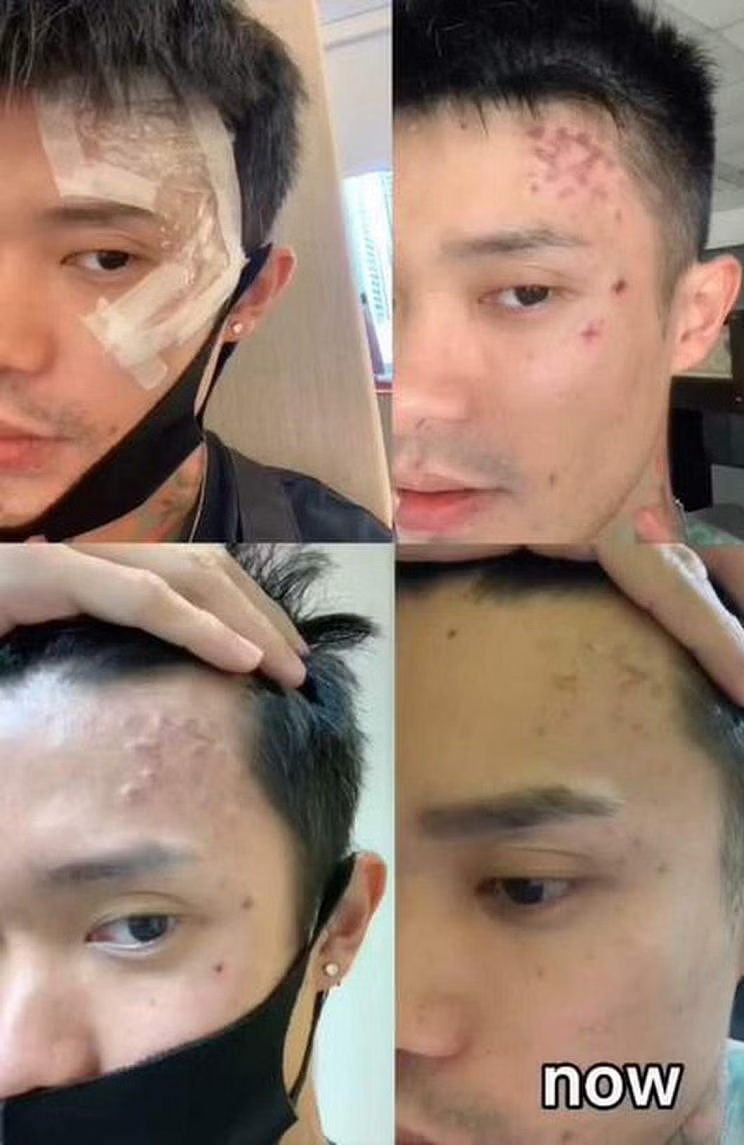 The best part? Each session only costs approximately $20. This means that the total cost of Simonboy's tattoo removal adds up to a ballpark figure of $200.
If you've ever gotten a tattoo, you would know how painful it is—not just for your wallet, but for yourself too.
However, Simonboy shares that tattoo removal is even more painful than getting inked, describing it as a feeling of getting burnt.
Imagine yourself getting burnt like a roasted chicken from the Kopitiam. Not a great sensation.
The 36-year-old urges young people (we're looking at you, Gen Zs and millennials) not to impulsively get inked, emphasising that tattoos are a lifelong commitment.
Getting inked is not like getting new shoes, clothes, or even a new girlfriend, alright? Take Simonboy's advice—think twice before committing to a tattoo.
---
Advertisements

---
Other Services Offered By SANA to Tackle Singapore's Drug Abuse Problem
Aside from the subsidised tattoo removal programme, SANA offers a slate of other services to tackle Singapore's drug abuse problem.
These include support programmes for recovering drug abusers, family support programmes, tele-visits, various public engagement efforts and a peer leaders programme.
It's the entire suite.
SANA's client support programme is targeted at recovering drug abusers. The subsidised tattoo removal programme falls under this category of SANA's programmes.
The organisation also coordinates with the gahmen and other community agencies, such as the Housing & Development Board (HDB), to offer case management and counselling services.
---
Advertisements

---
Say goodbye to expensive counselling sessions. Huat ah!
This isn't all that SANA offers to help recovering persons. The organisation also provides a "starter kit" containing a NETS FlashPay card to recovering drug abusers upon release from prison.
This "starter kit" ensures recovering drug abusers' food and travel needs are accounted for.
And, of course, what would be a client support programme without support for recovering persons trying to find employment?
The organisation supports recovering drug abusers in finding employment by helping them search for lobang, preparing them for interviews and writing their CVs.
To target other groups surrounding recovering drug abusers, SANA offers a slate of family support programmes, including Family Enrichment Programmes and Family Support and Mediation Assistance.
These programmes are aimed at strengthening the bonds between recovering persons and their families so that families of recovering persons can better understand and support recovering persons.
In the same line of familial support, the organisation also provides tele-visit services so that family members of drug abusers still in prison are afforded greater convenience in keeping in touch with their loved ones.
---
Advertisements

---
However, these tele-visits are only offered at SANA's Step-Up Centre in Sengkang. Out with "West side, Best side" or "East side, Best side". Perhaps the Northeast is the best side.
You may have also come across SANA's various public engagement efforts in the form of youth programmes, roadshows and talks spreading awareness of the dangers of drug abuse.
Perhaps the most impressive service by SANA is their training of peer leaders under the Peer Leaders Programme to become role models and peer mentors to recovering drug abusers.
If you know anyone who may benefit from SANA's services, direct them to contact SANA here.

Here's a rather unexpected timeline of the $2.8 billion money laundering case in Singapore as revealed by Minister Josephine Teo during a parliament sitting on 3 October 2023:
Read Also: