---
Advertisements

---
Oscars are known for many things: the performances, the jokes, the wide variety of dazzling dresses and occasional wardrobe mishaps.
The Hollywood scene has had its tense years as societal attitudes affected the way entertainment is perceived, whether it's the Black Lives Matter or the lack of representation of different ethnicities, cultures, and races, or the feminist #MeToo movement which brought out the uglier and shadowed parts of the stardom.
Nevertheless, it's a civil event of celebration of artistic expression, where only a select few are given the opportunity to claim the golden prize.
Violence has never been a part of the show, until last night, at the 2022 Academy Awards that is.
Chris Rocks Jokes About Jada's Autoimmune Disease
Typically, before any award is given out, the award presenter tends to give a small speech, like saying it's an honour to be able to stand on the stage and give out the award, throw in a small joke, announce the nominees and winners…
You know the drill. Typical award stuff.
And comedian Chris Rock is nothing, if not known for his humour, no matter how insensitive or ill-timed.
---
Here's Why We Might Not Need to Vote in Presidential Election 2023 After Tharman's Announcement:
---
The 57-year-old comedian had been invited to present the Best Documentary Feature when he made a joke about Jada Pinkett-Smith, who was starring as Demi Moore in the action movie G.I. Jane 2.
His exact words were, "Jada, I love you, G.I Jane 2, can't wait to see ya."
The joke might not seem out of place, especially when he had just been honestly hoping that Will Smith would win an award that evening mere seconds ago.
But the insensitivity in the joke is that the 50-year-old actress' appearance in the sequel film with a shaved head isn't a creative choice or a means to stay true to the character; she had been diagnosed with alopecia, an autoimmune disease that causes hair loss.
---
Advertisements

---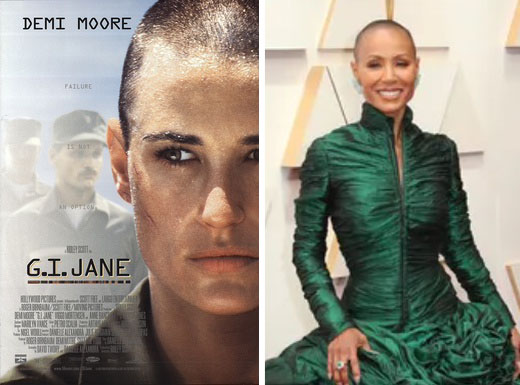 Pinkett-Smith had disclosed her condition on social media in 2018, while talking about the struggles that came with it.
Will Smith Walks Up on Stage and Smacks Rock
At first, the entire room laughs, and it seems like everyone took the joke well.
Will Smith is chuckling along, though Jada Smith doesn't seem to find his joke as funny as it is, since it pokes at a sore spot.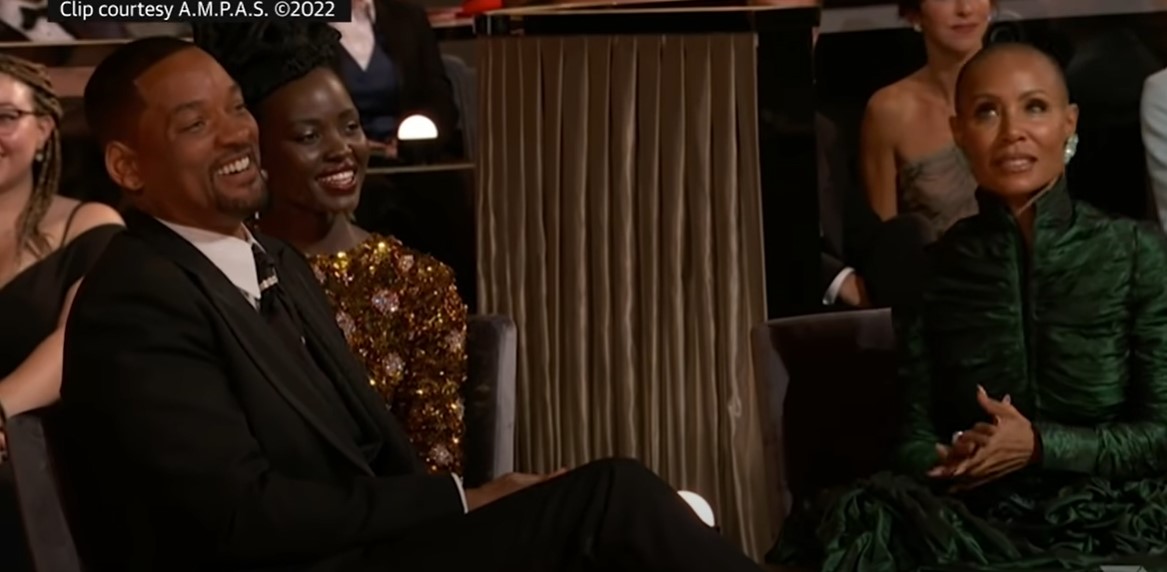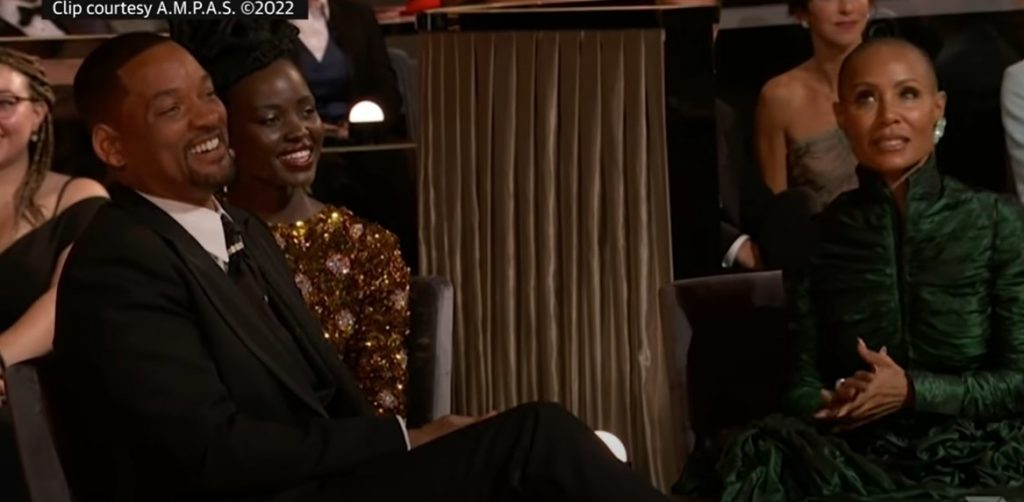 Then, in a surprising move, Will Smith gets up from his seat and strides onto stage, but no one could have anticipated what he would do next. The camera perspective happens to only show his back, so no one can actually see Smith's expression during The Walk.
Suddenly, Will Smith actually smacks Chris Rock across the face, so audibly that the microphone picks up the noise.
To Rock's credit, he takes the hard hit with a flinch backwards, but he doesn't stumble.
He even recovers with grace, saying, "Oh wow, Will Smith just smacked the shit out of me."
At that point, it almost seemed like a planned skit between the two, since on- and off-stage interactions between artists and friends aren't rare per se.
But it becomes apparent that Will Smith meant it because he yells out, "Keep my wife's name out of your f**king mouth!"
Twice, in fact, with each time being more emotional and angrier than the next.
---
Advertisements

---
Join our Telegram channel for more entertaining and informative articles at https://t.me/goodyfeedsg or download the Goody Feed app here: https://goodyfeed.com/app/
Chris Rock keeps a smile on his face the whole time, without so much a blush of shame.
He shrugs it off with a single liner: "That was the….greatest night in the history of television," to which the entire audience laughs nervously.
Indirect Justifications from Will Smith
Despite the altercation on stage, Will Smith still walks home as an Oscar winner for Best Actor for his performance in King Richard (2021), the father of the tennis legends Venus and Serena Williams.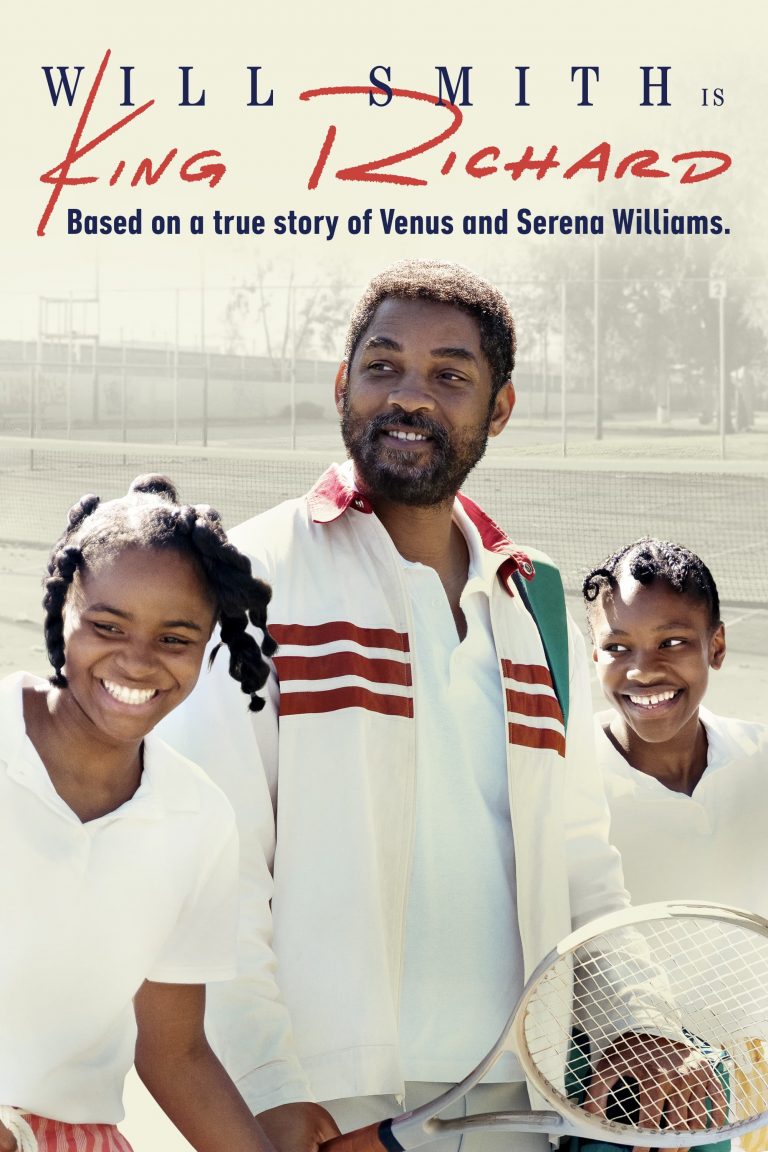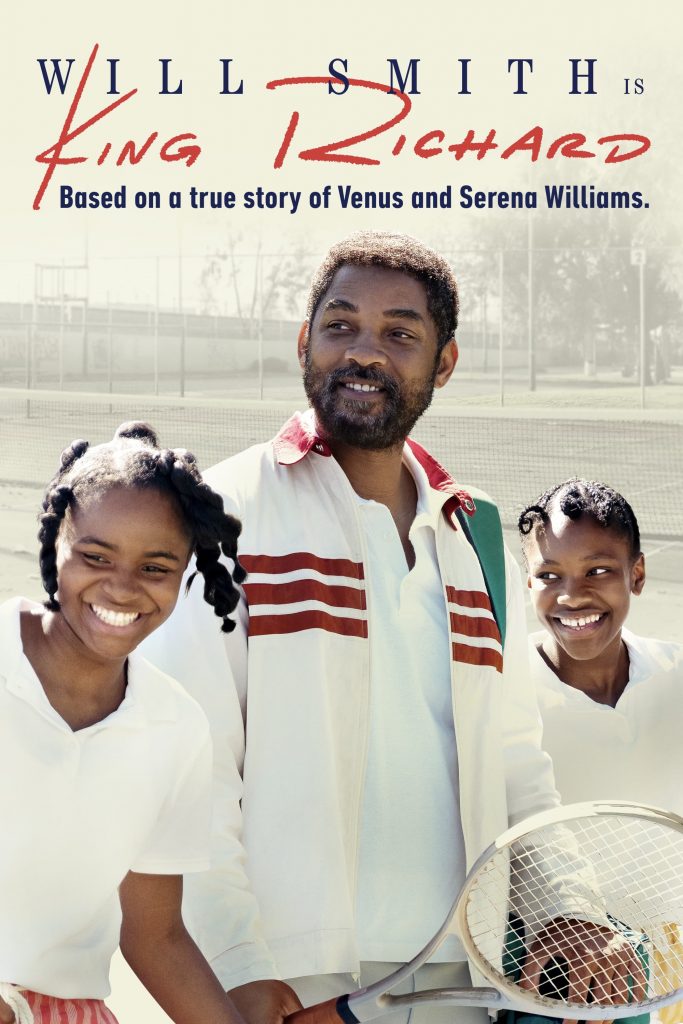 He doesn't apologise to Rock at all, but he does make a reference the on-air clash in his tearful five-minute-long speech: "Richard was a fierce defender of his family.
"I'm being called on in my life to love people and to protect people and to be a river to my people. I know to do what we do, you gotta be able to take abuse, you gotta be able to have people talk crazy about you, you gotta be able to have people disrespecting you. You gotta smile and pretend like that's okay."
He also mentioned that actor Denzel Washington had approached him after the transgression. "Denzel said to me a few minutes ago: 'At your highest moment, be careful, that's when the devil comes for you.'"
---
Advertisements

---
If he's insinuating possession is responsible for the single act of violence that completely shatters the loving, motivational and fun persona he has built since the The Fresh Prince of Bel-Air, caught in 1080p at the Academy Awards, that's a tough story to sell.
Nonetheless, Smith adds, "Art imitates life. I looked like the crazy father, just like they said about Richard Williams. But love will make you do crazy things."
Afterwards, he apologises to the Academy and his fellow nominees, but Rock's name remains conspicuously absent from his admittance of remorse, before stating that he hopes that the Academy will invite him back.
Will Smith's acceptance speech as he wins his first ever #Oscar pic.twitter.com/qKVTOb7V6Q

— DiscussingFilm (@DiscussingFilm) March 28, 2022
Official Responses
Shortly after the Award Ceremony ended, The Academy tweeted:
---
Advertisements

---
"The Academy does not condone violence of any form."
The Academy does not condone violence of any form.

Tonight we are delighted to celebrate our 94th Academy Awards winners, who deserve this moment of recognition from their peers and movie lovers around the world.

— The Academy (@TheAcademy) March 28, 2022
Whereas for the Los Angeles Police Department, the investigators said that they were aware of the incident, but they claimed that the individual involved had chosen not to file a police report.
They didn't have to name any names to know who could have pressed charges on whom.
If Rock had been vindictive enough, he could easily jeopardise Smith's hard-earned reputation and prestige.
In the media statement, the LAPD said, "If the involved party desires a police report at a later date, LAPD will be available to complete an investigative report."
Mixed Online Responses
After the shocking scene went live, there were mixed reactions to the moment of violence.
Just below the The Academy's tweet, the most well-liked and re-tweeted post reads:
---
Advertisements

---
"You watched and broadcast a live assault to millions of people around the world, then awarded a man who committed said assault immediately afterwards without removing him from the building or having him arrested for the crime.
"That's the definition of condoning violence."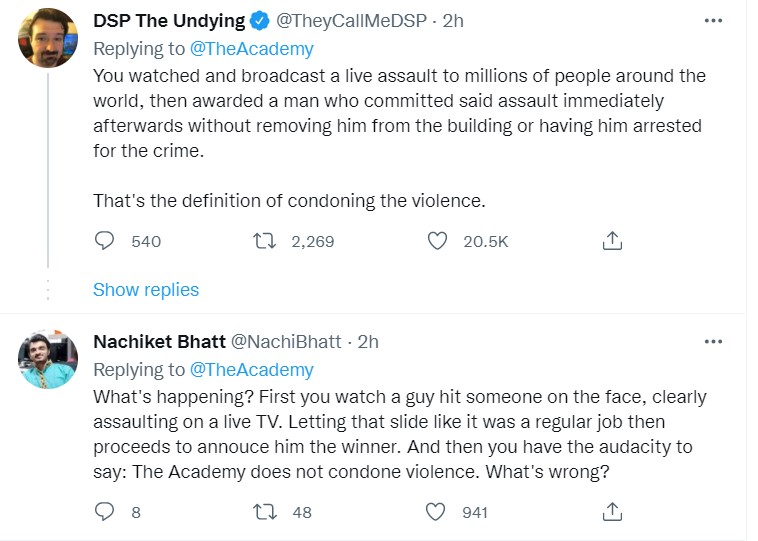 Other comedians worry that Smith's actions might have wider repercussions, where people might start thinking it's okay to walk up on stage and smack a comedian if they dislike the entertainment.
Comedian Judy Apatow, the director of Knocked Up and Trainwrecked, said in a tweet that was later removed: "(Smith) could have killed (Rock).That's pure out-of-control rage and violence. (The Smith have) heard a million jokes about them in the last three decades. They are not freshmen in the world of Hollywood and comedy. He lost his mind."
Others were sympathetic, but that didn't mean they condoned the violence either.
Some agreed that it was wrong for Rock to make a joke out of someone's medical condition, and that it's not alright that public figures have to constantly tolerate so much verbal abuse without ever fighting back.
However, that doesn't mean the assault was in any way acceptable.
There were other ways that Will Smith could have used to express his disapproval, or perhaps skipped the slapping altogether and moved onto the shouting, sans the expletives.
But if there's another meme that Chris and Rock will definitely be starring in, it will be "Talk Shit, Get Hit".
Not Rock's First Jada Joke on Stage
This isn't the first time Rock has made Pinkett-Smith the centre of his jokes at the Oscars either.
When Rock previously hosted the ceremony in 2016, Pinkett-Smith and her husband had chosen to boycott the Awards Ceremony because no actors of colour were nominated for the second year in a row.
Back then, Rock said in his opening monologue: "Jada boycotting the Oscars is like me boycotting Rihanna's panties. I wasn't invited."
… Not sure if it makes me a sensitive twit, but that sounds sexist and racist at the same time.
In any case, Rock probably learnt the hard way that he probably shouldn't involve any of the Smiths in his jokes the next time he's invited on stage, lest he wants a re-enactment.
Jaden Smith's Response
Another Smith in the starlight of the Hollywood scene, is of course, Jaden Smith, Will Smith's son.
After his father's Oscar-winning speech, he tweeted: "And That's How We Do It", making it clear that he doesn't condemn his father's action one bit.
He also wrote that his father's speech "made him cry", because the story of Richard Williams is precisely that of a father protecting his family, is it not?
No matter what happened on stage though…
That's entertainment, folks.
And what kind of stain this leaves on Will Smith's record is up for each person to decide.
Someone who loves and protects his wife and family, or simply an impulsive man that is quick to resort to violence?
Also, would you have known that the Oscars took place if not for The Slap?
Read Also: