One of the best things about going for a vacation abroad is experiencing different climates in different parts of the world.
And by that, I mean escaping the scorching Singapore heat and incessant rains.
For Singaporeans who've grown up in this tropical climate, there's just something so magical and wondrous about winter; cool snowflakes falling on your face and seeing your breath steam up as you exhale seem to exist only in movies.
In the past, we'd simply buy some winter gear and book a plane ticket to a country with a colder climate, but things are a little more complex now with border restrictions abound, which is why many are turning to staycations.
So, why not have a "daycation" at an ice hotel instead?
Snow City Launched First Ice Hotel Gallery Experience
Who hasn't heard of Snow City? It's been the go-to place to get away from the Singapore heat since it opened 21 years ago in 2000.
As Singapore's only permanent indoor snow centre, Snow City has been offering sweaty residents here an Arctic experience that you'd normally only find in faraway lands.
But no, they have something even more magical to offer.
An ice hotel.
That's right, on 3 Nov, Snow City launched Singapore's first Ice Hotel Gallery experience just in time for the school holidays and the festive season!
Believe it or not, Snow City has completely replaced the Arctic Snow Playground with their new ice hotel gallery which will be a permanent exhibit.
But wait…
What's an Ice Hotel?
For those who don't know, an ice hotel is a temporary hotel made up of snow and sculpted blocks of ice. They are constructed from ice and snow, and typically have to be rebuilt every year.
Several countries have ice hotels, including Finland, Norway, and Sweden.
The temperature in these rooms is below 0°C, and guests typically sleep in beds made of ice or snow.
Ice Hotel Gallery Has Furniture Made Out of Ice
This is what you'll find at Snow City's Ice Hotel Gallery: chairs, couches, and tables fashioned out of blocks of ice.
Do note, though, that you can't actually stay overnight at this hotel; it's more of a viewing gallery that allows you to have the ice hotel experience with sub-zero temperatures.
In total, there will be five ice and snow art installation zones at the ice hotel, including:
Ice Bar
Singapore's Iconic History
Throne of the Sea
Ice Hotel Dining
Ice Bed
Yes, you'll find queen and single-sized beds made entirely out of ice or snow with mattresses and faux fur blankets, like the kind you'd find in a real ice hotel!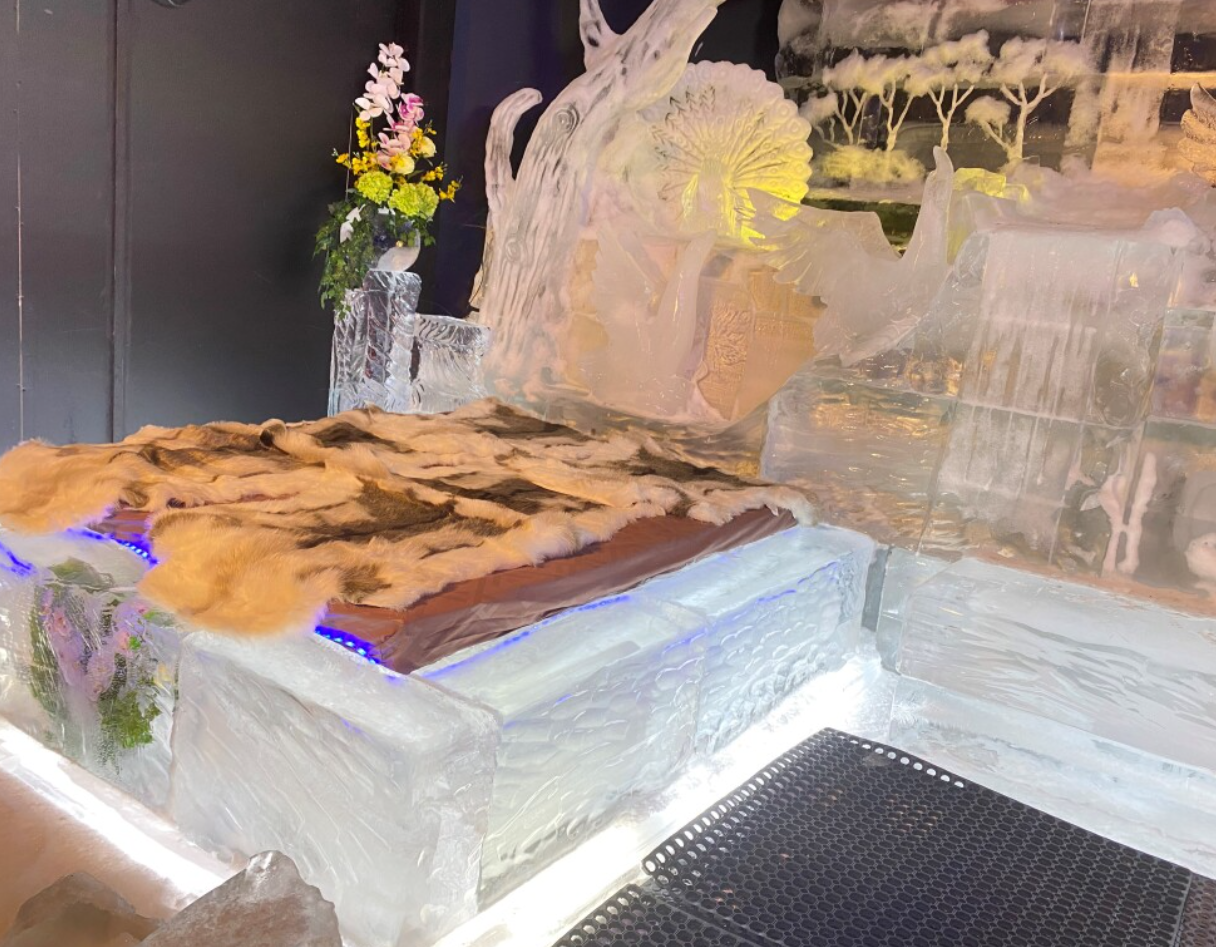 While you can't lie on the bed, you can admire the intricate ice sculptures carved by local award-winning artisan Jeffrey Ng.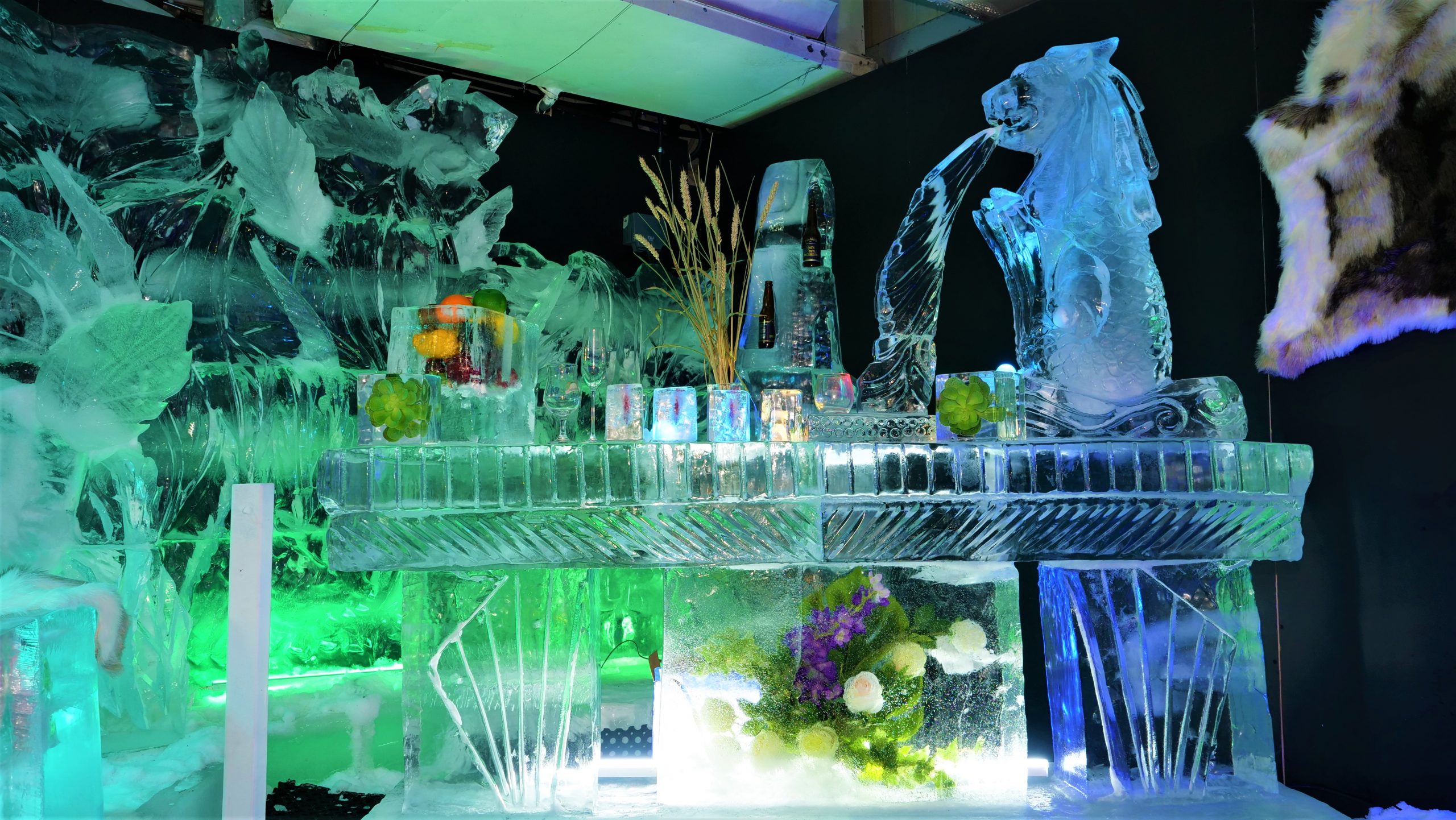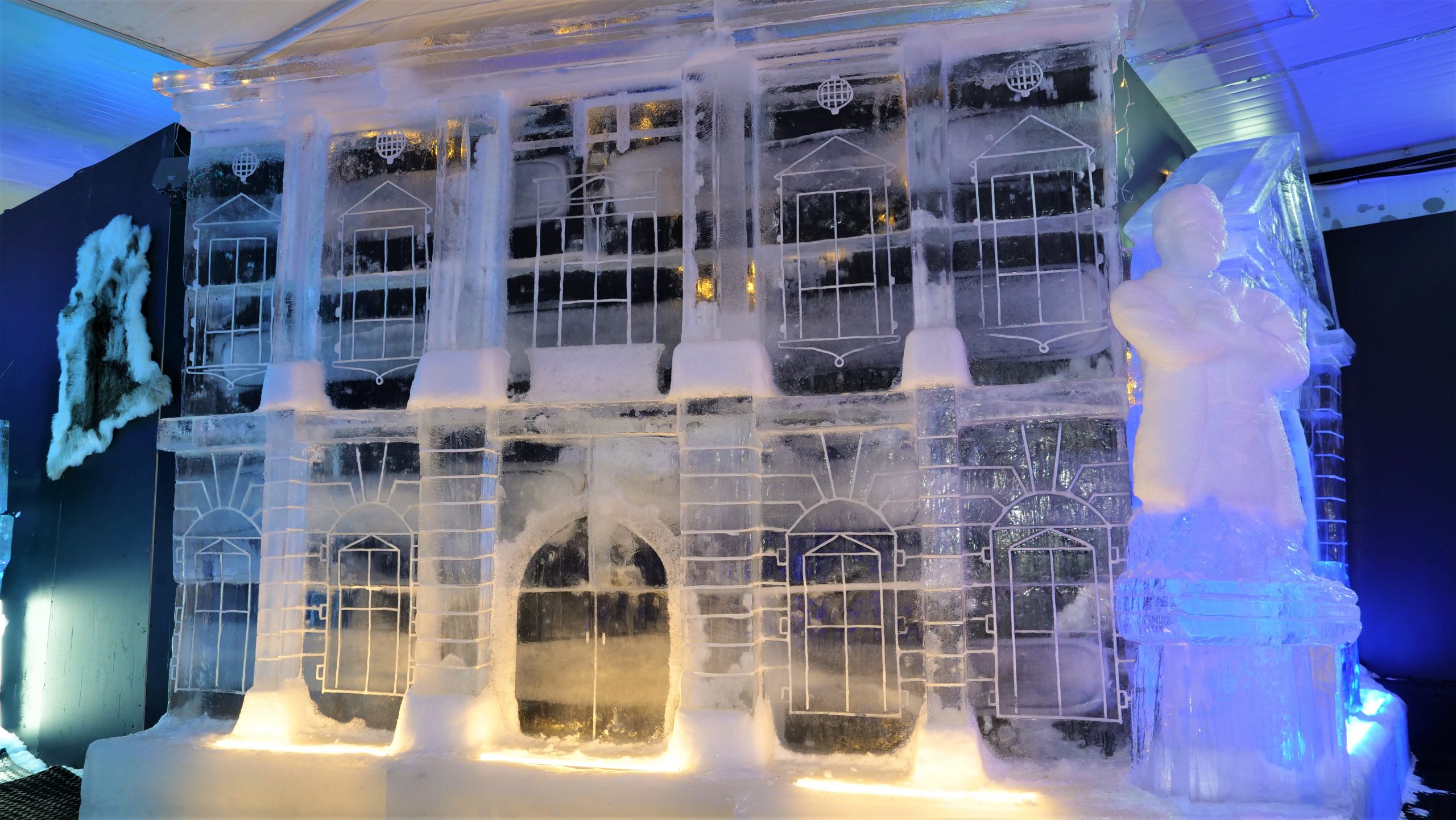 Sit on the Ice Throne if you want to feel like a Queen or King, or indulge in some 'food' at the Ice Dining table.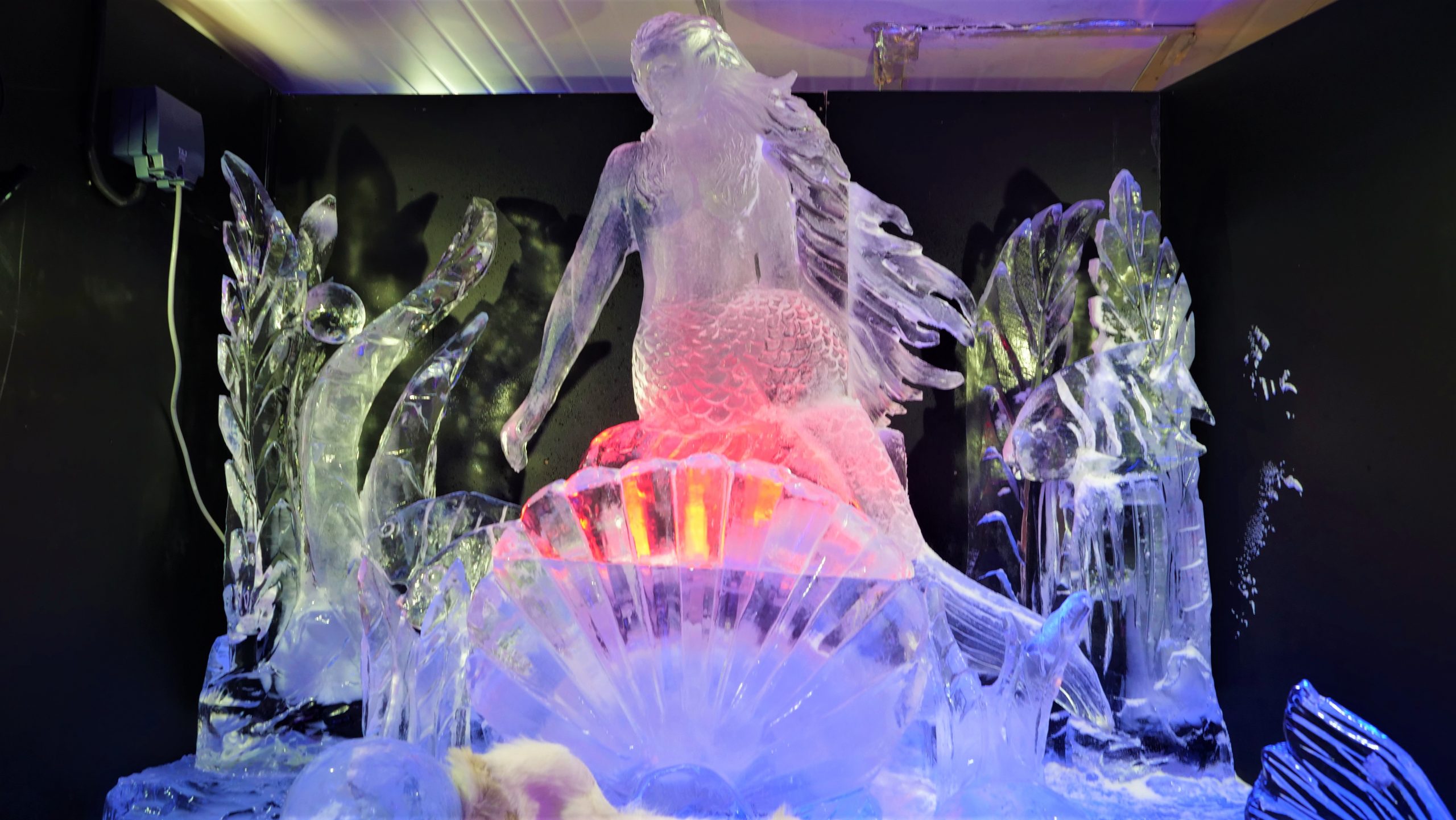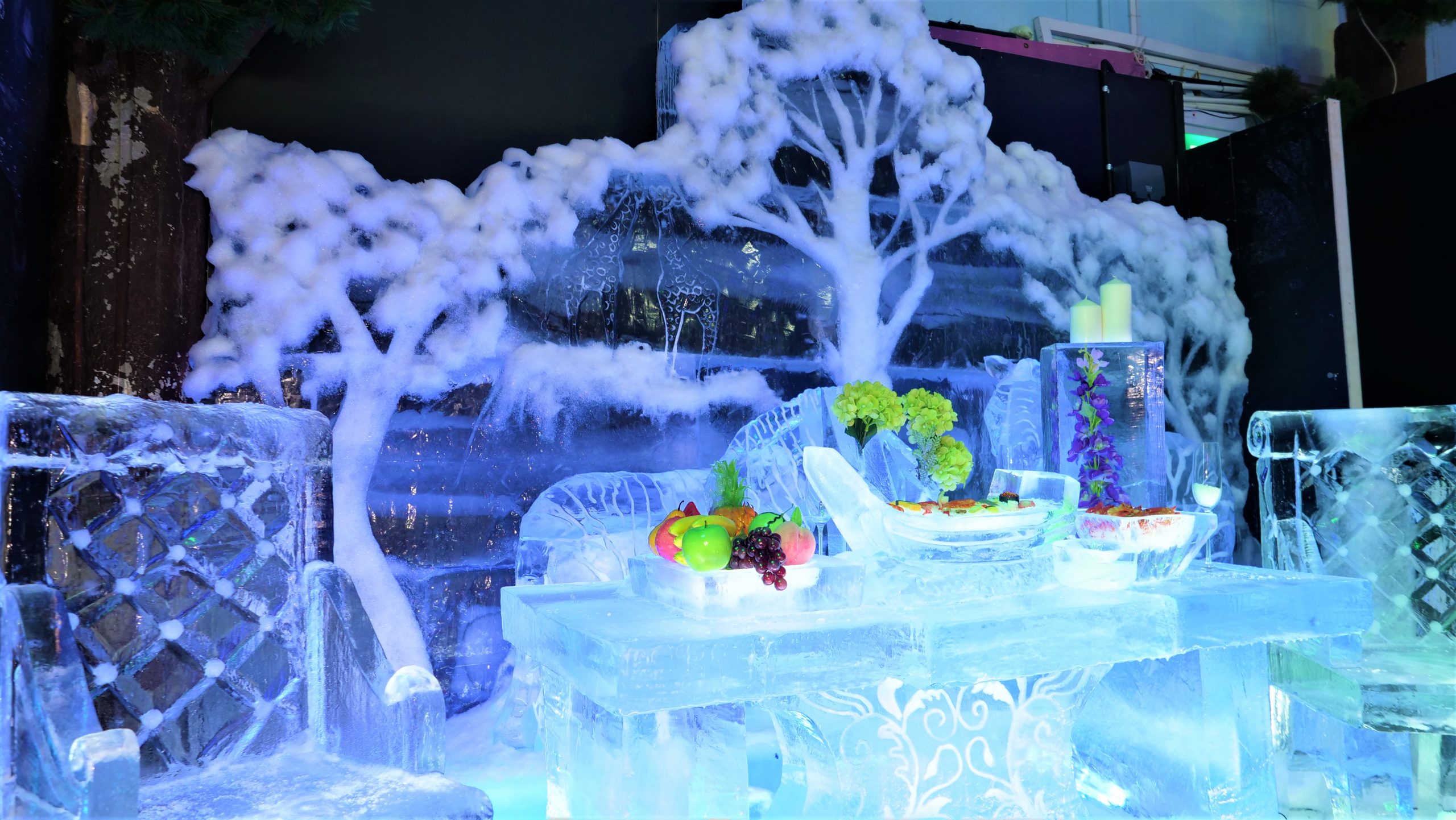 There are other beautiful ice sculptures as well, depicting scenes with animals, flora, and fauna.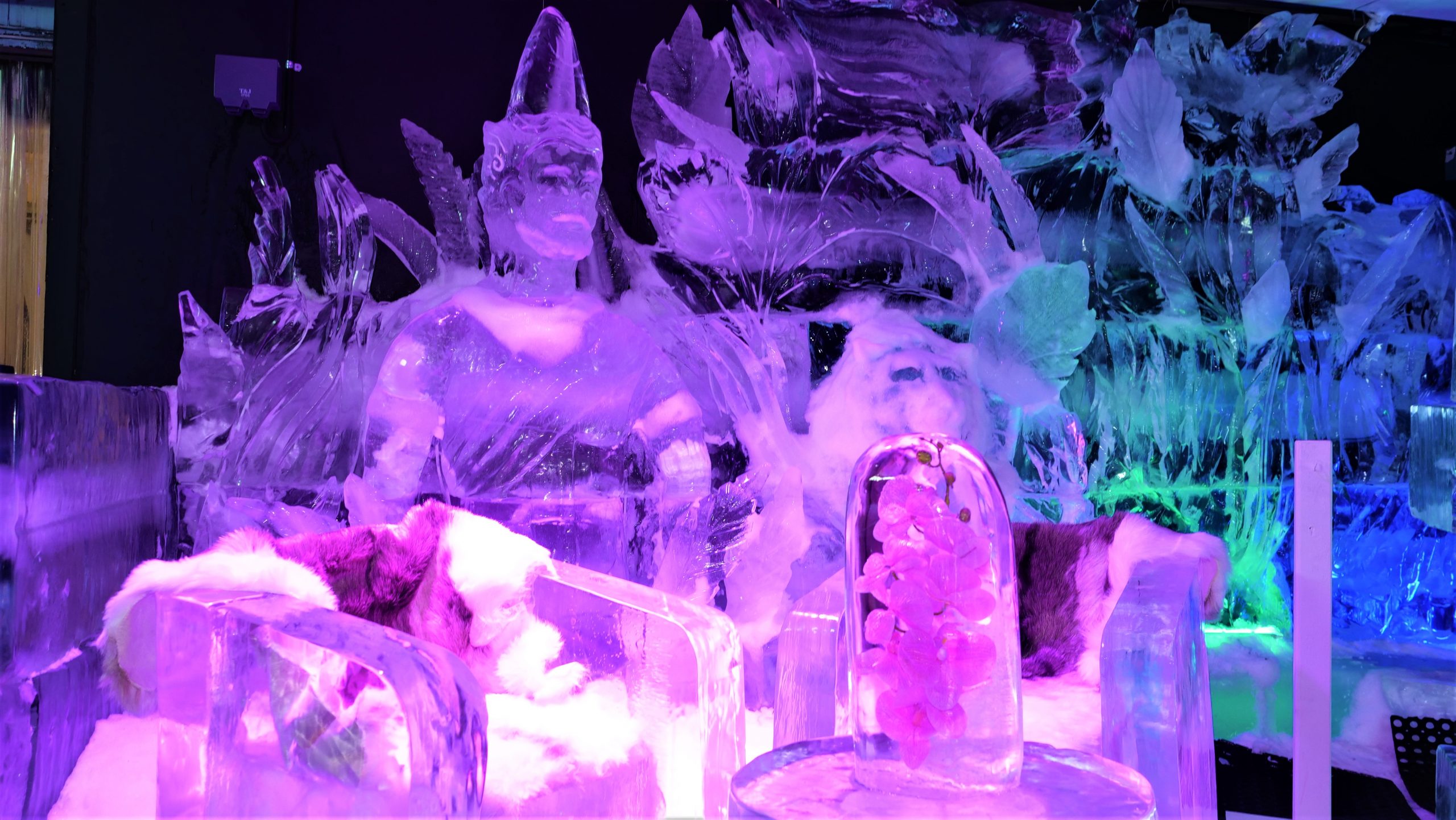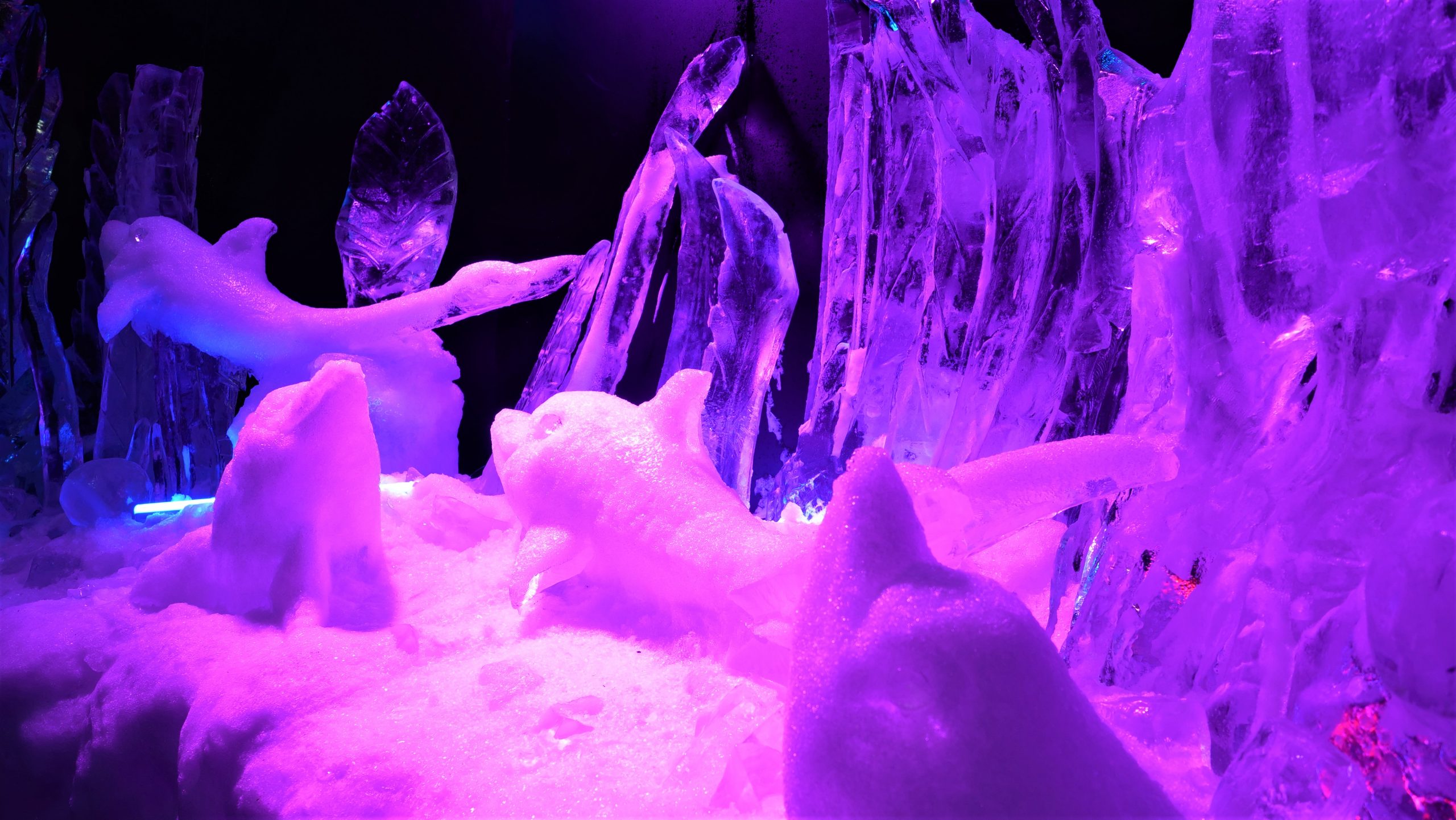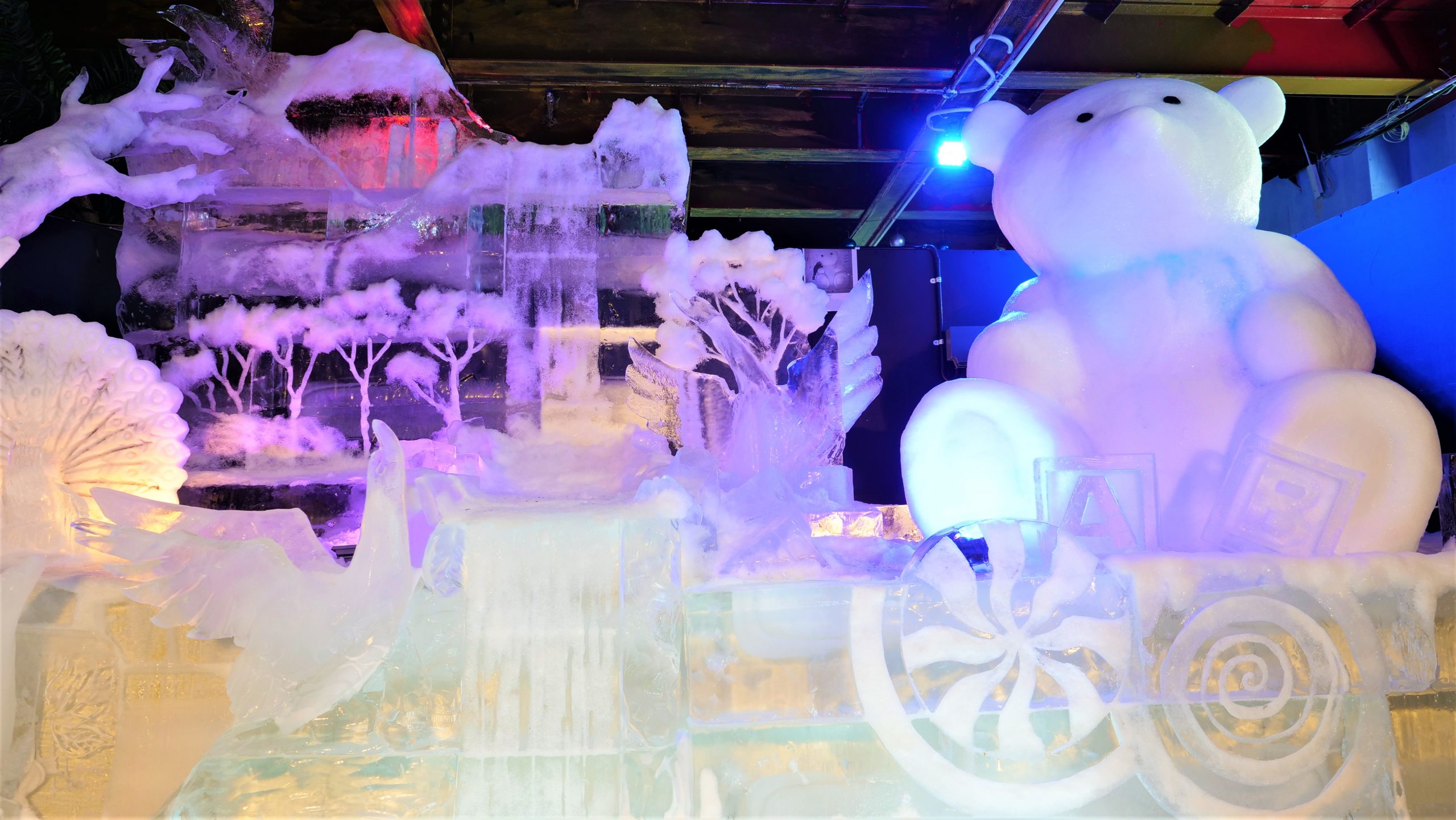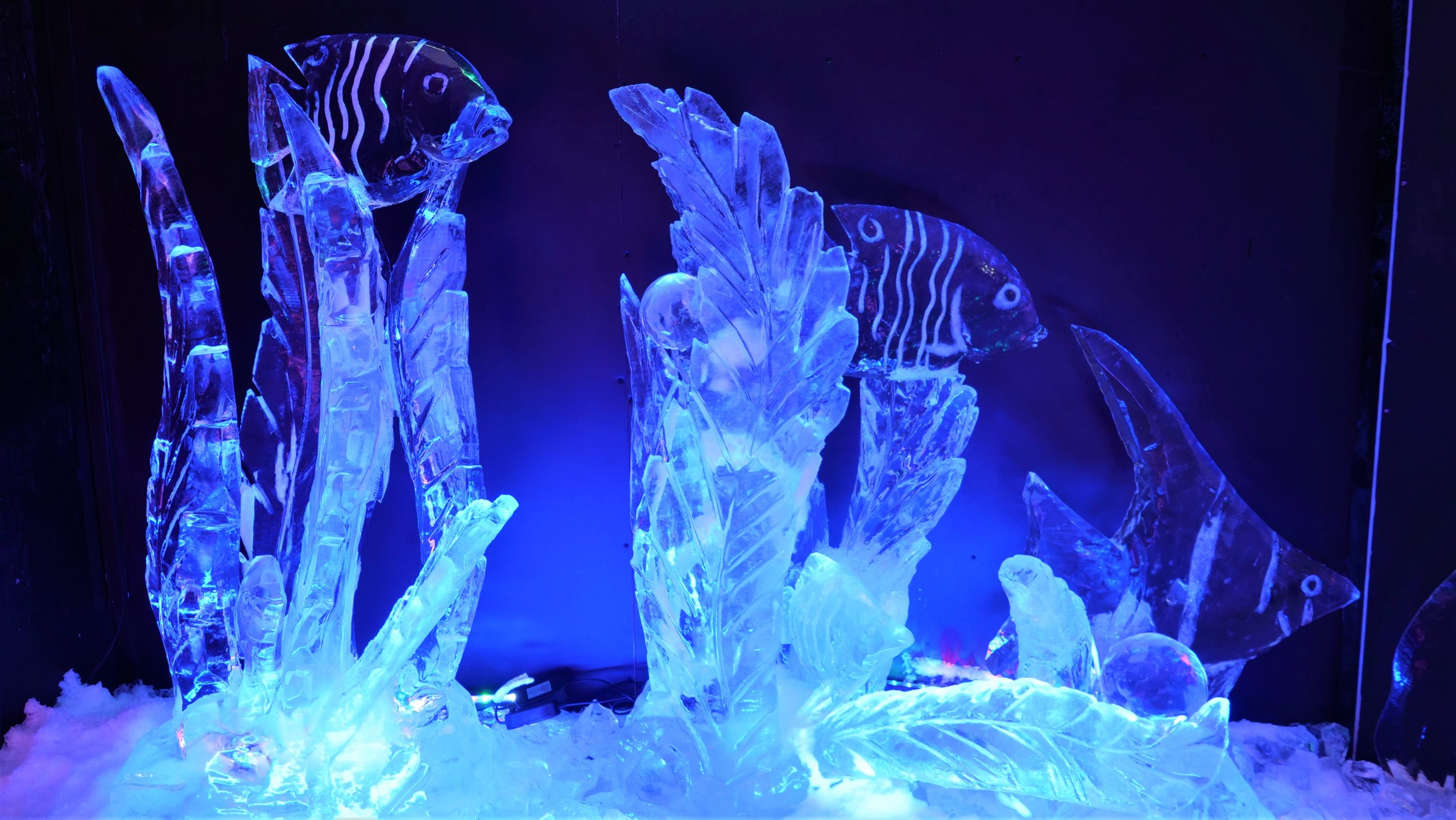 Winter Jackets & Shoes Included
No one, of course, expects you to turn up in a singlet and slippers and freeze to death within 10 minutes of entering the snow centre.
Winter jackets and shoes will be provided to all guests with tickets, and you can even rent some gloves and insulated pants or purchase socks if you think you'll need the extra warmth.
And with temperatures at a frosty -5°C, you might just need it. If you already have winter wear and prefer to wear that, you can do that too.
Do note that you can't bring in your own smartphones or cameras as there'll be a photographer to snap some shots for you, which you can buy at the end of your daycation.
How Much?
A ticket to the Ice Hotel Gallery costs just $17, and grants you access to other areas of Snow City, including the Snow Field and Arctic Snow Slide, meaning you can zip down their iconic Snow Slide without having to fork out more cash.
You can also pay more to engage in other activities such as target shooting, paintball, and bumper cars.
The best part about it? You can use your SingapoRediscovers vouchers to buy tickets by making your booking through Klook.
From 12 Nov till 31 Dec 2021, Snow City is running a Buy More, Save More Promotion for up to 20% savings only for "Snow Play Session + Drift on Ice Bumper Car" package.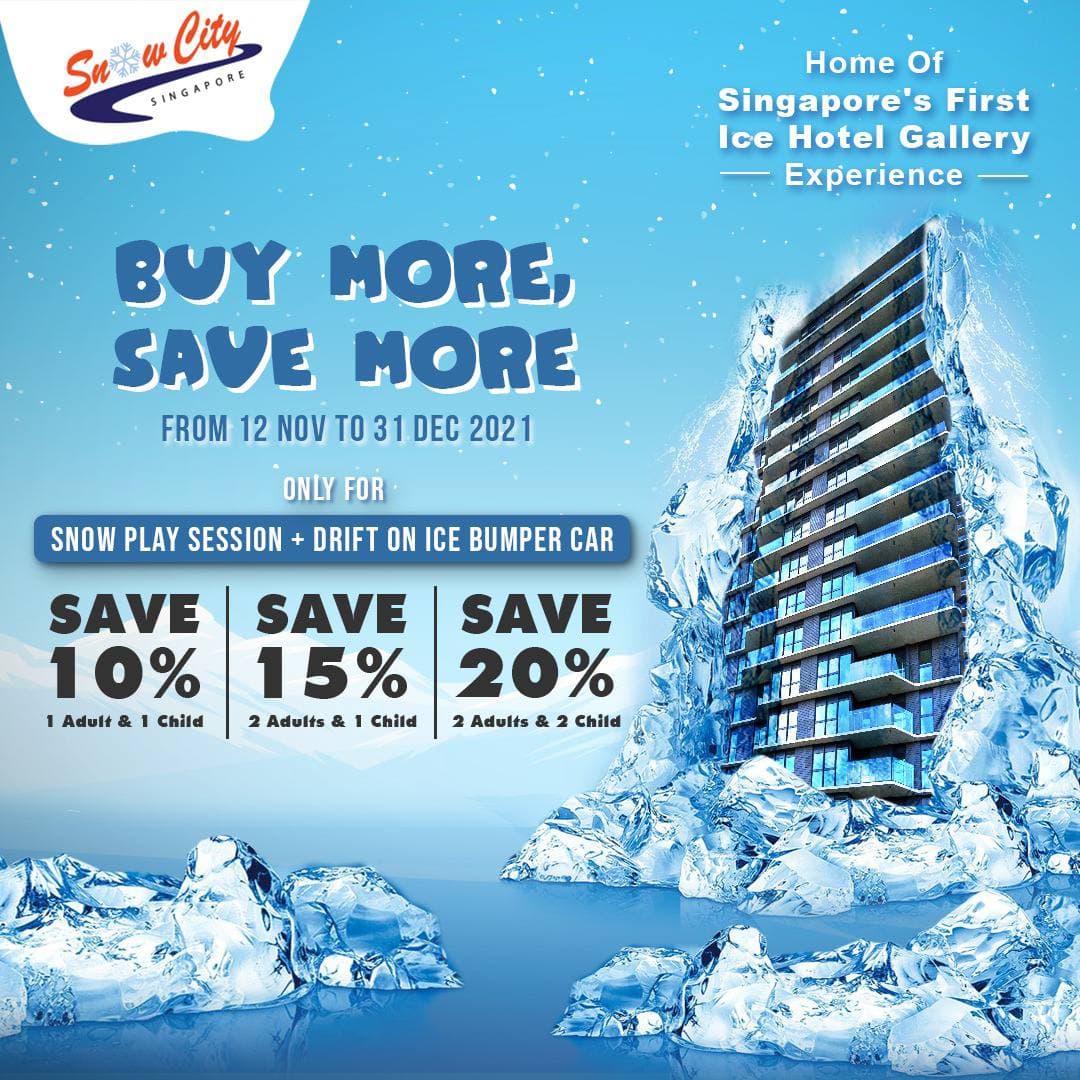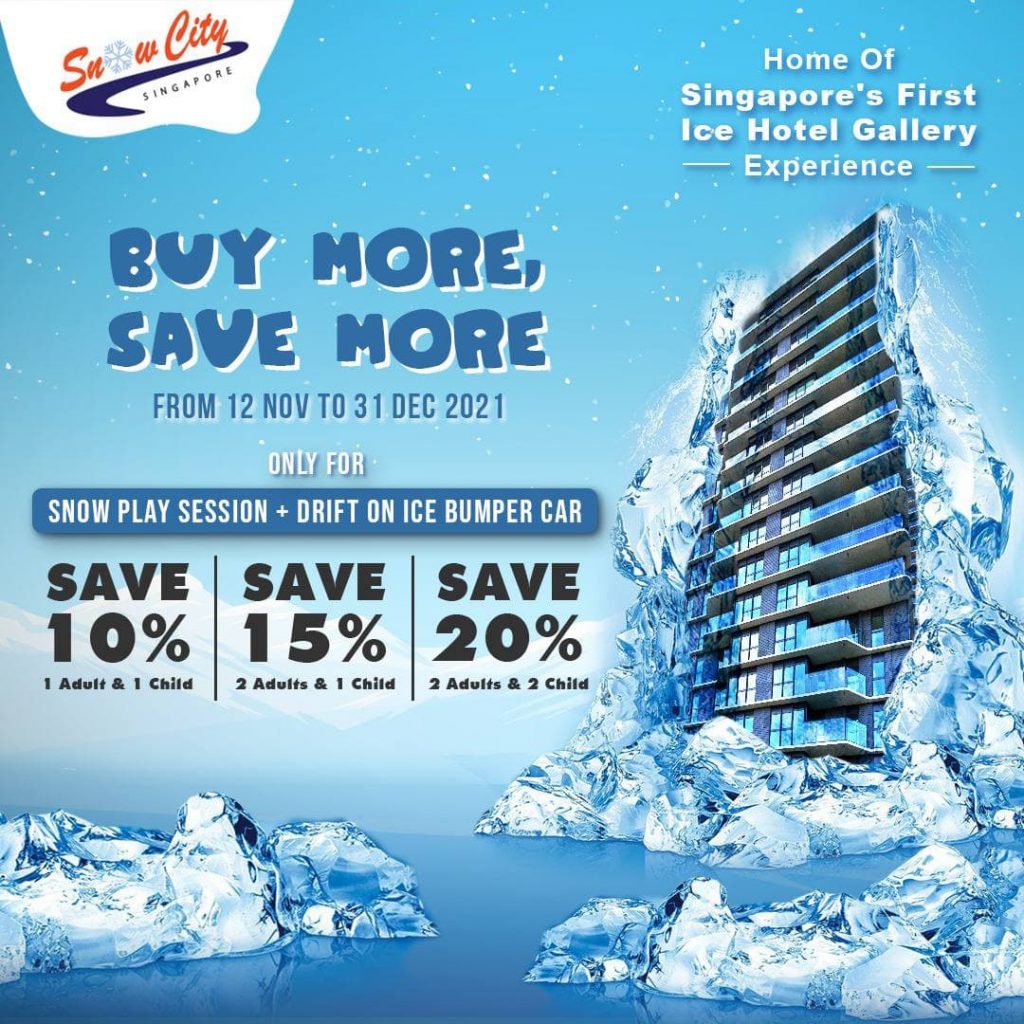 This is only valid if you purchase your tickets via Snow City Ticketing Website.
Here's a neat table to show you how much you'd save: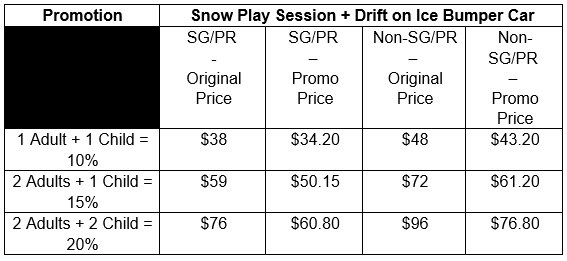 So, what are you waiting for? Get a few tickets so your family can have a special Christmas treat this year!
Operating Hours: 10am to 5pm on Tuesdays to Fridays & 10am to 6pm on Weekends, School & Public Holidays

Address: 21 Jurong Town Hall Rd, Singapore 609433
This article was first published on Goody Feed and written in collaboration with Science Centre Singapore.