Against the allegations that Singapore Police Force (SPF) did not help in a case of domestic violence, the SPF has come forward publicly with a Facebook post to address the entire situation.
This was in response to a now-deleted tweet that had been circulated around social media, which was essentially a desperate cry for help against the ensuing domestic violence.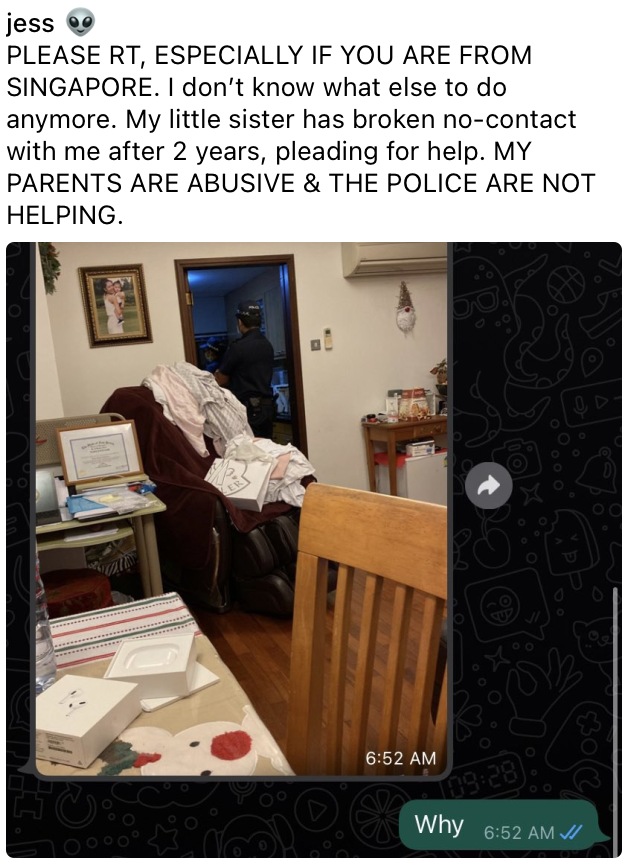 The Actual Happenings
According to the SPF, the police did receive a call for assistance around 6:46pm on 27 December 2021 from a resident unit along Hullet Road.
Upon the officers' arrival, it was established that there had been a tussle between a mother and daughter over the use of the washing machine.
The short scuffle had purportedly left superficial scratches on their arms. When the police officer inquired if they required any medical assistance, the mother and daughter had refused, since their injuries were not severe.
Afterwards, the officers spoke to the father after he returned home, who responded by saying that he would manage the family issue and make arrangements to separate the mother and daughter if it was truly necessary.
Further Police Involvement
After the incident had passed, the police continued to maintain contact with the family, speaking to the daughter over the phone on 30 December 2021 and 7 January 2022—essentially on a weekly basis—before meeting her on 9 January 2022 to physically check in on the family situation.
Similar and separate arrangements were made for the mother, wherein she was called on 29 December 2021 and 6 January 2022.
Ever since the first incident of domestic violence based on the police records, both parties have not raised any further concerns, nor has there been any troubles in their subsequent interactions.
In addition, the SPF suggested that they should be referred to a Family Service Centre (FSC) for counselling and medication, to which both parties accepted.
Since then, a social worker from the FSC has come to the daughter's assistance, and a police officer's contact details have been given to her, in case of dire need.
On 5 Jan, the Ministry of Social and Family Development (MSF) spoke to the daughter and made sure that she was not in any imminent danger. Similarly, the Ministry referred her to the FSC, who will continue to work with and support her family.
Join our Telegram channel for more entertaining and informative articles at https://t.me/goodyfeedsg or download the Goody Feed app here: https://goodyfeed.com/app/
Domestic Violence on the Rise
Ever since the COVID-19 Pandemic hit Singapore and safety measures were kicked into full gear, there have been reports coming from the Task Force on Family Violence showing that the incidences of family violence have been on the rise.
From the Task Force on Family Violence's most recent report, the number of cases taken up by Family Violence Specialist Centres (FVSC) and PAVE Integrated Service for Individual and Family Protection Specialist Centres (ISIFPSC) have gone from 891 in 2018 to 1,103 cases in 2020.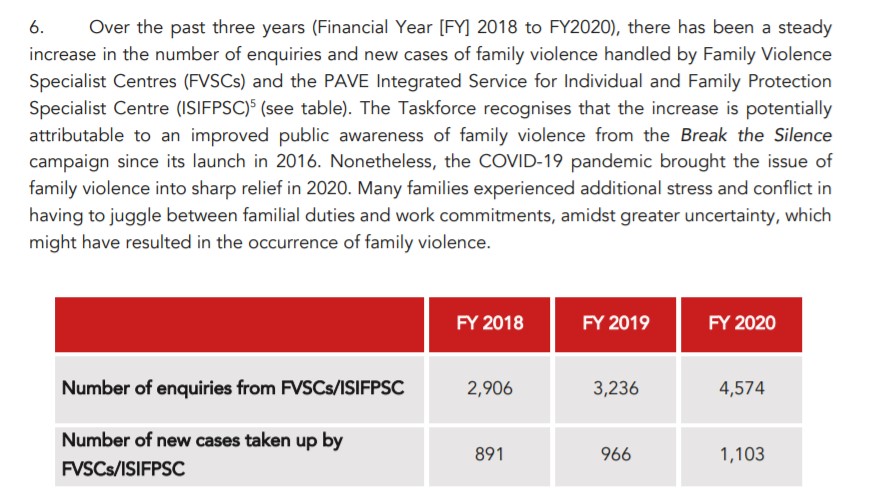 Furthermore, inquiries directed towards these family violence centres have risen to 4,574 in 2020, which is a 57% increase from the 2,906 inquiries it received two years prior.
This can be attributed to the fact that more working adults are being made to stay home to work, or the stress of losing employment has led to the intensification and worsening of the deeply seated and chronic challenges within families.
---
Advertisements
---
Worst still, it has become harder for victims of domestic violence to seek help because their abusers are present around the clock.
In one example, a woman going by the false name of Debra was under the continuous verbal assault of her husband, who would spread malicious lies about her having affairs and would stalk her without rest.
It almost reached a point where Debra contemplated suicide, though she later called PAVE for help and refuge for shelter.
However, because her mother-in-law tested positive for COVID-19 later, she was forced to return to the house where her husband consequently stepped up the abuse, causing her to call PAVE out of despair, with a plea that death was the only way out for her.
Consequently, PAVE alerted the MSF, who hastily contacted the Health Ministry and moved Debra and her children to a quarantine centre.
Further Government Actions
In the recent Parliament Session that occurred on 12 Jan, the problem of rising domestic violence was one of the discussion topics as well. 
---
Advertisements
---
In her speech, the Minister of Social and Family Development Sun Xueling said that besides deepening the capabilities of three FVSCs, the MSF is working to ensure that these family specialist centres have the resources to manage the increasing workload.
In response to queries by Members of Parliament (MP) about the current capability and capacity of the Singapore's social services system to take care of  the survivors of family abuse and sexual violence, Ms Sun asserted that MSF works in harmony with the FVSCs in processes like applying for Personal Protection Orders (PPO) and providing alternative safer lodgings for their long-term needs.
Two of the more prominent FSVCs like Care Corner Project StART and PAVE Integrated Service for Individual and Family Protection Specialist Centres are already equipped to provide extensive and inclusive emotional and social support for the victims like counselling.
Moreover, Ms Sun brings up the fact that more than 1,100 staff and volunteers from public and private sectors have been provided with Family Violence Awareness Training last year.
However, MSF intends to continue expanding that outreach and spread of knowledge to more organisations and partners.  
---
Advertisements
---
The Ministry is also branching out with a new initiative to dispatch specially trained professionals to the FVSCs to maximise its efficiency in helping the survivors and perpetrators. Ms Sun believes that this will also decrease the repeated instances of violence, should it be successful.
Overall, the social and family support policies and manpower are being adjusted accordingly to the needs of the society. The aforementioned efforts will come into greater effect over the next 12 to 24 months.
If you or someone you know is experiencing family violence, please call the National Anti-Violence Helpline on 1800-777-0000. For urgent cases that require immediate assistance, please call the police on 999 or SMS 71999.
Read Also:
Features Images: Twitter & Facebook (Singapore Police Force)
Like writing? Goody Feed is looking for writers! Click here for more info!