---
Advertisements

---
Are you hot? No, literally, are you hot?
If you have been sweating profusely and feeling overheated, it's really the weather, not you. You're not hot; the weather is, unfortunately.
Warmer Weather Coming 
Temperatures lately have been soaring, with the highest recorded temperature at 36.1 degrees Celsius in Woodlands last month.
The hot weather, as of late, can be attributed to the transitioning of the monsoon season as we go from one to the next.
In May, expect the temperatures to go even higher, with the weather reaching as high as 35 degrees Celsius, especially so in the next four days.
According to the National Environment Agency (NEA), the weather will range from 26 to 35 degrees Celsius, with late afternoon thundershowers on the weekdays and fair, sunny weather on the weekends.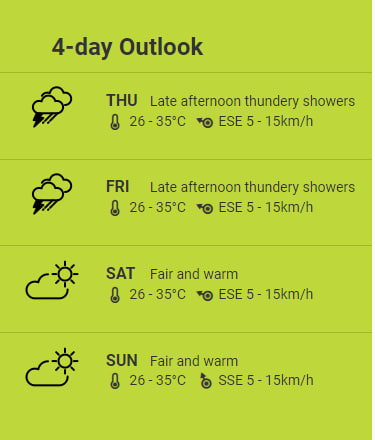 Great opportunity to hit the beach or picnic. 
For today's weather, the lowest temperature recorded was 26.9 degrees Celsius in Sembawang and 31.8 degrees Celsius nationwide.
Of course, if taking into consideration of weather factors such as wind speed, humidity levels and more, the temperature may feel even hotter than it actually is.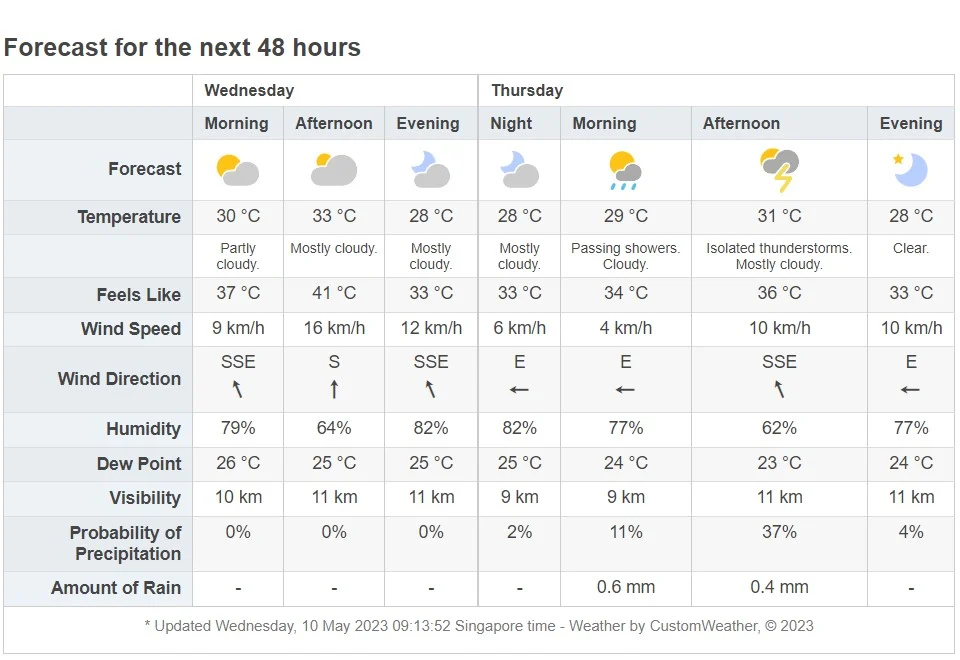 Even though the temperature this afternoon was only 33 degrees Celsius, it sure didn't feel like it. Residents may feel like it's actually 41 degrees Celsius, and the pool of sweat throughout the day can vouch for that.
The nights are not safe from the heat; however, with humidity at 82%, expect aircon and fans to be blasting throughout the nation.
---
Advertisements

---
Why So Hot?
What we are experiencing right now are the inter-monsoon conditions as we transition from one monsoon to the next, with the duration being particularly long this year.
It also happens that May is normally one of the warmest months of the year, particularly during the first half, so expect to sweat buckets this month.
The Meteorological Service Singapore highlights to expect frequent afternoon thundery showers due to "strong daytime heating of land areas".
Join our Telegram channel for more entertaining and informative articles at https://t.me/goodyfeedsg or download the Goody Feed app here: https://goodyfeed.com/app/
Reducing Body Heat
As the temperature gets crazier every year, remember to keep good habits to reduce your body heat.
Some simple tips include drinking cool liquids, preferably iced water or tea, that is great for cooling the body internally. Regular intake of liquids can also prevent dehydration, which can increase body heat.
If you need a fast fix, applying cold to key points of the body, such as your wrist, neck, chest, and temples, can help momentarily lower the temperature of the blood running through these veins and allow the body to feel cooler.
Remember to stay in the shade as much as possible, and preferably carry an umbrella around to reduce exposure to the glaring UV waves.

Your parents are wrong: MSG (Monosodium Glutamate) is good for you (sort of). Here's the truth:
Read Also: