---
Advertisements

---
You read it right, COVID-19 infections are on the rise again, with recent weekly official figures showing the highest surge this year (2023).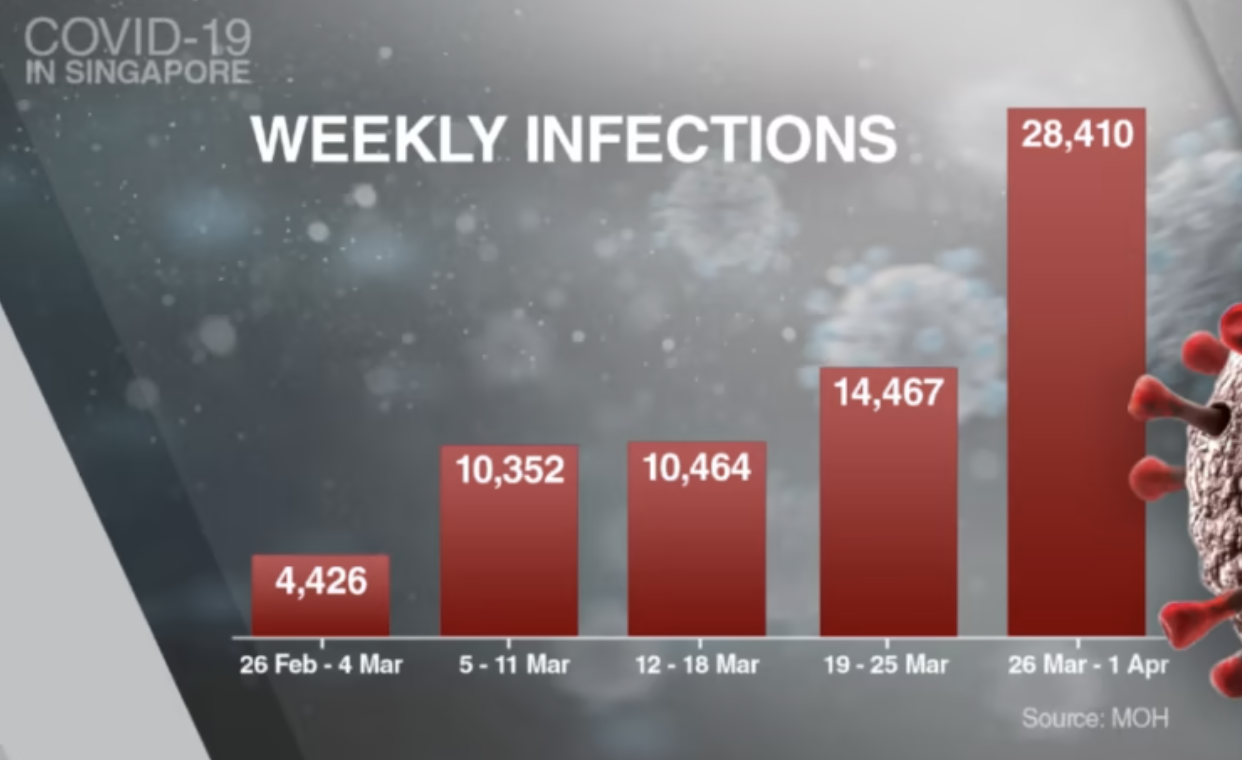 According to the Ministry of Health's (MOH) weekly official statistics, there was an estimated number of 28,410 new COVID-19 cases in Singapore from 26 March to 1 April 2023 – almost twice the figure of 14,467 cases from the previous week.
MOH reported that the current COVID-19 infection wave is driven by a mix of XBB sub-variants, including XBB 1.5, XBB 1.9 and XBB 1.16. Clinics in Singapore have reported more cases due to the wave, with most COVID-19 patients showing mild symptoms.
What Are the XBB Variants?
Omicron, first reported to the World Health Organisation (WHO) on 24 November 2021, is a variant of the COVID-19 virus. Since the Omicron variant has emerged, several sub-variants have been observed.
The XBB variants are just part of the many lineages Omicron produced over time.
We get it. It feels like forever since COVID-19 was launched into the world, but numerous variants have constantly been popping up, like Pokemons, which doesn't make it easier for us to grasp the situation.
To understand the different variants of the COVID-19 virus, scientists compare them to branches on a growing and branching tree, with each branch slightly different.
These branches are then labelled and named according to their differences (Omicron, Delta, DeltaCron, etc).
Another way we recommend is to remember the XBB variants as Xiao Bao Bei 1.5, Xiao Bao Bei 1.9… you get the drill.
How Serious Are the XBB Variants?
Some variations of the Omicron virus, including the XBB variants, make it more transmissible and resistant to treatments or vaccines. The XBB 1.5 variant is particularly contagious due to a mutation that allows the virus to adhere to human cells and replicate quickly. 
However, experts believe symptoms from the XBB variants are similar to other Omicron variants. Those infected can expect to experience a runny nose, sore throat, cough, headaches and fever.
No reports have indicated it as any more severe than earlier versions of Omicron.
While scientists continue to gather more data on the XBB variants, WHO states that major concerns would only arise if the sub-variants change behaviour and lead to widespread and more severe symptoms.
Expected Spike in Cases
Over the past two weeks, Phoenix Medical Group clinics have seen twice as many patients seeking treatment for COVID-related concerns. 
While this may cause concern for some, doctors have shared that they expected increased cases due to Singapore's endemic approach to the virus. Doctors did not consider this a significant problem; most patients showed only mild and manageable symptoms. 
MOH also stated that while there has been an increase in the estimated number of weekly COVID-19 cases, the average daily number of hospitalised COVID-19 patients is now rising at a slower pace.
In recent weeks, the number of COVID-19 Intensive Care Unit (ICU) cases has decreased from 26 March to 1 April 2023, compared to 19 March to 25 March 2023. 
However, doctors emphasised that higher-risk patients, such as the elderly or those with pre-existing medical conditions, could be more susceptible to the virus and should continue to practice vigilance.
Easing of Measures Related to Spike
Doctors have linked the surge in COVID-19 cases to the relaxation of pandemic-related measures and the resumption of travel. 
Specifically, Singapore recently discontinued its requirement for mask-wearing among public transportation riders in February 2023. The need for non-vaccinated travellers to present negative pre-departure test results upon entering Singapore was also eliminated in the same month.
In addition to the ongoing COVID-19 situation, medical professionals have observed more patients seeking treatment for the flu.
---
Advertisements

---
Dr Chua Hshan Cher, director of the Phonix Medical Group, believes this may be due to Singaporeans returning to their daily routines without the added protection of masks, increasing their susceptibility to respiratory illnesses.
As society resumes its usual activities and adjusts to a new sense of normalcy, medical clinics anticipate that COVID-19 cases will continue to rise before stabilising. 
However, Dr Chua is assured that the numbers will eventually stabilise, with only a few occasional fluctuations.
Few Causes For Concern, But Vigilance Still Encouraged
In light of Singapore's shift towards an endemic approach to managing COVID-19, doctors are now less fixated on numbers and are adopting a more nuanced view of the situation.
Dr Wong Kia Boon, the Communications Director of OneCare Medical, emphasised that individuals must acknowledge that living with COVID-19 is "the new reality". 
He noted that the recent increase in cases related to the XBB strain of the virus was not a cause for alarm, as this strain tends to produce mild symptoms in most cases.
---
Advertisements

---
However, Dr Wong also highlighted the importance of monitoring COVID-19 updates at the local, regional, and international levels to identify emerging strains that could cause more severe illnesses. He expressed confidence that guidelines would continue to develop to prevent future outbreaks.
The US Centers for Disease Control and Prevention (CDC) is one organisation that uses data to track COVID-19 variants and takes action when necessary to safeguard public health. The CDC's data tracker is accessible to anyone interested in monitoring COVID-19 trends.
As Singapore adapts to living with the virus, individuals are encouraged to stay vigilant and get their COVID-19 booster shots when due. We also encourage maintaining good personal habits, such as wearing masks in crowded areas and seeking medical attention promptly if feeling unwell.

Fresh grads, you don't need any experience to earn up to $4,200 with this "secret":
Read Also: