---
Advertisements

---
Because of the rule that only a limited number of people can visit somewhere or that places of entertainment are still closed until further notice, several establishments have been forced to go virtual.
Take the National Gallery Singapore for example, with its virtual tour of 19th and 20th century Singapore and Southeast Asia.
Or, one of Singapore's most beloved hotspots in Marina Bay Sands, Marquee, which is basically a DJ on-screen playing club music. You can watch their livestreams on their Twitch or Facebook channel.
However, it seems that another virtual event will be joining their ranks: the Standard Charted Singapore Marathon (SCSM).
Wait, what?
AR racing
For those unaware, the SCSM is held every year during the first week of December. Back in the good ol' days before COVID-19, you'll notice that a lot of roads around Orchard Road and Marina Bay were closed off so you don't disturb the runners.
This year, they're conducting the SCSM a little bit different than the other years; while the runners can still experience running down the familiar cityscape, they have to do so via augmented reality.
According to TODAYonline, runners will be able to create avatars of themselves and compete with other runners in real-time. Various in-video features will also help to recreate elements of the race experience.
There are a total of five races you can choose from:
SCSM Grand Finale Rouvy Augmented Reality 10km
SCSM Grand Finale Rouvy Augmented Reality Half-Marathon
SCSM Grand Finale Virtual Race 10km
SCSM Grand Finale Virtual Race Half-Marathon
SCSM Grand Finale Virtual Race Double Up Challenge
Which leads to the next question: what do you need?
Required gadgets and devices
For those interested in the virtual race, runners can use tracking devices such as smart watches to complete their run outdoors.
After finishing the race, they have a 10-day time frame to clock the information. This is to prevent people from congregating in groups to run outdoors.
As for those interested in joining any of the augmented reality races, they are required to download the Rouvy app on their smartphones.
They're also required to use foot pods when running on a treadmill.
Foot pods are devices attached to shoes and have to be used as they track cadence which smart devices are unable to track.
Apparently, cadence means the number of steps you take in one minute. Thanks Google.
Alternatively, one can also use the ActiveSG app to book an augmented reality run at any of the 12 ActiveSG sport centres.
Like That Still Need to Pay?
Registration of the races is still open and free but you can choose to pay to get race entitlements which includes a runner's singlet, backpack, drink bottle, medal, official photo and downloadable e-finisher certificate.
More information on the race entitlements can be found here.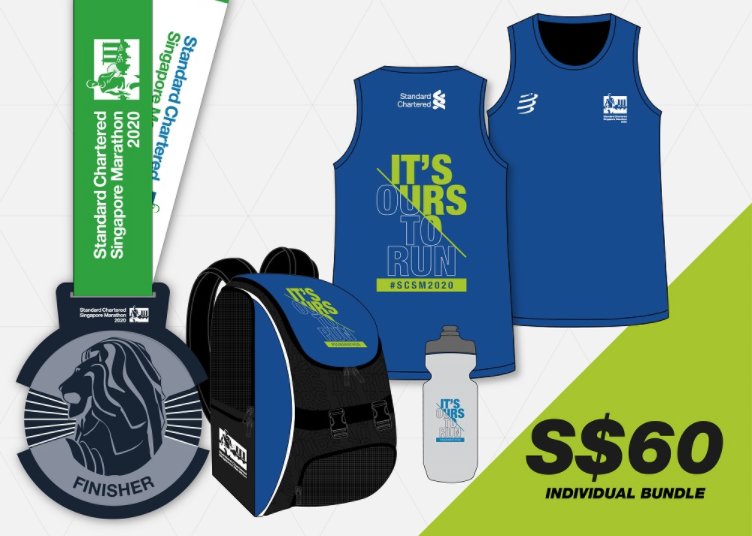 Singaporean runners can either collect their race entitlements or have them delivered. Collection will be done on 5 and 6 December at Gardens by the Bay during the SCSM 2020 Grand Finale Celebration event
For international runners, the items will be shipped to them.
---
Advertisements

---
SCSM Virtual Club
We all know that all kinds of clubs exist but the SCSM has something called a virtual club where you get to compete virtually with other runners. In fact, you can also earn points and claim rewards.
According to Mr Geoff Meyer, group managing director with Ironman Asia, which is the organiser of the marathon, said that that SCSM virtual club received more than 80,000 participants across its virtual races over the span of nine weeks. He also mentioned that 20% of the participants were from overseas.
I guess that's one of the cool things about having an augmented reality race.
Will you be joining any of the races this year?