---
Advertisements

---
Aside from the numerous steam boat feasts and awkward conversations with your relatives, CNY is also a festive season best known for mahjong sessions.
If letting your relatives know about Ah Girl's PSLE straight A results isn't good enough, try wowing your guests with Tiffany & Co.'s very own mahjong set.
Disclaimer: If you have some extra cash (I mean a lot of it) to spare, you can fork out US$15,000 (S$20,200) for this set.
Mahjong Set with Luxurious Details
The renowned jewelry brand, famous for letting us know that breakfast can be eaten at Tiffany's, is now wowing us with the luxurious mahjong set.
Even before retrieving the mahjong tiles from the case, the exterior itself is enough to become a talking point: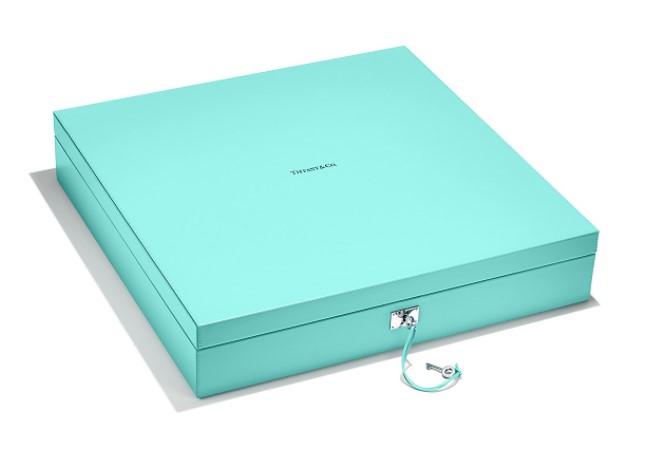 The case is made of leather and comes with a lock and key, so that your nasty cousin can't anyhowly open it as and when he likes.
There's more: The interior is made of synthetic suede, protecting your mahjong tiles from scratching against one another.
The set comes with 150 tiles and 120 scoring sticks comprising of three layers: an American walnut wood base, a Tiffany Blue®, black and gray core and a white surface.
Aside from those, the set also consists of:
4 American walnut wood tile rests, each engraved with the Tiffany & Co. logo
80 coins in black, Tiffany Blue®, gray and white
4 sterling silver dices with Tiffany Blue® enameled dots
4 removable leather interior trays to store tiles
Additional leather box with magnetic closure to store dice and scoring sticks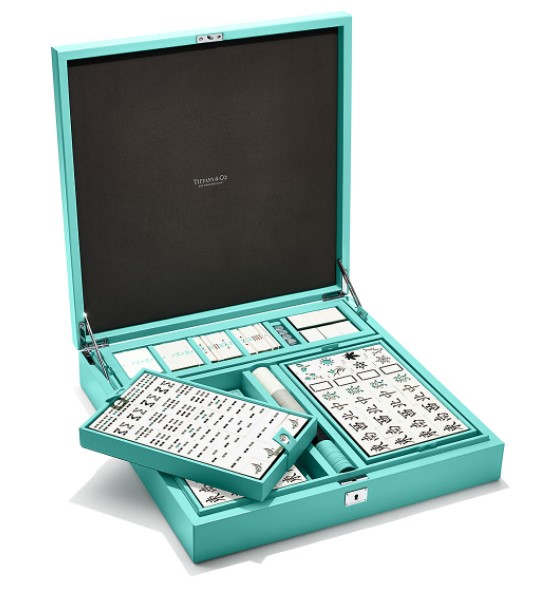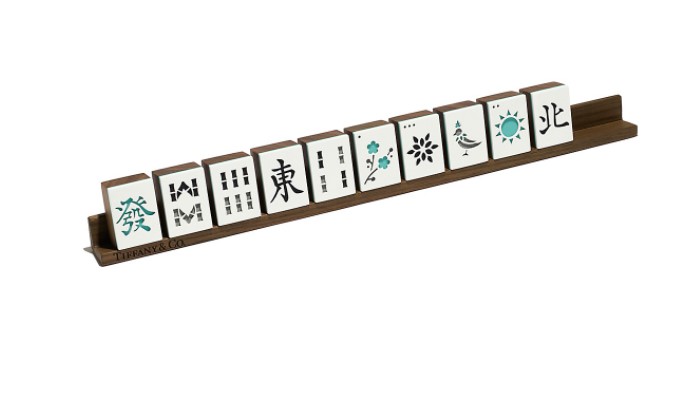 Yup, the tiles have their own "sofa" to rest on while you're playing the game.
As the set comes along with a hefty price tag, superior materials are used to ensure that you're playing high-end mahjong. Not forgetting the intricate details that go along with the accompanying pieces.
---
Advertisements

---
Unlike your usual plastic-y dices, the Tiffany mahjong set's dices are made of sterling silver, ensuring that you are throwing them in style.
Not forgetting the interior trays which are made of leather, to further make sure that your mahjong set can be passed down to your children, grandchildren and great grandchildren.
Similar High-End Mahjong Set by Hermes
Luxury brand, Hermes, also released their very own mahjong set in August 2020.
Priced at S$57,200, the set is made with solid palissander wood (super atas kind of wood) and printed Swift calfskin. The tiles are printed in full leather.
The choice of these high-quality materials is so that the tiles will knock gently against each other, while the little sticks keep track of the score with a delicate rustling sound.
Basically it means you can play your mahjong quietly and in style.
I don't know about you, but playing mahjong quietly sounds like an oxymoron.
Featured Image: tiffany.com

How much cash are you getting in December 2023 from the Government? Here are the facts simplified for you:
Read Also: