---
Advertisements

---
When ex-OnlyFans star Titus Low announced that he would be marrying fellow Malaysian influencer Cheryl Chin, the world couldn't help but react with a mix of emotions.
And guess what? They didn't waste any time. 
After tying the knot just a month after they met, and three months into their marriage, they dropped the big news that they were expecting a baby.
But you know what they say: life's all about taking it slow; rushing into things doesn't usually end well.
Now, almost as fast as it all started, Titus and Cheryl have gone their separate ways.
Titus Low Announced His Separation With Cheryl Chin
As you heard it, Titus and Cheryl have split up.
The official announcement came from Titus, who shared the news in an Instagram story on Monday (20 November 2023).
With text written against a plain black background, he stated that the couple had decided to part ways.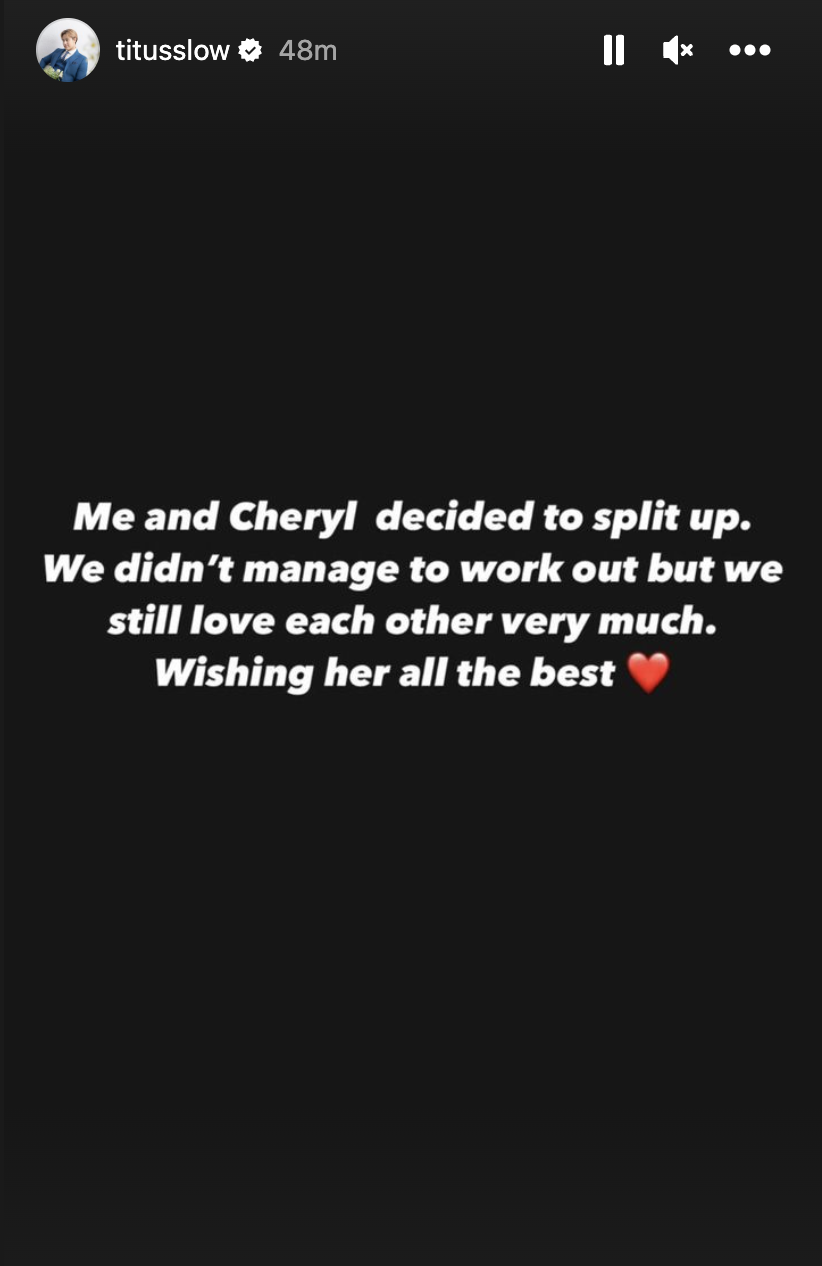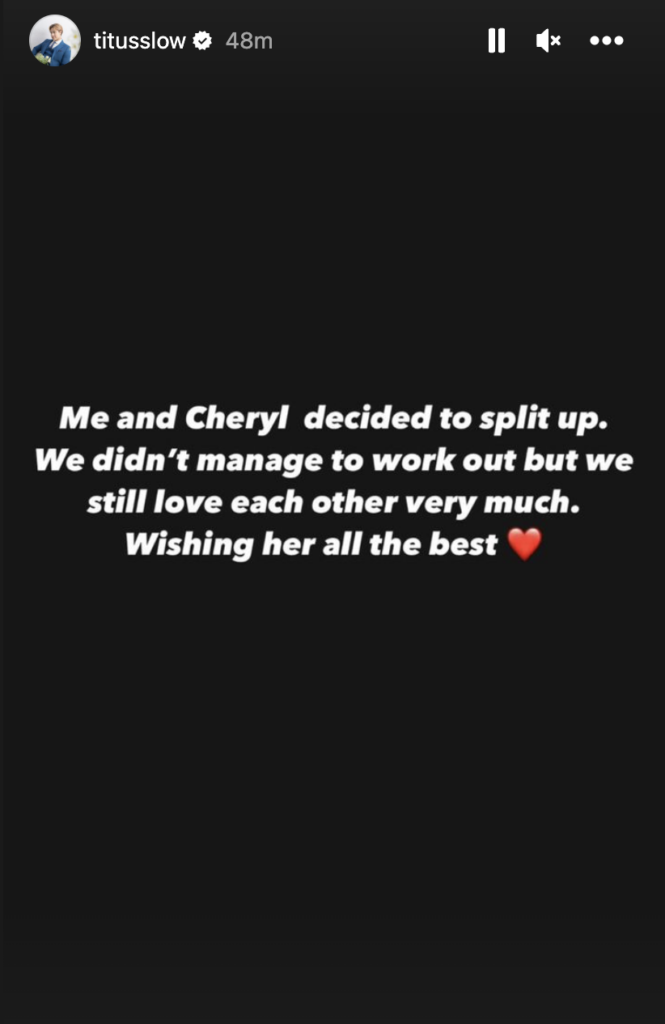 While their decision was revealed without much explanation, the only insight provided was that they "couldn't make it work".
Despite the separation, Titus expressed his love for his former partner, emphasising that their affection remains strong. He even extended his best wishes to her.
Cheryl, in a separate Instagram story, shared a more detailed note.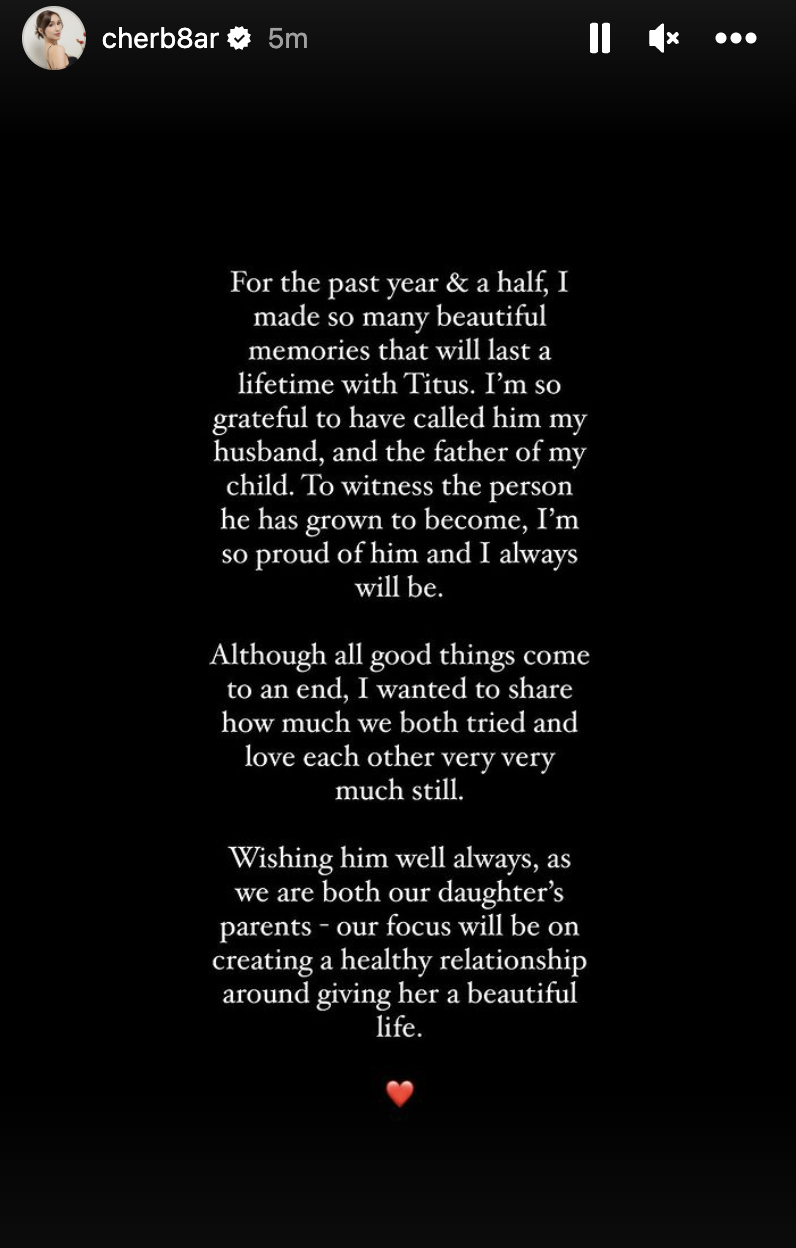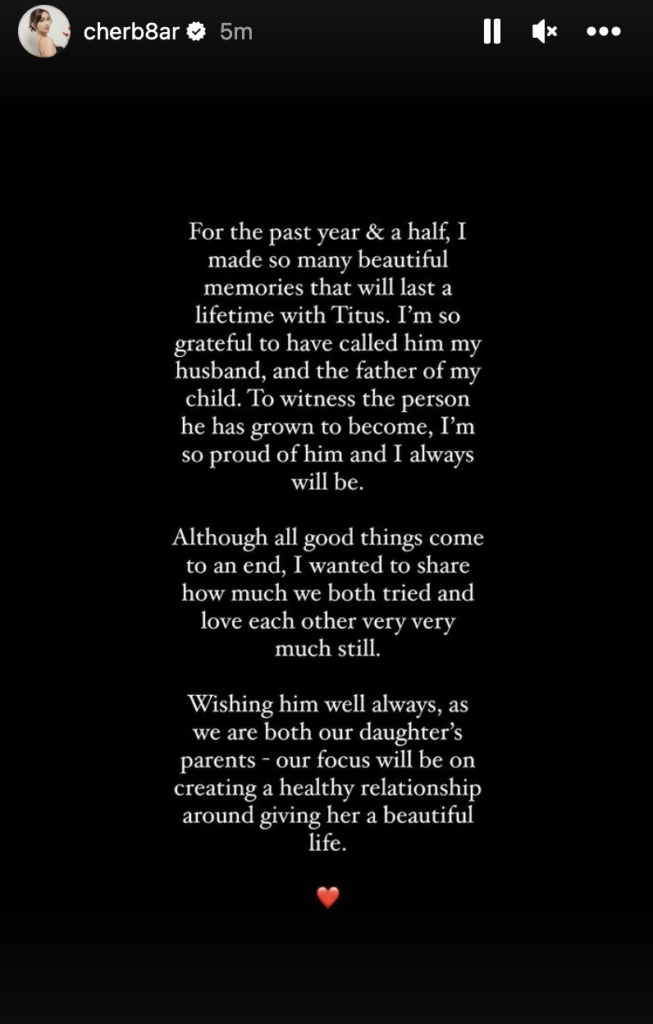 She expressed her gratitude for the relationship she had with Titus. She said she was grateful to be able to call him her husband and the father of their child.
She also emphasised that, for the time being, their priority is building a nurturing environment for their daughter to ensure she has a "beautiful life".
Their separation appears to have been a mature, loving, and amicable decision. 
Cheryl said that "all good things come to an end", acknowledging the bittersweet nature of their parting.
Couple Tied the Knot Last Year
The duo exchanged vows in June 2022 following a whirlwind romance.
It all started on 6 June 2022, when Titus revealed to his followers on social media that he was engaged.
And if you're curious about how this whirlwind romance began, you can thank Jian Hao Tan, the founder of Titan Digital Media, for playing Cupid.
They first met at a networking event organised by Jian Hao Tan. He was also acting as the matchmaker, introducing Cheryl, one of the influencers under his content house, to Titus.
Remarkably, just six hours after they officially started "dating", they found themselves enjoying supper with their mutual friends.
Their friends supported their budding romance, fueling the "YOLO mode" sentiment between the two, ultimately leading to their unexpected engagement.
---
Advertisements

---
Marriage Videos Have Been Made Private on YouTube
On 14 June 2022, Titus uploaded a YouTube video in which he shared details about his upcoming wedding with Cheryl, as they were set to tie the knot the following day. As of the time of writing this article, the videos related to Titus and Cheryl's marriage on Titus Low's YouTube channel have been set to private, making them inaccessible to the public.
Welcomed Daughter, Elleria, in March 2023
In March of this year, the couple joyfully welcomed their first daughter, Elleria.
This joyous occasion followed their pregnancy announcement on YouTube in September of the previous year, just three months after their wedding.
In that video, Cheryl revealed that she was already three months into her pregnancy and entering her second trimester.
Cheryl is reported to have given birth at the private hospital, Thomson Medical Centre.
---
Advertisements

---

Fresh grads, you don't need any experience to earn up to $4,200 with this "secret":
Read Also: