---
Advertisements

---
Are you even Singaporean if you have not heard of Titus Low?
Innocent Readers: Uhm, who is—
Stop there, let me introduce him. 
Titus low is a 22-year-old local social media influencer who has thousands of followers on social media platforms. He first found his fame in his infamous OnlyFans account where he uploaded NSFW photos and videos in December 2021. 
He failed to comply with an order that banned him from using his OnlyFans account as he posted more such content in February. 
Of course, how would such an incident go easy in a conservative society like Singapore?
He got thrown in jail for three weeks, primarily because he disobeyed the police order not to continue his OnlyFans venture.
He's now out, and guess what?
"Never let a good crisis go to waste."
Deekosh and Titus Low Meet 
It seems like the jail has become a place for local celebrities to meet and have talks.
In Low's recent Tiktok video post-release from prison, he had responded to user @ilovemars' question on whether he had met Dee Kosh during his three-week stay in prison. 
YouTube Darryl Ian Koshy, better known as Dee Kosh was sentenced to jail for 32 weeks on 5 August earlier this year after committing various sexual offences including offering cash to a boy aged below 18 for sexual services. 
You can watch this video for more information:
Low said that he had met Deekosh in the prison and even had a conversation.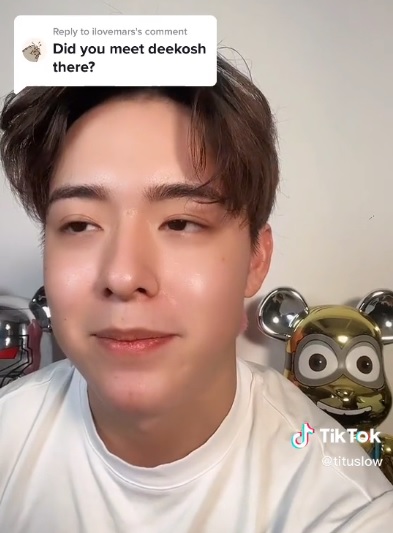 Now I am pretty sure you are keen to know what they talked about. 
Join our Telegram channel for more entertaining and informative articles at https://t.me/goodyfeedsg or follow us on Twitter : https://twitter.com/goodyfeed
Low said that Dee Kosh gave him advice on how to survive prison and they even shared their prison experiences. 
Readers: What in the prison TED Talks?
Though Low didn't delve deep into what they talked about, he mentioned that Deekosh will be coming out of prison next year and it was not his story to tell. 
And just like any Low's video, it's short without much context.
He ended off the half-a-minute video by saying that "as someone who just came out of prison, I do believe that everybody deserves a second chance at life."
---
Advertisements

---
As for how Dee Kosh look like now, he gave an answer in the comments: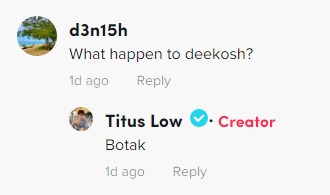 For your info, the reason why his hair isn't cut is because he's serving a short sentence (less than a month) compared to Dee Kosh.
And lest you're not aware, Low will be coming out with a YouTube video about his prison sentence. He's obviously a social media expert; watch this to the end and you'd understand:
Read Also:
Featured Image: TikTok (@tituslow)

Fresh grads, you don't need any experience to earn up to $4,200 with this "secret":
Read Also: