---
Advertisements

---
Last Updated on 2023-03-20 , 10:04 am
Recently, you might have heard that ex-OnlyFans creator Titus Low and his wife, Cheryl Chin, had their first child together.
Earlier this month, on 9 March, Low, 23, and Chin, 22, announced the birth of their daughter, Elleria.
But instead of typical new dad duties like learning how to feed his child and change her diapers, it seems like Low, who is now an influencer, is giving us another side of new parenthood.
Like learning what his wife's breast milk tastes like.
Yup, you didn't read that wrongly, and no, it's not clickbait.
He did so in a recent TikTok video.
Here's what happened.
Tried Wife's Breast Milk With Cereal
On Wednesday (15 March), Low uploaded a TikTok video of him trying his wife's breast milk.
The video began with him transferring Chin's pumped breast milk from her pump to a storage pack.
Afterwards, it cut to Loh pouring the sachet of milk into a bowl with cereal and conducting a taste test of it to see how it tasted like.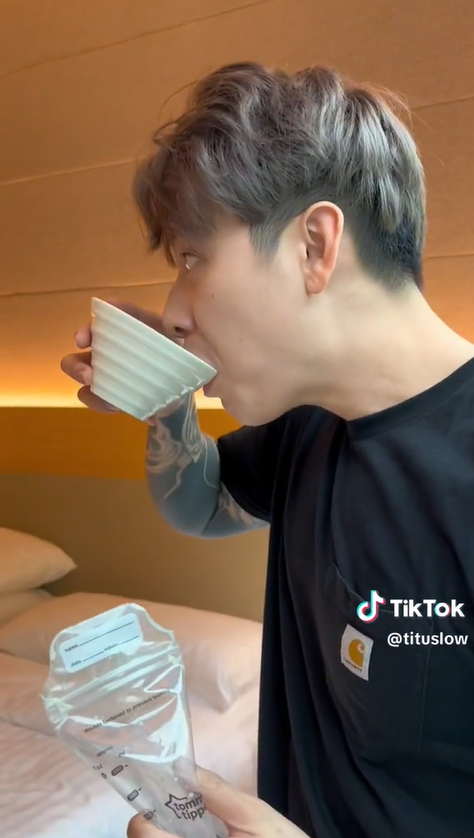 Although he did not speak on camera or express his opinions, he was filmed making this face: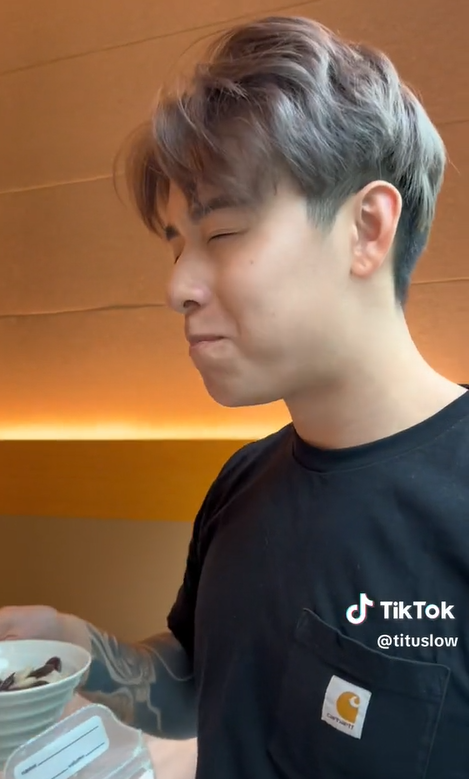 He also smiled and nodded after tasting Chin's breast milk.
Well, I guess he wanted to leave the interpretation of how good the breast milk was up to the audience.
He also wrote "Extra protein" and inserted a baby bottle emoji in the caption of the video.
Join our Telegram channel for more entertaining and informative articles at https://t.me/goodyfeedsg or download the Goody Feed app here: https://goodyfeed.com/app/
Netizens' Reactions 
Since Low posted the video two days ago, it has attracted over 975,700 views on TikTok.
The clip has also amassed over 90,400 likes and 735 comments since he uploaded it.
As for what netizens have to say, it seems like they're generally divided into two groups: Those who found the incident hilarious and those who were left incredibly confused.
For the former, some found Low's antics on video entertaining and were left amused by his reactions.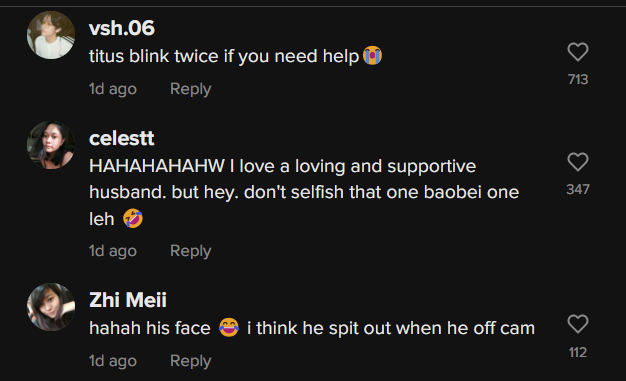 "HAHAHAHAHW[,] I love a loving and supportive husband. [But] hey. [Don't] selfish that one baobei (baby's) one leh," one commenter wrote.
On the other hand, many netizens on TikTok were also left confused and asked questions like "What is going on".
---
Advertisements

---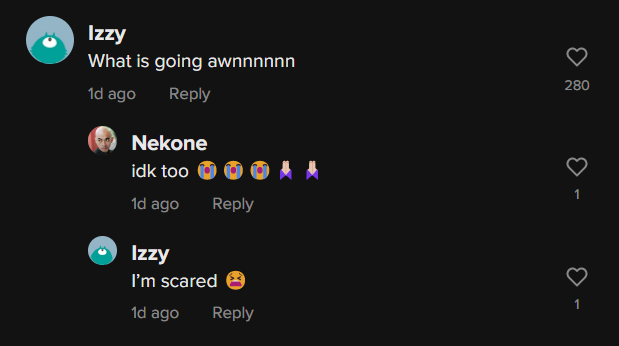 "I'm not sure what to make of this video," another TikTok user commented.

Fresh grads, you don't need any experience to earn up to $4,200 with this "secret":
Read Also: