---
Advertisements

---
As a writer in Singapore, perhaps the last kind of headline you would ever want to see is a fellow writer getting jailed for criminal defamation.
It brings up a lot of thoughts, like, Did I offend the government in some way, in the last, I don't know, few hundred articles I wrote?
The answer is not impossible, it's just probable.
Time to light some joss sticks and pray for the ancestors' protection, yeah?
Jailed for Criminal Defamation
The Chief Editor of the now-defunct website The Online Citizen (TOC), Terry Xu Yuanchen, was sentenced to three weeks in jail for criminal defamation.
The 39-year-old man was accused of defaming members of the Cabinet of Singapore last November by approving the publication of a letter on 4 September 2018, which alleged the "corruption at the highest echelons".
Daniel De Costa Augustin, being the writer of the defamatory letter, was given a harsher sentence. The 38-year-old man will be imprisoned for three months and three weeks, starting 4 May.
Besides being convicted of criminal defamation, he was also charged for the unauthorised access to an email account that didn't belong to him to submit the article.
Both Xu and De Costa stood for trial last year to contest their charges, and were found guilty in November 2021.
For criminal defamation, Xu and De Costa could have been jailed for a maximum of two years and fined.
For unauthorised computer access, De Costa could have also faced two years in jail, given a maximum fine of $5,000, or both.
---
Advertisements

---
The Fine Print of the Letter
On 4 September 2018, De Costa sent an email titled "PAP MP apologises to SDP" to [email protected] from an Internet café in Chinatown, intending for it to be published on the TOC website.
That same day, Xu authorised the publication of another email from an individual called Willy Sum. The email was titled "The Take Away from Seah Kian Ping's Facebook Post".
There are two problems here:
Sending emails at internet cafes may hide your IP address and make you harder to track but do consider making a new email address instead.

The name 'Seah Kian Peng' is misspelt. We'll never know if the mistake is consistent throughout the article now though. 
Since TOC has been taken down, we had to refer to CNA to grab a snippet from the derogatory article in question.
It wrote: "We have seen multiple policy and foreign screw-ups, tampering of the Constitution, corruption at the highest echelons and apparent lack of respect from foreign powers ever since the demise of founding father Lee Kuan Yew."
… He was about a sentence away from directly calling the current ruling party incompetent, wasn't he?
Who Did the Email Account Belong to?
According to the court proceedings, De Costa made use of an email account belonging to Mr Sim Wee Lee to submit the article to TOC under the alias Willy Sum.
Mr Sim previously testified that he became acquainted with De Costa in 2005 or 2006 as he was walking his dogs.
They eventually became friends, and De Costa had access to his email account because Mr Sim had allowed him to use it to settle his bankruptcy and housing issues.
It was only that he realised that De Costa had used his account to send emails criticising government officers without his permission.
---
Advertisements

---
Sincerely, we hope that Mr Sim has changed his account password or abandoned the account altogether.
Join our Telegram channel for more entertaining and informative articles at https://t.me/goodyfeedsg or download the Goody Feed app here: https://goodyfeed.com/app/
Why was The Online Citizen Taken Down?
Reader: Better yet, since when did it get taken down ah?
Apparently, the socio-political website had been taken down on 16 September 2021, because of its repeated failure to meet its legal obligation of declaring all sources of funding to the Infocomm and Media Development (IMDA).
Everything from its website, social media profiles—Facebook, Twitter, and Instagram—have all become inaccessible, and the videos on its YouTube Channel have been delisted.
Although Chief Editor Xu filed a judicial review against IMDA's order for TOC to suspend its social media platforms, he hasn't been very successful. 
His reasoning was that in 2014, the IMDA stated that the licensing was only for the purpose of the website and it doesn't extend to the social media platforms.
---
Advertisements

---
Considering how IMDA controls licensing in Singapore only and not to the rest of the world, he argued that the authority "cannot reasonably expect TOC  to cease all its operations outside of Singapore just because it has suspended the class licence that it grants for the purpose of operation in Singapore".
It can be imagined that this pretext did not fly well with the IMDA.
In response, the IMDA noted that TOC has failed to comply with its legal obligations since 2019, hence leading to its decision to disable and suspend TOC's website and social media accounts on 16 September 2021, at 3pm sharp.
Besides the unilateral suspension, IMDA also threatened to cancel TOC's class licence by 28 September 2021, unless TOC provides all of the required information. It added that TOC's officers may have to answer for criminal offences under the Broadcasting Act if it fails to do so.
From what is understood, The Online Citizen's website might have gone dark, but IMDA has not blocked TOC in Singapore.
---
Advertisements

---
Attempting to enter the TOC website will merely return an "access denied" error.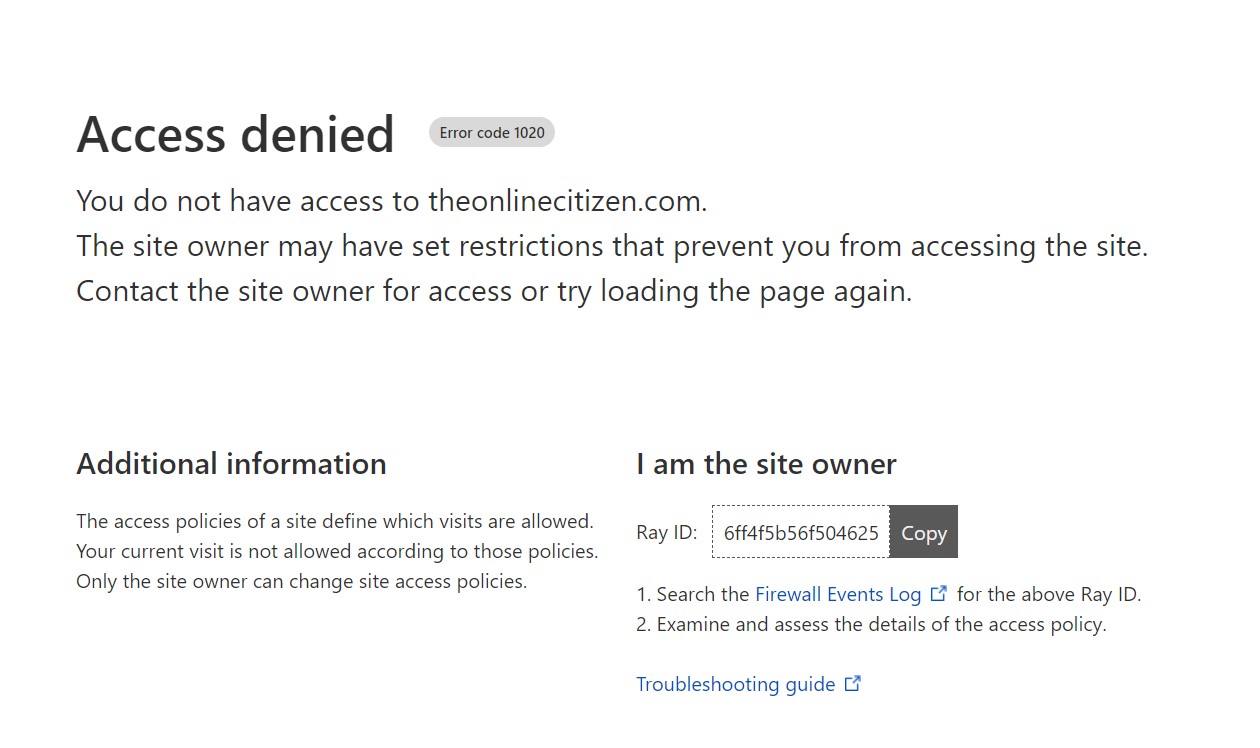 Now that TOC's Chief Editor is one foot in jail, it's hard to predict the fate of TOC, since the socio-political website has been a one-man show run by Xu since at least 2016.
Will it be resurrected eventually, or will it lay in the ashes after being crudely assaulted by libel laws?
The Other Run-Ins with Trouble with Authority
If you thought this was TOC's first rodeo against authoritative figures, your supposition would be incorrect.
As a matter of fact, if you dig deep into your memory, you'll probably vaguely recall the Lee Family drama surrounding the ownership of the Lee Family House on 34 Oxley Road.
In the midst of the drama, TOC had published an article titled "PM Lee's wife Ho Ching weirdly shares an article about cutting ties with family members", while quoting a Facebook post made by PM Lee's sister, Dr Lee Wei Ling.
To the surprise of no one but maybe the perpetrators themselves, PM Lee proceeded to sue Chief Editor Xu and the Malaysian writer Ms Rubaashini Shumminganthan for the article.
In court, Xu tried to justify the allegations in the article, arguing that they were true.
---
Advertisements

---
One of the allegations was that Prime Minister Lee Hsien Loong Lee had deliberately misled Mr Lee Kuan Yew into believing that the house had been gazetted with ulterior motives
However, as evidence in the court documents would show, PM Lee actually respected Mr Lee Kuan Yew's wishes to demolish the house, and believed that the family shouldn't profit financially from the redevelopment of the site.
This was of great importance because the Lee Family wanted to avoid having the perception that they were redeveloping the land for financial gain from being casted on them.
While it was initially stated in the email correspondences that each child would have a third of the estate holdings out of fairness, none of the siblings were particularly interested in being involved in the process of donating the proceeds, so it was ultimately decided the house would be willed to PM Lee for him to handle the burden.
Secondly, for a defamation lawsuit to succeed, the plaintiff must prove that the defendant came from a place of "actual malice", which means that the defendant made the statement either with knowledge of its falsity or in reckless disregard of the truth.  
With that in mind, Xu argued that the article wasn't motivated by malice; rather, it was just pointing out how ironic it was for Ms Ho Ching–PM Lee's wife–to share a post about breaking off relations with toxic family members, "given the publicised poor relationship" that PM Lee had with his siblings.
Alas, Justice Audrey Lim rejected both of his arguments.
In her final verdict, Justice Lim awarded PM Lee $160,000 as general damages, and $50,000 in aggravated damages, bringing the total to $210,000.
PM Lee can claim the $160,000 sum from either the Chief Editor or the Malaysian author, but Xu is wholly liable to pay the aggravated damages of $50,000.
I suppose you can only say that a cheetah never changes its spots? 
Once bitten, twice shy, certainly doesn't apply here.
Read Also:
Featured Image: Facebook (Terry Xu)

Here's why a 4-day workweek might finally really be possible in Singapore soon:
Read Also: