---
Advertisements

---
Last Updated on 2023-05-05 , 3:23 pm
In a three-month renovation project organised by the Land Transport Authority (LTA) and SMRT, toilets in over 30 MRT stations in Singapore will be closed for refurbishment.
The public toilets at the Kranji MRT Station were part of this project and have undergone renovation since the end of March 2023. 
However, after repeated complaints from businesses and the public due to the closure of the toilets, the authorities finally installed two mobile toilets in the unloading area of ​​the station on 21 April 2023.
Mobile Toilets at Kranji MRT Finally Available After Complains
Following several reports of public dissatisfaction, two mobile toilets were eventually installed at Kranji MRT station. 
However, on 22 April 2023, just a day after the toilets were installed, the station experienced an even more significant influx of people due to the Hari Raya holiday, resulting in crowds gathering around the subpar toilets. 
Train passengers and foreign workers picnicking on the nearby lawn formed a line to use the portable toilets. The queue reportedly exceeded ten people at one point, according to Lianhe Zaobao. 
Passengers at the station complained that the toilets were heavily used but weren't cleaned in time, causing piles of toilet paper to accumulate. The flushing system and sink were also reported to be non-functional, resulting in a foul urine smell.
Toilets at Kranji MRT Have Been Closed Since March
At the end of March 2023, the toilets at Kranji MRT Station underwent renovation as part of LTA's station renovation plan. 
Unfortunately, no alternative mobile toilets were provided during the renovation, and no temporary toilets were nearby. 
The renovation plan includes upgrading 30 subway stations along the North-South, East-West, and Circle Lines from 18 February 2022 to the third quarter of 2024. 
---
Advertisements

---
The works include installing non-slip floor tiles, improving the ventilation system, and replacing light fixtures with more energy-efficient lighting.
However, the renovation projects have encountered some challenges, with the toilet renovation at Clementi MRT station reportedly delayed in March 2023, causing inconvenience to passengers. 
Nevertheless, since Clementi MRT station is located near malls like The Clementi Mall and CityVibe, passengers there do not seem to face the same difficulties as those at Kranji MRT station.
Passengers Had to Resort to Urinating in Plastic Bags
Mr Lin Jinxing, a 54-year-old truck driver, said he frequently drove past Kranji MRT station to get to work at 6 am. 
He reported few coffee shops or shopping malls nearby, resulting in elderly individuals having difficulty finding toilets. He also witnessed foreign workers relieving themselves on the nearby lawn. 
Mr Zhang, an employee at a store near the MRT station, shared that many people came to their store looking for toilets, but none were available.
Consequently, some elderly passengers even asked him for plastic bags to "solve it on the spot," causing a foul smell to spread through the station.
This was before the mobile toilets were installed on 21 April 2023. 
Ms Xu, a 39-year-old accountant who commutes between Singapore and Malaysia daily, confirmed this observation, as she had only recently noticed a foul smell around Kranji MRT station.
Urinating in Public
Instances of public urination have been reported in the past. On 28 July 2022, a man was observed urinating in the grass near a Commonwealth Avenue bus stop, despite the presence of a nearby public toilet. 
---
Advertisements

---
Additionally, on 16 September 2022, a woman in a dress was captured on camera squatting in an MRT train and urinating on the floor.
Although these incidents were not as pressing as the situation that Kranji MRT passengers encountered, it is crucial to note that the Environmental Public Health Act criminalises urinating or defecating "in or upon any street, arcade, vacant land, river, canal, ditch, drain or watercourse or in any place to which the public has access except in any sanitary convenience provided for such purpose." 
A first-time offender may be fined up to $1,000, while the penalty for the second and third offences is up to $2,000 and $5,000, respectively.
Storeowners Are Allowed to Use Refurbished Toilets but Must Register
According to Mr Zhang, store owners are allowed to use the refurbished toilets, but they must register every time they enter, and the number of users is limited. 
He added that the process could be time-consuming and inconvenient, so he prefers to use the toilets at Marsiling MRT Station before heading to Kranji.
Mr Huang, another employee, also shared that access to the toilets is granted only after an SMRT staff scans their card and provides them with the key. 
---
Advertisements

---
This process can be challenging in urgent situations, such as diarrhoea. He mentioned that many passengers ask for assistance, but he can only help them occasionally as the public cannot use the toilets.
SMRT Set Up Notice and Advised the Public to Plan Their Trips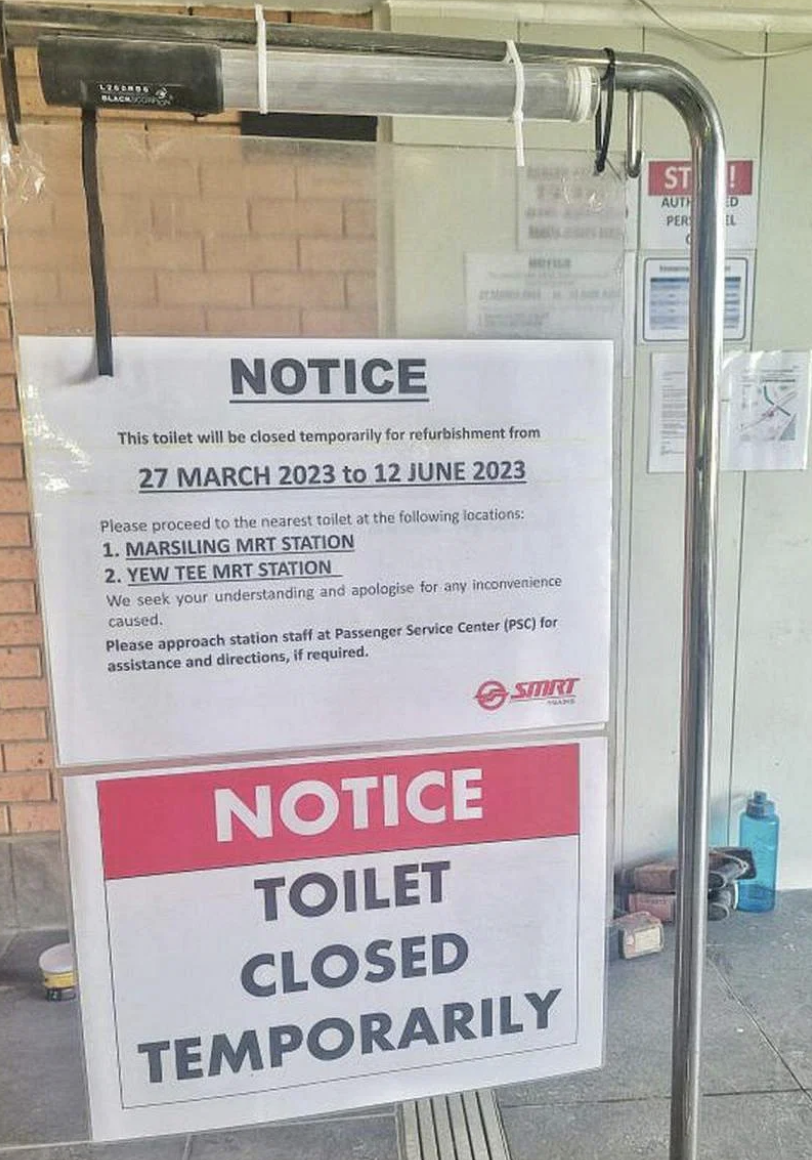 The Kranji MRT toilets have been closed for renovation work since 27 March 2023, with a notice board informing the public of its closure until 12 June 2023. Commuters were advised to use toilets at nearby stations like Yew Tee MRT Station or Marsiling MRT Station.
Mr Lam Sheau Kai, the president of SMRT Corporation Ltd., stated that SMRT staff would assist commuters in finding the nearest toilet during the renovation period. He implored for the public to plan their journeys and be understanding of the ongoing toilet renovations.
Despite this, some members of the public, such as Ms Wang Chunlan, an 83-year-old retiree, argued that toilets in public spaces should always be available. 
Ms Zhao Ruiyu, a 68-year-old retiree, echoed this sentiment. Instead of relieving herself at the station as planned, she had to endure her discomfort upon reaching as she would have had to take a bus for more than ten minutes to return home to use the toilet otherwise.
---
Advertisements

---

How much cash are you getting in December 2023 from the Government? Here are the facts simplified for you:
Read Also: