---
Advertisements

---
A recipe for disaster sounds a lot like an A-list celebrity walking around with no protection—not even one bodyguard in sight—while trying to keep "lowkey" as the Zoomers would say these days. 
Fortunately, Shang-Chi actor, Tony Leung, escaped unscathed. 
Tony Leung Went Viral on TikTok
A user on TikTok first posted a video of his grandmother and another elderly woman posing with the Hong Kong superstar, captioned with "Leisurely walk in Gardens by The Bay and bumped into Tony Leung", using hashtags like #grandmother and #marinabaysands. 
However, he shared the image on Instagram over a week ago on the 11 February (which didn't go viral), with the same caption as his TikTok post, sharing that he bumped into the actor a day ago.
View this post on Instagram
Donning on a humble outfit of jeans, a white shirt and a jacket, he looked more than happy to take a photo with his eager fans. 
---
Why the Ridout Road Colonial Houses Saga is Actually NOT a Saga:
---
Users asked whether the actor was alone, but the user promised it to "keep it a secret" so he could be travelling with or without his wife, Carina Lau.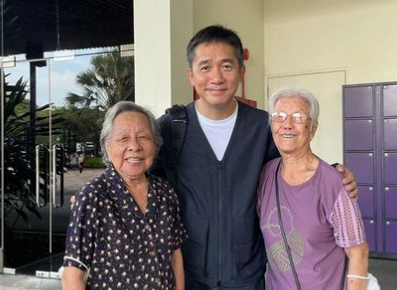 Tony Leung is Indeed a Human Being
Tiktok users and Instagram users were all rather shocked, probably traumatised and accustomed to the reception (screaming and sometimes body slamming the bodyguards to get to the idols) Kpop idols get when they reach—well, anywhere in the world. 
"Wait what he's just walking around like that?" a Tiktok user asked, dumbfounded.
He was then replied with "very casual" from Mr Lim, the user who posted the Tiktok and Instagram post. It was very heartening to see that Leung was down-to-earth enough to travel solo (or with his wife). 
---
Advertisements

---
It's unlike people like, erm, fake influencer Tan Ah Hock who'd go all out to tell the world where he's been (when no one cares).
You can watch this video to know more about the fictional Tan Ah Hock:
View this post on Instagram
Some even poked fun at the role he played in Shang-Chi, Xu Wenwu, who is the main antagonist of the movie, warning Mr Lim to "just run" when he sees "his arm alot of bracelets", making a reference to the 10 rings the character has that gives him powers. 
Others commented that the elderly women posing with the 60-year-old (yes, I'm surprised, too) actor were visibly excited and thrilled to see him. 
So, why was he here?
Purpose of Visit
Leung was in Taipei on 14 February to attend the screening of the movie A City of Sadness (1989) and he may have stopped by Singapore to promote his new movie, Where the Wind Blows, which is showing in cinemas here.