---
Advertisements

---
On 31 Dec 2020, we held quiet parties in our homes as we counted down to the new year.
At least we thought that it was a new year. Rather, we had unknowingly entered a huge, 12-part local drama anthology series called 2021, which featured legal thrillers and melodramas starring politicians, YouTubers, and bookstore founders.
Now that the year has come to an end, it's time to take a trip down nostalgia road and have a look at the three biggest sagas based on data.
Reader: What sort of data?
Uh… what our boss said lor.
Reader: Good enough for me.
But seriously, it's based on the reads from our app. We excluded pageviews from our website because those might be driven by social media algorithms and Google trending searches, whereas app reads are based purely on our readers' interest.
You can watch this video if you prefer letting a blue cat list down the sagas instead:
Alright, let's start with the second runner up:
The BooksActually Saga
Ah yes, Kenny Leck. The man who founded BooksActually.
Leck was accused of hiring only girls to work at his bookstore and making passes at them. He even married one of them, but the couple later got divorced.
---
Advertisements

---
There were also allegations that he didn't pay his employees on time-
All Goody Feed writers: Wait, employees get paid?
Boss: It's only a rumour. Don't pay any attention to it.
As is usually the case, Leck denied all the allegations and said he will transfer ownership of the company to his team of five employees.
But this doesn't seem to have happened (yet).
After stealing our boss' business card and buying enough bubble tea for the next pandemic, we bought BooksActually's business profile of the bookstore and as of 30 Dec, it says Kenny is still the director and holds half the shares of the company.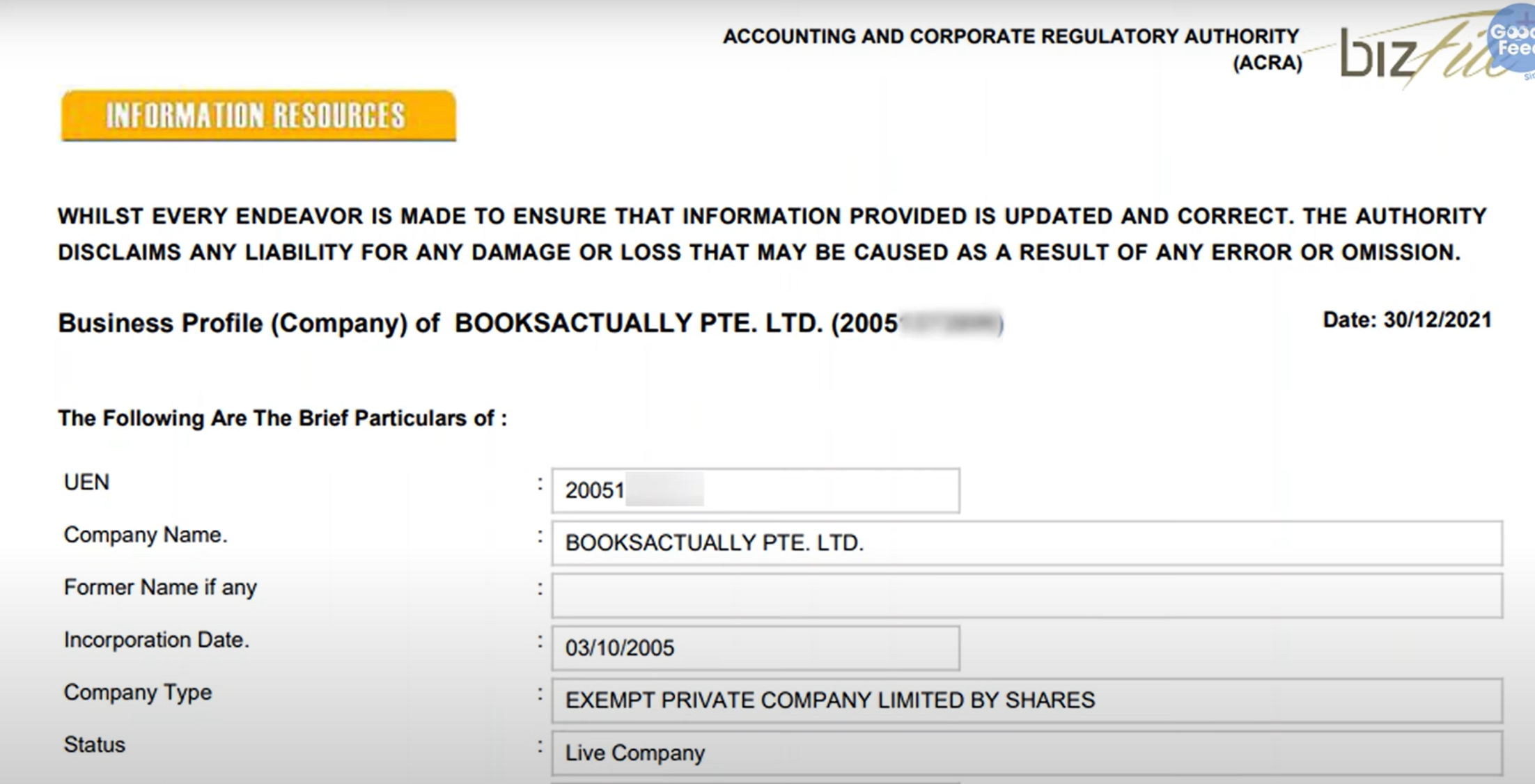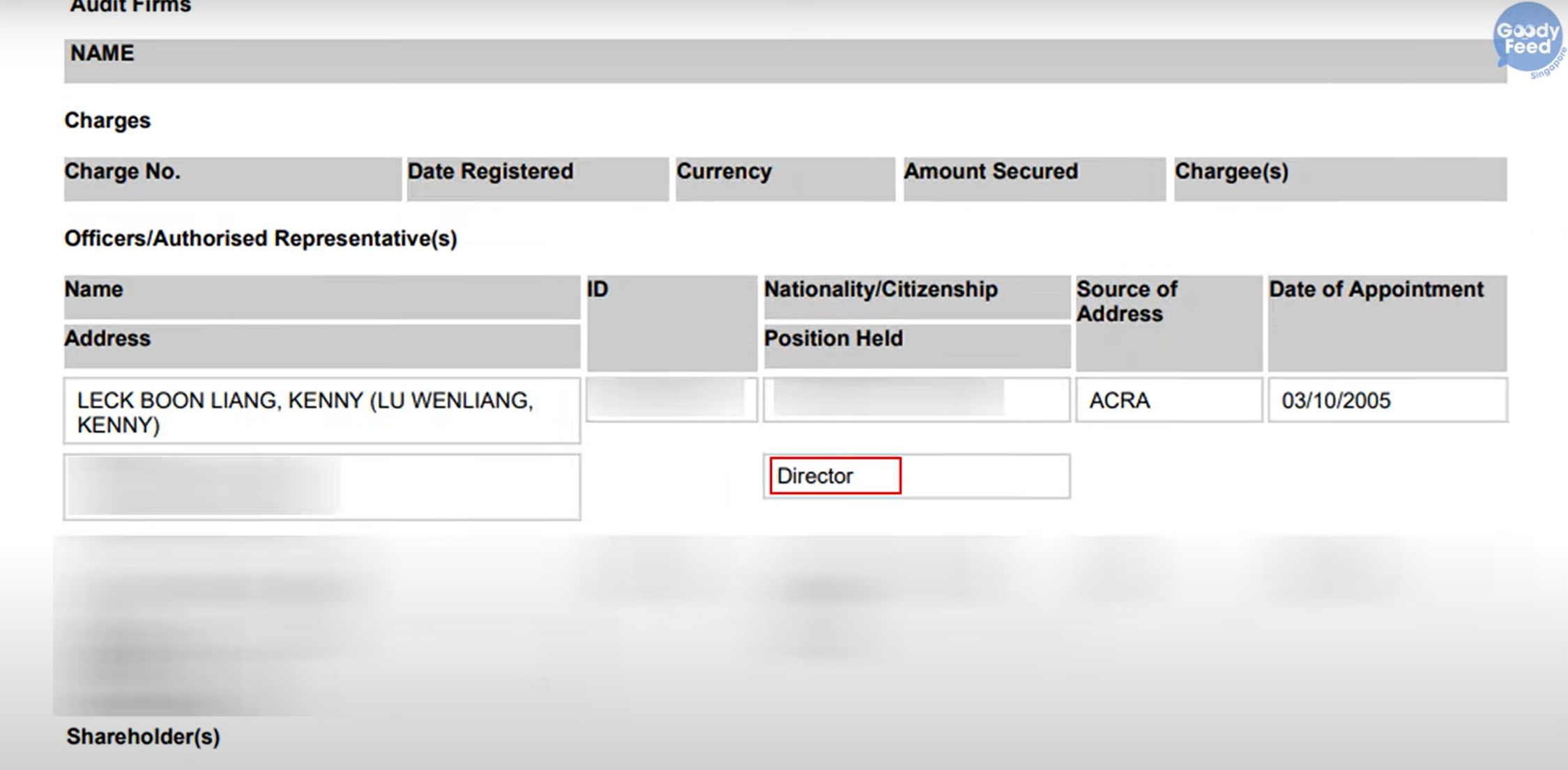 So, yep, this saga may not be over yet.
Join our Telegram channel for more entertaining and informative articles at https://t.me/goodyfeedsg or download the Goody Feed app here: https://goodyfeed.com/app/
The NOC Saga
Many tears were shed during the NOC saga, all of them coming from co-founder Sylvia Chan.
---
Advertisements

---
It was a bit like a Hong Kong drama in that it had everything—a monetary dispute, allegations of infidelity, and a messy divorce.
Chan was accused of workplace abuse and harassment by some current and former NOC employees, and just like that, the whole nation was tuned in.
She eventually apologised, but flung some allegations of her own at co-founder and ex-husband Ryan Tan, who casually caught those allegations in his hand and crushed them while investing in cryptocurrency.
NOC has resumed publishing videos and Reno King now has its own channel, so it seems that this saga is well and truly over.
Now it's our turn to shed some tears.
So, who took the number-one spot? Of course, it was none other than the…
---
Advertisements

---
The WP Saga
It's juicer than a fresh tomato, has more twists than South Buona Vista Road, and is spicer than a… uh… McSpicy.
Yes, I'm talking about the WP saga.
With seasoned politicians starring in this saga, it's no wonder that the WP Saga has claimed the number one spot on Goody Feed's list of 2021's Top Sagas.
It's now possibly the most famous he said, she said story in Singapore, with Raeesah Khan and WP leaders offering contradictory accounts of what transpired after the former lied in Parliament last August.
The COP hearings seemed like they would never end, but they have, and the committee will at some point conclude their investigation and publicise their findings.
---
Advertisements

---
Until then, it's impossible to say who the truthful party is.
If there's anything we've learned from these three sagas, is that we should be kind to others, even if they're our subordinates, treat employees with respect and not harass them, and bring your personal transcriber when being questioned by Edwin Tong.
And whatever you do, don't forget to substantiate.
Read Also:

Here's why a 4-day workweek might finally really be possible in Singapore soon:
Read Also: