---
Advertisements

---
Last Updated on 2023-01-10 , 3:05 pm
The mystery behind the personal lives of politicians is something that piques the curiosity of many.
People remain interested even if the glimpse into their personal lives is merely the watch they wear on their wrists.
On 2 January 2023, watch enthusiast Bryan Cheong wrote a Twitter thread detailing his analysis of the watches spotted on Singaporean politicians' wrists.
Here's what he had to say.
1. Prime Minister Lee Hsien Loong
The first wrist to be scrutinised was the one belonging to the face of Singapore, Prime Minister (PM) Lee Hsien Loong.
According to Mr Cheong, PM Lee only wears one watch, the white dialled Seiko 5 Automatic SNKK87.
Costing about $146, the relatively affordable watch is considered a "classic", according to Mr Cheong. 
2. Foreign Minister Vivian Balakrishnan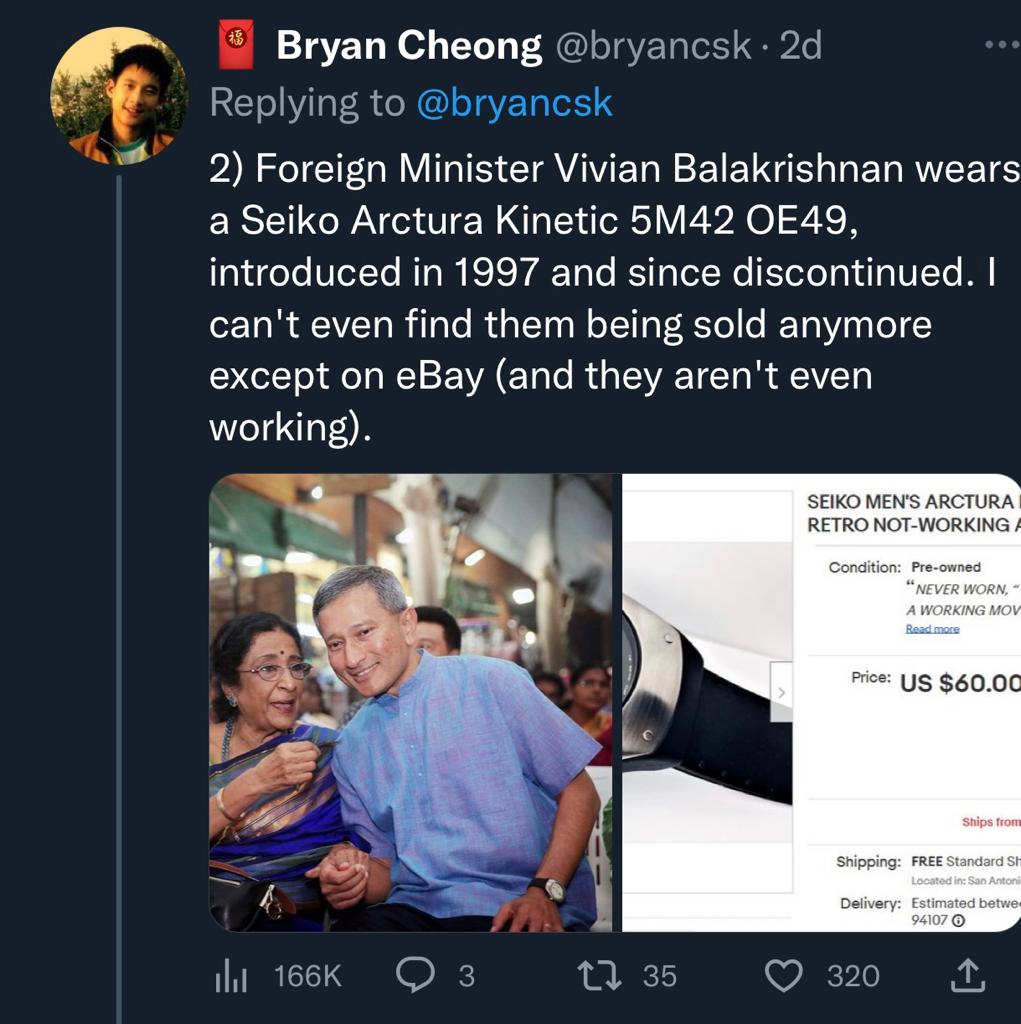 Another Seiko watch owner is Foreign Minister Vivian Balakrishnan.
Minister Balakrishnan wears a Seiko Arctura Kinetic 5M42 OE49.
Notably, the watch was introduced in 1997 and has since been discontinued. 
When Mr Cheong tried to find the watch, he couldn't find any currently being sold anymore.
He could only find an eBay listing selling a pre-loved one for $80. It wasn't even working anymore. 
The fact that Minister Balakrishnan's watch still works is an impressive feat. 
3. Speaker of Parliament Tan Chuan-Jin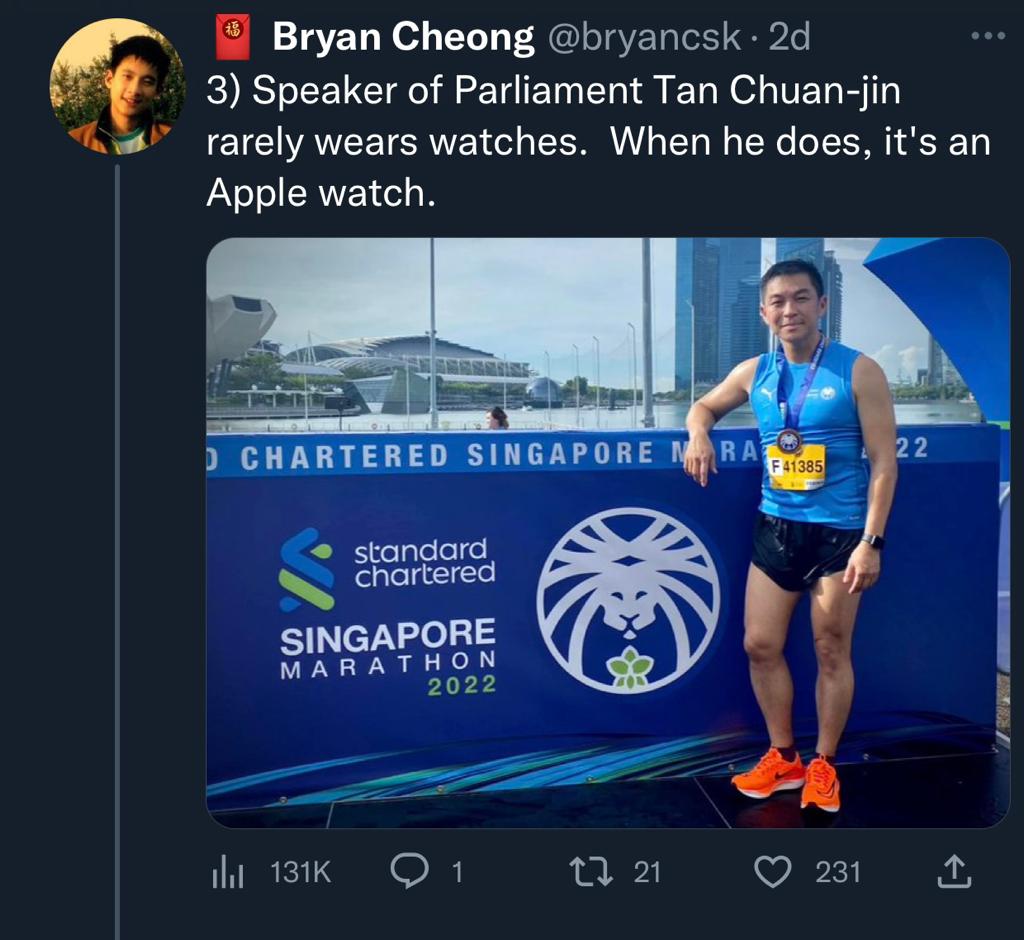 Speaker of Parliament Tan Chuan-Jin does not seem to be an avid watch wearer. 
Mr Cheong observed that he rarely wears watches.
On the occasions he wears a watch, it's an Apple watch.
4. Leader of Opposition Pritam Singh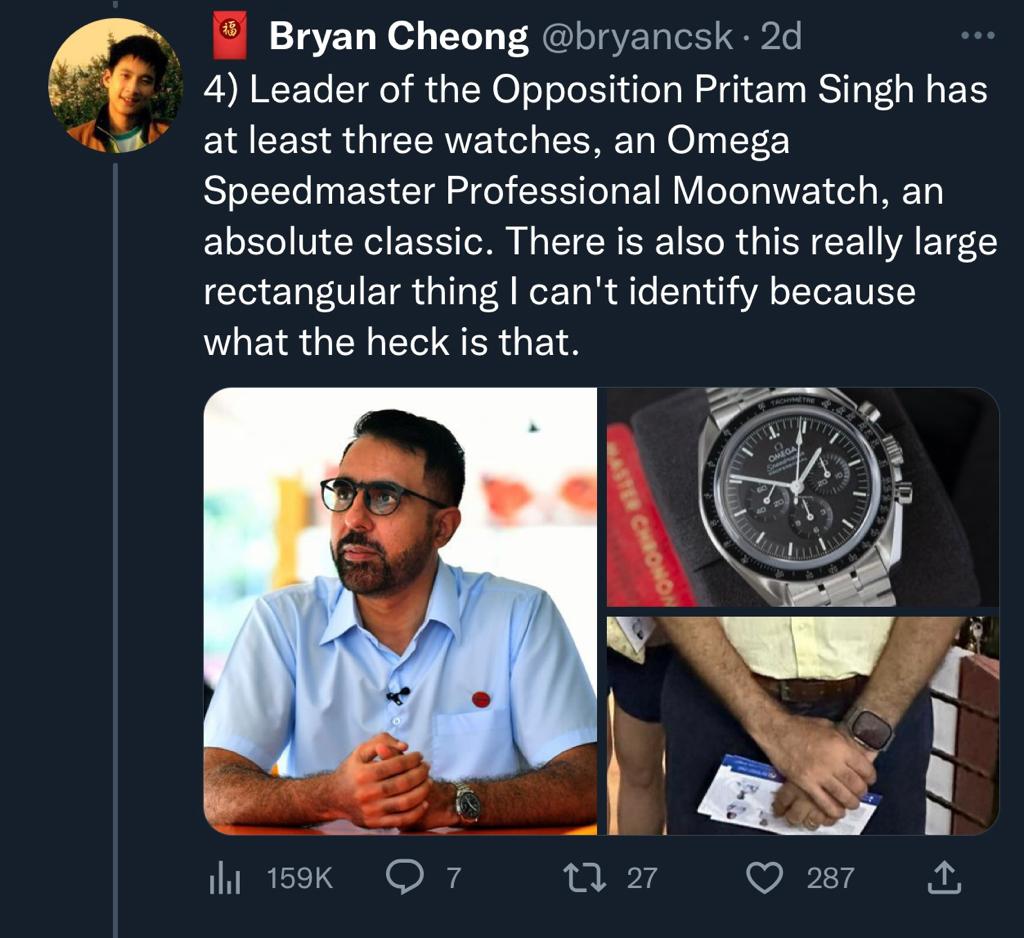 On the opposite end of the spectrum is Leader of the Opposition Pritam Singh.
He has been spotted with at least three watches, one of them being an Omega Speedmaster Professional Moonwatch.
The watch, which Mr Cheong describes as "an absolute classic", is priced at a whopping $9,450, according to the Omega website.
Mr Cheong had difficulties identifying Mr Singh's other smartwatch because "what the heck is that." Netizens guess it is probably an Apple Watch Ultra, which is slightly more expensive than your regular Apple Watch.
---
Advertisements

---
5. Minister of Law K Shanmugam
In the same vein as Mr Singh, Minister of Law K Shanmugam also has multiple watches.
One is a "breathtaking" Glashuette Original Senator Perpetual Calendar with a moon phase and a digital date. 
The beautiful watch's price ranges between $31,200 and $32,000, as seen on the Glashutte website.
He also owns a white Rolex Daytona that sells at $20,650 and another unidentifiable Casio watch.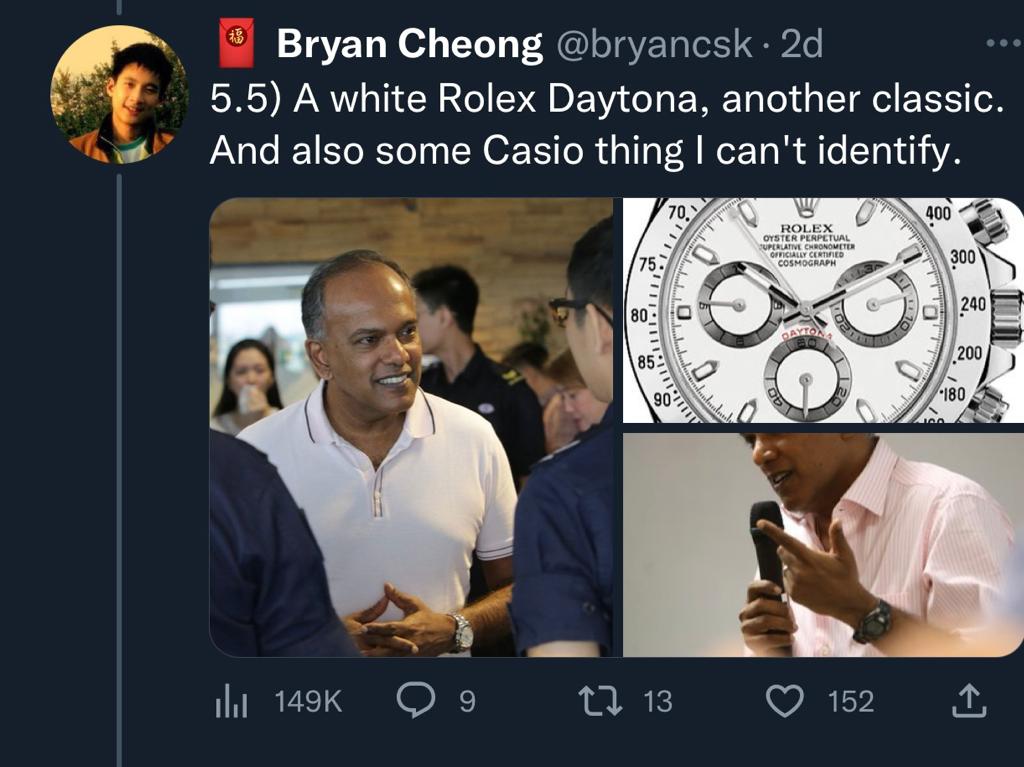 Nonetheless, Minister Shanmugam's watches are the most expensive on Mr Cheong's list.
6. Minister of Education Chan Chun Sing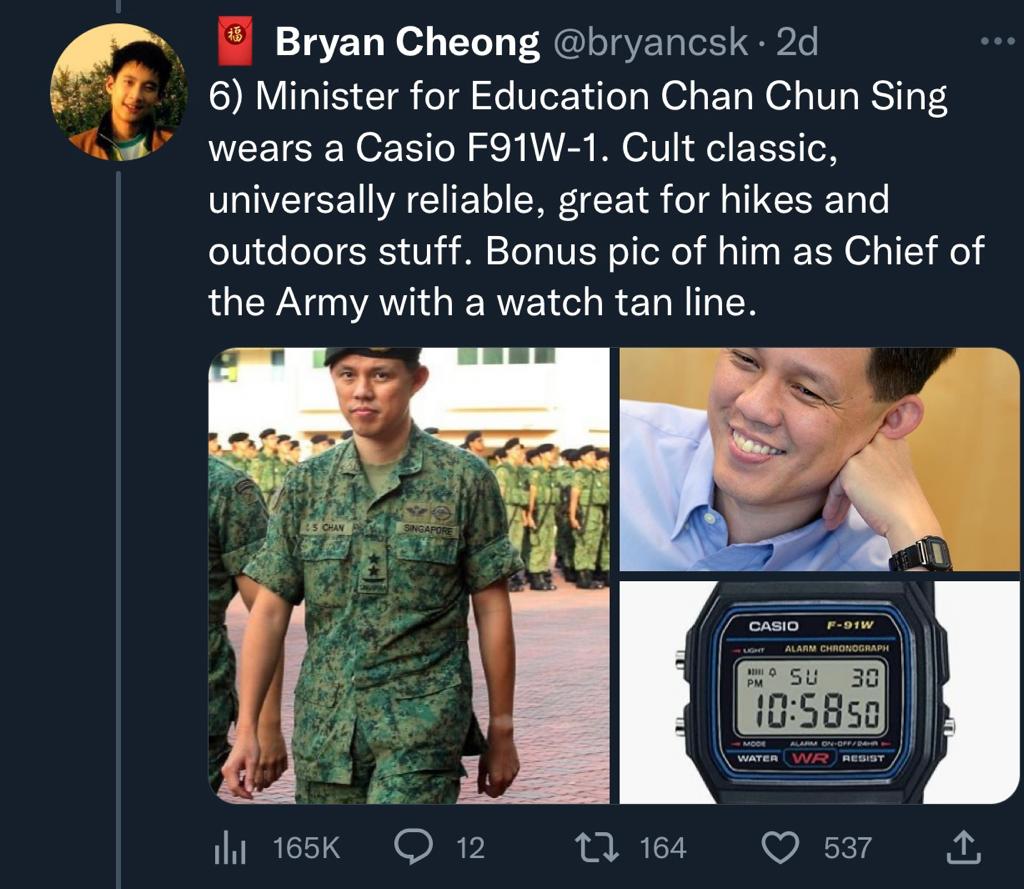 Education Minister Chan Chun Sing has been seen wearing a Casio F91W-1, a reliable watch that is great for hikes and outdoor activities.
---
Advertisements

---
Basically, a good watch to get you through National Service.
Just look at Mr Cheong's bonus photo of Minister Chan as Chief of the Army with a watch tan line: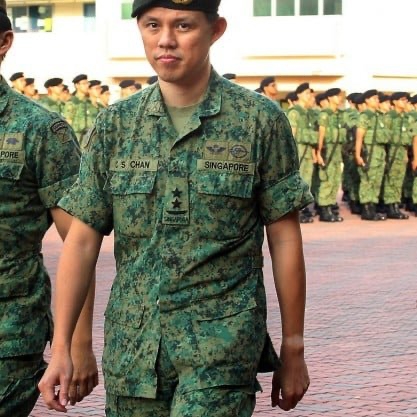 According to the Casio website, the watch is listed for $22, proving to be a cheap and practical option. 
7. Minister Indranee Rajah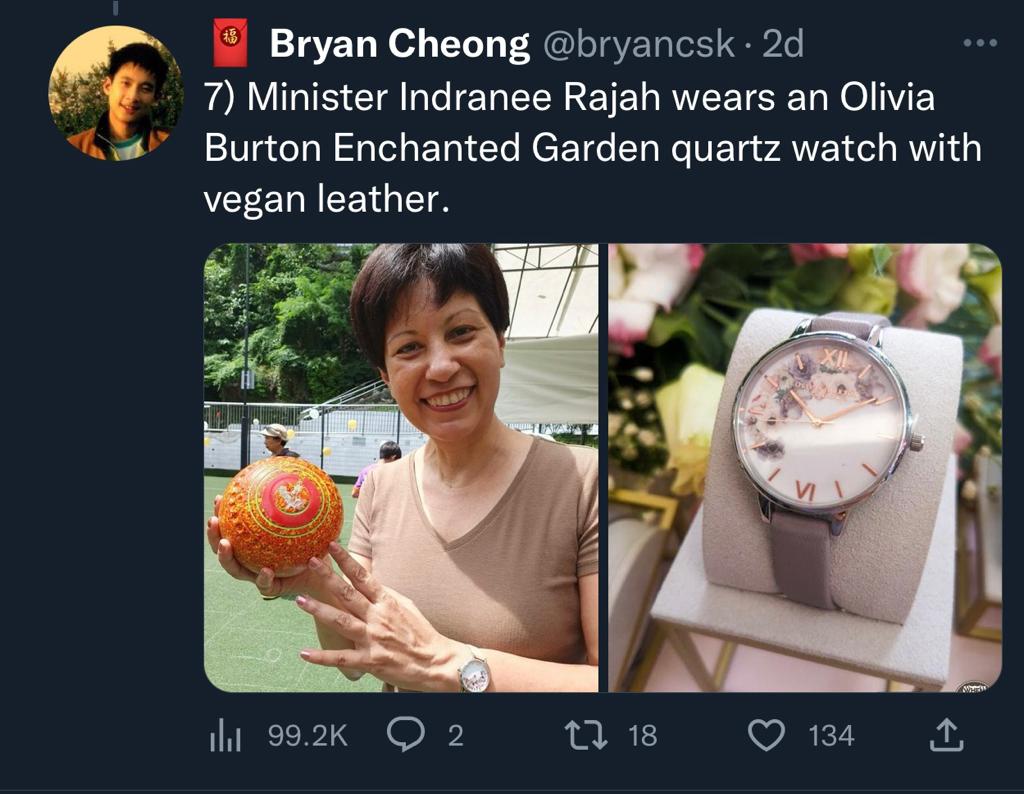 The final entry in Mr Cheong's list is Minister Indranee Rajah, who wears an Olivia Burton Enchanted Garden quartz watch with vegan leather, which usually sells for $200.
The watch is a demonstration of how artistic watch designs can be.
---
Advertisements

---
Join our Telegram channel for more entertaining and informative articles at https://t.me/goodyfeedsg or follow us on Twitter : https://twitter.com/goodyfeed
Netizen Response
The Twitter thread has since gone viral with 1.3 million views, 1,636 retweets and 7,068 likes.
Rightfully so, since it would have taken Mr Cheong a significant amount of time and effort to scrutinise available photos of these politicians.
Many netizens have praised Singapore politicians for their humility and simplicity despite their high pay.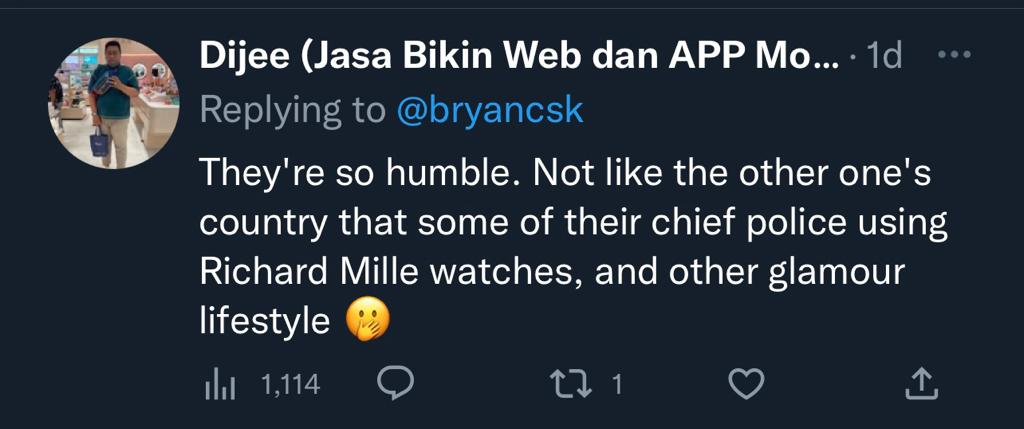 Other non-Singaporeans have compared the watches to those worn by their countries' politicians.
Most notably, a comment with 12.5k views states, "As a Malaysian, I am ashamed to say that a lot of our politicians have much more impressive watch collections. A collection that does not reflect the life of a civil servant."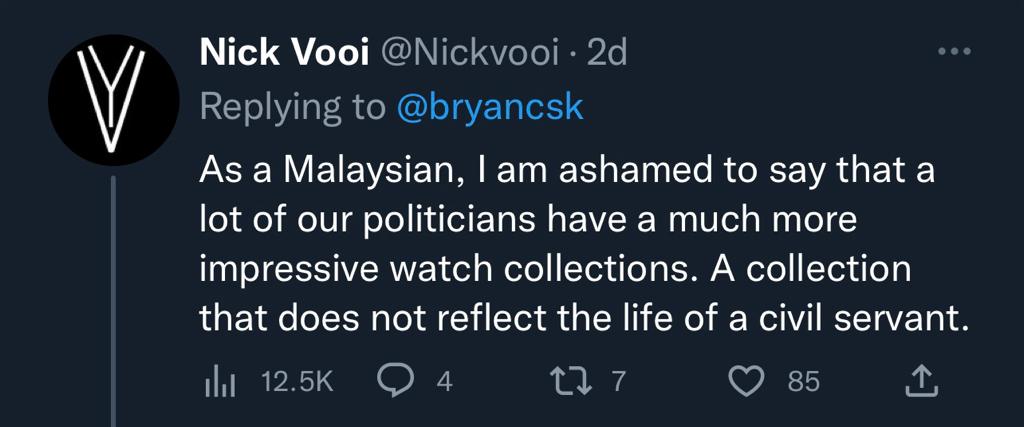 In 2022, then-Malaysian Prime Minister Ismail Sabri Yaakob was flamed for wearing a Burberry shirt worth over $2,000.
$2,000 is more than the average monthly salary in Malaysia, mind you.
Some netizens were so impressed by Mr Cheong's extensive knowledge that there are suggestions for him to make more Twitter threads about the watches politicians in other countries wear.
---
Advertisements

---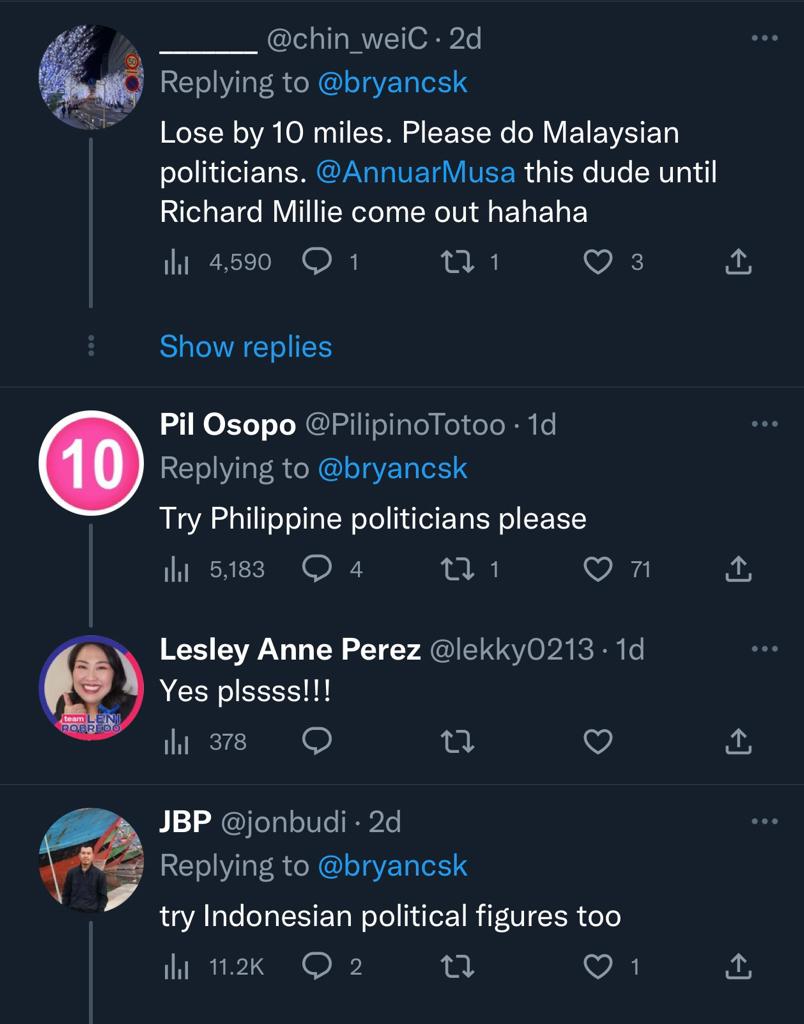 Though Mr Cheong admitted to having trouble identifying President Halimah Yacob's red-strapped watch and Minister Josephine Teo's tank watch, hormat to him for giving us an insightful Twitter thread. 
Mr Cheong has also said he will update the thread with more politicians when he can.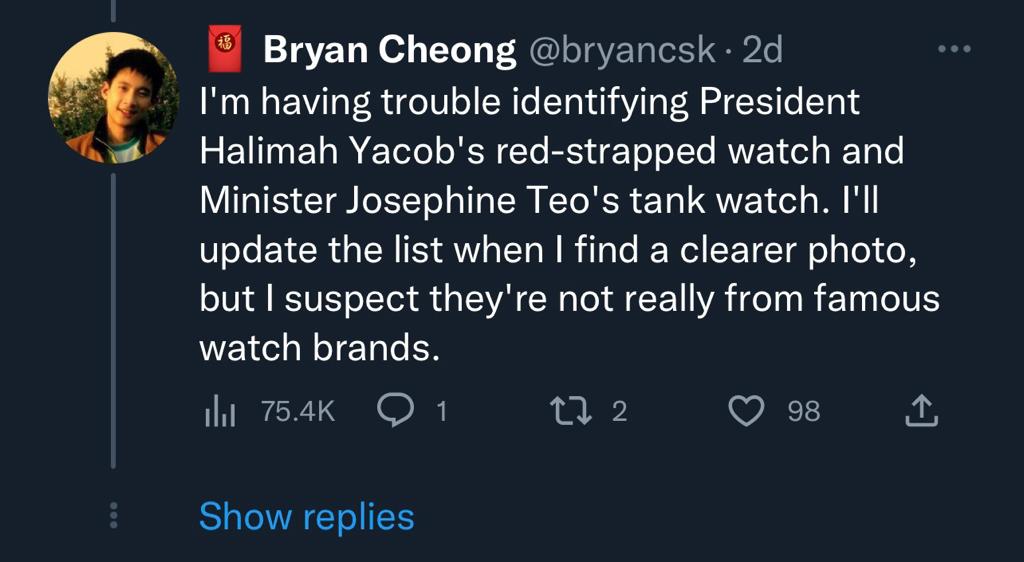 Overall, seeing politicians wear affordable watches is a reminder that they are normal humans like you or me.
Read Also:
Featured Image: Mediacorp.sg

Fresh grads, you don't need any experience to earn up to $4,200 with this "secret":
Read Also: