Last Updated on 2022-10-12 , 6:30 pm
If there are two things I'm sure all Singaporeans love, it's playing games and earning money.
Now, you can do both at the same time.
And even learn useful knowledge in the process as well.
(And no, it's definitely not a scam.)
If you're a fan of treasure-hunting games (and actually hunting for real treasure at the same time), ValueChampion's newest virtual treasure hunt, called the #VCWorld Treasure Hunt, is for you.
From now until 19 October, you can win up to $10,000 through #VCWorld, the new futuristic metaverse that has attractive prizes like this cash prize up for grabs.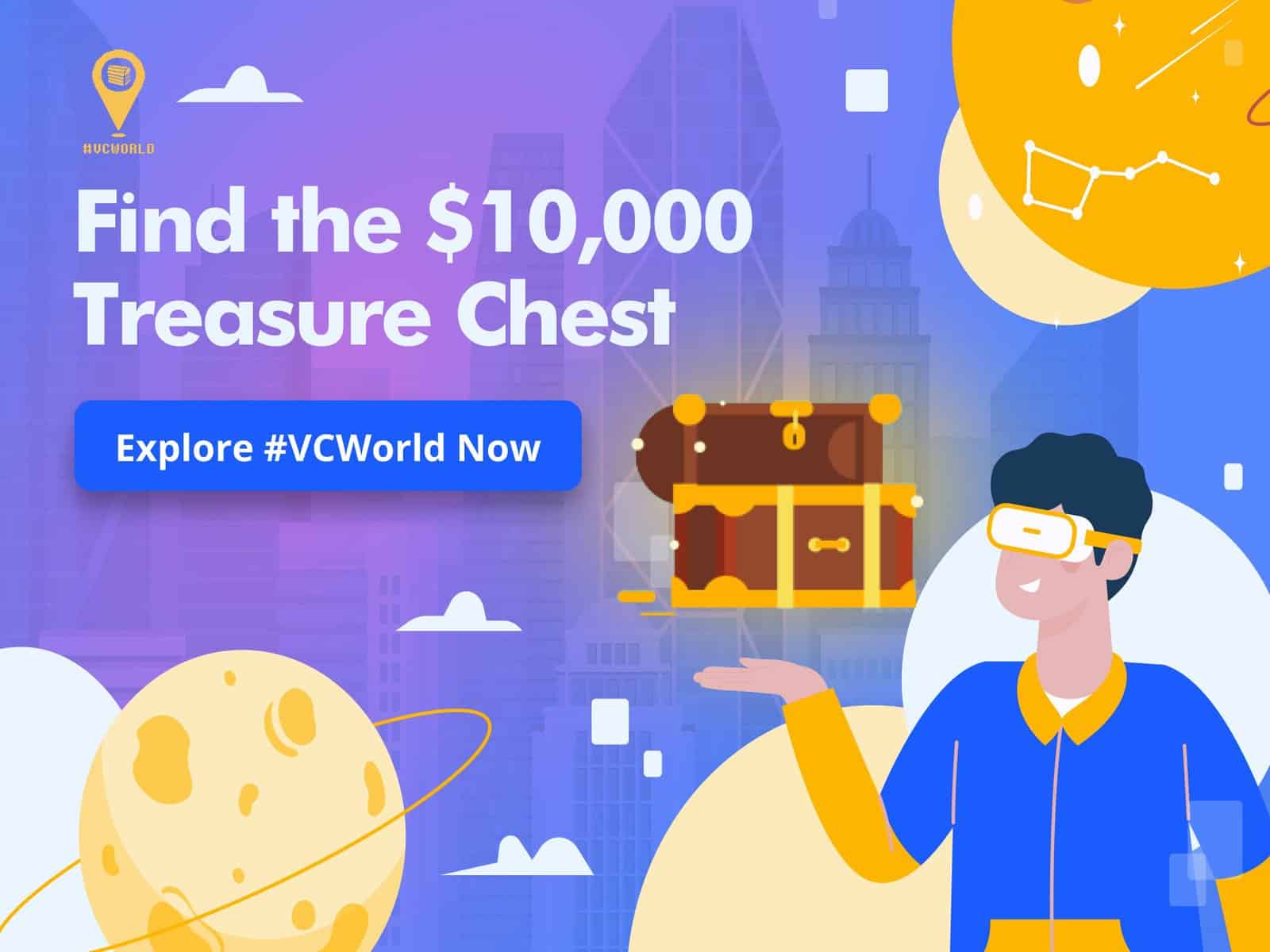 (Update on 11 October: The $10,000 grand prize has been won, but read on because you can still have fun with the game)
#VCWorld is jointly created by ValueChampion, a team of research analysts who aim to provide help for consumers in terms of financial planning by helping them find the best financial products and services that suit individual consumers, as well as OurWorldisFlat (OWF).
What the Game is All About
And if you're wondering where the learning of useful knowledge comes into play, here it is.
Throughout the games, non-player characters (NPCs) from ValueChampion's partners such as HSBC, Allianz and IG will be present in #VCWorld to engage with players.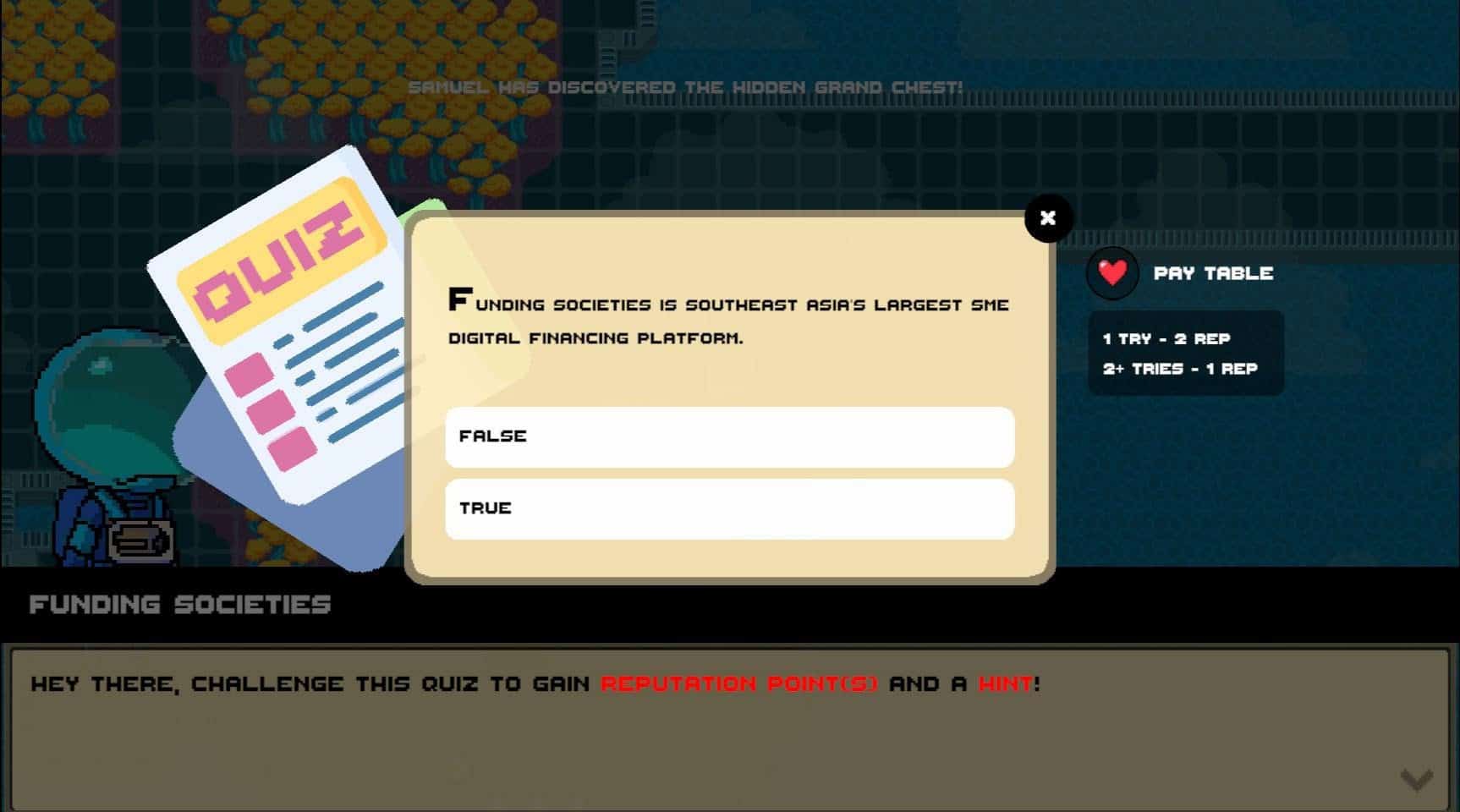 In particular, they will be quizzing and guiding players on six different areas of financial literacy, namely: Cards, Investments, General Insurance, Life Insurance, Loans and Saving Accounts. (For those of us who can't tell the difference, that's a sign to participate and learn more!)
The base camp, a space station in the game will also contain more hints and information to help players in their search.
After answering the quizzes posted by the NPCs, you'll be able to earn reputation points and hints as to where the treasure chests are at.
You'll have to earn a certain number of reputation points before you can open the chest, so don't forget to attempt the quizzes first!
For more information on how to go about hunting for treasure in the #VCWorld metaverse, players can visit ValueChampion's website.
Prizes to be Won (ALL Prizes Have Been Won)
And here's everyone's favourite part (of course): The prizes that players can look to win by taking part in the #VCWorld Treasure Hunt.
There are three different types of treasure chests available in the #VCWorld metaverse, and they are the Grand Chest, Travel Chest and Voucher Chest.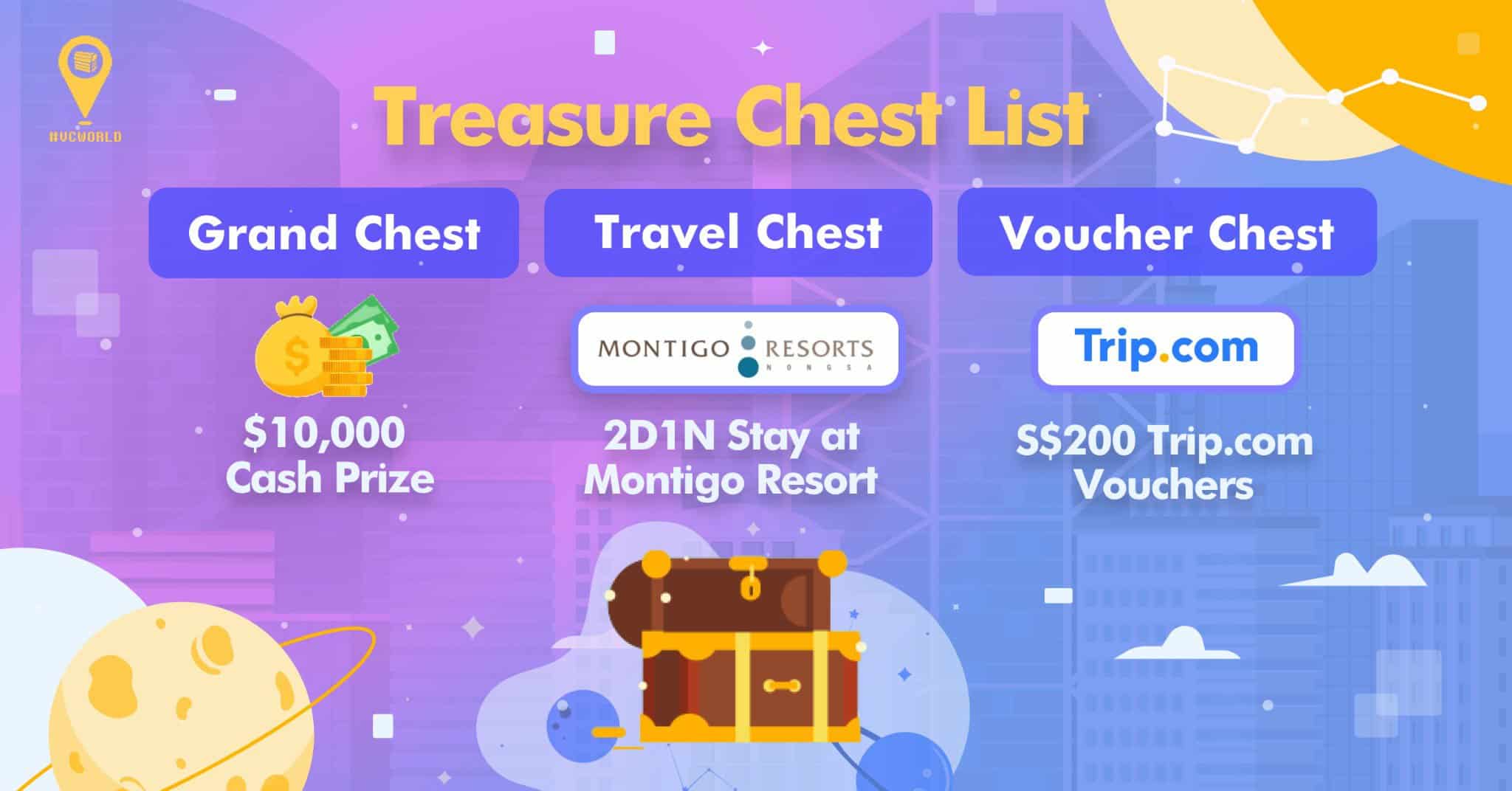 For the Grand Chest, the winner (the player who finds the chest first) will win $10,000 as mentioned earlier.
For the Travel Chest, the winner will walk away with a 2D1N Stay For Two at Montigo Resort in Batam (inclusive of Ferry Round-Trip Tickets) which is worth S$338.
As for the Voucher Chest, the winner will receive a $200 voucher for Trip.com, an online travel agency.
Only one winner will be crowned for each Chest, so run, don't walk, to get started on treasure-hunting!
Daily Giveaways and Top Referrer Prizes
But that's not all, for there will also be 12 days of giveaways happening during the event.
In particular, expect prizes from big-name brands like Golden Village, Lazada, Universal Studios Singapore and Grab. Here's how you can stand a chance to win the daily giveaways.
And yes, there are 12 giveaways, which means that there are plenty of prizes to go around for everyone.
Apart from that, ValueChampion will also be giving away a cash prize of $500 for the "Top Referrer" of the entire campaign, so don't be shy about sharing that referral code with those around you!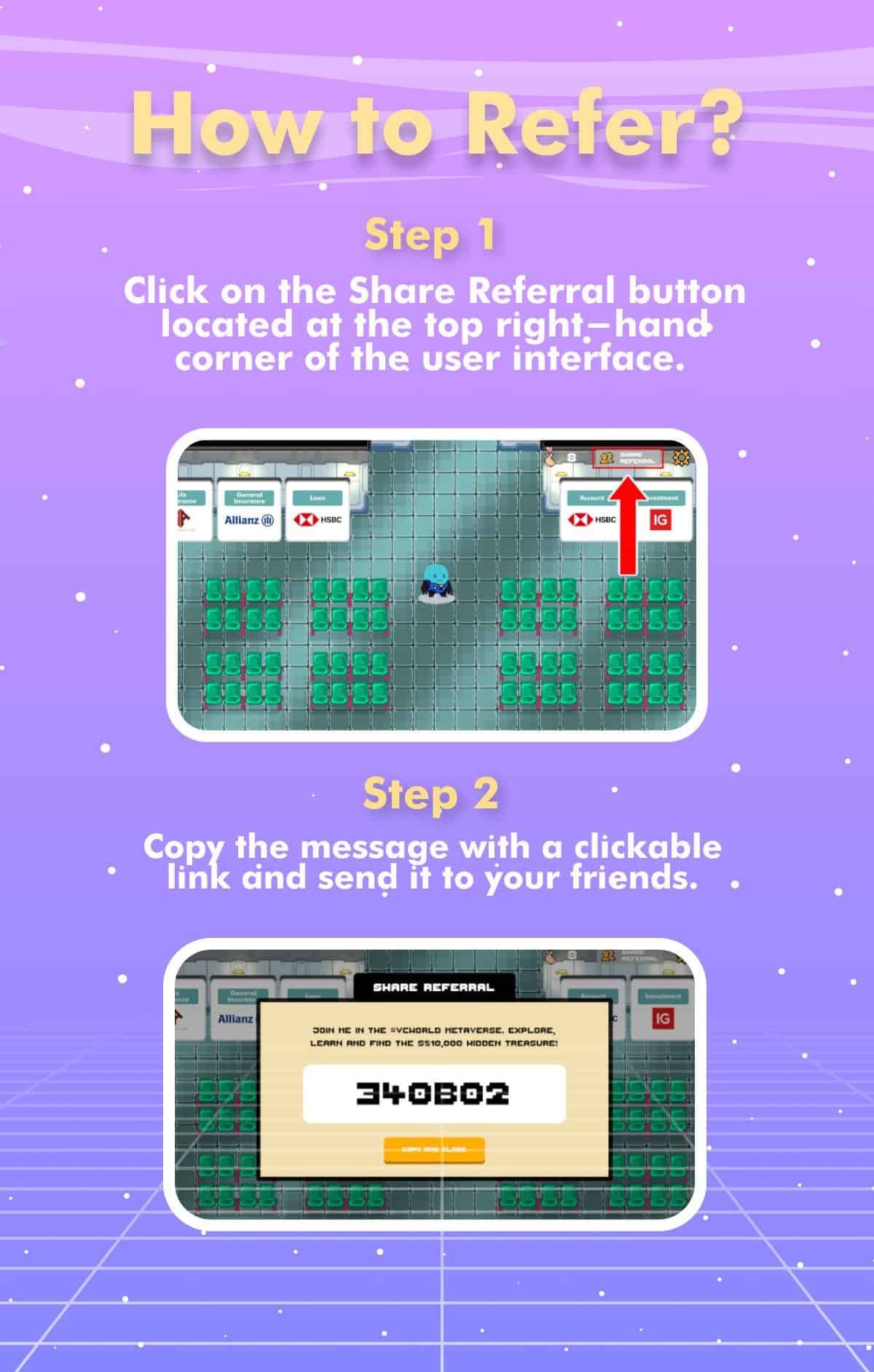 For players who are referring your friends and family, do take note that they will have to key in your referral code when they are signing up for #VCWorld.
Prize winners will also be contacted by ValueChampion via email within three working days of your win, so don't worry if you're wondering about where you can claim your prize.
How to Participate
And for those of us who're already getting our laptops ready, here's all you need to do in order to start your journey in the #VCWorld Metaverse.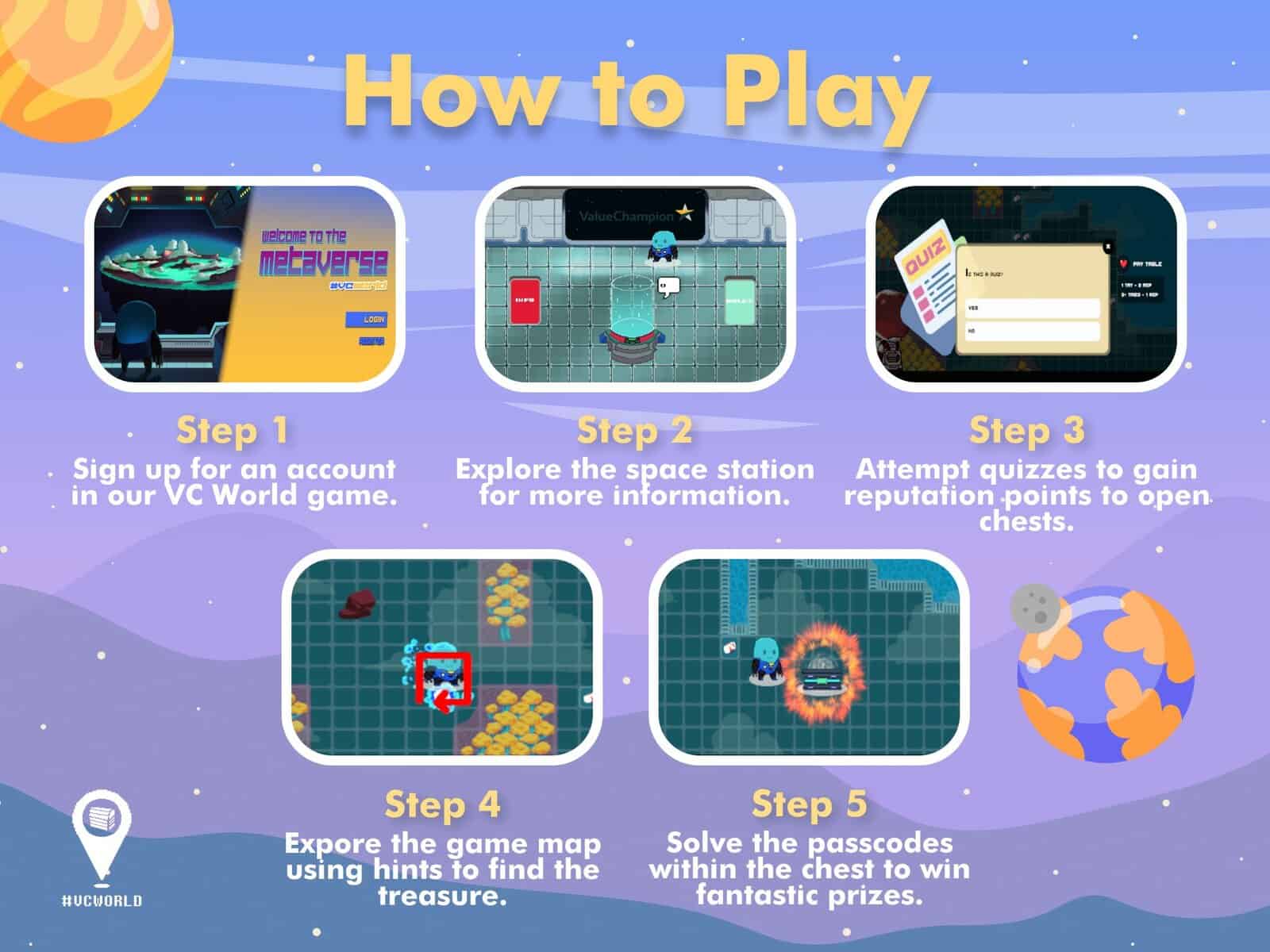 Firstly, sign up for an account with OWF here.
Once you're logged in to your account, go through the game tutorial.
Then, you can start your adventure by exploring the space station for information (and hidden clues) before trying out the various quizzes.
Afterwards, when you've earned enough reputation points and hints, you can explore the game map and use your hints to find out where the treasure chest is.
On the topic of hints, ValueChampion will also upload daily hints on their Facebook page like this one, so go ahead and "Like" their Facebook page so that you don't miss out!
And once you're able to decode the passcodes for the chests, the prize inside will be all yours!
P.S. Don't say bojio, but here are some "hacks" from ValueChampion that might come in handy when you're navigating your way through the #VCWorld Metaverse!
For the latest details and updates on the #VCWorld Metaverse Treasure Hunt, don't forget to "Like" ValueChampion's Facebook page here.
This article was first published on Goody Feed and written in collaboration with ValueChampion Singapore.