---
Advertisements

---
A video uploaded to the Singapore Wildlife Sightings Facebook group on 17 April 2023 has since gone viral. The video featured the sighting of an allegedly venomous snake at Pasir Ris Park.
The distinctively striped Banded Krait, a venomous snake, was recently spotted creeping from a tree to a grass patch near the park's adventure playground and the beach. 
Netizens were quick to identify the snake. Their assertions that it was a Banded Krait were subsequently verified by the Herpetological Society of Singapore (HSS), a volunteer organisation committed to researching and promoting awareness of reptiles and amphibians in Singapore.
Sighting of Snake in Pasir Ris Park
Renowned for its abundant wildlife, Pasir Ris Park even spurred two residents to produce a video based on the park in December 2020. The footage exhibited over 40 different species of wild animals inhabiting the area.
The scenes in the video captured a variety of natural behaviours exhibited by wildlife, from owls cuddling with one another to yawning snakes such as the Oriental Whip Snake. However, none of the footage captured the snake found in the viral Facebook video.
During a cycling trip around the park, 55-year-old educator Mr Jimmy Hoon spotted a Banded Krait on 17 April 2023, becoming one of the first individuals to do so. He captured the strikingly patterned snake on video after observing its vibrant stripes.
Initially mistaking the creature for a rope, Mr Hoon soon realised it was alive and recorded the encounter. He subsequently shared the video on Facebook, seeking input from viewers to help identify the snake's species.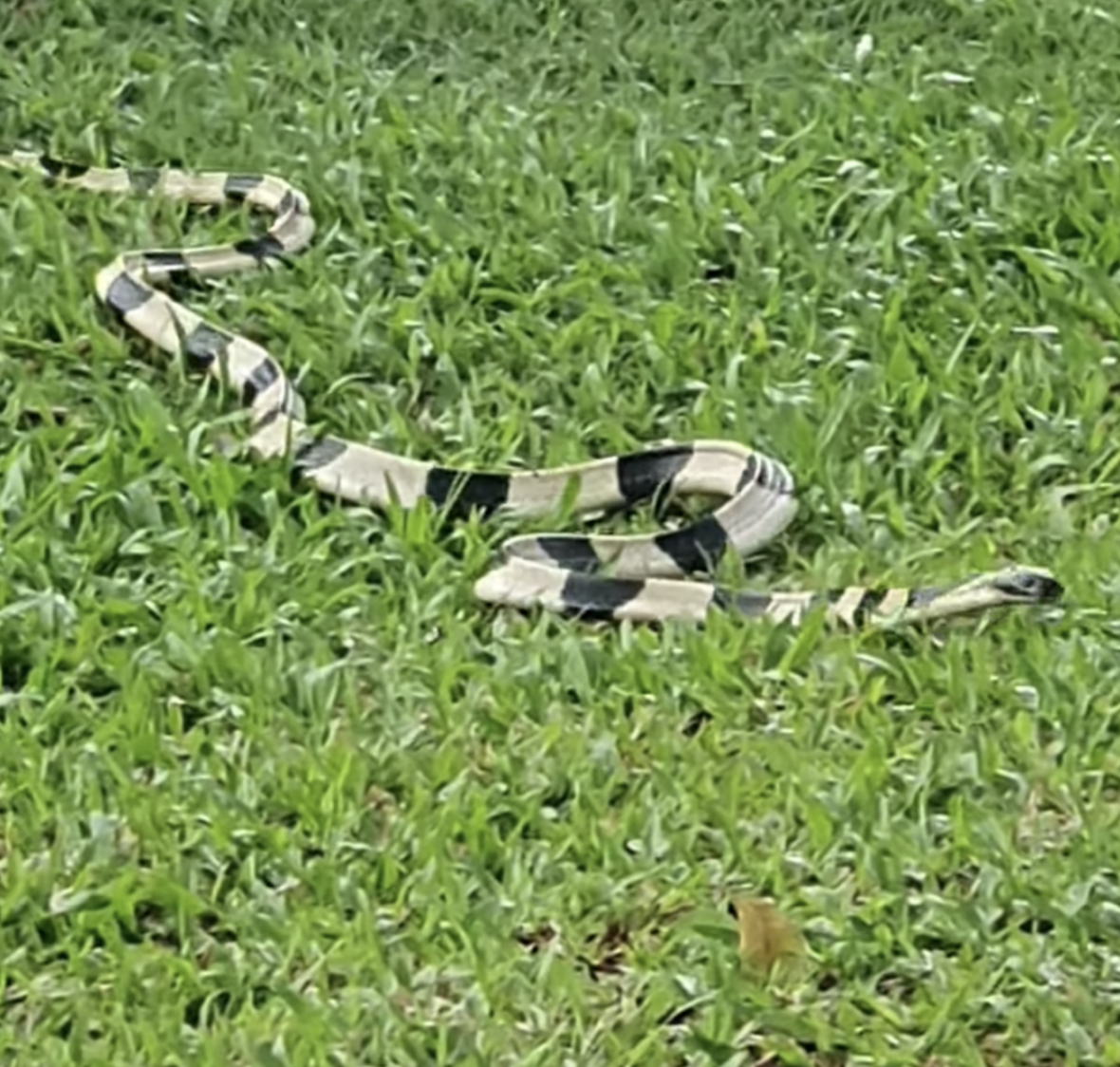 Throughout the video, the serpent raises its lustrous black head and scans the surrounding area, as captured by the observant educator.
Furthermore, Mr Hoon noted that the Banded Krait had ventured onto the park's cycling and jogging paths, prompting him to signal other cyclists to be cautious of the reptile's presence.
After sharing his video online, concerned viewers promptly notified Mr Hoon that the snake was a dangerously venomous indigenous species. They urged him and those nearby to avoid handling the creature, as its bite could be venomous.

An additional user recommended that he contact the appropriate authorities, given the snake's perilous and hazardous attributes.

However, Mr Hoon emphasised that he wasn't afraid but felt rather lucky to spot a snake that was rarely seen in public. He elaborated that he did not attempt to handle the snake but allowed it to move past the cycling area.
Snake not Commonly Spotted on Land
Following inquiries, Mr Chia Seng Jiang, the Group Director of the National Parks Board (NParks), confirmed that NParks received a report of the Banded Krait sighting at Pasir Ris Park on the same day. 
However, despite visiting the site, NParks' staff could not locate the snake.
Mr Kalai Vanan Balakrishnan, the Co-Chief Executive of Animal Concerns Research and Education Society (Acres), stated that his organisation did not receive any notification of the snake sighting and was unaware of the incident. 
Mr Balakrishnan explained that Banded Kraits are rare in Singapore and may have swum over from Pulau Ubin or neighbouring mangrove habitats. 
These endangered snakes are usually active at night and can grow up to 1.5m to 2m long. While their venom is highly toxic and can be fatal, they are not aggressive and only bite when provoked.
He further noted that although the park is situated on the coast, Banded Kraits are typically shy and prefer secluded areas with minimal human activity, making their presence uncommon.
Mr Shivaram, HSS's scientific officer, added that Banded Kraits in Singapore prefer living in mangrove and coastal habitats, with past sightings recorded in locations such as Pulau Ubin, Pulau Tekong, Sungei Buloh, and Khatib Bongsu. Snake sightings have also been reported in places like Lorong Halus and, most recently, Pasir Ris Park.
Not the First Snake Sighting in Singapore
Singapore is home to a total of 67 snake species, which remain relatively unseen in public. 
---
Advertisements

---
Due to our tropical climate, these snakes are active year-round and come in various sizes, ranging from the tiny Brahminy Blind Snake, which measures no longer than 20 cm, to the massive Reticulated Python, which can exceed 9 m in length.
In 2021, NParks received roughly 200 reports of cobra sightings in Singapore. These reports came after a video capturing an Equatorial Spitting Cobra at Blk 24 Pusara Aman, a Muslim cemetery in Choa Chu Kang, was uploaded.
The video went viral on 13 August 2021, and it was reported that the cobras were a common sight at the Muslim cemetery.
Furthermore, in August 2022, a video posted on the "District Singapore" Facebook group also went viral. It showed an NParks contractor rescuing a python from underneath a Mercedes, only for the snake to bite the contractor's gloved hand.
What to Do When You Spot a Snake
Snakes are typically timid creatures and avoid human contact unless provoked, according to NParks and Acres. 
They are generally not aggressive and will only bite if they feel threatened. Therefore, NParks recommends remaining calm and keeping a safe distance from the animal if one encounters a live snake.
---
Advertisements

---
It is important to give the snake enough space to retreat and avoid approaching or attempting to handle it. For pet owners, it is advisable to keep pets on a short leash to prevent them from chasing or startling the snake.
In the event of an emergency, citizens can contact NParks at 1800-476-1600 for assistance.

Fresh grads, you don't need any experience to earn up to $4,200 with this "secret":
Read Also: