---
Advertisements

---
It's not uncommon to see brands post about their petty rivalries online, like Wendy's, the fast-food chain with an insane reputation for flaming (verbally, of course) everyone on Twitter.
Enter: the Vitagen-anonymous-brand saga.
Vitagen Throwing "Mad Shade" 
Vitagen pushed out an ad recently, throwing shade at an anonymous competitor's lower Nutri-Grade level, stating that it has eight times less sugar and can be sold in schools, opening up the market to the primary audience of the drinks: children. 
The ad had a cheeky quip, stating that "fortunately, [they] are not banned from revealing [their] benefits", taking a jab at this competitor who is unable to advertise due to the advertising prohibitions from the Health Promotion Board.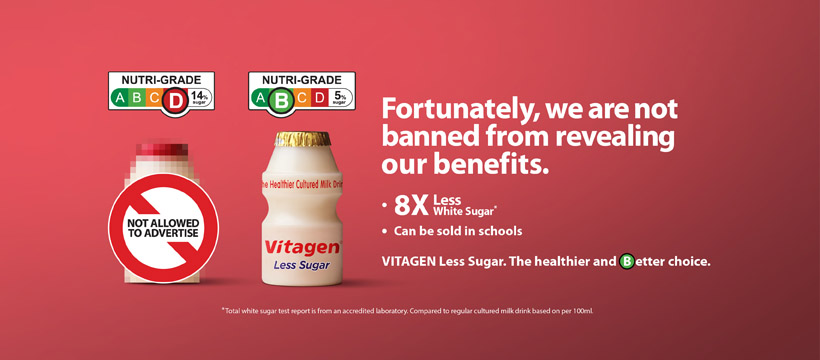 In a government initiative to try and limit the amount of pre-packaged beverages citizens consume, the government prohibited advertisements promoting the sale of Nutri-Grade beverages graded "D".
However, unlike the average American, Singaporeans were smart enough to figure out the product that was blurred out in the picture, Yakult, a Japanese sweetened probiotic milk beverage. 
This was one of Vitagen's boldest advertisements yet, showcasing their B grade and 5% sugar level in stark contrast to their competitor's D grade and 14% sugar level. Though this author appreciates a good burn, Vitagen is reminiscent of that annoying kid in class parading the B they got on the exam.
Insufferable. 
Other Ads
Vitagen was not done even after throwing the most heinous shade at this anonymous competitor. 
Ever since the Nutri-grade labelling system took effect on 30 December 2022, Vitagen has shared quite a number of ads promoting their B grade, mentioning an anonymous competitor's product that contains 14% sugar and sports a D grade, which seems to match a well-known competitor's product.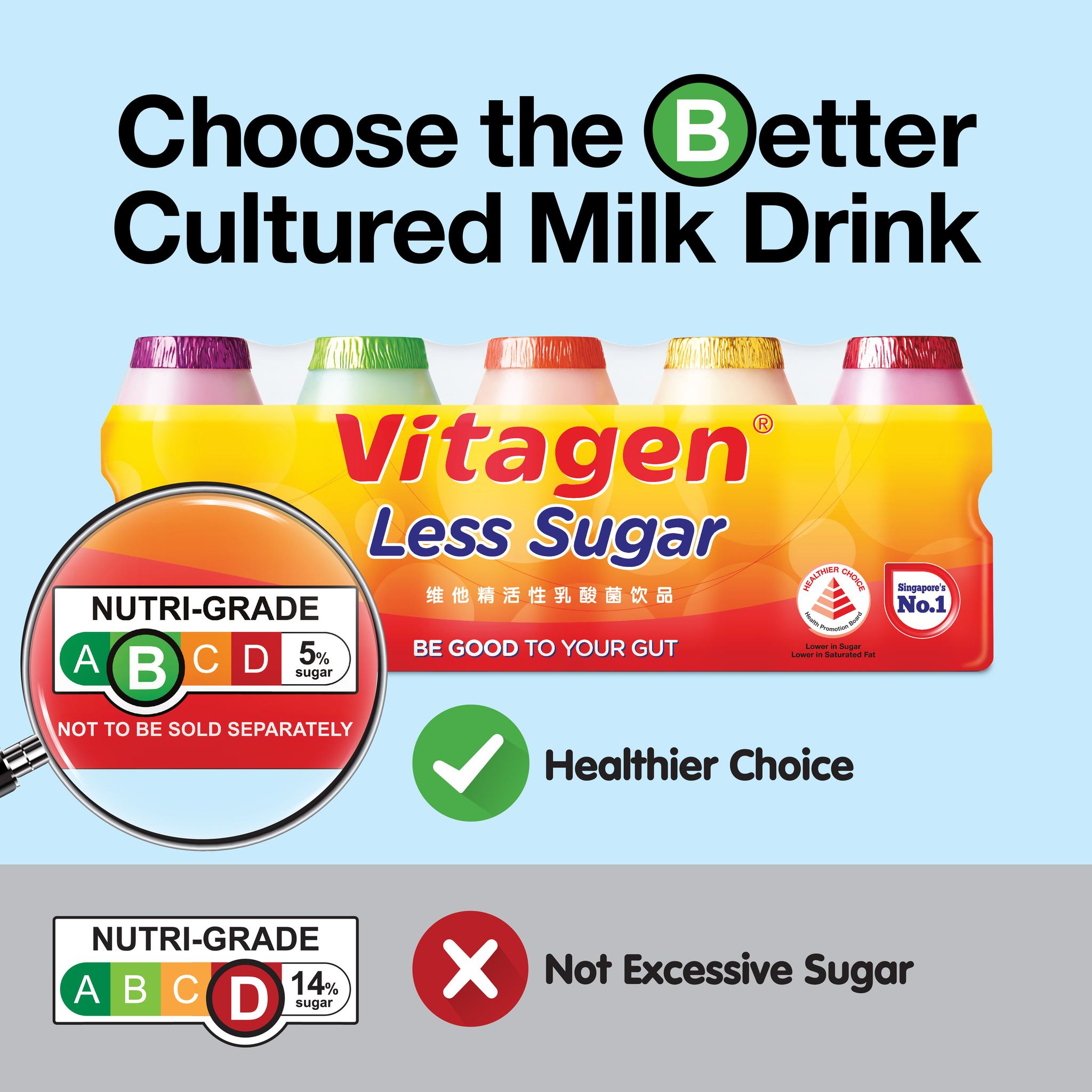 Netizens took to Facebook to express their amusement at the ads, which many said were well done, but others weren't as receptive, calling it an "under the belt" ad. 

But hey: no one's talking about Yoyic, the brand that has blown up in TikTok?
You can watch this video to know why Yoyic has suddenly become as popular as Vitagen and Yakult:
Nutri-Grade Labelling System
Diabetes is a serious health concern for many Singaporeans, which prompted the Health Promotion Board to introduce mandatory nutrition labels and advertising prohibitions for Nutri-Grade beverages. 
The number of diabetes patients will reach a whopping one million by 2050 if the rate of diabetes continues.
HPB declared war on diabetes back in 2016 to hopefully reduce that number. High sugar intake is linked to an increased risk of diabetes and obesity.
A study done in 2021 on Asian populations found that higher consumption of sugary beverages was associated with a 51% higher risk of diabetes compared to lower consumption.
Seeing as Singaporeans' average daily intake of sugar can amount to 58 grams, or 12 teaspoons, the HPB is hoping that such an initiative would aid consumers in identifying beverages that are higher in sugar and saturated fat so that they could make a more informed and healthier choice on which product to buy without the influence of advertisements.
More than half of Singaporeans' sugar intake comes from beverages (64% pre-packaged beverages, 36% freshly prepared beverages)
Singaporeans may stop buying products high in sugar, but there is no way they would willingly part with their precious sugar-saturated bubble tea. 
Right?
---
Advertisements

---

Fresh grads, you don't need any experience to earn up to $4,200 with this "secret":
Read Also: