---
Advertisements

---
Last Updated on 2022-07-31 , 1:30 pm
Logic has arrived for the Wang Leehom and Lee Jinglei saga at last, and its name is the Taipei City Government's Department of Social Welfare.
The Progress of Their Divorce
Ever since the estranged couple signed a confidentiality agreement back in February, both sides have kept a low profile on social media.
On Tuesday (26 Jul), Wang Leehom announced through his agency that he will be deleting all the posts related to the divorce agreement on social media, at the suggestion of the relevant authorities.
Lee Jinglei responded later, expressing her respect for the expert advice, while stating that she will be deleting the relevant posts on social media as well.
According to Wang Leehom's agent, the divorce agreement between Wang Leehom and Lee Jinglei is still being discussed in court.
Recently, Wang received a letter from the Taipei City Department of Social Welfare, asking both parties to remove the diatribes that they've been shooting at each other (with so much ammunition that it can rival Nerf's extended barrel magazine).
---
List of Accusations Made Against the 2 Ministers Who Rented Colonial Houses at Ridout Road:
---
The advice intends to protect the rights and interests of the three children and to prevent the children from seeing the disputes between their parents through social media in the future.
Um, good luck with that; they may not see it on their parents' social media account, but there's plenty of articles that will remain out there.
(The Internet never forgets.)
Wang Leehom believes that many people have been putting their personal disputes on social media for the public to judge, which all comes together as a bad demonstration of "cyberviolence".
---
Advertisements

---
In due respect to the advice given by Taipei City's Department of Social Welfare, Wang swiftly deleted the community posts, not only to protect his family members, but also because he trusts that there will be judicial fairness.
He hopes that he can bring the "truth" onto the court floor from social media, while simultaneously hoping that public figures won't become targets of cyberviolence in the future.
… He's clearly never been on Twitter and seen cancer— cancel culture.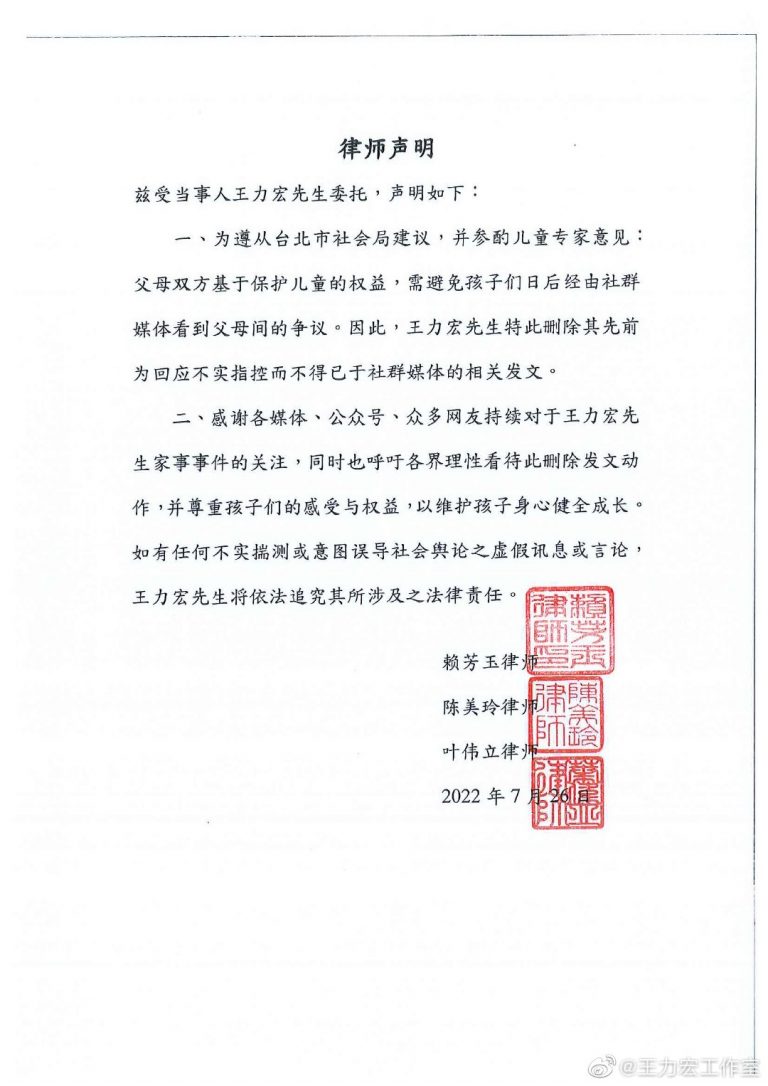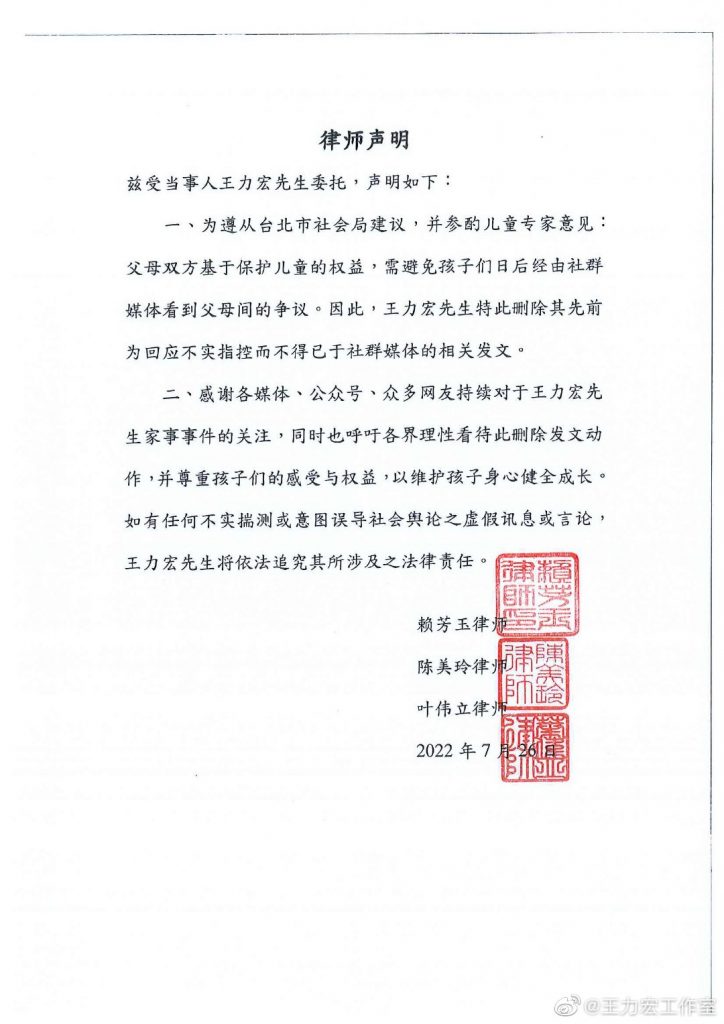 Join our Telegram channel for more entertaining and informative articles at https://t.me/goodyfeedsg or download the Goody Feed app here: https://goodyfeed.com/app/
Lee Jinglei's Response
Shortly thereafter, Lee Jinglei issued a statement through her lawyers, expressing her respect for the professional advice.
Similarly, she will be deleting all the related posts from social media.
Additionally, she also calls upon Wang Leehom to "uphold the same standards" and to withdraw the handwritten letter that his father contributed.
In response to Wang Leehom's declaration, one of Lee Jinglei's friends told Taipei reporters, "Just as public figures acquire immense benefits, power, and influence, it's natural that their words and actions are placed under the public's scrutiny. The real 'cyberviolence' and 'bad demonstration' is the usage of one's own influence and media resources to spread false rumours, to manipulate the public opinion, and mobilise a cyber army to bully a housewife who has no resources."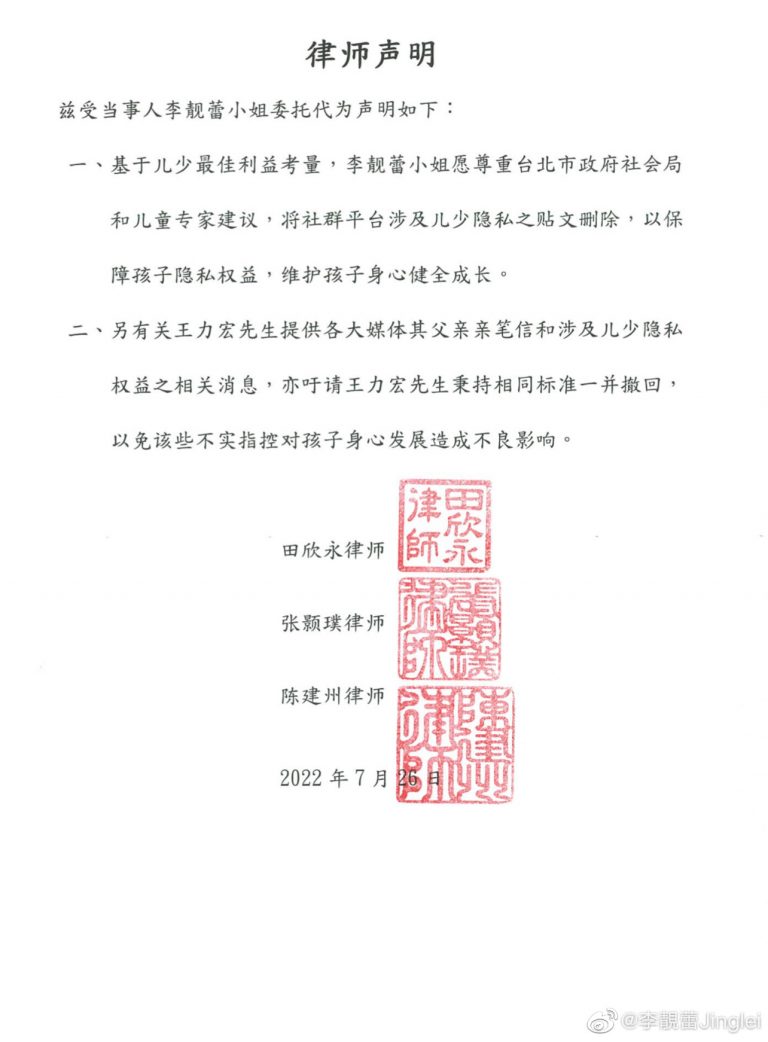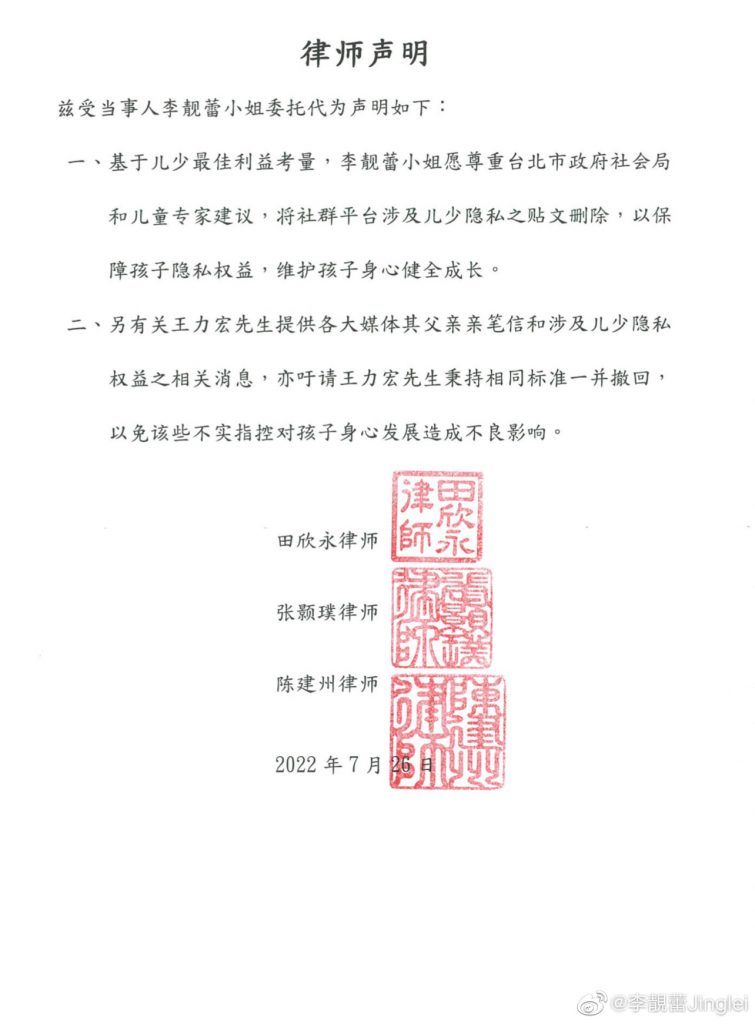 You can watch this video to know about the saga:
Read Also:
Featured Image: YouTube
---
Advertisements

---